Abstract
Autoimmune thyroiditis, of which Hashimoto thyroiditis represents the most frequent form, is an inflammatory state of the thyroid gland that results from the interaction between genetic variants that promote susceptibility and environmental factors. High iodine intake, selenium deficiency, pollutants such as tobacco smoke, infectious diseases such as chronic hepatitis C, and certain drugs are implicated in the development of autoimmune thyroiditis, primarily in genetically predisposed people. Long-term iodine exposure leads to increased iodination of thyroglobulin, which increases its antigenicity and initiates the autoimmune process in genetically susceptible individuals. Selenium deficiency decreases the activity of selenoproteins, including glutathione peroxidases, which can lead to raised concentrations of hydrogen peroxide and thus promote inflammation and disease. Such environmental pollutants as smoke, polychlorinated biphenyls, solvents and metals have been implicated in the autoimmune process and inflammation. Environmental factors have not yet, however, been sufficiently investigated to clarify their roles in pathogenesis, and there is a need to assess their effects on development of the autoimmune process and the mechanisms of their interactions with susceptibility genes.
Key Points
Excess iodine intake is associated with a raised annual incidence of autoimmune thyroiditis in various parts of the world, probably owing to increased thyroglobulin antigenicity, although the exact mechanism is not yet fully understood

Selenium deficiency is thought to be involved in the pathogenesis of autoimmune thyroiditis and to lengthen its duration and exacerbate its severity; these effects may occur via reduced activity of the selenoprotein glutathione peroxidase, which leads to increased production of hydrogen peroxide

Environmental pollutants, such as polychlorinated biphenyls, metals and solvents, probably play a part in the development of autoimmune thyroiditis in genetically susceptible individuals, although research is urgently needed to clarify their precise roles

Inflammation induced by viral infections or by pollutants can modify cellular-signaling mediators and influence T-cell activity and cytokine-secretion profiles
Relevant articles
Open Access articles citing this article.
Nadia El Menshawy

,

Mohammed Eissa

…

Nabil Joseph

Comparative Clinical Pathology Open Access 03 March 2018

Marta Rydzewska

,

Michał Jaromin

…

Artur Bossowski

Thyroid Research Open Access 13 February 2018
Access options
Subscribe to Journal
Get full journal access for 1 year
$99.00
only $8.25 per issue
All prices are NET prices.
VAT will be added later in the checkout.
Tax calculation will be finalised during checkout.
Buy article
Get time limited or full article access on ReadCube.
$32.00
All prices are NET prices.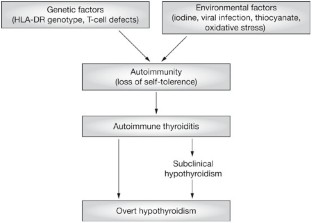 References
Davies TF and Amino N (1993) A new classification for human autoimmune thyroid disease. Thyroid 3: 331–333

Pearce E et al. (2003) Thyroiditis. N Engl J Med 348: 2646–2655

Weetman AP and McGregor AM (1994) Autoimmune thyroid disease: further developments in our understanding. Endocr Rev 15: 788–830

Ban Y and Tomer Y (2005) Genetic susceptibility in thyroid autoimmunity. Pediatr Endocrinol Rev 3: 20–32

Tomer Y and Davies TF (2003) Searching for the autoimmune thyroid disease susceptibility genes: from gene mapping to gene function. Endocr Rev 24: 694–717

Tamai H et al. (1985) Immunogenetics of Hashimoto's and Graves' disease. J Clin Endocrinol Metab 60: 62–66

Caturegli P et al. (2007) Autoimmune thyroid diseases. Curr Opin Rheumatol 19: 44–48

Jacobson EM and Tomer Y (2007) The CD40, CTLA-4, thyroglobulin, TSH receptor, and PTPN22 gene quintet and its contribution to thyroid autoimmunity: back to the future. J Autoimmun 28: 85–98

Mysliewiec J et al. (2007) Serum CD40/CD40L system in Graves' disease and Hashimoto's thyroiditis related to soluble Fas, FasL and humoral markers of autoimmune response. Immunol Invest 36: 247–257

Hollowell JG et al. (2002) Serum TSH, T4, and thyroid antibodies in the United States population (1988 to 1994): National Health and Nutrition Examination Survey (NHANES III). J Clin Endocrinol Metab 87: 489–499

Tunbridge WM et al. (1997) The spectrum of thyroid disease in a community: the Whickham Survey. Clin Endocrinol 7: 481–499

Vanderpump MP et al. (1995) The incidence of thyroid disorders in the community: a twenty-year follow-up of the Whickham Survey. Clin Endocrinol (Oxf) 43: 55–68

Vanderpump MP et al. (1996) The development of ischemic heart disease in relation to autoimmune thyroid disease in a 20-year follow-up study of an English community. Thyroid 6: 155–160

O'Leary PC et al. (2006) Investigations on thyroid hormones and antibodies based on a community health service: the Busselton thyroid study. Clin Endocrinol (Oxf) 64: 97–104

Huber G et al. (2002) Prospective study of the spontaneous course of subclinical hypothyroidism: prognostic value of thyrotropin, thyroid reserve and thyroid antibodies. J Clin Endocrinol Metab 87: 3221–3226

Canaris GJ et al. (2000) The Colorado thyroid disease prevalence study. Arch Intern Med 160: 526–534

Hansen PS et al. (2006) The relative importance of genetic and environmental effects for the early stages of thyroid autoimmunity: a study of healthy Danish twins. Eur J Endocrinol 154: 29–38

Takasu N et al. (1990) Test for recovery from hypothyroidism during thyroxine therapy in Hashimoto's thyroiditis. Lancet 336: 1084–1086

Friedrich N et al. (2008) Association between parity and autoimmune thyroiditis in a general female population. Autoimmunity 41: 174–180

Weetman AP (2000) Chronic autoimmune thyroiditis. In Werner and Ingbar's The Thyroid: A Fundamental and Clinical Text, edn 8, 721–732 (Eds Braverman LE and Utiger RD) Philadelphia: Lippincott, Williams & Wilkins

Obermayer-Straub P and Manns MP (1998) Autoimmune polyglandular syndromes. Baillieres Clin Gastroenterol 12: 293–315

Fattori B et al. (2008) Possible association between thyroid autoimmunity and Meniere's disease. Clin Exp Immunnol 152: 28–32

Prummel MF et al. (2004) The environment and autoimmune thyroid diseases. Eur J Endocrinol 150: 605–618

Davies TF (2007) Really significant genes for autoimmune thyroid disease do not exist—so how can we predict disease? Thyroid 17: 1027–1029

Laurberg P et al. (2006) The Danish investigation on iodine intake and thyroid disease, DanThyr: status and perspectives. Eur J Endocrinol 155: 219–228

Carayanniotis G (2007) Recognition of thyroglobulin by T cells: the role of iodine. Thyroid 17: 963–973

Pedersen IB et al. (2007) An increased incidence of overt hypothyroidism after iodine fortification of salt in Denmark: a prospective population study. J Clin Endocrinol Metab 92: 3122–3127

Tsatsoulis A et al. (1999) Thyroid autoimmunity is associated with higher urinary iodine concentrations in an iodine-deficient area of Northwestern Greece. Thyroid 9: 279–283

Teng W et al. (2006) Effect of iodine intake on thyroid diseases in China. N Engl J Med 354: 2783–2793

Camargo RY et al. (2006) Prevalence of chronic autoimmune thyroiditis in the urban area neighboring a petrochemical complex and a control area in Sao Paulo, Brazil. Clinics 61: 307–312

Köhrle J et al. (2005) Selenium, the thyroid and the endocrine system. Endocr Rev 26: 944–984

Duntas LH (2006) The role of selenium in thyroid autoimmunity and cancer. Thyroid 16: 455–460

Contempre B et al. (2004) Thiocyanate induces cell necrosis and fibrosis in selenium- and iodine-deficient rat thyroids: a potential experimental model for myxedematous endemic cretinism in central Africa. Endocrinology 145: 994–1002

Sato A et al. (2008) Thioredoxin-1 ameliorates cigarette smoke-induced lung inflammation and emphysema in mice. J Pharmacol Exp Ther 352: 380–388

Schmutzler C et al. (2007) Selenoproteins of the thyroid gland: expression, localization and possible function of glutathione peroxidase 3. Biol Chem 388: 1053–1059

Kondrashova A et al. (2008) Serological evidence of thyroid autoimmunity among schoolchildren in two different socioeconomic environments. J Clin Endocrinol Metab 93: 729–734

Davies TF (2008) Infection and autoimmune thyroid disease. J Clin Endocrinol Metab 93: 674–676

Tronko MD et al. (2006) Autoimmune thyroiditis and exposure to iodine 131 in the Ukrainian cohort study of thyroid cancer and other thyroid diseases after the Chernobyl accident: results from the first screening cycle (1998–2000). J Clin Endocrinol Metab 91: 4344–4351

Belin RM et al. (2004) Smoke exposure is associated with a lower prevalence of serum thyroid autoantibodies and thyrotropin concentration elevation and a higher prevalence of mild thyrotropin concentration suppression in the third National Health and Nutrition Examination Survey (NHANES III). J Clin Endocrinol Metab 89: 6077–6086

Vestergaard P (2002) Smoking and thyroid disorders—a meta-analysis. Eur J Endocrinol 146: 153–161

Erdogan MF (2003) Thiocyanate overload and thyroid disease. Biofactors 19: 107–111

Ellingsen DG et al. (1997) Cadmium and selenium in blood and urine related to smoking habits and previous exposure to mercury vapour. J Appl Toxicol 17: 337–343

Baccarelli A (1999) Occupational agents and endocrine function: an update of the experimental and human evidence [Italian]. Med Lav 90: 650–670

Langer P et al. (1998) Increased thyroid volume and prevalence of thyroid disorders in an area heavily polluted by polychlorinated biphenyls. Eur J Endocrinol 139: 402–409

Langer P et al. (2007) Thyroid ultrasound volume, structure and function after long-term high exposure of large population to polychlorinated biphenyls, pesticides and dioxin. Chemosphere 69: 118–127

Schmutzler C et al. (2007) Endocrine disruptors and the thyroid gland—a combined in vitro and in vivo analysis of potential new biomakers. Environ Health Perspect 115: 77–83

Boas M et al. (2006) Environmental chemicals and thyroid function. Eur J Endocrinol 154: 599–611

Rueda FL et al. (1999) Atypical thyroiditis in Huelva, Spain. Endocr Pract 5: 109–113

Mizokami T et al. (2004) Stress and thyroid autoimmunity. Thyroid 14: 1047–1055

Tsatsoulis A (2006) The role of stress in the clinical expression of thyroid autoimmunity. Ann NY Acad Sci 1088: 382–395

Schuppert F et al. (1997) Patients treated with interferon-alpha, interferon-beta, and interleukin-2 have a different thyroid autoantibody pattern from patients than patients suffering from endogenous autoimmune thyroid disease. Thyroid 7: 837–842

Rotondi M et al. (2007) Role of chemokines in endocrine autoimmune diseases. Endocr Rev 28: 492–520

Strieder TG et al. (2003) Increased prevalence of antibodies to enteropathogenic Yersinia enterocolitica virulence proteins in relatives of patients with autoimmune thyroid disease. Clin Exp Immunol 132: 278–282

Testa A et al. (2006) Prevalence of HCV antibodies in autoimmune thyroid disease. Eur Rev Med Pharmacol Sci 10: 183–186

Frossi B et al. (2008) Oxidative microenvironment exerts an opposite regulatory effect on cytokine production by TH1 and TH2 cells. Mol Immunol 45: 58–64

Gärtner R et al. (2002) Selenium supplementation in patients with autoimmune thyroiditis decreases thyroid peroxidase antibodies concentrations. J Clin Endocrinol Metab 87: 1687–1691

Duntas LH et al. (2003) Effects of a six month treatment with selenomethionine in patients with autoimmune thyroiditis. Eur J Endocrinol 148: 389–393

Turker O et al. (2006) Selenium treatment in autoimmune thyroiditis: 9-month follow-up with variable doses. J Endocrinol 190: 151–156

Mazokopakis E et al. (2007) Effects of 12 month treatment with l-selenomethionine on serum anti-TPO levels in patients with Hashimoto's thyroiditis. Thyroid 17: 609–612

Negro R et al. (2007) The influence of selenium supplementation on postpartum thyroid status in pregnant women with thyroid peroxidase autoantobodies. J Clin Endocrinol Metab 92: 1263–1268
Ethics declarations
Competing interests
The author declares no competing financial interests.
About this article
Cite this article
Duntas, L. Environmental factors and autoimmune thyroiditis. Nat Rev Endocrinol 4, 454–460 (2008). https://doi.org/10.1038/ncpendmet0896
Received:

Accepted:

Published:

Issue Date:

DOI: https://doi.org/10.1038/ncpendmet0896