Abstract
Tight control of the balance between self-expanding symmetric and self-renewing asymmetric neural progenitor divisions is crucial to regulate the number of cells in the developing central nervous system. We recently demonstrated that Sonic hedgehog (Shh) signalling is required for the expansion of motor neuron progenitors by maintaining symmetric divisions. Here we show that activation of Shh/Gli signalling in dividing neuroepithelial cells controls the symmetric recruitment of PKA to the centrosomes that nucleate the mitotic spindle, maintaining symmetric proliferative divisions. Notably, Shh signalling upregulates the expression of pericentrin, which is required to dock PKA to the centrosomes, which in turn exerts a positive feedback onto Shh signalling. Thus, by controlling centrosomal protein assembly, we propose that Shh signalling overcomes the intrinsic asymmetry at the centrosome during neuroepithelial cell division, thereby promoting self-expanding symmetric divisions and the expansion of the progenitor pool.
Access options
Access Nature and 54 other Nature Portfolio journals
Get Nature+, our best-value online-access subscription
$29.99 per month
cancel any time
Subscribe to this journal
Receive 12 print issues and online access
$209.00 per year
only $17.42 per issue
Rent or buy this article
Get just this article for as long as you need it
$39.95
Prices may be subject to local taxes which are calculated during checkout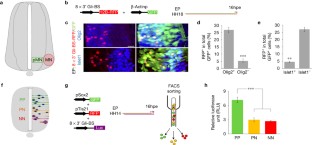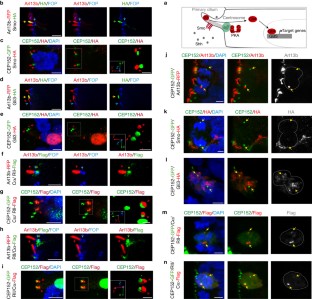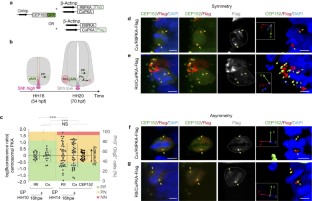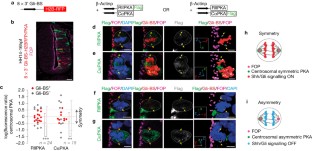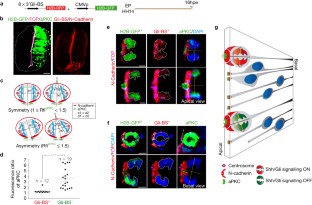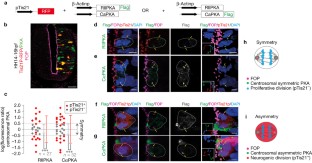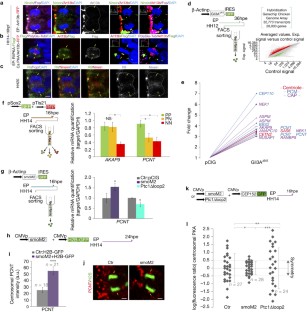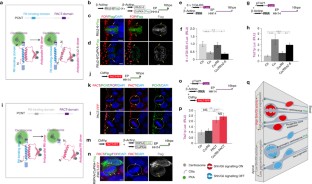 References
Cajal, R.y. Textura del Sistema Nervioso del Hombre y de los Vertebrados Ch. XXI (Nicolás Moya, 1899).

Gotz, M. & Huttner, W. B. The cell biology of neurogenesis. Nat. Rev. Mol. Cell Biol. 6, 777–788 (2005).

Lui, J. H., Hansen, D. V. & Kriegstein, A. R. Development and evolution of the human neocortex. Cell 146, 18–36 (2011).

Franco, S. J. et al. Fate-restricted neural progenitors in the mammalian cerebral cortex. Science 337, 746–749 (2012).

Franco, S. J. & Muller, U. Shaping our minds: stem and progenitor cell diversity in the mammalian neocortex. Neuron 77, 19–34 (2013).

Delattre, M. & Gonczy, P. The arithmetic of centrosome biogenesis. J. Cell Sci. 117, 1619–1630 (2004).

Nigg, E. A. & Raff, J. W. Centrioles, centrosomes, and cilia in health and disease. Cell 139, 663–678 (2009).

Reina, J. & Gonzalez, C. When fate follows age: unequal centrosomes in asymmetric cell division. Phil. Trans. R. Soc. B 369, 20130466 (2014).

Wang, X. et al. Asymmetric centrosome inheritance maintains neural progenitors in the neocortex. Nature 461, 947–955 (2009).

Paridaen, J. T., Wilsch-Brauninger, M. & Huttner, W. B. Asymmetric inheritance of centrosome-associated primary cilium membrane directs ciliogenesis after cell division. Cell 155, 333–344 (2013).

Saade, M. et al. Sonic hedgehog signaling switches the mode of division in the developing nervous system. Cell Rep. 4, 492–503 (2013).

Lai, K., Kaspar, B. K., Gage, F. H. & Schaffer, D. V. Sonic hedgehog regulates adult neural progenitor proliferation in vitro and in vivo. Nat. Neurosci. 6, 21–27 (2003).

Machold, R. et al. Sonic hedgehog is required for progenitor cell maintenance in telencephalic stem cell niches. Neuron 39, 937–950 (2003).

Briscoe, J. Making a grade: sonic Hedgehog signalling and the control of neural cell fate. EMBO J. 28, 457–465 (2009).

Cayuso, J., Ulloa, F., Cox, B., Briscoe, J. & Marti, E. The Sonic hedgehog pathway independently controls the patterning, proliferation and survival of neuroepithelial cells by regulating Gli activity. Development 133, 517–528 (2006).

Wong, W. & Scott, J. D. AKAP signalling complexes: focal points in space and time. Nat. Rev. Mol. Cell Biol. 5, 959–970 (2004).

Le Dreau, G., Saade, M., Gutierrez-Vallejo, I. & Marti, E. The strength of SMAD1/5 activity determines the mode of stem cell division in the developing spinal cord. J. Cell Biol. 204, 591–605 (2014).

Briscoe, J. & Therond, P. P. The mechanisms of Hedgehog signalling and its roles in development and disease. Nat. Rev. Mol. Cell Biol. 14, 416–429 (2013).

Niewiadomski, P. et al. Gli protein activity is controlled by multisite phosphorylation in vertebrate Hedgehog signaling. Cell Rep. 6, 168–181 (2014).

Dzhindzhev, N. S. et al. Asterless is a scaffold for the onset of centriole assembly. Nature 467, 714–718 (2010).

Yan, X., Habedanck, R. & Nigg, E. A. A complex of two centrosomal proteins, CAP350 and FOP, cooperates with EB1 in microtubule anchoring. Mol. Biol. Cell 17, 634–644 (2006).

Nigg, E. A., Schafer, G., Hilz, H. & Eppenberger, H. M. Cyclic-AMP-dependent protein kinase type II is associated with the Golgi complex and with centrosomes. Cell 41, 1039–1051 (1985).

Vandame, P. et al. The spatio-temporal dynamics of PKA activity profile during mitosis and its correlation to chromosome segregation. Cell Cycle 13, 3232–3240 (2014).

Barzi, M., Berenguer, J., Menendez, A., Alvarez-Rodriguez, R. & Pons, S. Sonic-hedgehog-mediated proliferation requires the localization of PKA to the cilium base. J. Cell Sci. 123, 62–69 (2010).

Tuson, M., He, M. & Anderson, K. V. Protein kinase A acts at the basal body of the primary cilium to prevent Gli2 activation and ventralization of the mouse neural tube. Development 138, 4921–4930 (2011).

Marthiens, V. & ffrench-Constant, C. Adherens junction domains are split by asymmetric division of embryonic neural stem cells. EMBO Rep. 10, 515–520 (2009).

Sabherwal, N. et al. The apicobasal polarity kinase aPKC functions as a nuclear determinant and regulates cell proliferation and fate during Xenopus primary neurogenesis. Development 136, 2767–2777 (2009).

Lesage, B., Gutierrez, I., Marti, E. & Gonzalez, C. Neural stem cells: the need for a proper orientation. Curr. Opin. Genet. Dev. 20, 438–442 (2010).

Brand, A. H. & Livesey, F. J. Neural stem cell biology in vertebrates and invertebrates: more alike than different? Neuron 70, 719–729 (2011).

Morin, X. & Bellaiche, Y. Mitotic spindle orientation in asymmetric and symmetric cell divisions during animal development. Dev. Cell 21, 102–119 (2011).

Cruz, C. et al. Foxj1 regulates floor plate cilia architecture and modifies the response of cells to sonic hedgehog signalling. Development 137, 4271–4282 (2010).

Rabadan, M. A. et al. Jagged2 controls the generation of motor neuron and oligodendrocyte progenitors in the ventral spinal cord. Cell Death Differ. 19, 209–219 (2012).

Gillingham, A. K. & Munro, S. The PACT domain, a conserved centrosomal targeting motif in the coiled-coil proteins AKAP450 and pericentrin. EMBO Rep. 1, 524–529 (2000).

Hausken, Z. E., Dell'Acqua, M. L., Coghlan, V. M. & Scott, J. D. Mutational analysis of the A-kinase anchoring protein (AKAP)-binding site on RII. Classification Of side chain determinants for anchoring and isoform selective association with AKAPs. J. Biol. Chem. 271, 29016–29022 (1996).

Peterson, K. A. et al. Neural-specific Sox2 input and differential Gli-binding affinity provide context and positional information in Shh-directed neural patterning. Genes Dev. 26, 2802–2816 (2012).

Nishi, Y. et al. A direct fate exclusion mechanism by Sonic hedgehog-regulated transcriptional repressors. Development 142, 3286–3293 (2015).

Cohen, M., Kicheva, A. & Ribeiro, A. Ptch1 and Gli regulate Shh signalling dynamics via multiple mechanisms. Nat. Commun. 6, 6709 (2015).

Epstein, D. J., Marti, E., Scott, M. P. & McMahon, A. P. Antagonizing cAMP-dependent protein kinase A in the dorsal CNS activates a conserved Sonic hedgehog signaling pathway. Development 122, 2885–2894 (1996).

Marti, E., Bumcrot, D. A., Takada, R. & McMahon, A. P. Requirement of 19K form of Sonic hedgehog for induction of distinct ventral cell types in CNS explants. Nature 375, 322–325 (1995).

Marti, E., Takada, R., Bumcrot, D. A., Sasaki, H. & McMahon, A. P. Distribution of Sonic hedgehog peptides in the developing chick and mouse embryo. Development 121, 2537–2547 (1995).

Stamataki, D., Ulloa, F., Tsoni, S. V., Mynett, A. & Briscoe, J. A gradient of Gli activity mediates graded Sonic Hedgehog signaling in the neural tube. Genes Dev. 19, 626–641 (2005).

Buchman, J. J. et al. Cdk5rap2 interacts with pericentrin to maintain the neural progenitor pool in the developing neocortex. Neuron 66, 386–402 (2010).

Thornton, G. K. & Woods, C. G. Primary microcephaly: do all roads lead to Rome? Trends Genet. 25, 501–510 (2009).

Alkuraya, F. S. et al. Human mutations in NDE1 cause extreme microcephaly with lissencephaly [corrected]. Am. J. Hum. Genet. 88, 536–547 (2011).

Kosodo, Y. et al. Asymmetric distribution of the apical plasma membrane during neurogenic divisions of mammalian neuroepithelial cells. EMBO J. 23, 2314–2324 (2004).

Peyre, E. & Morin, X. An oblique view on the role of spindle orientation in vertebrate neurogenesis. Dev. Growth Differ. 54, 287–305 (2012).

Das, R. M. & Storey, K. G. Apical abscission alters cell polarity and dismantles the primary cilium during neurogenesis. Science 343, 200–204 (2014).

Hamburger, V. & Hamilton, H. L. A series of normal stages in the development of the chick embryo. J. Morphol. 88, 49–92 (1951).

Caspary, T., Larkins, C. E. & Anderson, K. V. The graded response to Sonic Hedgehog depends on cilia architecture. Dev. Cell 12, 767–778 (2007).

Briscoe, J., Chen, Y., Jessell, T. M. & Struhl, G. A hedgehog-insensitive form of patched provides evidence for direct long-range morphogen activity of sonic hedgehog in the neural tube. Mol. Cell 7, 1279–1291 (2001).

Hynes, M. et al. The seven-transmembrane receptor smoothened cell-autonomously induces multiple ventral cell types. Nat. Neurosci. 3, 41–46 (2000).

Uchikawa, M., Ishida, Y., Takemoto, T., Kamachi, Y. & Kondoh, H. Functional analysis of chicken Sox2 enhancers highlights an array of diverse regulatory elements that are conserved in mammals. Dev. Cell 4, 509–519 (2003).

Sasaki, H., Hui, C., Nakafuku, M. & Kondoh, H. A binding site for Gli proteins is essential for HNF-3β floor plate enhancer activity in transgenics and can respond to Shh in vitro. Development 124, 1313–1322 (1997).

Acquaviva, C. et al. The centrosomal FOP protein is required for cell cycle progression and survival. Cell Cycle 8, 1217–1227 (2009).

Haydar, T. F., Ang, E. Jr & Rakic, P. Mitotic spindle rotation and mode of cell division in the developing telencephalon. Proc. Natl Acad. Sci. USA 100, 2890–2895 (2003).

Roszko, I., Afonso, C., Henrique, D. & Mathis, L. Key role played by RhoA in the balance between planar and apico-basal cell divisions in the chick neuroepithelium. Dev. Biol. 298, 212–224 (2006).

Kosodo, Y. et al. Cytokinesis of neuroepithelial cells can divide their basal process before anaphase. EMBO J. 27, 3151–3163 (2008).

Stamataki, D., Ulloa, F., Tsoni, S. V., Mynett, A. & Briscoe, J. A gradient of Gli activity mediates graded Sonic Hedgehog signaling in the neural tube. Genes Dev. 19, 626–641 (2005).

Sievers, F. et al. Fast, scalable generation of high-quality protein multiple sequence alignments using Clustal Omega. Mol. Syst. Biol. 7, 539 (2011).

Goujon, M. et al. A new bioinformatics analysis tools framework at EMBL-EBI. Nucleic Acids Res. 38, W695–W699 (2010).

Marchler-Bauer, A. et al. CDD: NCBI's conserved domain database. Nucleic Acids Res. 43, D222–D226 (2015).
Acknowledgements
The authors are indebted to E. Rebollo for her invaluable technical assistance at the AFMU Facility (IBMB). For providing DNAs, we thank S. McKnight (University of Washington, USA), M. Uchikawa (Osaka University, Japan), M. Götz (Ludwig-Maximilians-University Munich, Germany), H. Lickert (GmbH, ISF, Neuherberg, Germany) and S. Pons (IBMB-CSIC). For providing antibodies, we also thank O. Rosnet (CRCM, Marseille, France), M. Bornens (Institut Curie, Paris, France) and S. Pons (IBMB-CSIC). The monoclonal antibodies were obtained from the Developmental Studies Hybridoma Bank, developed under the auspices of the NICHD and maintained by The University of Iowa, Department of Biological Sciences, Iowa City, Iowa 52242. The work in E.M.'s laboratory was supported by grants BFU2013-46477-P and BFU2014-55738-REDT.
Ethics declarations
Competing interests
The authors declare no competing financial interests.
Integrated supplementary information
Supplementary information
About this article
Cite this article
Saade, M., Gonzalez-Gobartt, E., Escalona, R. et al. Shh-mediated centrosomal recruitment of PKA promotes symmetric proliferative neuroepithelial cell division. Nat Cell Biol 19, 493–503 (2017). https://doi.org/10.1038/ncb3512
Received:

Accepted:

Published:

Issue Date:

DOI: https://doi.org/10.1038/ncb3512