Abstract
Melanoma originates in the epidermis and becomes metastatic after invasion into the dermis. Prior interactions between melanoma cells and dermis are poorly studied. Here, we show that melanoma cells directly affect the formation of the dermal tumour niche by microRNA trafficking before invasion. Melanocytes, cells of melanoma origin, are specialized in releasing pigment vesicles, termed melanosomes. In melanoma in situ, we found melanosome markers in distal fibroblasts before melanoma invasion. The melanosomes carry microRNAs into primary fibroblasts triggering changes, including increased proliferation, migration and pro-inflammatory gene expression, all known features of cancer-associated fibroblasts (CAFs). Specifically, melanosomal microRNA-211 directly targets IGF2R and leads to MAPK signalling activation, which reciprocally encourages melanoma growth. Melanosome release inhibitor prevented CAF formation. Since the first interaction of melanoma cells with blood vessels occurs in the dermis, our data suggest an opportunity to block melanoma invasion by preventing the formation of the dermal tumour niche.
Your institute does not have access to this article
Relevant articles
Open Access articles citing this article.
Rossella Loria

,

Valentina Laquintana

…

Giulia Bon

Journal of Experimental & Clinical Cancer Research Open Access 19 April 2022

Weinan Guo

,

Huina Wang

&

Chunying Li

Signal Transduction and Targeted Therapy Open Access 20 December 2021

Fanglong Wu

,

Jin Yang

…

Hongmei Zhou

Signal Transduction and Targeted Therapy Open Access 10 June 2021
Access options
Subscribe to Journal
Get full journal access for 1 year
$99.00
only $8.25 per issue
All prices are NET prices.
VAT will be added later in the checkout.
Tax calculation will be finalised during checkout.
Buy article
Get time limited or full article access on ReadCube.
$32.00
All prices are NET prices.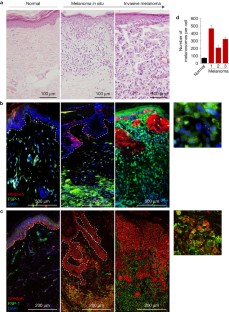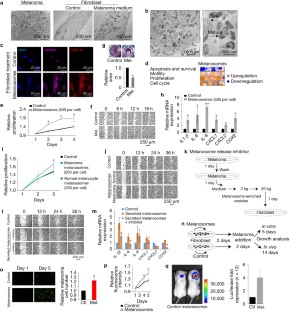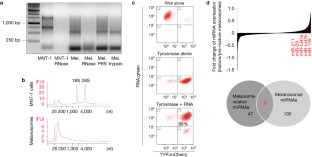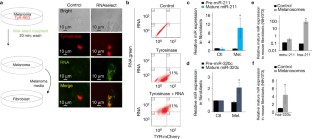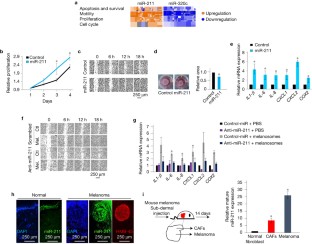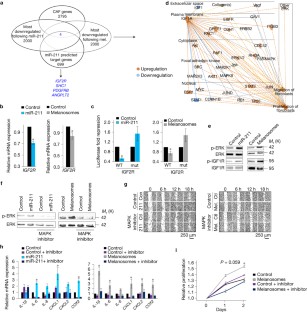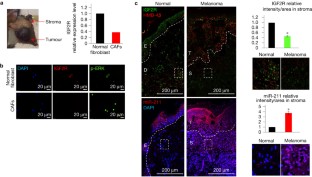 Accession codes
Primary accessions
Gene Expression Omnibus
References
Bell, R. E. & Levy, C. The three M's: melanoma, microphthalmia-associated transcription factor and microRNA. Pigment Cell Melanoma Res. 24, 1088–1106 (2011).

Raposo, G. & Marks, M. S. Melanosomes - dark organelles enlighten endosomal membrane transport. Nat. Rev. Mol. Cell Biol. 8, 786–797 (2007).

Watabe, H., Kushimoto, T., Valencia, J. C. & Hearing, V. J. in Current Protocols in Cell Biology (eds Bonifacino, J. S. et al.) Ch. 3, Unit 3, 14 (2005).

Joshi, P. G. Melanocyte–keratinocyte interaction induces calcium signalling and melanin transfer to keratinocytes. Pigment Cell Res. 20, 380–384 (2007).

Yamaguchi, Y. & Hearing, V. J. Physiological factors that regulate skin pigmentation. Biofactors 35, 193–199 (2009).

Basrur, V. et al. Proteomic analysis of early melanosomes: identification of novel melanosomal proteins. J. Proteome Res. 2, 69–79 (2003).

Boissy, R. E. Melanosome transfer to and translocation in the keratinocyte. Exp. Dermatol. 12, 5–12 (2003).

Lazova, R. & Pawelek, J. M. Why do melanomas get so dark? Exp. Dermatol. 18, 934–938 (2009).

Chen, K. G. et al. Melanosomal sequestration of cytotoxic drugs contributes to the intractability of malignant melanomas. Proc. Natl Acad. Sci. USA 103, 9903–9907 (2006).

Bartel, D. P. MicroRNAs: genomics, biogenesis, mechanism, and function. Cell 116, 281–297 (2004).

Lu, J. et al. MicroRNA expression profiles classify human cancers. Nature 435, 834–838 (2005).

Levy, C. et al. Intronic miR-211 assumes the tumor suppressive function of its host gene in melanoma. Mol. Cell 40, 841–849 (2010).

Asangani, I. et al. MicroRNA-21 (miR-21) post-transcriptionally downregulates tumor suppressor Pdcd4 and stimulates invasion, intravasation and metastasis in colorectal cancer. Oncogene 27, 2128–2136 (2008).

Levy, C. et al. Lineage-specific transcriptional regulation of DICER by MITF in melanocytes. Cell 141, 994–1005 (2010).

Bedrosian, I. et al. Incidence of sentinel node metastasis in patients with thin primary melanoma (< or = 1 mm) with vertical growth phase. Ann. Surg. Oncol. 7, 262–267 (2000).

Sorrell, J. M. & Caplan, A. I. Fibroblast heterogeneity: more than skin deep. J. Cell Sci. 117, 667–675 (2004).

Bhowmick, N. A., Neilson, E. G. & Moses, H. L. Stromal fibroblasts in cancer initiation and progression. Nature 432, 332–337 (2004).

Kalluri, R. & Zeisberg, M. Fibroblasts in cancer. Nat. Rev. Cancer 6, 392–401 (2006).

Servais, C. & Erez, N. From sentinel cells to inflammatory culprits: cancer-associated fibroblasts in tumour-related inflammation. J. Pathol. 229, 198–207 (2013).

Orimo, A. et al. Stromal fibroblasts present in invasive human breast carcinomas promote tumor growth and angiogenesis through elevated SDF-1/CXCL12 secretion. Cell 121, 335–348 (2005).

Tlsty, T. D. & Hein, P. W. Know thy neighbor: stromal cells can contribute oncogenic signals. Curr. Opin. Genet. Dev. 11, 54–59 (2001).

Cornil, I. et al. Fibroblast cell interactions with human melanoma cells affect tumor cell growth as a function of tumor progression. Proc. Natl Acad. Sci. USA 88, 6028–6032 (1991).

Erez, N., Truitt, M., Olson, P., Arron, S. T. & Hanahan, D. Cancer-associated fibroblasts are activated in incipient neoplasia to orchestrate tumor-promoting inflammation in an NF-κB-dependent manner. Cancer Cell 17, 135–147 (2010).

Quante, M. et al. Bone marrow-derived myofibroblasts contribute to the mesenchymal stem cell niche and promote tumor growth. Cancer Cell 19, 257–272 (2011).

Sharon, Y. et al. Tumor-derived osteopontin reprograms normal mammary fibroblasts to promote inflammation and tumor growth in breast cancer. Cancer Res. 75, 963–973 (2015).

Serini, G. & Gabbiani, G. Mechanisms of myofibroblast activity and phenotypic modulation. Exp. Cell Res. 250, 273–283 (1999).

Flach, E. H., Rebecca, V. W., Herlyn, M., Smalley, K. S. & Anderson, A. R. Fibroblasts contribute to melanoma tumor growth and drug resistance. Mol. Pharm. 8, 2039–2049 (2011).

Gallagher, P. G. et al. Gene expression profiling reveals cross-talk between melanoma and fibroblasts: implications for host-tumor interactions in metastasis. Cancer Res. 65, 4134–4146 (2005).

Öhlund, D., Elyada, E. & Tuveson, D. Fibroblast heterogeneity in the cancer wound. J. Exp. Med. 211, 1503–1523 (2014).

Mitra, A. K. et al. MicroRNAs reprogram normal fibroblasts into cancer-associated fibroblasts in ovarian cancer. Cancer Discov. 2, 1100–1108 (2012).

Ruiter, D., Bogenrieder, T., Elder, D. & Herlyn, M. Melanoma–stroma interactions: structural and functional aspects. Lancet Oncol. 3, 35–43 (2002).

Haass, N. K., Smalley, K. S., Li, L. & Herlyn, M. Adhesion, migration and communication in melanocytes and melanoma. Pigment Cell Res. 18, 150–159 (2005).

Sugimoto, H., Mundel, T. M., Kieran, M. W. & Kalluri, R. Identification of fibroblast heterogeneity in the tumor microenvironment. Cancer Biol. Ther. 5, 1640–1646 (2006).

Hoashi, T. et al. Glycoprotein nonmetastatic melanoma protein b, a melanocytic cell marker, is a melanosome-specific and proteolytically released protein. FASEB J. 24, 1616–1629 (2010).

Torisu, H. et al. Macrophage infiltration correlates with tumor stage and angiogenesis in human malignant melanoma: possible involvement of TNFα and IL-1α. Int. J. Cancer 85, 182–188 (2000).

Mathivanan, S. & Simpson, R. J. ExoCarta: a compendium of exosomal proteins and RNA. Proteomics 9, 4997–5000 (2009).

Sato, I., Miyado, M. & Sunohara, M. NADH dehydrogenase activity and expression of mRNA of complex I (ND1, 51kDa, and 75kDa) in heart mitochondria of klotho mouse. Okajimas Folia Anat. Jpn. 82, 49–56 (2005).

Barker, H. E., Bird, D., Lang, G. & Erler, J. T. Tumor-secreted LOXL2 activates fibroblasts through FAK signaling. Mol. Cancer Res. 11, 1425–1436 (2013).

Bellei, B., Pitisci, A., Migliano, E., Cardinali, G. & Picardo, M. Pyridinyl imidazole compounds interfere with melanosomes sorting through the inhibition of cyclin G-associated Kinase, a regulator of cathepsins maturation. Cell. Signal. 26, 716–723 (2014).

Peinado, H. et al. Melanoma exosomes educate bone marrow progenitor cells toward a pro-metastatic phenotype through MET. Nat. Med. 18, 883–891 (2012).

Xiao, D. et al. Identifying mRNA, microRNA and protein profiles of melanoma exosomes. PLoS ONE 7, e46874 (2012).

Lu, Y. J. et al. A molecular fluorescent dye for specific staining and imaging of RNA in live cells: a novel ligand integration from classical thiazole orange and styryl compounds. Chem. Commun. (Camb) 51, 15241–15244 (2015).

Sun, V., Zhou, W., Majid, S., Kashani-Sabet, M. & Dar, A. MicroRNA-mediated regulation of melanoma. Br. J. Dermatol. 171, 234–241 (2014).

Leibowitz-Amit, R., Sidi, Y. & Avni, D. Aberrations in the micro-RNA biogenesis machinery and the emerging roles of micro-RNAs in the pathogenesis of cutaneous malignant melanoma. Pigment Cell Melanoma Res. 25, 740–757 (2012).

Zhao, F. et al. Activation of p38 mitogen-activated protein kinase drives dendritic cells to become tolerogenic in ret transgenic mice spontaneously developing melanoma. Clin. Cancer Res. 15, 4382–4390 (2009).

Hankins, G. R. et al. M6P/IGF2 receptor: a candidate breast tumor suppressor gene. Oncogene 12, 2003–2009 (1996).

Oates, A. J. et al. The mannose 6-phosphate/insulin-like growth factor 2 receptor (M6P/IGF2R), a putative breast tumor suppressor gene. Breast Cancer Res. Treat. 47, 269–281 (1998).

Chappell, S., Walsh, T., Walker, R. & Shaw, J. Loss of heterozygosity at the mannose 6-phosphate insulin-like growth factor 2 receptor gene correlates with poor differentiation in early breast carcinomas. Br. J. Cancer 76, 1558 (1997).

Gemma, A. et al. Mutation analysis of the gene encoding the human mannose 6-phosphate/insulin-like growth factor 2 receptor (M6P/IGF2R) in human cell lines resistant to growth inhibition by transforming growth factor β 1 (TGF-β 1). Lung Cancer 30, 91–98 (2000).

Aprelikova, O. et al. The role of miR-31 and its target gene SATB2 in cancer-associated fibroblasts. Cell Cycle 9, 4387–4398 (2010).

Golan, T. et al. Interactions of melanoma cells with distal keratinocytes trigger metastasis via notch signaling inhibition of MITF. Mol. Cell (2015).

Bell, R. E. et al. Transcription factor/microRNA axis blocks melanoma invasion program by miR-211 targeting NUAK1. J. Invest. Dermatol. 134, 441–451 (2014)10.1038/jid.2013.340.

Soderberg, A., Barral, A. M., Soderstrom, M., Sander, B. & Rosen, A. Redox-signaling transmitted in trans to neighboring cells by melanoma-derived TNF-containing exosomes. Free Radic. Biol. Med. 43, 90–99 (2007).

Gu, J. et al. Gastric cancer exosomes trigger differentiation of umbilical cord derived mesenchymal stem cells to carcinoma-associated fibroblasts through TGF-β/Smad pathway. PLoS ONE 7, e52465 (2012).

van den Boorn, J. G. et al. Skin-depigmenting agent monobenzone induces potent T-cell autoimmunity toward pigmented cells by tyrosinase haptenation and melanosome autophagy. J. Invest. Dermatol. 131, 1240–1251 (2011).

Pinner, S. et al. Intravital imaging reveals transient changes in pigment production and Brn2 expression during metastatic melanoma dissemination. Cancer Res. 69, 7969–7977 (2009).

Lazar, I. et al. Proteome characterization of melanoma exosomes reveals a specific signature for metastatic cell lines. Pigment Cell Melanoma Res. 28, 464–475 (2015).

D'Souza-Schorey, C. & Clancy, J. W. Tumor-derived microvesicles: shedding light on novel microenvironment modulators and prospective cancer biomarkers. Genes Dev. 26, 1287–1299 (2012).

Morris, J. K. A formaldehyde glutaraldehyde fixative of high osmolality for use in electron microscopy. J. Cell Biol. 27, 137–139 (1965).

Ros, J. R., Rodriguez-Lopez, J. N. & Garcia-Canovas, F. Effect of L-ascorbic acid on the monophenolase activity of tyrosinase. Biochem. J. 295, 309–312 (1993).

Ritchie, M. E., Dunning, M. J., Smith, M. L., Shi, W. & Lynch, A. G. BeadArray expression analysis using bioconductor. PLoS Comput. Biol. 7, e1002276 (2011).

Kallio, M. A. et al. Chipster: user-friendly analysis software for microarray and other high-throughput data. BMC Genomics 12, 507 (2011).

Kramer, A., Green, J., Pollard, J. Jr & Tugendreich, S. Causal analysis approaches in Ingenuity Pathway Analysis. Bioinformatics 30, 523–530 (2014).

Alhamdani, M. S. et al. Single-step procedure for the isolation of proteins at near-native conditions from mammalian tissue for proteomic analysis on antibody microarrays. J. Proteome Res. 9, 963–971 (2010).

Bogatkevich, G. S., Tourkina, E., Silver, R. M. & Ludwicka-Bradley, A. Thrombin differentiates normal lung fibroblasts to a myofibroblast phenotype via the proteolytically activated receptor-1 and a protein kinase C-dependent pathway. J. Biol. Chem. 276, 45184–45192 (2001).

Magina, S. et al. Inhibition of basal and ultraviolet B-induced melanogenesis by cannabinoid CB(1) receptors: a keratinocyte-dependent effect. Arch. Dermatol. Res. 303, 201–210 (2011).

Pons, M., Foradada, M. & Estelrich, J. Liposomes obtained by the ethanol injection method. Int. J. Pharm. 95, 51–56 (1993).
Acknowledgements
This work was supported in part by the Cooperation Program in Cancer Research of the Deutsches Krebsforschungszentrum (DKFZ) and Israel's Ministry of Science, Technology and Space (MOST) and by the Israel Science Foundation (ISF). We thank the microarray unit of the DKFZ Genomics and Proteomics Core Facility for performing microarray analyses on the Illumina Human Sentrix-12 BeadChip array and the Agilent Human miRNA Microarray.
Ethics declarations
Competing interests
The authors declare no competing financial interests.
Integrated supplementary information
Supplementary information
About this article
Cite this article
Dror, S., Sander, L., Schwartz, H. et al. Melanoma miRNA trafficking controls tumour primary niche formation. Nat Cell Biol 18, 1006–1017 (2016). https://doi.org/10.1038/ncb3399
Received:

Accepted:

Published:

Issue Date:

DOI: https://doi.org/10.1038/ncb3399