Abstract
The use of near-infrared or infrared photons is a promising approach for biomedical imaging in living tissue1. This technology often requires exogenous contrast agents with combinations of hydrodynamic diameter, absorption, quantum yield and stability that are not possible with conventional organic fluorophores. Here we show that the fluorescence emission of type II2,3 quantum dots can be tuned into the near infrared while preserving absorption cross-section, and that a polydentate phosphine coating renders them soluble, disperse and stable in serum. We then demonstrate that these quantum dots allow a major cancer surgery, sentinel lymph node mapping4,5,6, to be performed in large animals under complete image guidance. Injection of only 400 pmol of near-infrared quantum dots permits sentinel lymph nodes 1 cm deep to be imaged easily in real time using excitation fluence rates of only 5 mW/cm2. Taken together, the chemical, optical and in vivo data presented in this study demonstrate the potential of near-infrared quantum dots for biomedical imaging.
Access options
Subscribe to Journal
Get full journal access for 1 year
$59.00
only $4.92 per issue
All prices are NET prices.
VAT will be added later in the checkout.
Tax calculation will be finalised during checkout.
Rent or Buy article
Get time limited or full article access on ReadCube.
from$8.99
All prices are NET prices.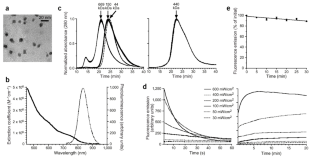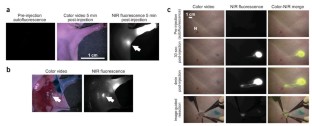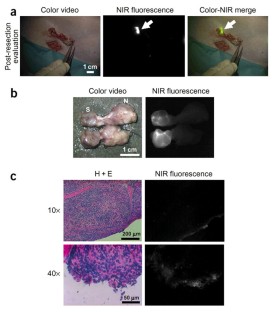 References
1

Lim, Y.T. et al. Selection of quantum dot wavelengths for biomedical assays and imaging. Mol. Imaging 2, 50–64 (2003).

2

Hatami, F. et al. Carrier dynamics in type-II GaSb/GaAs quantum dots. Phys. Rev. B 57, 4635–4641 (1998).

3

Kim, S., Fisher, B., Eisler, H.J. & Bawendi, M. Type-II quantum dots: CdTe/CdSe(core/shell) and CdSe/ZnTe(core/shell) heterostructures. J. Am. Chem. Soc. 125, 11466–11467 (2003).

4

Jakub, J.W., Pendas, S. & Reintgen, D.S. Current status of sentinel lymph node mapping and biopsy: facts and controversies. Oncologist 8, 59–68 (2003).

5

Bonnema, J. & Van, D.V.C.J. Sentinel lymph node biopsy in breast cancer. Ann. Oncol. 13, 1531–1537 (2002).

6

Thompson, J.F. & Uren, R.F. Lymphatic mapping and sentinel node biopsy for melanoma. Expert. Rev. Anticancer Ther. 1, 446–452 (2001).

7

Kim, S. & Bawendi, M.G. Oligomeric ligands for luminescent and stable nanocrystal quantum dots. J. Am. Chem. Soc. in the press (2003).

8

Uren, R.F. & Hoefnagel, C.A. in Textbook of Melanoma (eds. J.F. Thompson, D.M. Morton & B.B.R. Kroon) Chapter 30 (Martin Dunitz, London, 2003).

9

Nakayama, A., Bianco, A.C., Zhang, C.Y., Lowell, B.B. & Frangioni, J.V. Quantitation of brown adipose tissue perfusion in transgenic mice using near-infrared fluorescence imaging. Mol. Imaging 2, 37–49 (2003).

10

Manna, L., Scher, E.C., Li, L.S. & Alivisatos, A.P. Epitaxial growth and photochemical annealing of graded CdS/ZnS shells on colloidal CdSe nanorods. J. Am. Chem. Soc. 124, 7136–7145 (2002).

11

Wang, Y., Tang, Z., Correa-Duarte, M.A., Liz-Marzan, L.M. & Kotov, N.A. Multicolor luminescence patterning by photoactivation of semiconductor nanoparticle films. J. Am. Chem. Soc. 125, 2830–2831 (2003).

12

Nakayama, A., del Monte, F., Hajjar, R.J. & Frangioni, J.V. Functional near-infrared fluorescence imaging for cardiac surgery and targeted gene therapy. Mol. Imaging 1, 365–377 (2002).

13

Ntziachristos, V., Bremer, C. & Weissleder, R. Fluorescence imaging with near-infrared light: new technological advances that enable in vivo molecular imaging. Eur. Radiol. 13, 195–208 (2003).

14

Sevick-Muraca, E.M., Houston, J.P. & Gurfinkel, M. Fluorescence-enhanced, near infrared diagnostic imaging with contrast agents. Curr. Opin. Chem. Biol. 6, 642–650 (2002).

15

US Department of Energy. Risk Assessment Information System. http://risk.lsd.ornl.gov/tox/rap_toxp.shtml.

16

Mikulec, F.V. Semiconductor nanocrystal colloids: manganese doped cadmium selenide, (core)shell composites for biological labeling, and highly fluorescent cadmium telluride. Ph.D. Thesis, Department of Chemistry, Massachusetts Institute of Technology, Cambridge, Massachusetts, USA (1999).

17

Drew, M.G.B., Rice, D.A. & Williams, D.M. Synthesis of Nb(O2H5C7)3Y (Y = O, S and Se): crystal structure of oxotris(tropolonato)niobium(V) monohydrate: a seven coordinate monomer containing a terminal Nb:O bond. Inorgan. Chim. Acta 118, 165–168 (1986).

18

De Grand, A.M. & Frangioni, J.V. An operational near-infrared fluorescence imaging system prototype for large animal surgery. Technol. Cancer. Res. Treat. in the press (2003).
Acknowledgements
We thank Grisel Rivera for administrative assistance and Daniel A. Brown (BIDMC) for frozen sectioning. This work was supported by the Post-Doctoral Fellowship Program of the Korea Science and Engineering Foundation (KOSEF; Y.T.L.). This work was also supported in part by the US National Science Foundation–Materials Research Science and Engineering Center program under grant DMR-9808941 (M.G.B.), the US Office of Naval Research (M.G.B.), the Stewart Trust of Washington, D.C. (J.V.F.), US Department of Energy (Office of Biological and Environmental Research) grant DE-FG02-01ER63188 (J.V.F.) and US National Institutes of Health grant R21 EB-00673 (J.V.F. and M.G.B.).
Ethics declarations
Competing interests
The authors declare no competing financial interests.
Supplementary information
About this article
Cite this article
Kim, S., Lim, Y., Soltesz, E. et al. Near-infrared fluorescent type II quantum dots for sentinel lymph node mapping. Nat Biotechnol 22, 93–97 (2004). https://doi.org/10.1038/nbt920
Received:

Accepted:

Published:

Issue Date: