Abstract
DNA transposition is an important biological phenomenon that mediates genome rearrangements, inheritance of antibiotic resistance determinants, and integration of retroviral DNA. Transposition has also become a powerful tool in genetic analysis, with applications in creating insertional knockout mutations, generating gene–operon fusions to reporter functions, providing physical or genetic landmarks for the cloning of adjacent DNAs, and locating primer binding sites for DNA sequence analysis. DNA transposition studies to date usually have involved strictly in vivo approaches, in which the transposon of choice and the gene encoding the transposase responsible for catalyzing the transposition have to be introduced into the cell to be studied (microbial systems and applications are reviewed in ref. 1). However, all in vivo systems have a number of technical limitations. For instance, the transposase must be expressed in the target host, the transposon must be introduced into the host on a suicide vector, and the transposase usually is expressed in subsequent generations, resulting in potential genetic instability. A number of in vitro transposition systems (for Tn5, Tn7, Mu, Himar1 , and Ty1) have been described, which bypass many limitations of in vivo systems2,3,4,5,6,7. For this purpose, we have developed a technique for transposition that involves the formation in vitro of released Tn5 transposition complexes (TransposomesTM) followed by introduction of the complexes into the target cell of choice by electroporation. In this report, we show that this simple, robust technology can generate high-efficiency transposition in all tested bacterial species (Escherichia coli, Salmonella typhimurium, and Proteus vulgaris) We also isolated transposition events in the yeast Saccharomyces cerevisiae.
Your institute does not have access to this article
Relevant articles
Open Access articles citing this article.
Jilong Qin

,

Yaoqin Hong

…

Makrina Totsika

Scientific Reports Open Access 08 July 2022

Viktor Vernyik

,

Ildikó Karcagi

…

György Pósfai

Scientific Reports Open Access 30 April 2020

Hector Osorio

,

Carol Jara

…

Mónica Vásquez

Biotechnology for Biofuels Open Access 01 June 2019
Access options
Subscribe to Journal
Get full journal access for 1 year
$99.00
only $8.25 per issue
All prices are NET prices.
VAT will be added later in the checkout.
Tax calculation will be finalised during checkout.
Buy article
Get time limited or full article access on ReadCube.
$32.00
All prices are NET prices.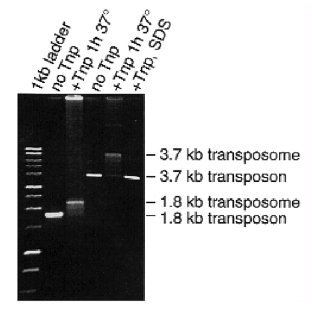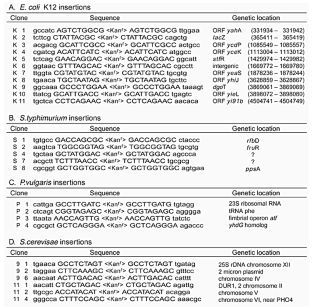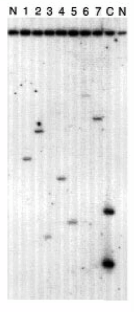 References
Berg, C.M. & Berg, D.E. in Escherichia coli and Salmonella cellular and molecular biology (eds Neidhardt, F.C. et al.) 2588–2612 (ASM Press, Washington, DC; 1996).

Goryshin, I.Y. & Reznikoff, W.S. Tn5 in vitro transposition . J. Biol. Chem. 273, 7367– 7374 (1998).

Gwinn, M.L., Stellwagen, A.E., Craig, N.L., Tomb, J.F. & Smith, H.O. In vitro Tn7 mutagenesis of Haemophilus influenzae Rd and characterization of the role of atpA in transformation. J. Bacteriol. 179, 7315–7320 (1997).

Haapa, S., Taira, S., Heikkinen, E. & Savilahti, H. An efficient and accurate integration of mini-Mu transposons in vitro: a general methodology for functional genetic analysis and molecular biology applications . Nucleic Acids Res. 27, 2777– 2784 (1999).

Akerley, B.J., et al. Systematic identification of essential genes by in vitro Mariner mutagenesis. Proc. Natl. Acad. Sci. USA 95, 8927–8932 (1998).

Devine, S.E. & Boeke, J.D. Efficient integration of artificial transposons into plasmid targets in vitro: a useful tool for DNA mapping, sequencing and genetic analysis. Nucleic. Acids Res. 22, 3765–3772 (1994).

Braam, L.M. & Reznikoff, W.S. in Embryonic encyclopedia of life sciences (Nature Publishing Group, London, UK; 1999), available at www.els.net.

Reznikoff, W.S. et al. Tn5: a molecular window on transposition. Biochem. Biophys. Res. Commun. In press.

Wu, F., Goldberg, I. & Filutowicz, M. Roles of a 106-bp origin enhancer and Escherichia coliDnaA protein in replication of plasmid R6K. Nucleic Acids Res. 20, 811–817 ( 1992).

Zhou, M., Bhasin, A. & Reznikoff, W.S. Molecular genetic analysis of transposase – end sequence recognition: cooperation of three adjacent base pairs in specific interactionwith a mutant Tn5transposase. J. Mol. Biol. 276, 913–925 (1998).

Dover, W.J., Miller, J.F. & Ragsdale, C.W. High efficiency transformation of E. coliby high voltage electroporation. Nucleic Acids Res. 16, 6127–6145 (1988).

Blattner, F.R. et al. The complete genome sequence of Escherichia coli K12 . Science 277, 1453–1462 (1997).

Miller, J.H. Experiments in molecular genetics. (Cold Spring Harbor Laboratory Press, Cold Spring Harbor, NY; (1972).

Thompson, J.R., Register, E., Curotto, J., Kurtz, M. & Kelley, R. An improved protocol for the preparation of yeast cells for transformation by electroporation. Yeast 14, 565–571 (1998).

Grant, S.G., Jessee, J., Bloom, F.R. & Hanahan, D. Differential plasmid rescue from transgenic mouse DNAs into Escherichia colimethylation-restriction mutants. Proc. Natl. Acad. Sci. USA 87, 4645–4649 (1990).

Oka, A., Sugisaki, H. & Takanami, M. Nucleotide sequence of the kanamycin resistant transposon Tn903. J. Mol. Biol. 147, 217– 226 (1981).

Chang, A.C. & Cohen, S.N. Construction and characterization of amplifiable multicopy DNA cloning vehicles derived from the P15A cryptic miniplasmid. J. Bacteriol. 134, 1141– 1156 (1978).

Wach, A., Brachat, A., Poehlmann, R. & Philippsen, P. New heterologous modules for classical or PCR-based gene disruptions in Saccharomyces cerevisiae. Yeast 10, 1793–1808 (1994).

Braam, L.A.M., Goryshin, I.Y. & Reznikoff, W.S. A mechanism for Tn5inhibition. J. Biol. Chem. 274, 86–92 (1999).

Bolivar, F., et al. Construction and characterization of new cloning vehicles. II. A multipurpose cloning system. Gene 2, 95–113 (1977).

Marmur, J. A procedure for the isolation of deoxyribonucleic acid from microorganisms . J. Mol. Biol. 3, 208– 218 (1961).

Sambrook, J., Fritsch, E.F. & Maniatis, T. Molecular cloning: a laboratory manual 137–138 (Cold Spring Harbor Laboratory Press, Cold Spring Harbor, NY; (1989).

Heiner, K.L., Hunkapiller, K.L., Chen, S.-M., Glass, J.I. & Chen, E.Y. Sequencing multimegabase-template DNA with BigDye terminator chemistry. Genome Res. 8 , 557–561 (1998).

Reed, K.C. & Mann, D.A. Rapid transfer of DNA from agarose gels to nylon membranes. Nucleic Acids Res. 13, 7207–7221 (1985).

Goffeau, A. et al. Life with 6000 genes. Science 274, 563–567 (1996).
Acknowledgements
We wish to thank Erich Moan and Joanne Decker for their technical assistance and input, Keith Derbyshire for communicating results prior to publication, and George Buriakov and Guy Plunkett for help with the E. coli insert analysis. Some of the reported experiments were supported by a grant (GM50692) from the National Institutes of Health to W.S.R. A preliminary report of the S. cerevisiae experiments can be found in Hoffman et al., Curr. Genet .35, 305 (1999).
About this article
Cite this article
Goryshin, I., Jendrisak, J., Hoffman, L. et al. Insertional transposon mutagenesis by electroporation of released Tn5 transposition complexes. Nat Biotechnol 18, 97–100 (2000). https://doi.org/10.1038/72017
Received:

Accepted:

Issue Date:

DOI: https://doi.org/10.1038/72017