Abstract
Despite recent advances in optogenetics, it remains challenging to manipulate gene expression in specific populations of neurons. We present a dual-protein switch system, Cal-Light, that translates neuronal-activity-mediated calcium signaling into gene expression in a light-dependent manner. In cultured neurons and brain slices, we show that Cal-Light drives expression of the reporter EGFP with high spatiotemporal resolution only in the presence of both blue light and calcium. Delivery of the Cal-Light components to the motor cortex of mice by viral vectors labels a subset of excitatory and inhibitory neurons related to learned lever-pressing behavior. By using Cal-Light to drive expression of the inhibitory receptor halorhodopsin (eNpHR), which responds to yellow light, we temporarily inhibit the lever-pressing behavior, confirming that the labeled neurons mediate the behavior. Thus, Cal-Light enables dissection of neural circuits underlying complex mammalian behaviors with high spatiotemporal precision.
Access options
Subscribe to Journal
Get full journal access for 1 year
$259.00
only $21.58 per issue
All prices are NET prices.
VAT will be added later in the checkout.
Rent or Buy article
Get time limited or full article access on ReadCube.
from$8.99
All prices are NET prices.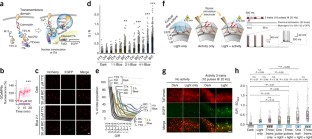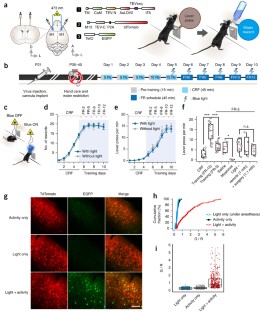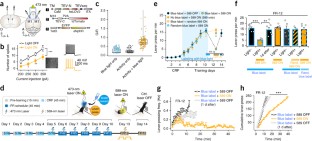 References
1

Barth, A.L. Visualizing circuits and systems using transgenic reporters of neural activity. Curr. Opin. Neurobiol. 17, 567–571 (2007).

2

Bito, H., Deisseroth, K. & Tsien, R.W. Ca2+-dependent regulation in neuronal gene expression. Curr. Opin. Neurobiol. 7, 419–429 (1997).

3

Flavell, S.W. & Greenberg, M.E. Signaling mechanisms linking neuronal activity to gene expression and plasticity of the nervous system. Annu. Rev. Neurosci. 31, 563–590 (2008).

4

Garner, A.R. et al. Generation of a synthetic memory trace. Science 335, 1513–1516 (2012).

5

Inoue, M. et al. Synaptic activity-responsive element (SARE): A unique genomic structure with an unusual sensitivity to neuronal activity. Commun. Integr. Biol. 3, 443–446 (2010).

6

Kawashima, T. et al. Functional labeling of neurons and their projections using the synthetic activity-dependent promoter E-SARE. Nat. Methods 10, 889–895 (2013).

7

Liu, X. et al. Optogenetic stimulation of a hippocampal engram activates fear memory recall. Nature 484, 381–385 (2012).

8

Okuno, H. et al. Inverse synaptic tagging of inactive synapses via dynamic interaction of Arc/Arg3.1 with CaMKIIβ. Cell 149, 886–898 (2012).

9

Smeyne, R.J. et al. fos-lacZ transgenic mice: mapping sites of gene induction in the central nervous system. Neuron 8, 13–23 (1992).

10

Sørensen, A.T. et al. A robust activity marking system for exploring active neuronal ensembles. eLife 5, e13918 (2016).

11

Greer, P.L. & Greenberg, M.E. From synapse to nucleus: calcium-dependent gene transcription in the control of synapse development and function. Neuron 59, 846–860 (2008).

12

Fields, R.D., Eshete, F., Stevens, B. & Itoh, K. Action potential-dependent regulation of gene expression: temporal specificity in ca2+, cAMP-responsive element binding proteins, and mitogen-activated protein kinase signaling. J. Neurosci. 17, 7252–7266 (1997).

13

Fosque, B.F. et al. Neural circuits. Labeling of active neural circuits in vivo with designed calcium integrators. Science 347, 755–760 (2015).

14

Kennedy, M.J. et al. Rapid blue-light-mediated induction of protein interactions in living cells. Nat. Methods 7, 973–975 (2010).

15

Motta-Mena, L.B. et al. An optogenetic gene expression system with rapid activation and deactivation kinetics. Nat. Chem. Biol. 10, 196–202 (2014).

16

Harper, S.M., Neil, L.C. & Gardner, K.H. Structural basis of a phototropin light switch. Science 301, 1541–1544 (2003).

17

Guntas, G. et al. Engineering an improved light-induced dimer (iLID) for controlling the localization and activity of signaling proteins. Proc. Natl. Acad. Sci. USA 112, 112–117 (2015).

18

Miyawaki, A., Griesbeck, O., Heim, R. & Tsien, R.Y. Dynamic and quantitative Ca2+ measurements using improved cameleons. Proc. Natl. Acad. Sci. USA 96, 2135–2140 (1999).

19

Jin, X. & Costa, R.M. Start/stop signals emerge in nigrostriatal circuits during sequence learning. Nature 466, 457–462 (2010).

20

Makino, H. & Komiyama, T. Learning enhances the relative impact of top-down processing in the visual cortex. Nat. Neurosci. 18, 1116–1122 (2015).

21

Lee, D. et al. Inositol 1,4,5-trisphosphate 3-kinase A is a novel microtubule-associated protein: PKA-dependent phosphoregulation of microtubule binding affinity. J. Biol. Chem. 287, 15981–15995 (2012).

22

Jiang, M. & Chen, G. High Ca2+-phosphate transfection efficiency in low-density neuronal cultures. Nat. Protoc. 1, 695–700 (2006).

23

Paxinos, G. & Franklin, K. The Mouse Brain in Stereotaxic Coordinates (Elsevier, 2013).

24

Stoppini, L., Buchs, P.A. & Muller, D. A simple method for organotypic cultures of nervous tissue. J. Neurosci. Methods 37, 173–182 (1991).
Acknowledgements
We would like to thank B. Kuhlman (University of North Carolina, Chapel Hill) for iLID construct; K. Deisseroth (Stanford University) for an eNpHR-EYFP construct; C. Tucker (University of Colorado) for CRY2 and CIBN constructs; H. Zeng (Allen institute) for a TetO-EGFP construct; S-Y. Choi (Chonnam National University, Republic of Korea) for a P2A vector; W. Weber (University of Freiburg, Germany) for a pSAM200 vector. We thank K-S. Lee and D. Fitzpatrick for helping 3D reconstruction of neurons. We thank M.J. Yetman and H. Taniguchi for helping antibody staining and resource sharing. We thank Y. Chen and B.L. Sabatini for testing initial Cal-Light constructs. We thank all members of the laboratory for critical discussion and comments. This work was supported by funding from a Korea University Grant (to D.L.) and Max Planck Florida Institute for Neuroscience (to H.-B.K.). DNA plasmids used in this study have been deposited to Addgene (Deposit number: 74208).
Ethics declarations
Competing interests
The Max Planck Florida Institute for Neuroscience has filed a patent application that includes portions of the research described in this manuscript.
Integrated supplementary information
Supplementary information
About this article
Cite this article
Lee, D., Hyun, J., Jung, K. et al. A calcium- and light-gated switch to induce gene expression in activated neurons. Nat Biotechnol 35, 858–863 (2017). https://doi.org/10.1038/nbt.3902
Received:

Accepted:

Published:

Issue Date: