Primary human cells provide mechanistic information for toxicology studies.
Access options
Subscribe to Journal
Get full journal access for 1 year
$59.00
only $4.92 per issue
All prices are NET prices.
VAT will be added later in the checkout.
Tax calculation will be finalised during checkout.
Rent or Buy article
Get time limited or full article access on ReadCube.
from$8.99
All prices are NET prices.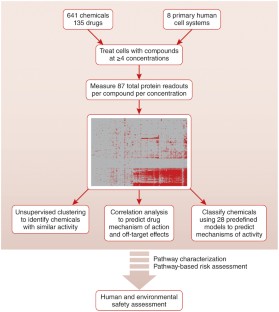 References
1

Kleinstreuer, N.C. et al. Nat. Biotechnol. 32, 583–591 (2014).

2

European Commission. Off. J. Eur. Union L 66, 26–35 (2003).

3

Adler, S. et al. Arch. Toxicol. 85, 367–485 (2011).

4

Krewski, D. et al. J. Toxicol. Environ. Health B Crit. Rev. 13, 51–138 (2010).

5

Organization for economic cooperation and development. Report of the workshop on using mechanistic information in forming chemical categories. (no. 138, series on testing and assessment) (OECD, Crystal City, 2011).

6

Kavlock, R., et al. Chem. Res. Toxicol. 25, 1287–1302 (2012).

7

Hall, B. et al. Food Chem. Toxicol. 45, 2097–2108 (2007).

8

Adeleye, Y. et al. Toxicology available online, doi:10.1016/j.tox.2014.02.007 (25 February 2014).
Ethics declarations
Competing interests
Both Dr. C. Westmoreland and Prof. P.L. Carmichael are employed by Unilever.
About this article
Cite this article
Westmoreland, C., Carmichael, P. Chemical safety without animals. Nat Biotechnol 32, 541–543 (2014). https://doi.org/10.1038/nbt.2922
Further reading
Boris V. Krivoshiev

,

Gerrit T.S. Beemster

,

Katrien Sprangers

,

Ronny Blust

&

Steven J. Husson

Journal of Applied Toxicology (2018)

Jacqueline Kai Chin Chuah

&

Daniele Zink

Biotechnology Advances (2017)

Saori Tsuji

,

Tetsuya Ohbayashi

,

Kohji Yamakage

,

Mitsuo Oshimura

,

Masako Tada

&

Roman G. Gerlach

PLOS ONE (2016)