Abstract
Cultured human embryonic stem (hES) cells have a known predisposition to aneuploidy of chromosomes 12, 17 and X. We studied 17 hES cell lines by array-based comparative genomic hybridization (aCGH) and found that the cells accumulate other recurrent chromosomal abnormalities, including amplification at 20q11.21 and a derivative chromosome 18. These genomic changes have a variable impact at the transcriptional level.
Access options
Subscribe to Journal
Get full journal access for 1 year
$250.00
only $20.83 per issue
All prices are NET prices.
VAT will be added later in the checkout.
Rent or Buy article
Get time limited or full article access on ReadCube.
from$8.99
All prices are NET prices.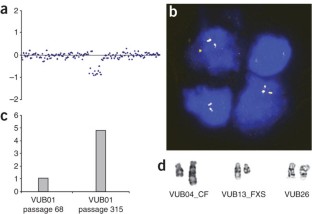 Accession codes
Accessions
Gene Expression Omnibus
References
1

Baker, D.E. et al. Nat. Biotechnol. 25, 207–215 (2007).

2

Josephson, R. Expert Rev. Mol. Diagn. 7, 395–406 (2007).

3

Inzunza, J. et al. Mol. Hum. Reprod. 10, 461–466 (2004).

4

Maitra, A. et al. Nat. Genet. 37, 1099–1103 (2005).

5

Mateizel, I. et al. Hum. Reprod. 21, 503–511 (2006).

6

Wu, H. et al. Stem Cells 26, 1484–1489 (2008).

7

Scotto, L. et al. Genes Chromosom. Cancer 47, 755–765 (2008).

8

Guled, M. et al. Mod. Pathol. 21, 770–778 (2008).

9

Pfeiffer, P. et al. Mutagenesis 15, 289–302 (2000).

10

Lukusa, T. & Fryns, J.P. Biochim. Biophys. Acta 1779, 3–16 (2008).

11

Herszfeld, D. et al. Nat. Biotechnol. 24, 351–357 (2006).

12

Camps, J. et al. Cancer Res. 68, 1284–1295 (2008).

13

Yin, Z. et al. Oncogene 20, 2273–2280 (2001).
Acknowledgements
This work has been supported by grants from the Fund for Scientific Research Flanders (Fonds voor Wetenschappelijk Onderzoek (FWO) Vlaanderen) and by the STEM-HD (STREP EU FP6 program). C.S. is a postdoctoral fellow at the FWO Vlaanderen. M.G. is a PhD student at the FWO Vlaanderen. A.M. is a PhD student at the Instituut voor de aanmoediging van innovatie door Wetenschap en Technologie in Vlaanderen (IWT-Vlaanderen).
Supplementary information
About this article
Cite this article
Spits, C., Mateizel, I., Geens, M. et al. Recurrent chromosomal abnormalities in human embryonic stem cells. Nat Biotechnol 26, 1361–1363 (2008). https://doi.org/10.1038/nbt.1510
Received:

Accepted:

Published:

Issue Date: