Abstract
A challenge in the treatment of Staphylococcus aureus infections is the high prevalence of methicillin-resistant S. aureus (MRSA) strains and the formation of non-growing, dormant 'persister' subpopulations that exhibit high levels of tolerance to antibiotics1,2,3 and have a role in chronic or recurrent infections4,5. As conventional antibiotics are not effective in the treatment of infections caused by such bacteria, novel antibacterial therapeutics are urgently required. Here we used a Caenorhabditis elegans–MRSA infection screen6 to identify two synthetic retinoids, CD437 and CD1530, which kill both growing and persister MRSA cells by disrupting lipid bilayers. CD437 and CD1530 exhibit high killing rates, synergism with gentamicin, and a low probability of resistance selection. All-atom molecular dynamics simulations demonstrated that the ability of retinoids to penetrate and embed in lipid bilayers correlates with their bactericidal ability. An analogue of CD437 was found to retain anti-persister activity and show an improved cytotoxicity profile. Both CD437 and this analogue, alone or in combination with gentamicin, exhibit considerable efficacy in a mouse model of chronic MRSA infection. With further development and optimization, synthetic retinoids have the potential to become a new class of antimicrobials for the treatment of Gram-positive bacterial infections that are currently difficult to cure.
Access options
Subscribe to Journal
Get full journal access for 1 year
$199.00
only $3.90 per issue
All prices are NET prices.
VAT will be added later in the checkout.
Rent or Buy article
Get time limited or full article access on ReadCube.
from$8.99
All prices are NET prices.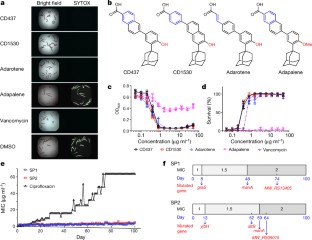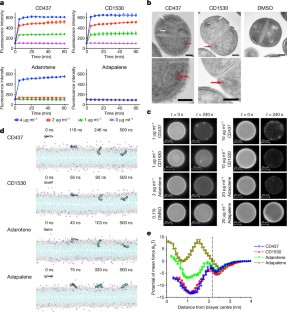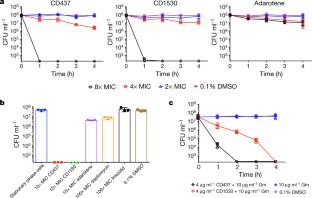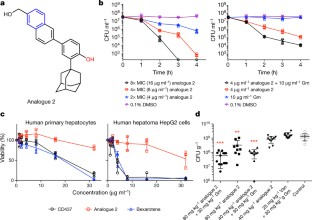 References
1

Allison, K. R., Brynildsen, M. P. & Collins, J. J. Metabolite-enabled eradication of bacterial persisters by aminoglycosides. Nature 473, 216–220 (2011)

2

Conlon, B. P. et al. Activated ClpP kills persisters and eradicates a chronic biofilm infection. Nature 503, 365–370 (2013)

3

Davies, J. & Davies, D. Origins and evolution of antibiotic resistance. Microbiol. Mol. Biol. Rev. 74, 417–433 (2010)

4

Lew, D. P. & Waldvogel, F. A. Osteomyelitis. Lancet 364, 369–379 (2004)

5

Baddour, L. M. et al. Infective endocarditis in adults: diagnosis, antimicrobial therapy, and management of complications: a scientific statement for healthcare professionals from the American Heart Association. Circulation 132, 1435–1486 (2015)

6

Rajamuthiah, R. et al. Whole animal automated platform for drug discovery against multi-drug resistant Staphylococcus aureus. PLoS ONE 9, e89189 (2014)

7

Altucci, L., Leibowitz, M. D., Ogilvie, K. M., de Lera, A. R. & Gronemeyer, H. RAR and RXR modulation in cancer and metabolic disease. Nat. Rev. Drug Discov. 6, 793–810 (2007)

8

Valli, C. et al. Atypical retinoids ST1926 and CD437 are S-phase-specific agents causing DNA double-strand breaks: significance for the cytotoxic and antiproliferative activity. Mol. Cancer Ther. 7, 2941–2954 (2008)

9

Tang, X.-H. et al. Combination of bexarotene and the retinoid CD1530 reduces murine oral-cavity carcinogenesis induced by the carcinogen 4-nitroquinoline 1-oxide. Proc. Natl Acad. Sci. USA 111, 8907–8912 (2014)

10

Han, T. et al. The antitumor toxin CD437 is a direct inhibitor of DNA polymerase α. Nat. Chem. Biol. 12, 511–515 (2016)

11

Irby, C. E., Yentzer, B. A. & Feldman, S. R. A review of adapalene in the treatment of acne vulgaris. J. Adolesc. Health 43, 421–424 (2008)

12

Meehl, M., Herbert, S., Götz, F. & Cheung, A. Interaction of the GraRS two-component system with the VraFG ABC transporter to support vancomycin-intermediate resistance in Staphylococcus aureus. Antimicrob. Agents Chemother. 51, 2679–2689 (2007)

13

Yang, S.-J. et al. The Staphylococcus aureus two-component regulatory system, GraRS, senses and confers resistance to selected cationic antimicrobial peptides. Infect. Immun. 80, 74–81 (2012)

14

Elbaz, M. & Ben-Yehuda, S. The metabolic enzyme ManA reveals a link between cell wall integrity and chromosome morphology. PLoS Genet. 6, e1001119 (2010)

15

Falord, M., Mäder, U., Hiron, A., Débarbouillé, M. & Msadek, T. Investigation of the Staphylococcus aureus GraSR regulon reveals novel links to virulence, stress response and cell wall signal transduction pathways. PLoS ONE 6, e21323 (2011)

16

Göhring, N. et al. New role of the disulfide stress effector YjbH in β-lactam susceptibility of Staphylococcus aureus. Antimicrob. Agents Chemother. 55, 5452–5458 (2011)

17

Friedrich, C. L., Moyles, D., Beveridge, T. J. & Hancock, R. E. Antibacterial action of structurally diverse cationic peptides on gram-positive bacteria. Antimicrob. Agents Chemother. 44, 2086–2092 (2000)

18

Chen, Y.-F., Sun, T.-L., Sun, Y. & Huang, H. W. Interaction of daptomycin with lipid bilayers: a lipid extracting effect. Biochemistry 53, 5384–5392 (2014)

19

Ganewatta, M. S. et al. Bio-inspired resin acid-derived materials as anti-bacterial resistance agents with unexpected activities. Chem. Sci. 5, 2011–2016 (2014)

20

Piggot, T. J., Holdbrook, D. A. & Khalid, S. Electroporation of the E. coli and S. aureus membranes: molecular dynamics simulations of complex bacterial membranes. J. Phys. Chem. B 115, 13381–13388 (2011)

21

Sala, F. et al. Development and validation of a liquid chromatography–tandem mass spectrometry method for the determination of ST1926, a novel oral antitumor agent, adamantyl retinoid derivative, in plasma of patients in a Phase I study. J. Chromatogr. B 877, 3118–3126 (2009)

22

Farha, M. A., Verschoor, C. P., Bowdish, D. & Brown, E. D. Collapsing the proton motive force to identify synergistic combinations against Staphylococcus aureus. Chem. Biol. 20, 1168–1178 (2013)

23

Hurdle, J. G., O'Neill, A. J., Chopra, I. & Lee, R. E. Targeting bacterial membrane function: an underexploited mechanism for treating persistent infections. Nat. Rev. Microbiol. 9, 62–75 (2011)

24

Basma, H. et al. The synthetic retinoid ST1926 as a novel therapeutic agent in rhabdomyosarcoma. Int. J. Cancer 138, 1528–1537 (2016)

25

Cosgrove, S. E. et al. Initial low-dose gentamicin for Staphylococcus aureus bacteremia and endocarditis is nephrotoxic. Clin. Infect. Dis. 48, 713–721 (2009)

26

Álvarez, R., Vaz, B., Gronemeyer, H. & de Lera, A. R. Functions, therapeutic applications, and synthesis of retinoids and carotenoids. Chem. Rev. 114, 1–125 (2014)

27

Schadendorf, D. et al. Treatment of melanoma cells with the synthetic retinoid CD437 induces apoptosis via activation of AP-1 in vitro, and causes growth inhibition in xenografts in vivo. J. Cell Biol. 135, 1889–1898 (1996)

28

Langdon, S. P. et al. Growth-inhibitory effects of the synthetic retinoid CD437 against ovarian carcinoma models in vitro and in vivo. Cancer Chemother. Pharmacol. 42, 429–432 (1998)

29

Ponzanelli, I. et al. Isolation and characterization of an acute promyelocytic leukemia cell line selectively resistant to the novel antileukemic and apoptogenic retinoid 6-[3-adamantyl-4-hydroxyphenyl]-2-naphthalene carboxylic acid. Blood 95, 2672–2682 (2000)
Acknowledgements
This study was supported by National Institutes of Health grant P01 AI083214 to M.S.G., F.M.A. and E.M., by National Science Foundation grant CMMI-1562904 to H.G., and by National Institute of General Medical Sciences grant 1R35GM119426 and National Science Foundation grant NSF1755698 to W.M.W. D.V.T. is supported by National Eye Institute grant EY028222. We thank the Institute of Chemistry and Cell Biology-Longwood at Harvard Medical School for providing the chemical libraries used in this study. We thank L. Rice for providing the E. faecium strains, K. Bayles and J. Endres for providing plasmid pBK123, J. Saavedra for assistance with next-generation sequencing library preparation, and S. Khalid for providing the atomic structures and force fields of the phosphatidylglycerol, Lys-PG and DPG lipids. The simulations reported were performed on resources provided by the Extreme Science and Engineering Discovery Environment through grant MSS090046 and the Center for Computation and Visualization at Brown University.
Ethics declarations
Competing interests
F.M.A. and E.M. have interests in Genma Biosciences, Inc. and Octagon Therapeutics, Inc., companies that are engaged in developing antimicrobial compounds. The interests of E.M. and F.M.A. were reviewed and are managed by Rhode Island Hospital (E.M.) and Massachusetts General Hospital and Partners HealthCare (F.M.A.) in accordance with their conflict of interest policies. The remaining authors declare no competing interests.
Additional information
Reviewer Information Nature thanks F. DeLeo and the other anonymous reviewer(s) for their contribution to the peer review of this work.
Publisher's note: Springer Nature remains neutral with regard to jurisdictional claims in published maps and institutional affiliations.
Extended data figures and tables
Supplementary information
About this article
Cite this article
Kim, W., Zhu, W., Hendricks, G. et al. A new class of synthetic retinoid antibiotics effective against bacterial persisters. Nature 556, 103–107 (2018). https://doi.org/10.1038/nature26157
Received:

Accepted:

Published:

Issue Date:
Comments
By submitting a comment you agree to abide by our Terms and Community Guidelines. If you find something abusive or that does not comply with our terms or guidelines please flag it as inappropriate.