Abstract
Diverse subsets of cortical interneurons have vital roles in higher-order brain functions. To investigate how this diversity is generated, here we used single-cell RNA sequencing to profile the transcriptomes of mouse cells collected along a developmental time course. Heterogeneity within mitotic progenitors in the ganglionic eminences is driven by a highly conserved maturation trajectory, alongside eminence-specific transcription factor expression that seeds the emergence of later diversity. Upon becoming postmitotic, progenitors diverge and differentiate into transcriptionally distinct states, including an interneuron precursor state. By integrating datasets across developmental time points, we identified shared sources of transcriptomic heterogeneity between adult interneurons and their precursors, and uncovered the embryonic emergence of cardinal interneuron subtypes. Our analysis revealed that the transcription factor Mef2c, which is linked to various neuropsychiatric and neurodevelopmental disorders, delineates early precursors of parvalbumin-expressing neurons, and is essential for their development. These findings shed new light on the molecular diversification of early inhibitory precursors, and identify gene modules that may influence the specification of human interneuron subtypes.
Relevant articles
Open Access articles citing this article.
Zeinab Asgarian

,

Marcio Guiomar Oliveira

…

Nicoletta Kessaris

Nature Communications Open Access 05 September 2022

Christopher T. Rhodes

,

Joyce J. Thompson

…

Timothy J. Petros

Nature Communications Open Access 20 July 2022

Wendy Xueyi Wang

&

Julie L. Lefebvre

Nature Communications Open Access 14 June 2022
Access options
Subscribe to Nature+
Get immediate online access to the entire Nature family of 50+ journals
Subscribe to Journal
Get full journal access for 1 year
$199.00
only $3.90 per issue
All prices are NET prices.
VAT will be added later in the checkout.
Tax calculation will be finalised during checkout.
Buy article
Get time limited or full article access on ReadCube.
$32.00
All prices are NET prices.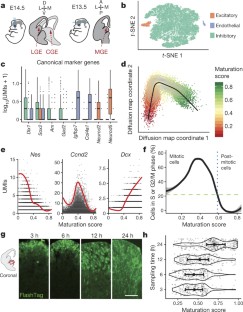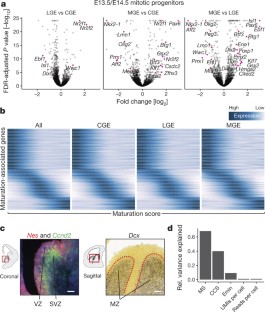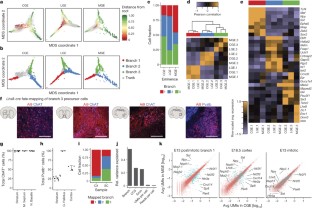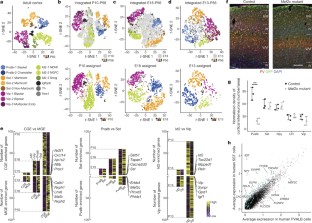 Accession codes
Primary accessions
Gene Expression Omnibus
References
Kepecs, A. & Fishell, G. Interneuron cell types are fit to function. Nature 505, 318–326 (2014)

Flames, N . et al. Delineation of multiple subpallial progenitor domains by the combinatorial expression of transcriptional codes. J. Neurosci. 27, 9682–9695 (2007)

Yun, K ., Garel, S ., Fischman, S. & Rubenstein, J. L. R. Patterning of the lateral ganglionic eminence by the Gsh1 and Gsh2 homeobox genes regulates striatal and olfactory bulb histogenesis and the growth of axons through the basal ganglia. J. Comp. Neurol. 461, 151–165 (2003)

Shimamura, K ., Hartigan, D. J ., Martinez, S ., Puelles, L. & Rubenstein, J. L. Longitudinal organization of the anterior neural plate and neural tube. Development 121, 3923–3933 (1995)

Nóbrega-Pereira, S . et al. Origin and molecular specification of globus pallidus neurons. J. Neurosci. 30, 2824–2834 (2010)

Zhao, Y . et al. The LIM-homeobox gene Lhx8 is required for the development of many cholinergic neurons in the mouse forebrain. Proc. Natl Acad. Sci. USA 100, 9005–9010 (2003)

Inan, M ., Welagen, J. & Anderson, S. A. Spatial and temporal bias in the mitotic origins of somatostatin- and parvalbumin-expressing interneuron subgroups and the chandelier subtype in the medial ganglionic eminence. Cereb. Cortex 22, 820–827 (2012)

Miyoshi, G . et al. Genetic fate mapping reveals that the caudal ganglionic eminence produces a large and diverse population of superficial cortical interneurons. J. Neurosci. 30, 1582–1594 (2010)

Macosko, E. Z . et al. Highly parallel genome-wide expression profiling of individual cells using nanoliter droplets. Cell 161, 1202–1214 (2015)

Buettner, F . et al. Computational analysis of cell-to-cell heterogeneity in single-cell RNA-sequencing data reveals hidden subpopulations of cells. Nat. Biotechnol. 33, 155–160 (2015)

Tirosh, I . et al. Dissecting the multicellular ecosystem of metastatic melanoma by single-cell RNA-seq. Science 352, 189–196 (2016)

Petropoulos, S . et al. Single-cell RNA-seq reveals lineage and X chromosome dynamics in human preimplantation embryos. Cell 165, 1012–1026 (2016); erratum 165, 1012–1026, (2016)

Qiu, X . et al. Reversed graph embedding resolves complex single-cell trajectories. Nat. Methods 14, 979–982 (2017)

Quah, B. J. C. & Parish, C. R. The use of carboxyfluorescein diacetate succinimidyl ester (CFSE) to monitor lymphocyte proliferation. J. Vis. Exp. https://doi.org/10.3791/2259 (2010)

Telley, L . et al. Sequential transcriptional waves direct the differentiation of newborn neurons in the mouse neocortex. Science 351, 1443–1446 (2016)

Rudy, B ., Fishell, G ., Lee, S. & Hjerling-Leffler, J. Three groups of interneurons account for nearly 100% of neocortical GABAergic neurons. Dev. Neurobiol. 71, 45–61 (2011)

Waclaw, R. R ., Ehrman, L. A ., Pierani, A. & Campbell, K. Developmental origin of the neuronal subtypes that comprise the amygdalar fear circuit in the mouse. J. Neurosci. 30, 6944–6953 (2010)

Trapnell, C . et al. The dynamics and regulators of cell fate decisions are revealed by pseudotemporal ordering of single cells. Nat. Biotechnol. 32, 381–386 (2014)

Petros, T. J ., Bultje, R. S ., Ross, M. E ., Fishell, G. & Anderson, S. A. Apical versus basal neurogenesis directs cortical interneuron subclass fate. Cell Rep. 13, 1090–1095 (2015)

Wichterle, H ., Turnbull, D. H ., Nery, S ., Fishell, G. & Alvarez-Buylla, A. In utero fate mapping reveals distinct migratory pathways and fates of neurons born in the mammalian basal forebrain. Development 128, 3759–3771 (2001)

Frazer, S . et al. Transcriptomic and anatomic parcellation of 5-HT3AR expressing cortical interneuron subtypes revealed by single-cell RNA sequencing. Nat. Commun. 8, 14219 (2017)

Tasic, B . et al. Adult mouse cortical cell taxonomy revealed by single cell transcriptomics. Nat. Neurosci. 19, 335–346 (2016)

Tremblay, R ., Lee, S. & Rudy, B. GABAergic interneurons in the neocortex: from cellular properties to circuits. Neuron 91, 260–292 (2016)

Petilla Interneuron Nomenclature Group. Petilla terminology: nomenclature of features of GABAergic interneurons of the cerebral cortex. Nat. Rev. Neurosci. 9, 557–568 (2008)

Butler, A. & Satija, R. Integrated analysis of single cell transcriptomic data across conditions, technologies, and species. Preprint at https://www.biorxiv.org/content/early/2017/07/18/164889 (2017)

Butler, A ., Hoffman, P ., Smibert, P ., Papalexi, E. & Satija, R. Integrating single-cell transcriptomic data across different conditions, technologies, and species. Nat. Biotechnol. https://doi.org/10.1038/nbt.4096 (2018)

Alcántara, S ., de Lecea, L ., Del Río, J. A ., Ferrer, I. & Soriano, E. Transient colocalization of parvalbumin and calbindin D28k in the postnatal cerebral cortex: evidence for a phenotypic shift in developing nonpyramidal neurons. Eur. J. Neurosci. 8, 1329–1339 (1996)

Harrington, A. J . et al. MEF2C regulates cortical inhibitory and excitatory synapses and behaviors relevant to neurodevelopmental disorders. eLife 5, 140 (2016)

Habib, N . et al. Massively parallel single-nucleus RNA-seq with DroNc-seq. Nat. Methods 14, 955–958 (2017)

Monory, K . et al. The endocannabinoid system controls key epileptogenic circuits in the hippocampus. Neuron 51, 455–466 (2006)

Madisen, L. et al. A robust and high-throughput Cre reporting and characterization system for the whole mouse brain. Nat. Neurosci. 13, 133–140 (2010)

Sousa, V. H., Miyoshi, G., Hjerling-Leffler, J., Karayannis, T. & Fishell, G. Characterization of Nkx6-2-derived neocortical interneuron lineages. Cereb. Cortex 19 (Suppl 1), i1–i10 (2009)

Vong, L. H., Ragusa, M. J. & Schwarz, J. J. Generation of conditional Mef2cloxP/loxP mice for temporal- and tissue-specific analyses. Genesis 43, 43–48 (2005)

Picelli, S. et al. Smart-seq2 for sensitive full-length transcriptome profiling in single cells. Nat. Methods 10, 1096–1098 (2013)

Lee, S., Hjerling-Leffler, J., Zagha, E., Fishell, G. & Rudy, B. The largest group of superficial neocortical GABAergic interneurons expresses ionotropic serotonin receptors. J. Neurosci. 30, 16796–16808 (2010)

Paxinos, G. & Franklin, K. B. J. The Mouse Brain in Stereotaxic Coordinates 2nd edn (Academic, 2003)

Haghverdi, L., Buettner, F. & Theis, F. J. Diffusion maps for high-dimensional single-cell analysis of differentiation data. Bioinformatics 31, 2989–2998 (2015)

Blondel, V. D., Guillaume, J.-L., Lambiotte, R. & Lefebvre, E. Fast unfolding of communities in large networks. J. Stat. Mech. P10008 (2008)

Kharchenko, P. V., Silberstein, L. & Scadden, D. T. Bayesian approach to single-cell differential expression analysis. Nat. Methods 11, 740–742 (2014)

Qiu, P. et al. Extracting a cellular hierarchy from high-dimensional cytometry data with SPADE. Nat. Biotechnol. 29, 886–891 (2011)

Bendall, S. C. et al. Single-cell trajectory detection uncovers progression and regulatory coordination in human B cell development. Cell 157, 714–725 (2014)

Langfelder, P. & Horvath, S. WGCNA: an R package for weighted correlation network analysis. BMC Bioinformatics 9, 559 (2008)
Acknowledgements
We thank members of the Fishell and Satija laboratories, and C. Desplan, for feedback and discussion; L. Harshman, B. Bracken and W. Stephenson for assistance with scRNA-seq experiments; and N. Habib for assistance with published datasets. This work was supported by National Institutes of Health (NIH) grants R01 NS074972 (G.F.), R01 NS081297 (G.F.), MH071679-12 (G.F. and R.S.), NIH DP2-HG-009623 (R.S.), European Molecular Biology Organization ALTF 1295-2012 (C.M.), Deutsche Forschungsgemeinschaft Postdoctoral Fellow (C.H.), NIH F30MH114462 (R.C.B.), T32GM007308 (R.C.B.), NIH F31NS103398 (K.A.), and National Science Foundation DGE1342536 (A.B.). G.F. is also supported by a grant from the Simons Foundation (274578).
Ethics declarations
Competing interests
The authors declare no competing financial interests.
Additional information
Reviewer Information Nature thanks A. Klein and the other anonymous reviewer(s) for their contribution to the peer review of this work.
Publisher's note: Springer Nature remains neutral with regard to jurisdictional claims in published maps and institutional affiliations.
Extended data figures and tables
Supplementary information
About this article
Cite this article
Mayer, C., Hafemeister, C., Bandler, R. et al. Developmental diversification of cortical inhibitory interneurons. Nature 555, 457–462 (2018). https://doi.org/10.1038/nature25999
Received:

Accepted:

Published:

Issue Date:

DOI: https://doi.org/10.1038/nature25999
Comments
By submitting a comment you agree to abide by our Terms and Community Guidelines. If you find something abusive or that does not comply with our terms or guidelines please flag it as inappropriate.