Abstract
Phosphorylation-type (P-type) ATPases are ubiquitous primary transporters that pump cations across cell membranes through the formation and breakdown of a phosphoenzyme intermediate. Structural investigations suggest that the transport mechanism is defined by conformational changes in the cytoplasmic domains of the protein that are allosterically coupled to transmembrane helices so as to expose ion binding sites to alternate sides of the membrane. Here, we have used single-molecule fluorescence resonance energy transfer to directly observe conformational changes associated with the functional transitions in the Listeria monocytogenes Ca2+-ATPase (LMCA1), an orthologue of eukaryotic Ca2+-ATPases. We identify key intermediates with no known crystal structures and show that Ca2+ efflux by LMCA1 is rate-limited by phosphoenzyme formation. The transport process involves reversible steps and an irreversible step that follows release of ADP and extracellular release of Ca2+.
Relevant articles
Open Access articles citing this article.
Phong T. Nguyen

,

Christine Deisl

…

Beth Levine

Nature Communications Open Access 08 September 2022

Takanobu A. Katoh

,

Takashi Daiho

…

Hiroshi Suzuki

Scientific Reports Open Access 01 July 2021

Fredrik Orädd

&

Magnus Andersson

The Journal of Membrane Biology Open Access 07 January 2021
Access options
Subscribe to Nature+
Get immediate online access to Nature and 55 other Nature journal
Subscribe to Journal
Get full journal access for 1 year
$199.00
only $3.90 per issue
All prices are NET prices.
VAT will be added later in the checkout.
Tax calculation will be finalised during checkout.
Buy article
Get time limited or full article access on ReadCube.
$32.00
All prices are NET prices.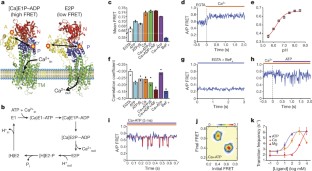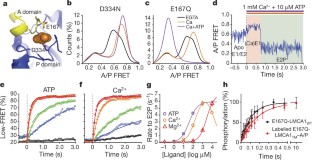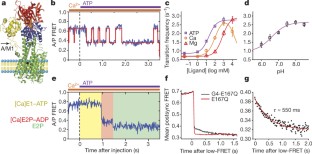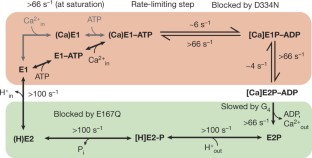 References
Toyoshima, C., Nakasako, M., Nomura, H. & Ogawa, H. Crystal structure of the calcium pump of sarcoplasmic reticulum at 2.6 Å resolution. Nature 405, 647–655 (2000)

Sørensen, T. L., Møller, J. V. & Nissen, P. Phosphoryl transfer and calcium ion occlusion in the calcium pump. Science 304, 1672–1675 (2004)

Toyoshima, C., Nomura, H. & Tsuda, T. Lumenal gating mechanism revealed in calcium pump crystal structures with phosphate analogues. Nature 432, 361–368 (2004)

Jensen, A. M., Sørensen, T. L., Olesen, C., Møller, J. V. & Nissen, P. Modulatory and catalytic modes of ATP binding by the calcium pump. EMBO J. 25, 2305–2314 (2006)

Olesen, C. et al. The structural basis of calcium transport by the calcium pump. Nature 450, 1036–1042 (2007)

Winther, A. M. et al. The sarcolipin-bound calcium pump stabilizes calcium sites exposed to the cytoplasm. Nature 495, 265–269 (2013)

Andersson, M. et al. Copper-transporting P-type ATPases use a unique ion-release pathway. Nat. Struct. Mol. Biol. 21, 43–48 (2014)

Wang, K. et al. Structure and mechanism of Zn2+-transporting P-type ATPases. Nature 514, 518–522 (2014)

Møller, J. V., Olesen, C., Winther, A. M. & Nissen, P. The sarcoplasmic Ca2+-ATPase: design of a perfect chemi-osmotic pump. Q. Rev. Biophys. 43, 501–566 (2010)

Sørensen, T. L., Dupont, Y., Vilsen, B. & Andersen, J. P. Fast kinetic analysis of conformational changes in mutants of the Ca2+-ATPase of sarcoplasmic reticulum. J. Biol. Chem. 275, 5400–5408 (2000)

Wakabayashi, S. & Shigekawa, M. Role of divalent cation bound to phosphoenzyme intermediate of sarcoplasmic reticulum ATPase. J. Biol. Chem. 259, 4427–4436 (1984)

Mahaney, J. E., Thomas, D. D. & Froehlich, J. P. The time-dependent distribution of phosphorylated intermediates in native sarcoplasmic reticulum Ca2+-ATPase from skeletal muscle is not compatible with a linear kinetic model. Biochemistry 43, 4400–4416 (2004)

Forbush, B. III . Rapid release of 42K and 86Rb from an occluded state of the Na,K-pump in the presence of ATP or ADP. J. Biol. Chem. 262, 11104–11115 (1987)

Holmgren, M. et al. Three distinct and sequential steps in the release of sodium ions by the Na+/K+-ATPase. Nature 403, 898–901 (2000)

Raimunda, D., González-Guerrero, M., Leeber, B. W., III & Argüello, J. M. The transport mechanism of bacterial Cu+-ATPases: distinct efflux rates adapted to different function. Biometals 24, 467–475 (2011)

Zhao, Y. et al. Substrate-modulated gating dynamics in a Na+-coupled neurotransmitter transporter homologue. Nature 474, 109–113 (2011)

Juette, M. F. et al. Single-molecule imaging of non-equilibrium molecular ensembles on the millisecond timescale. Nat. Methods 13, 341–344 (2016)

Roy, R., Hohng, S. & Ha, T. A practical guide to single-molecule FRET. Nat. Methods 5, 507–516 (2008)

Zhao, Y. et al. Single-molecule dynamics of gating in a neurotransmitter transporter homologue. Nature 465, 188–193 (2010)

Faxén, K. et al. Characterization of a Listeria monocytogenes Ca2+ pump: a SERCA-type ATPase with only one Ca2+-binding site. J. Biol. Chem. 286, 1609–1617 (2011)

Andersen, J. L., Gourdon, P., Møller, J. V., Morth, J. P. & Nissen, P. Crystallization and preliminary structural analysis of the Listeria monocytogenes Ca2+-ATPase LMCA1. Acta Crystallogr. Sect. F Struct. Biol. Cryst. Commun. 67, 718–722 (2011)

Dyla, M. et al. Engineering a prototypic P-type ATPase Listeria monocytogenes Ca2+-ATPase 1 for single-molecule FRET studies. Bioconj. Chem. 27, 2176–2187 (2016)

Kotšubei, A., Gorgel, M., Morth, J. P., Nissen, P. & Andersen, J. L. Probing determinants of cyclopiazonic acid sensitivity of bacterial Ca2+-ATPases. FEBS J. 280, 5441–5449 (2013)

Rosch, J. W., Sublett, J., Gao, G., Wang, Y. D. & Tuomanen, E. I. Calcium efflux is essential for bacterial survival in the eukaryotic host. Mol. Microbiol. 70, 435–444 (2008)

Juette, M. F. et al. The bright future of single-molecule fluorescence imaging. Curr. Opin. Chem. Biol. 20, 103–111 (2014)

Zheng, Q. et al. Ultra-stable organic fluorophores for single-molecule research. Chem. Soc. Rev. 43, 1044–1056 (2014)

Gregorio, G. G. et al. Single-molecule analysis of ligand efficacy in β2AR–G-protein activation. Nature 547, 68–73 (2017)

Vafabakhsh, R., Levitz, J. & Isacoff, E. Y. Conformational dynamics of a class C G-protein-coupled receptor. Nature 524, 497–501 (2015)

Wakabayashi, S., Ogurusu, T. & Shigekawa, M. Participation of H+ in the Ca2+-induced conformational transition of 4-nitro-2,1,3-benzoxadiazole-labeled sarcoplasmic reticulum ATPase. Biochemistry 29, 10613–10620 (1990)

Musgaard, M., Thøgersen, L. & Schiøtt, B. Protonation states of important acidic residues in the central Ca2+ ion binding sites of the Ca2+-ATPase: a molecular modeling study. Biochemistry 50, 11109–11120 (2011)

Lund, S. & Møller, J. V. Biphasic kinetics of sarcoplasmic reticulum Ca2+-ATPase and the detergent-solubilized monomer. J. Biol. Chem. 263, 1654–1664 (1988)

Marchand, A. et al. Crystal structure of D351A and P312A mutant forms of the mammalian sarcoplasmic reticulum Ca2+ -ATPase reveals key events in phosphorylation and Ca2+ release. J. Biol. Chem. 283, 14867–14882 (2008)

Anthonisen, A. N., Clausen, J. D. & Andersen, J. P. Mutational analysis of the conserved TGES loop of sarcoplasmic reticulum Ca2+-ATPase. J. Biol. Chem. 281, 31572–31582 (2006)

Møller, J. V., Lind, K. E. & Andersen, J. P. Enzyme kinetics and substrate stabilization of detergent-solubilized and membraneous (Ca2+ + Mg2+)-activated ATPase from sarcoplasmic reticulum. Effect of protein–protein interactions. J. Biol. Chem. 255, 1912–1920 (1980)

Makinose, M. & Hasselbach, W. ATP synthesis by the reverse of the sarcoplasmic calcium pump. FEBS Lett. 12, 271–272 (1971)

Daiho, T., Yamasaki, K., Danko, S. & Suzuki, H. Critical role of Glu40–Ser48 loop linking actuator domain and first transmembrane helix of Ca2+-ATPase in Ca2+ deocclusion and release from ADP-insensitive phosphoenzyme. J. Biol. Chem. 282, 34429–34447 (2007)

Pilotelle-Bunner, A., Cornelius, F., Sebban, P., Kuchel, P. W. & Clarke, R. J. Mechanism of Mg2+ binding in the Na+,K+-ATPase. Biophys. J. 96, 3753–3761 (2009)

Picard, M. et al. Ca2+ versus Mg2+ coordination at the nucleotide-binding site of the sarcoplasmic reticulum Ca2+-ATPase. J. Mol. Biol. 368, 1–7 (2007)

Albers, R. W. Biochemical aspects of active transport. Annu. Rev. Biochem. 36, 727–756 (1967)

Post, R. L., Hegyvary, C. & Kume, S. Activation by adenosine triphosphate in the phosphorylation kinetics of sodium and potassium ion transport adenosine triphosphatase. J. Biol. Chem. 247, 6530–6540 (1972)

Dode, L. et al. Functional comparison between secretory pathway Ca2+/Mn2+-ATPase (SPCA) 1 and sarcoplasmic reticulum Ca2+-ATPase (SERCA) 1 isoforms by steady-state and transient kinetic analyses. J. Biol. Chem. 280, 39124–39134 (2005)

Veshaguri, S. et al. Direct observation of proton pumping by a eukaryotic P-type ATPase. Science 351, 1469–1473 (2016)

Mathiasen, S. et al. Nanoscale high-content analysis using compositional heterogeneities of single proteoliposomes. Nat. Methods 11, 931–934 (2014)

Baginski, E. S., Foà, P. P. & Zak, B. Microdetermination of inorganic phosphate, phospholipids, and total phosphate in biologic materials. Clin. Chem. 13, 326–332 (1967)

Weber, K. & Osborn, M. The reliability of molecular weight determinations by dodecyl sulfate-polyacrylamide gel electrophoresis. J. Biol. Chem. 244, 4406–4412 (1969)

Schneider, C. A., Rasband, W. S. & Eliceiri, K. W. NIH Image to ImageJ: 25 years of image analysis. Nat. Methods 9, 671–675 (2012)

Blanchard, S. C., Kim, H. D., Gonzalez, R. L., Jr, Puglisi, J. D. & Chu, S. tRNA dynamics on the ribosome during translation. Proc. Natl Acad. Sci. USA 101, 12893–12898 (2004)

Lata, S., Reichel, A., Brock, R., Tampé, R. & Piehler, J. High-affinity adaptors for switchable recognition of histidine-tagged proteins. J. Am. Chem. Soc. 127, 10205–10215 (2005)

Akyuz, N. et al. Transport domain unlocking sets the uptake rate of an aspartate transporter. Nature 518, 68–73 (2015)

Qin, F. Restoration of single-channel currents using the segmental k-means method based on hidden Markov modeling. Biophys. J. 86, 1488–1501 (2004)
Acknowledgements
We thank J. V. Møller and the members of the Blanchard and Nissen laboratories for helpful discussions, A. M. Nielsen, T. Klymchuk and L. T. Pedersen for technical assistance, and J. Juul and J. Karlsen for key support on molecular animations. Support for this work was provided by grants from the NIH to S.C.B. (grant number 1R01GM098859), by an EMBO Short-Term Fellowship to M.D., and by Lundbeck Foundation and AIAS COFUND fellowships to M.K. We also thank the Molecular Machines COST Action (CM1306) for helpful support.
Ethics declarations
Competing interests
S.C.B. and R.B.A. have an equity interest in Lumidyne Technologies.
Additional information
Reviewer Information Nature thanks G. Bultnyck, S. Karlish and A. van Oijen for their contribution to the peer review of this work.
Publisher's note: Springer Nature remains neutral with regard to jurisdictional claims in published maps and institutional affiliations.
Extended data figures and tables
Supplementary information
This file contains Supplementary Table 1 (distance changes expected from crystal structure models) and Supplementary Table 2 (dose-response fit parameters). (PDF 133 kb)
The observed dynamics of the LMCA1 cycle have been applied and scaled to a morphed series of conformational changes in rabbit SERCA1a based on the following PDB accession numbers (functional states): 4H1W (E1), 1T5S ((Ca)E1-ATP), 1T5T ([Ca]E1P-ADP), 3B9B (E2P), 3B9R ([H]E2P dephosphorylation), 2C88 ([H]E2). The relative transition rates applied to the morph were based on the data summarized in Fig. 4. (MOV 8840 kb)
About this article
Cite this article
Dyla, M., Terry, D., Kjaergaard, M. et al. Dynamics of P-type ATPase transport revealed by single-molecule FRET. Nature 551, 346–351 (2017). https://doi.org/10.1038/nature24296
Received:

Accepted:

Published:

Issue Date:

DOI: https://doi.org/10.1038/nature24296
Comments
By submitting a comment you agree to abide by our Terms and Community Guidelines. If you find something abusive or that does not comply with our terms or guidelines please flag it as inappropriate.