Abstract
Recent studies on the controllability of complex systems offer a powerful mathematical framework to systematically explore the structure–function relationship in biological, social, and technological networks1,2,3. Despite theoretical advances, we lack direct experimental proof of the validity of these widely used control principles. Here we fill this gap by applying a control framework to the connectome of the nematode Caenorhabditis elegans4,5,6, allowing us to predict the involvement of each C. elegans neuron in locomotor behaviours. We predict that control of the muscles or motor neurons requires 12 neuronal classes, which include neuronal groups previously implicated in locomotion by laser ablation7,8,9,10,11,12,13, as well as one previously uncharacterized neuron, PDB. We validate this prediction experimentally, finding that the ablation of PDB leads to a significant loss of dorsoventral polarity in large body bends. Importantly, control principles also allow us to investigate the involvement of individual neurons within each neuronal class. For example, we predict that, within the class of DD motor neurons, only three (DD04, DD05, or DD06) should affect locomotion when ablated individually. This prediction is also confirmed; single cell ablations of DD04 or DD05 specifically affect posterior body movements, whereas ablations of DD02 or DD03 do not. Our predictions are robust to deletions of weak connections, missing connections, and rewired connections in the current connectome, indicating the potential applicability of this analytical framework to larger and less well-characterized connectomes.
Access options
Subscribe to Journal
Get full journal access for 1 year
$199.00
only $3.90 per issue
All prices are NET prices.
VAT will be added later in the checkout.
Rent or Buy article
Get time limited or full article access on ReadCube.
from$8.99
All prices are NET prices.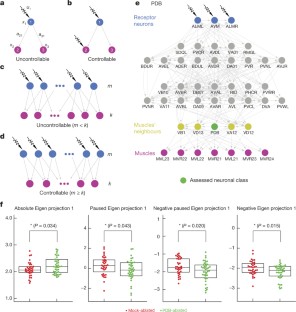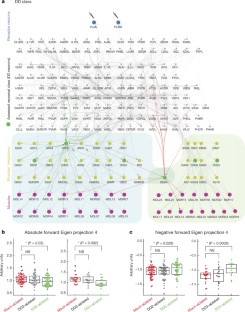 References
1

Caldarelli, G. Scale-Free Networks: Complex Webs in Nature and Technology (Oxford Univ. Press, 2007)

2

Cohen, R. & Havlin, S. Complex Networks: Structure, Robustness and Function (Cambridge Univ. Press, 2010)

3

Liu, Y.-Y. & Barabási, A.-L. Control principles of complex networks. Rev. Mod. Phys. 88, 035006 (2016)

4

White, J. G., Southgate, E., Thomson, J. N. & Brenner, S. The structure of the nervous system of the nematode Caenorhabditis elegans. Phil. Trans. R. Soc. Lond. B 314, 1–340 (1986)

5

Chen, B. L. J. Neuronal Network of C. elegans: From Anatomy to Behavior. PhD thesis, Cold Spring Harbor Laboratory (2007)

6

Varshney, L. R., Chen, B. L., Paniagua, E., Hall, D. H. & Chklovskii, D. B. Structural properties of the Caenorhabditis elegans neuronal network. PLoS Comput. Biol. 7, e1001066 (2011)

7

Chalfie, M. et al. The neural circuit for touch sensitivity in Caenorhabditis elegans. J. Neurosci. 5, 956–964 (1985)

8

Zhen, M. & Samuel, A. D. C. elegans locomotion: small circuits, complex functions. Curr. Opin. Neurobiol. 33, 117–126 (2015)

9

Bargmann, C. I. & Avery, L. Laser killing of cells in Caenorhabditis elegans. Methods Cell Biol. 48, 225–250 (1995)

10

Wicks, S. R. & Rankin, C. H. Integration of mechanosensory stimuli in Caenorhabditis elegans. J. Neurosci. 15, 2434–2444 (1995)

11

Tsalik, E. L. & Hobert, O. Functional mapping of neurons that control locomotory behavior in Caenorhabditis elegans. J. Neurobiol. 56, 178–197 (2003)

12

Wakabayashi, T., Kitagawa, I. & Shingai, R. Neurons regulating the duration of forward locomotion in Caenorhabditis elegans. Neurosci. Res. 50, 103–111 (2004)

13

Haspel, G., O'Donovan, M. J. & Hart, A. C. Motoneurons dedicated to either forward or backward locomotion in the nematode Caenorhabditis elegans. J. Neurosci. 30, 11151–11156 (2010)

14

Gao, J., Liu, Y.-Y., D'Souza, R. M. & Barabási, A.-L. Target control of complex networks. Nat. Commun. 5, 5415 (2014)

15

Coron, J.-M. Control and Nonlinearity (American Mathematical Society, 2009)

16

Whalen, A. J., Brennan, S. N., Sauer, T. D. & Schiff, S. J. Observability and controllability of nonlinear networks: the role of symmetry. Phys. Rev. X 5, 011005 (2015)

17

Muldoon, S. F. et al. Stimulation-based control of dynamic brain networks. PLoS Comput. Biol. 12, e1005076 (2016)

18

Kalman, R. E. Mathematical description of linear dynamical systems. J. Soc. Indus. Appl. Math. A 1, 152–192 (1963)

19

Chew, Y. L. et al. Recordings of Caenorhabditis elegans locomotor behaviour following targeted ablation of single motorneurons. Sci. Data 4, 170156 (2017)

20

Yemini, E., Jucikas, T., Grundy, L. J., Brown, A. E. & Schafer, W. R. A database of Caenorhabditis elegans behavioral phenotypes. Nat. Methods 10, 877–879 (2013)

21

Stephens, G. J., Johnson-Kerner, B., Bialek, W. & Ryu, W. S. Dimensionality and dynamics in the behavior of C. elegans. PLoS Comput. Biol. 4, e1000028 (2008)

22

Brown, A. E., Yemini, E. I., Grundy, L. J., Jucikas, T. & Schafer, W. R. A dictionary of behavioral motifs reveals clusters of genes affecting Caenorhabditis elegans locomotion. Proc. Natl Acad. Sci. USA 110, 791–796 (2013)

23

Gray, J. M., Hill, J. J. & Bargmann, C. I. A circuit for navigation in Caenorhabditis elegans. Proc. Natl Acad. Sci. USA 102, 3184–3191 (2005)

24

Huang, K. M., Cosman, P. & Schafer, W. R. Machine vision based detection of omega bends and reversals in C. elegans. J. Neurosci. Methods 158, 323–336 (2006)

25

Yan, G. et al. Spectrum of controlling and observing complex networks. Nat. Phys. 11, 779–786 (2015)

26

Gu, S. et al. Controllability of structural brain networks. Nat. Commun. 6, 8414 (2015)

27

Pósfai, M. & Hövel, P. Structural controllability of temporal networks. New J. Phys. 16, 123055 (2014)

28

Pan, Y. & Li, X. Structural controllability and controlling centrality of temporal networks. PLoS ONE 9, e94998 (2014)

29

Li, A., Cornelius, S. P., Liu, Y. Y., Wang, L. & Barabási, A. L. The fundamental advantages of temporal networks. arXiv, 1607.06168 (2016)

30

Driscoll, M. & Kaplan, J. in C. elegans II (Cold Spring Harbor monograph series 33) (eds Riddle, D. L. et al.) Ch. 23 (Cold Spring Harbor Laboratory Press, 1997)
Acknowledgements
We thank M. Angulo, J. Gao, Y.-Y. Liu, J.-J. Slotine, K. Albrecht, S. P. Cornelius, and A. Li for discussions, and L. Grundy, A. Brown, and E. Yemini for help with analysis of tracking data. We are grateful to V. Butler and the Caenorhabditis Genetics Center, which is funded by National Institutes of Health Office of Research Infrastructure Programs (P40 OD010440), for C. elegans strains. This work is supported by the John Templeton Foundation: Mathematical and Physical Sciences grant number PFI-777; European Commission grant number 641191 (CIMPLEX); Medical Research Council grant number MC-A023-5PB91; Wellcome Trust grant number WT103784MA. P.E.V. is supported by the Medical Research Council grant number MR/K020706/1. Y.L.C. is supported by an EMBO Long Term Fellowship.
Ethics declarations
Competing interests
The authors declare no competing financial interests.
Additional information
Reviewer Information Nature thanks C. Bargmann, E. Izquierdo and M. Zhen for their contribution to the peer review of this work.
Publisher's note: Springer Nature remains neutral with regard to jurisdictional claims in published maps and institutional affiliations.
Extended data figures and tables
Supplementary information
About this article
Cite this article
Yan, G., Vértes, P., Towlson, E. et al. Network control principles predict neuron function in the Caenorhabditis elegans connectome. Nature 550, 519–523 (2017). https://doi.org/10.1038/nature24056
Received:

Accepted:

Published:

Issue Date:
Comments
By submitting a comment you agree to abide by our Terms and Community Guidelines. If you find something abusive or that does not comply with our terms or guidelines please flag it as inappropriate.