Abstract
Epithelial organs undergo steady-state turnover throughout adult life, with old cells being continually replaced by the progeny of stem cell divisions1. To avoid hyperplasia or atrophy, organ turnover demands strict equilibration of cell production and loss2,3,4. However, the mechanistic basis of this equilibrium is unknown. Here we show that robustly precise turnover of the adult Drosophila intestine5 arises through a coupling mechanism in which enterocyte apoptosis breaks feedback inhibition of stem cell division. Healthy enterocytes inhibit stem cell division through E-cadherin, which prevents secretion of mitogenic epidermal growth factors (EGFs) by repressing transcription of the EGF maturation factor rhomboid. Individual apoptotic enterocytes promote divisions by loss of E-cadherin, which releases cadherin-associated β-catenin (Armadillo in Drosophila) and p120-catenin to induce rhomboid. Induction of rhomboid in the dying enterocyte triggers activation of the EGF receptor (Egfr) in stem cells within a discrete radius. When we blocked apoptosis, E-cadherin-controlled feedback suppressed divisions, and the organ retained the same number of cells. When we disrupted feedback, apoptosis and divisions were uncoupled, and the organ developed either hyperplasia or atrophy. Together, our results show that robust cellular balance hinges on the obligate coupling of divisions to apoptosis, which limits the proliferative potential of a stem cell to the precise time and place at which a replacement cell is needed. In this way, localized cell–cell communication gives rise to tissue-level homeostatic equilibrium and constant organ size.
Access options
Subscribe to Journal
Get full journal access for 1 year
$199.00
only $3.90 per issue
All prices are NET prices.
VAT will be added later in the checkout.
Tax calculation will be finalised during checkout.
Rent or Buy article
Get time limited or full article access on ReadCube.
from$8.99
All prices are NET prices.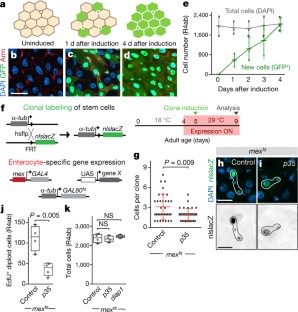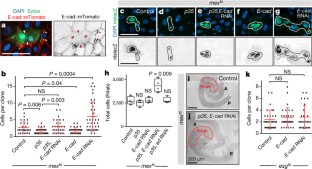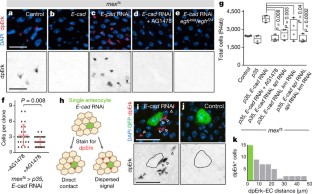 References
1

Leblond, C. P. & Stevens, C. E. The constant renewal of the intestinal epithelium in the albino rat. Anat. Rec. 100, 357–377 (1948)

2

Pellettieri, J. & Sánchez Alvarado, A. Cell turnover and adult tissue homeostasis: from humans to planarians. Annu. Rev. Genet. 41, 83–105 (2007)

3

O'Brien, L. E., Soliman, S. S., Li, X. & Bilder, D. Altered modes of stem cell division drive adaptive intestinal growth. Cell 147, 603–614 (2011)

4

O'Brien, L. E. & Bilder, D. Beyond the niche: tissue-level coordination of stem cell dynamics. Annu. Rev. Cell Dev. Biol. 29, 107–136 (2013)

5

Apidianakis, Y., Tamamouna, V., Teloni, S. & Pitsouli, C. in Advances in Insect Physiology Vol. 52 (ed. Ligoxygakis, P. ) 139–178 (Academic, 2017)

6

Jiang, H. et al. Cytokine/Jak/Stat signaling mediates regeneration and homeostasis in the Drosophila midgut. Cell 137, 1343–1355 (2009)

7

Buchon, N. et al. Morphological and molecular characterization of adult midgut compartmentalization in Drosophila. Cell Rep. 3, 1725–1738 (2013)

8

Harrison, D. A. & Perrimon, N. Simple and efficient generation of marked clones in Drosophila. Curr. Biol. 3, 424–433 (1993)

9

Takeishi, A. et al. Homeostatic epithelial renewal in the gut is required for dampening a fatal systemic wound response in Drosophila. Cell Rep. 3, 919–930 (2013)

10

Hermiston, M. L. & Gordon, J. I. In vivo analysis of cadherin function in the mouse intestinal epithelium: essential roles in adhesion, maintenance of differentiation, and regulation of programmed cell death. J. Cell Biol. 129, 489–506 (1995)

11

Steinhusen, U. et al. Cleavage and shedding of E-cadherin after induction of apoptosis. J. Biol. Chem. 276, 4972–4980 (2001)

12

Maeda, K., Takemura, M., Umemori, M. & Adachi-Yamada, T. E-cadherin prolongs the moment for interaction between intestinal stem cell and its progenitor cell to ensure Notch signaling in adult Drosophila midgut. Genes Cells 13, 1219–1227 (2008)

13

Choi, N. H., Lucchetta, E. & Ohlstein, B. Nonautonomous regulation of Drosophila midgut stem cell proliferation by the insulin-signaling pathway. Proc. Natl Acad. Sci. USA 108, 18702–18707 (2011)

14

Biteau, B. & Jasper, H. EGF signaling regulates the proliferation of intestinal stem cells in Drosophila. Development 138, 1045–1055 (2011)

15

Buchon, N., Broderick, N. A., Kuraishi, T. & Lemaitre, B. Drosophila EGFR pathway coordinates stem cell proliferation and gut remodeling following infection. BMC Biol. 8, 152 (2010)

16

Jiang, H ., Grenley, M. O ., Bravo, M. J ., Blumhagen, R. Z . & Edgar, B. A. EGFR/Ras/MAPK signaling mediates adult midgut epithelial homeostasis and regeneration in Drosophila. Cell Stem Cell 8, 84–95 (2011)

17

Strand, M. & Micchelli, C. A. Regional control of Drosophila gut stem cell proliferation: EGF establishes GSSC proliferative set point & controls emergence from quiescence. PLoS ONE 8, e80608 (2013)

18

Qian, X., Karpova, T., Sheppard, A. M., McNally, J. & Lowy, D. R. E-cadherin-mediated adhesion inhibits ligand-dependent activation of diverse receptor tyrosine kinases. EMBO J. 23, 1739–1748 (2004)

19

Shilo, B. Z. Developmental roles of Rhomboid proteases. Semin. Cell Dev. Biol. 60, 5–9 (2016)

20

Zhou, F., Rasmussen, A., Lee, S. & Agaisse, H. The UPD3 cytokine couples environmental challenge and intestinal stem cell division through modulation of JAK/STAT signaling in the stem cell microenvironment. Dev. Biol. 373, 383–393 (2013)

21

Osman, D. et al. Autocrine and paracrine unpaired signaling regulate intestinal stem cell maintenance and division. J. Cell Sci. 125, 5944–5949 (2012)

22

McCrea, P. D. & Gottardi, C. J. Beyond β-catenin: prospects for a larger catenin network in the nucleus. Nat. Rev. Mol. Cell Biol. 17, 55–64 (2016)

23

Huang, J., Zhou, W., Dong, W., Watson, A. M. & Hong, Y. From the cover: directed, efficient, and versatile modifications of the Drosophila genome by genomic engineering. Proc. Natl Acad. Sci. USA 106, 8284–8289 (2009)

24

Chen, H., Zheng, X. & Zheng, Y. Age-associated loss of lamin-B leads to systemic inflammation and gut hyperplasia. Cell 159, 829–843 (2014)

25

Marianes, A. & Spradling, A. C. Physiological and stem cell compartmentalization within the Drosophila midgut. eLife 2, e00886 (2013)

26

Kolahgar, G. et al. Cell competition modifies adult stem cell and tissue population dynamics in a JAK–STAT-dependent manner. Dev. Cell 34, 297–309 (2015)

27

Lee, T . & Luo, L. Mosaic analysis with a repressible cell marker for studies of gene function in neuronal morphogenesis. Neuron 22, 451–461 (1999)

28

Shaw, R. L. et al. The Hippo pathway regulates intestinal stem cell proliferation during Drosophila adult midgut regeneration. Development 137, 4147–4158 (2010)

29

Micchelli, C. A. & Perrimon, N. Evidence that stem cells reside in the adult Drosophila midgut epithelium. Nature 439, 475–479 (2006)

30

Ohlstein, B. & Spradling, A. The adult Drosophila posterior midgut is maintained by pluripotent stem cells. Nature 439, 470–474 (2006)

31

O'Brien, L. E. Regional specificity in the Drosophila midgut: setting boundaries with stem cells. Cell Stem Cell 13, 375–376 (2013)

32

Rera, M. et al. Modulation of longevity and tissue homeostasis by the Drosophila PGC-1 homolog. Cell Metab. 14, 623–634 (2011)

33

Daniels, D. L. & Weis, W. I. β-catenin directly displaces Groucho/TLE repressors from Tcf/Lef in Wnt-mediated transcription activation. Nat. Struct. Mol. Biol. 12, 364–371 (2005)

34

Zhang, T. & Du, W. Groucho restricts rhomboid expression and couples EGFR activation with R8 selection during Drosophila photoreceptor differentiation. Dev. Biol. 407, 246–255 (2015)
Acknowledgements
J.L. was supported by NSF GRFP DGE-114747 and NIH T32GM007276. This work was supported by NIH R03DK104027 and R01GM116000-01A1 to L.E.O. Confocal microscopy was performed at the Stanford Beckman Cell Sciences Imaging Facility (NIH 1S10OD01058001A1). We thank D. Bilder for the Caspase-3 antibody; the Developmental Studies Hybridoma Bank for other antibodies; D. Bilder, B. Edgar, M. Fuller, H. Jiang, B. Ohlstein, C. Thummel, A. Orian, the Bloomington Drosophila Stock Center (NIH P40OD018537), the TRiP at Harvard Medical School (NIH/NIGMS R01-GM084947) and the Vienna Drosophila Resource Center (http://stockcenter.vdrc.at/control/main) for fly stocks; J. Axelrod, M. Goodman, M. Fuller, W. J. Nelson, R. Nusse, M. Krasnow, T. Nystul and D. Fox for comments on the manuscript; and M. Mirvis, B. Benham-Pyle, N. Pierce and D. Gordon for helpful discussions.
Ethics declarations
Competing interests
The authors declare no competing financial interests.
Additional information
Reviewer Information Nature thanks B. Edgar, R. Xi and Y. Yamashita for their contribution to the peer review of this work.
Publisher's note: Springer Nature remains neutral with regard to jurisdictional claims in published maps and institutional affiliations.
Extended data figures and tables
Supplementary information
This file contains a Supplementary Discussion and Supplementary Tables 1-2 (full lists of experiment genotypes and primers used in this study).
About this article
Cite this article
Liang, J., Balachandra, S., Ngo, S. et al. Feedback regulation of steady-state epithelial turnover and organ size. Nature 548, 588–591 (2017). https://doi.org/10.1038/nature23678
Received:

Accepted:

Published:

Issue Date:
Comments
By submitting a comment you agree to abide by our Terms and Community Guidelines. If you find something abusive or that does not comply with our terms or guidelines please flag it as inappropriate.