Abstract
Long-term potentiation (LTP) of excitatory synaptic transmission has long been considered a cellular correlate for learning and memory1,2. Early LTP (less than 1 h) had initially been explained either by presynaptic increases in glutamate release3,4,5 or by direct modification of postsynaptic AMPA (α-amino-3-hydroxy-5-methyl-4-isoxazolepropionic acid) receptor function6,7. Compelling models have more recently proposed that synaptic potentiation can occur by the recruitment of additional postsynaptic AMPA receptors (AMPARs)8, sourced either from an intracellular reserve pool by exocytosis or from nearby extra-synaptic receptors pre-existing on the neuronal surface9,10,11,12. However, the exact mechanism through which synapses can rapidly recruit new AMPARs during early LTP remains unknown. In particular, direct evidence for a pivotal role of AMPAR surface diffusion as a trafficking mechanism in synaptic plasticity is still lacking. Here, using AMPAR immobilization approaches, we show that interfering with AMPAR surface diffusion markedly impairs synaptic potentiation of Schaffer collaterals and commissural inputs to the CA1 area of the mouse hippocampus in cultured slices, acute slices and in vivo. Our data also identify distinct contributions of various AMPAR trafficking routes to the temporal profile of synaptic potentiation. In addition, AMPAR immobilization in vivo in the dorsal hippocampus inhibited fear conditioning, indicating that AMPAR diffusion is important for the early phase of contextual learning. Therefore, our results provide a direct demonstration that the recruitment of new receptors to synapses by surface diffusion is a critical mechanism for the expression of LTP and hippocampal learning. Since AMPAR surface diffusion is dictated by weak Brownian forces that are readily perturbed by protein–protein interactions, we anticipate that this fundamental trafficking mechanism will be a key target for modulating synaptic potentiation and learning.
Relevant articles
Open Access articles citing this article.
Martin Hruska

,

Rachel E. Cain

&

Matthew B. Dalva

Nature Communications Open Access 17 February 2022

Jake F. Watson

,

Alexandra Pinggera

…

Ingo H. Greger

Nature Communications Open Access 23 August 2021

Benjamin Compans

,

Come Camus

…

Eric Hosy

Nature Communications Open Access 14 May 2021
Access options
Access Nature and 54 other Nature Portfolio journals
Get Nature+, our best-value online-access subscription
$29.99 per month
cancel any time
Subscribe to this journal
Receive 51 print issues and online access
$199.00 per year
only $3.90 per issue
Rent or buy this article
Get just this article for as long as you need it
$39.95
Prices may be subject to local taxes which are calculated during checkout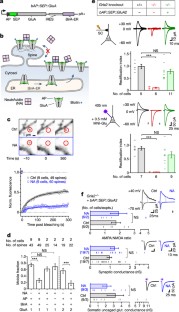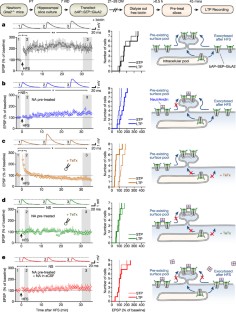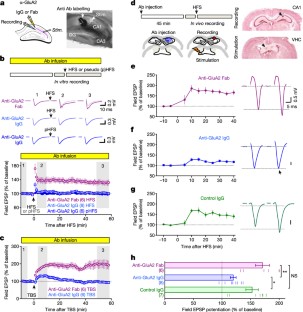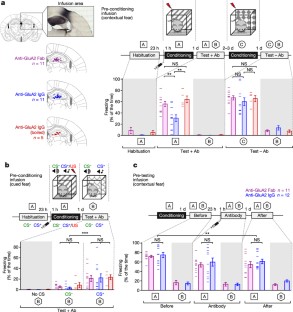 References
Takeuchi, T., Duszkiewicz, A. J. & Morris, R. G. The synaptic plasticity and memory hypothesis: encoding, storage and persistence. Phil. Trans. R. Soc. Lond. B 369, 20130288 (2013)

Nicoll, R. A. A brief history of long-term potentiation. Neuron 93, 281–290 (2017)

MacDougall, M. J. & Fine, A. The expression of long-term potentiation: reconciling the preists and the postivists. Phil. Trans. R. Soc. Lond. B 369, 2013 0135 (2013)

Padamsey, Z. & Emptage, N. Two sides to long-term potentiation: a view towards reconciliation. Phil. Trans. R. Soc. Lond. B 369, 20130154 (2013)

Yang, Y. & Calakos, N. Presynaptic long-term plasticity. Front. Synaptic Neurosci. 5, 8 (2013)

Lisman, J., Yasuda, R. & Raghavachari, S. Mechanisms of CaMKII action in long-term potentiation. Nat. Rev. Neurosci. 13, 169–182 (2012)

Lu, W. & Roche, K. W. Posttranslational regulation of AMPA receptor trafficking and function. Curr. Opin. Neurobiol. 22, 470–479 (2012)

Granger, A. J. & Nicoll, R. A. Expression mechanisms underlying long-term potentiation: a postsynaptic view, 10 years on. Phil. Trans. R. Soc. Lond. B 369, 20130136 (2013)

Huganir, R. L. & Nicoll, R. A. AMPARs and synaptic plasticity: the last 25 years. Neuron 80, 704–717 (2013)

Opazo, P. et al. CaMKII triggers the diffusional trapping of surface AMPARs through phosphorylation of stargazin. Neuron 67, 239–252 (2010)

Chater, T. E. & Goda, Y. The role of AMPA receptors in postsynaptic mechanisms of synaptic plasticity. Front. Cell. Neurosci. 8, 401 (2014)

Opazo, P. & Choquet, D. A three-step model for the synaptic recruitment of AMPA receptors. Mol. Cell. Neurosci. 46, 1–8 (2011)

Bliss, T. V. & Collingridge, G. L. Expression of NMDA receptor-dependent LTP in the hippocampus: bridging the divide. Mol. Brain 6, 5 (2013)

Lledo, P. M., Zhang, X., Südhof, T. C., Malenka, R. C. & Nicoll, R. A. Postsynaptic membrane fusion and long-term potentiation. Science 279, 399–403 (1998)

Park, M., Penick, E. C., Edwards, J. G., Kauer, J. A. & Ehlers, M. D. Recycling endosomes supply AMPA receptors for LTP. Science 305, 1972–1975 (2004)

Patterson, M. A., Szatmari, E. M. & Yasuda, R. AMPA receptors are exocytosed in stimulated spines and adjacent dendrites in a Ras-ERK-dependent manner during long-term potentiation. Proc. Natl Acad. Sci. USA 107, 15951–15956 (2010)

Wu, D. et al. Postsynaptic synaptotagmins mediate AMPA receptor exocytosis during LTP. Nature 544, 316–321 (2017)

Borgdorff, A. J. & Choquet, D. Regulation of AMPA receptor lateral movements. Nature 417, 649–653 (2002)

Granger, A. J., Shi, Y., Lu, W., Cerpas, M. & Nicoll, R. A. LTP requires a reserve pool of glutamate receptors independent of subunit type. Nature 493, 495–500 (2013)

Makino, H. & Malinow, R. AMPA receptor incorporation into synapses during LTP: the role of lateral movement and exocytosis. Neuron 64, 381–390 (2009)

Howarth, M., Takao, K., Hayashi, Y. & Ting, A. Y. Targeting quantum dots to surface proteins in living cells with biotin ligase. Proc. Natl Acad. Sci. USA 102, 7583–7588 (2005)

Williams, K. Modulation and block of ion channels: a new biology of polyamines. Cell. Signal. 9, 1–13 (1997)

Liu, X. et al. Optogenetic stimulation of a hippocampal engram activates fear memory recall. Nature 484, 381–385 (2012)

McHugh, T. J. et al. Dentate gyrus NMDA receptors mediate rapid pattern separation in the hippocampal network. Science 317, 94–99 (2007)

Takemoto, K. et al. Optical inactivation of synaptic AMPA receptors erases fear memory. Nat. Biotechnol. 35, 38–47 (2017)

Kessels, H. W. & Malinow, R. Synaptic AMPA receptor plasticity and behavior. Neuron 61, 340–350 (2009)

Whitlock, J. R., Heynen, A. J., Shuler, M. G. & Bear, M. F. Learning induces long-term potentiation in the hippocampus. Science 313, 1093–1097 (2006)

Giannone, G. et al. Dynamic superresolution imaging of endogenous proteins on living cells at ultra-high density. Biophys. J. 99, 1303–1310 (2010)

Jia, Z. et al. Enhanced LTP in mice deficient in the AMPA receptor GluR2. Neuron 17, 945–956 (1996)

Phair, R. D., Gorski, S. A. & Misteli, T. Measurement of dynamic protein binding to chromatin in vivo, using photobleaching microscopy. Methods Enzymol. 375, 393–414 (2004)

Penn, A. C., Balik, A., Wozny, C., Cais, O. & Greger, I. H. Activity-mediated AMPA receptor remodeling, driven by alternative splicing in the ligand-binding domain. Neuron 76, 503–510 (2012)

Rathenberg, J., Nevian, T. & Witzemann, V. High-efficiency transfection of individual neurons using modified electrophysiology techniques. J. Neurosci. Methods 126, 91–98 (2003)

Potier, M. et al. Temporary memory and its enhancement by estradiol requires surface dynamics of hippocampal CA1 N-methyl-D-aspartate receptors. Biol. Psychiatry 79, 734–745 (2016)
Acknowledgements
We would like to thank A. Ting (MIT) for providing the BirA-ER cDNA; E. Normand for histology; H. el Oussini for helping with acute slice experiments; A. Lacquemant, A. Gautier, M. Deshors and others at the Pôle In vivo in the IINS for animal husbandry; the Plateforme Génotypage in Neurocentre Magendie; M. Carta for insightful discussions; R. Sprengel for providing the Gria2-knockout mice; E. Gouaux for providing the anti-GluA2 antibodies, A. Carbone for data she obtained on a short-term EMBO fellowship. The help of the Bordeaux Imaging Center, part of the national infrastructure France BioImaging, granted by ANR-10INBS-04-0, is acknowledged. This work was funded by: EMBO long-term fellowship ALTF 129-2009 (A.C.P.); European Commission Marie Curie Actions FP7-PEOPLE-2010-IEF-273567 (A.C.P.), Medical Research Council Career Development Award fellowship MR/M020746/1 (A.C.P.), funding from the Ministère de l'Enseignement Supérieur et de la Recherche, Centre National de la Recherche Scientifique, the Conseil Régional d'Aquitaine, the Agence Nationale pour la Recherche Grant Nanodom and the ERC grants nano-dyn-syn and ADOS to D.C.
Ethics declarations
Competing interests
The authors declare no competing financial interests.
Additional information
Reviewer Information Nature thanks R. C. Malenka and the other anonymous reviewer(s) for their contribution to the peer review of this work.
Publisher's note: Springer Nature remains neutral with regard to jurisdictional claims in published maps and institutional affiliations.
Extended data figures and tables
Supplementary information
This file contains Figures Statistics for Figures 1-4 and Extended Data Figures 1-8. (PDF 346 kb)
About this article
Cite this article
Penn, A., Zhang, C., Georges, F. et al. Hippocampal LTP and contextual learning require surface diffusion of AMPA receptors. Nature 549, 384–388 (2017). https://doi.org/10.1038/nature23658
Received:

Accepted:

Published:

Issue Date:

DOI: https://doi.org/10.1038/nature23658
Comments
By submitting a comment you agree to abide by our Terms and Community Guidelines. If you find something abusive or that does not comply with our terms or guidelines please flag it as inappropriate.