Abstract
The human genome encodes some 350 Krüppel-associated box (KRAB) domain-containing zinc-finger proteins (KZFPs), the products of a rapidly evolving gene family that has been traced back to early tetrapods1,2. The function of most KZFPs is unknown, but a few have been demonstrated to repress transposable elements in embryonic stem (ES) cells by recruiting the transcriptional regulator TRIM28 and associated mediators of histone H3 Lys9 trimethylation (H3K9me3)-dependent heterochromatin formation and DNA methylation3,4,5,6,7,8,9. Depletion of TRIM28 in human or mouse ES cells triggers the upregulation of a broad range of transposable elements4,10,11, and recent data based on a few specific examples have pointed to an arms race between hosts and transposable elements as an important driver of KZFP gene selection5. Here, to obtain a global view of this phenomenon, we combined phylogenetic and genomic studies to investigate the evolutionary emergence of KZFP genes in vertebrates and to identify their targets in the human genome. First, we unexpectedly reassigned the root of the family to a common ancestor of coelacanths and tetrapods. Second, although we confirmed that the majority of KZFPs bind transposable elements and pinpoint cases of ongoing co-evolution, we found that most of their transposable element targets have lost all transposition potential. Third, by examining the interplay between human KZFPs and other transcriptional modulators, we obtained evidence that KZFPs exploit evolutionarily conserved fragments of transposable elements as regulatory platforms long after the arms race against these genetic invaders has ended. Together, our results demonstrate that KZFPs partner with transposable elements to build a largely species-restricted layer of epigenetic regulation.
Relevant articles
Open Access articles citing this article.
Yang Zhang

,

Fei He

…

Bo Cheng

Mobile DNA Open Access 10 November 2022

Sureshkumar Perumal Srinivasan

,

Harshal Nemade

…

Agapios Sachinidis

Cell Death Discovery Open Access 05 November 2022

Laia Simó-Riudalbas

,

Sandra Offner

…

Didier Trono

Nature Communications Open Access 20 August 2022
Access options
Subscribe to Nature+
Get immediate online access to Nature and 55 other Nature journal
Subscribe to Journal
Get full journal access for 1 year
$199.00
only $3.90 per issue
All prices are NET prices.
VAT will be added later in the checkout.
Tax calculation will be finalised during checkout.
Buy article
Get time limited or full article access on ReadCube.
$32.00
All prices are NET prices.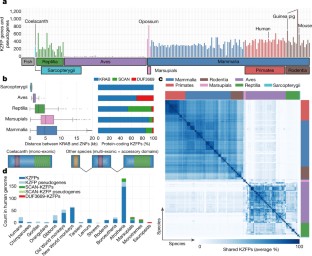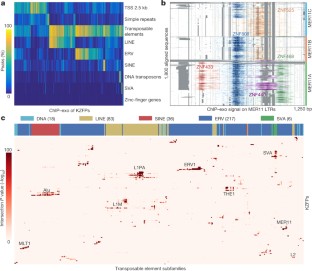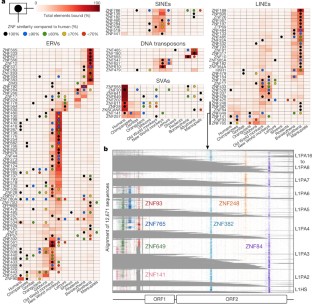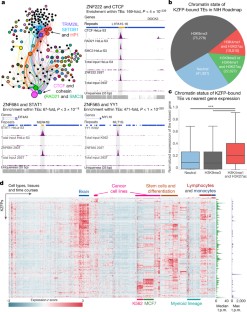 Accession codes
Primary accessions
Gene Expression Omnibus
References
Huntley, S. et al. A comprehensive catalog of human KRAB-associated zinc finger genes: insights into the evolutionary history of a large family of transcriptional repressors. Genome Res. 16, 669–677 (2006)

Liu, H., Chang, L. H., Sun, Y., Lu, X. & Stubbs, L. Deep vertebrate roots for mammalian zinc finger transcription factor subfamilies. Genome Biol. Evol. 6, 510–525 (2014)

Wolf, D. & Goff, S. P. Embryonic stem cells use ZFP809 to silence retroviral DNAs. Nature 458, 1201–1204 (2009)

Castro-Diaz, N. et al. Evolutionally dynamic L1 regulation in embryonic stem cells. Genes Dev. 28, 1397–1409 (2014)

Jacobs, F. M. et al. An evolutionary arms race between KRAB zinc-finger genes ZNF91/93 and SVA/L1 retrotransposons. Nature 516, 242–245 (2014)

Schultz, D. C., Ayyanathan, K., Negorev, D., Maul, G. G. & Rauscher, F. J., III . SETDB1: a novel KAP-1-associated histone H3, lysine 9-specific methyltransferase that contributes to HP1-mediated silencing of euchromatic genes by KRAB zinc-finger proteins. Genes Dev. 16, 919–932 (2002)

Schultz, D. C., Friedman, J. R. & Rauscher, F. J., III . Targeting histone deacetylase complexes via KRAB-zinc finger proteins: the PHD and bromodomains of KAP-1 form a cooperative unit that recruits a novel isoform of the Mi-2α subunit of NuRD. Genes Dev. 15, 428–443 (2001)

Matsui, T. et al. Proviral silencing in embryonic stem cells requires the histone methyltransferase ESET. Nature 464, 927–931 (2010)

Quenneville, S. et al. The KRAB-ZFP/KAP1 system contributes to the early embryonic establishment of site-specific DNA methylation patterns maintained during development. Cell Reports 2, 766–773 (2012)

Rowe, H. M. et al. KAP1 controls endogenous retroviruses in embryonic stem cells. Nature 463, 237–240 (2010)

Turelli, P. et al. Interplay of TRIM28 and DNA methylation in controlling human endogenous retroelements. Genome Res. 24, 1260–1270 (2014)

Amemiya, C. T. et al. The African coelacanth genome provides insights into tetrapod evolution. Nature 496, 311–316 (2013)

Rhee, H. S. & Pugh, B. F. Comprehensive genome-wide protein-DNA interactions detected at single-nucleotide resolution. Cell 147, 1408–1419 (2011)

Quenneville, S. et al. In embryonic stem cells, ZFP57/KAP1 recognize a methylated hexanucleotide to affect chromatin and DNA methylation of imprinting control regions. Mol. Cell 44, 361–372 (2011)

Baudat, F. et al. PRDM9 is a major determinant of meiotic recombination hotspots in humans and mice. Science 327, 836–840 (2010)

Frietze, S., O'Geen, H., Blahnik, K. R., Jin, V. X. & Farnham, P. J. ZNF274 recruits the histone methyltransferase SETDB1 to the 3′ ends of ZNF genes. PLoS One 5, e15082 (2010)

Chuong, E. B., Elde, N. C. & Feschotte, C. Regulatory activities of TEs: from conflicts to benefits. Nat. Rev. Genet. 18, 71–86 (2017)

Ecco, G. et al. Transposable elements and their KRAB-ZFP controllers regulate gene expression in adult tissues. Dev. Cell 36, 611–623 (2016)

ENCODE Project Consortium. An integrated encyclopedia of DNA elements in the human genome. Nature 489, 57–74 (2012)

Chuong, E. B., Elde, N. C. & Feschotte, C. Regulatory evolution of innate immunity through co-option of endogenous retroviruses. Science 351, 1083–1087 (2016)

Kundaje, A. et al. Integrative analysis of 111 reference human epigenomes. Nature 518, 317–330 (2015)

Lizio, M. et al. Gateways to the FANTOM5 promoter level mammalian expression atlas. Genome Biol. 16, 22 (2015)

Hedges, S. B., Dudley, J. & Kumar, S. TimeTree: a public knowledge-base of divergence times among organisms. Bioinformatics 22, 2971–2972 (2006)

Langmead, B. & Salzberg, S. L. Fast gapped-read alignment with Bowtie 2. Nat. Methods 9, 357–359 (2012)

Zhang, Y. et al. Model-based analysis of ChIP-Seq (MACS). Genome Biol. 9, R137 (2008)

Dreos, R., Ambrosini, G., Cavin Périer, R. & Bucher, P. EPD and EPDnew, high-quality promoter resources in the next-generation sequencing era. Nucleic Acids Res. 41, D157–D164 (2013)

Quinlan, A. R. & Hall, I. M. BEDTools: a flexible suite of utilities for comparing genomic features. Bioinformatics 26, 841–842 (2010)

Dale, R. K., Pedersen, B. S. & Quinlan, A. R. Pybedtools: a flexible Python library for manipulating genomic datasets and annotations. Bioinformatics 27, 3423–3424 (2011)

Chikina, M. D. & Troyanskaya, O. G. An effective statistical evaluation of ChIPseq dataset similarity. Bioinformatics 28, 607–613 (2012)

Katoh, K. & Standley, D. M. MAFFT multiple sequence alignment software version 7: improvements in performance and usability. Mol. Biol. Evol. 30, 772–780 (2013)
Acknowledgements
We thank the University of Lausanne Genomic Technologies Facility for sequencing, J. Marquis, S. Offner and C. Raclot for technical assistance and Vital-IT for computing resources. This work was financed through grants from the Swiss National Science Foundation and the European Research Council (ERC 268721) to D.T., and a fellowship from the Fonds de la Recherche en Santé du Québec to M.I.
Ethics declarations
Competing interests
The authors declare no competing financial interests.
Additional information
Reviewer Information Nature thanks V. Iyer, Z. Izsvak and the other anonymous reviewer(s) for their contribution to the peer review of this work.
Publisher's note: Springer Nature remains neutral with regard to jurisdictional claims in published maps and institutional affiliations.
Extended data figures and tables
Supplementary information
About this article
Cite this article
Imbeault, M., Helleboid, PY. & Trono, D. KRAB zinc-finger proteins contribute to the evolution of gene regulatory networks. Nature 543, 550–554 (2017). https://doi.org/10.1038/nature21683
Received:

Accepted:

Published:

Issue Date:

DOI: https://doi.org/10.1038/nature21683
Comments
By submitting a comment you agree to abide by our Terms and Community Guidelines. If you find something abusive or that does not comply with our terms or guidelines please flag it as inappropriate.