Abstract
Maternally inherited 15q11-13 chromosomal triplications cause a frequent and highly penetrant type of autism linked to increased gene dosages of UBE3A, which encodes a ubiquitin ligase with transcriptional co-regulatory functions. Here, using in vivo mouse genetics, we show that increasing UBE3A in the nucleus downregulates the glutamatergic synapse organizer Cbln1, which is needed for sociability in mice. Epileptic seizures also repress Cbln1 and are found to expose sociability impairments in mice with asymptomatic increases in UBE3A. This Ube3a–seizure synergy maps to glutamate neurons of the midbrain ventral tegmental area (VTA), where Cbln1 deletions impair sociability and weaken glutamatergic transmission. We provide preclinical evidence that viral-vector-based chemogenetic activation of, or restoration of Cbln1 in, VTA glutamatergic neurons reverses the sociability deficits induced by Ube3a and/or seizures. Our results suggest that gene and seizure interactions in VTA glutamatergic neurons impair sociability by downregulating Cbln1, a key node in the expanding protein interaction network of autism genes.
Relevant articles
Open Access articles citing this article.
Yunqi Chao

,

Yifang Qin

…

Chaochun Zou

Clinical Epigenetics Open Access 12 November 2022

Débora Garrido

,

Stefania Beretta

…

Tobias M. Boeckers

Molecular Psychiatry Open Access 13 September 2022

Patricia Bermudez-Martin

,

Jérôme A. J. Becker

…

Laetitia Davidovic

Microbiome Open Access 08 July 2021
Access options
Subscribe to Nature+
Get immediate online access to Nature and 55 other Nature journal
Subscribe to Journal
Get full journal access for 1 year
$199.00
only $3.90 per issue
All prices are NET prices.
VAT will be added later in the checkout.
Tax calculation will be finalised during checkout.
Buy article
Get time limited or full article access on ReadCube.
$32.00
All prices are NET prices.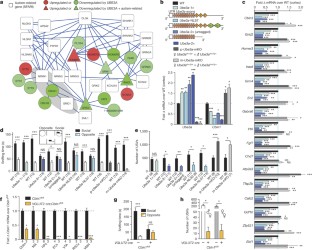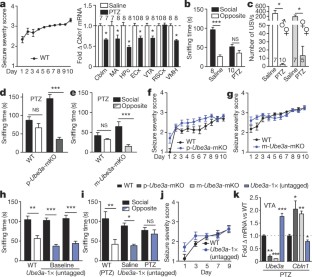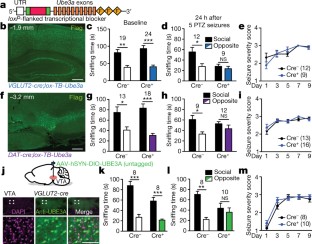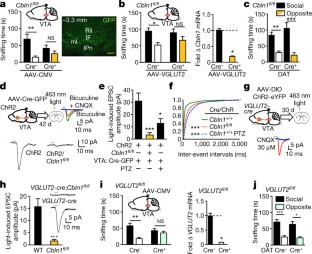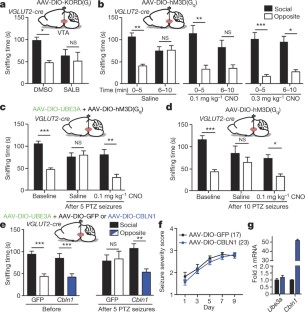 References
Chen, J. A., Peñagarikano, O., Belgard, T. G., Swarup, V. & Geschwind, D. H. The emerging picture of autism spectrum disorder: genetics and pathology. Annu. Rev. Pathol. 10, 111–144 (2015)

El Achkar, C. M. & Spence, S. J. Clinical characteristics of children and young adults with co-occurring autism spectrum disorder and epilepsy. Epilepsy Behav. 47, 183–190 (2015)

Glessner, J. T. et al. Autism genome-wide copy number variation reveals ubiquitin and neuronal genes. Nature 459, 569–573 (2009)

Smith, S. E. et al. Increased gene dosage of Ube3a results in autism traits and decreased glutamate synaptic transmission in mice. Sci. Transl. Med. 3, 103ra97 (2011)

Jiang, Y. H. et al. Mutation of the Angelman ubiquitin ligase in mice causes increased cytoplasmic p53 and deficits of contextual learning and long-term potentiation. Neuron 21, 799–811 (1998)

Kaphzan, H. et al. Genetic reduction of the α1 subunit of Na/K-ATPase corrects multiple hippocampal phenotypes in Angelman syndrome. Cell Reports 4, 405–412 (2013)

Matsuura, T. et al. De novo truncating mutations in E6-AP ubiquitin-protein ligase gene (UBE3A) in Angelman syndrome. Nat. Genet. 15, 74–77 (1997)

Wallace, M. L., Burette, A. C., Weinberg, R. J. & Philpot, B. D. Maternal loss of Ube3a produces an excitatory/inhibitory imbalance through neuron type-specific synaptic defects. Neuron 74, 793–800 (2012)

Scheffner, M., Huibregtse, J. M., Vierstra, R. D. & Howley, P. M. The HPV-16 E6 and E6-AP complex functions as a ubiquitin-protein ligase in the ubiquitination of p53. Cell 75, 495–505 (1993)

Nawaz, Z. et al. The Angelman syndrome-associated protein, E6-AP, is a coactivator for the nuclear hormone receptor superfamily. Mol. Cell. Biol. 19, 1182–1189 (1999)

Scoles, H. A., Urraca, N., Chadwick, S. W., Reiter, L. T. & Lasalle, J. M. Increased copy number for methylated maternal 15q duplications leads to changes in gene and protein expression in human cortical samples. Mol. Autism 2, 19 (2011)

Basu, S. N., Kollu, R. & Banerjee-Basu, S. AutDB: a gene reference resource for autism research. Nucleic Acids Res. 37, D832–D836 (2009)

Matsuda, K. & Yuzaki, M. Cbln family proteins promote synapse formation by regulating distinct neurexin signaling pathways in various brain regions. Eur. J. Neurosci. 33, 1447–1461 (2011)

Wei, P. et al. The Cbln family of proteins interact with multiple signaling pathways. J. Neurochem. 121, 717–729 (2012)

Elegheert, J. et al. Structural basis for integration of GluD receptors within synaptic organizer complexes. Science 353, 295–299 (2016)

Matsuda, K. et al. Cbln1 is a ligand for an orphan glutamate receptor δ2, a bidirectional synapse organizer. Science 328, 363–368 (2010)

Uemura, T. et al. Trans-synaptic interaction of GluRδ2 and neurexin through Cbln1 mediates synapse formation in the cerebellum. Cell 141, 1068–1079 (2010)

Ryu, K., Yokoyama, M., Yamashita, M. & Hirano, T. Induction of excitatory and inhibitory presynaptic differentiation by GluD1. Biochem. Biophys. Res. Commun. 417, 157–161 (2012)

Hirai, H. et al. Cbln1 is essential for synaptic integrity and plasticity in the cerebellum. Nat. Neurosci. 8, 1534–1541 (2005)

Bao, D. et al. Cbln1 is essential for interaction-dependent secretion of Cbln3. Mol. Cell. Biol. 26, 9327–9337 (2006)

Grier, M. D., Carson, R. P. & Lagrange, A. H. Of mothers and myelin: Aberrant myelination phenotypes in mouse model of Angelman syndrome are dependent on maternal and dietary influences. Behav. Brain Res. 291, 260–267 (2015)

Yang, M., Silverman, J. L. & Crawley, J. N. Automated three-chambered social approach task for mice. Curr. Protoc. Neurosci. Chapter 8, Unit 8.26 (2011)

Yadav, R. et al. Deletion of glutamate delta-1 receptor in mouse leads to aberrant emotional and social behaviors. PLoS One 7, e32969 (2012)

Iijima, T., Emi, K. & Yuzaki, M. Activity-dependent repression of Cbln1 expression: mechanism for developmental and homeostatic regulation of synapses in the cerebellum. J. Neurosci. 29, 5425–5434 (2009)

Takechi, K., Suemaru, K., Kiyoi, T., Tanaka, A. & Araki, H. The α4β2 nicotinic acetylcholine receptor modulates autism-like behavioral and motor abnormalities in pentylenetetrazol-kindled mice. Eur. J. Pharmacol. 775, 57–66 (2016)

Taylor, S. R. et al. GABAergic and glutamatergic efferents of the mouse ventral tegmental area. J. Comp. Neurol. 522, 3308–3334 (2014)

Zhang, S. et al. Dopaminergic and glutamatergic microdomains in a subset of rodent mesoaccumbens axons. Nat. Neurosci. 18, 386–392 (2015)

Gunaydin, L. A. et al. Natural neural projection dynamics underlying social behavior. Cell 157, 1535–1551 (2014)

Yamaguchi, T., Qi, J., Wang, H. L., Zhang, S. & Morales, M. Glutamatergic and dopaminergic neurons in the mouse ventral tegmental area. Eur. J. Neurosci. 41, 760–772 (2015)

Greer, P. L. et al. The Angelman Syndrome protein Ube3A regulates synapse development by ubiquitinating Arc. Cell 140, 704–716 (2010)

Khan, O. Y. et al. Multifunction steroid receptor coactivator, E6-associated protein, is involved in development of the prostate gland. Mol. Endocrinol. 20, 544–559 (2006)

Kühnle, S ., Mothes, B ., Matentzoglu, K & Scheffner, M. Role of the ubiquitin ligase E6AP/UBE3A in controlling levels of the synaptic protein Arc. Proc. Natl Acad. Sci. USA 110, 8888–8893 (2013)

Kim, S., Chahrour, M., Ben-Shachar, S. & Lim, J. Ube3a/E6AP is involved in a subset of MeCP2 functions. Biochem. Biophys. Res. Commun. 437, 67–73 (2013)

Lyst, M. J. et al. Rett syndrome mutations abolish the interaction of MeCP2 with the NCoR/SMRT co-repressor. Nat. Neurosci. 16, 898–902 (2013)

McClelland, S. et al. The transcription factor NRSF contributes to epileptogenesis by selective repression of a subset of target genes. eLife 3, e01267 (2014)

Liu, M. et al. Neuronal conditional knockout of NRSF decreases vulnerability to seizures induced by pentylenetetrazol in mice. Acta Biochim. Biophys. Sin. (Shanghai) 44, 476–482 (2012)

Kent, W. J. et al. The human genome browser at UCSC. Genome Res/ 12, 996–1006 (2002)

Yi, J. J. et al. An autism-linked mutation disables phosphorylation control of UBE3A. Cell 162, 795–807 (2015)

Ronchi, V. P., Klein, J. M., Edwards, D. J. & Haas, A. L. The active form of E6-associated protein (E6AP)/UBE3A ubiquitin ligase is an oligomer. J. Biol. Chem. 289, 1033–1048 (2014)

Gossan, N. C. et al. The E3 ubiquitin ligase UBE3A is an integral component of the molecular circadian clock through regulating the BMAL1 transcription factor. Nucleic Acids Res. 42, 5765–5775 (2014)

Berrios, J. et al. Loss of UBE3A from TH-expressing neurons suppresses GABA co-release and enhances VTA-NAc optical self-stimulation. Nat. Commun. 7, 10702 (2016)

Riday, T. T. et al. Pathway-specific dopaminergic deficits in a mouse model of Angelman syndrome. J. Clin. Invest. 122, 4544–4554 (2012)

Zhou, Y. D. et al. Arrested maturation of excitatory synapses in autosomal dominant lateral temporal lobe epilepsy. Nat. Med. 15, 1208–1214 (2009)

Anderson, M. P . et al. Thalamic Cav3.1 T-type Ca2+ channel plays a crucial role in stabilizing sleep. Proc. Natl Acad. Sci. USA 102, 1743–1748 (2005)

Srinivas, S. et al. Cre reporter strains produced by targeted insertion of EYFP and ECFP into the ROSA26 locus. BMC Dev. Biol. 1, 4 (2001)

Salvat, C., Wang, G., Dastur, A., Lyon, N. & Huibregtse, J. M. The -4 phenylalanine is required for substrate ubiquitination catalyzed by HECT ubiquitin ligases. J. Biol. Chem. 279, 18935–18943 (2004)

Vong, L. et al. Leptin action on GABAergic neurons prevents obesity and reduces inhibitory tone to POMC neurons. Neuron 71, 142–154 (2011)

Tong, Q. et al. Synaptic glutamate release by ventromedial hypothalamic neurons is part of the neurocircuitry that prevents hypoglycemia. Cell Metab. 5, 383–393 (2007)

Gorski, J. A. et al. Cortical excitatory neurons and glia, but not GABAergic neurons, are produced in the Emx1-expressing lineage. J. Neurosci. 22, 6309–6314 (2002)

Rose, M. F ., Ahmad, K. A ., Thaller, C & Zoghbi, H. Y. Excitatory neurons of the proprioceptive, interoceptive, and arousal hindbrain networks share a developmental requirement for Math1. Proc. Natl Acad. Sci. USA 106, 22462–22467 (2009)

Zhuang, X., Masson, J., Gingrich, J. A., Rayport, S. & Hen, R. Targeted gene expression in dopamine and serotonin neurons of the mouse brain. J. Neurosci. Methods 143, 27–32 (2005)

Kobayashi, K. et al. Survival of developing motor neurons mediated by Rho GTPase signaling pathway through Rho-kinase. J. Neurosci. 24, 3480–3488 (2004)

Rossi, J. et al. Melanocortin-4 receptors expressed by cholinergic neurons regulate energy balance and glucose homeostasis. Cell Metab. 13, 195–204 (2011)

Scott, M. M., Williams, K. W., Rossi, J., Lee, C. E. & Elmquist, J. K. Leptin receptor expression in hindbrain Glp-1 neurons regulates food intake and energy balance in mice. J. Clin. Invest. 121, 2413–2421 (2011)

Madisen, L. et al. A toolbox of Cre-dependent optogenetic transgenic mice for light-induced activation and silencing. Nat. Neurosci. 15, 793–802 (2012)

Rozen, S & Skaletsky, H. Primer3 on the WWW for general users and for biologist programmers. Methods Mol. Biol. 132, 365–386 (2000)

Ye, J. et al. Primer-BLAST: a tool to design target-specific primers for polymerase chain reaction. BMC Bioinformatics 13, 134 (2012)

Schmittgen, T. D. & Livak, K. J. Analyzing real-time PCR data by the comparative CT method. Nat. Protocols 3, 1101–1108 (2008)

The Gene Ontology Consortium. Gene Ontology: tool for the unification of biology. Nat. Genet. 25, 25–29 (2000)

Gentleman, R. C. et al. Bioconductor: open software development for computational biology and bioinformatics. Genome Biol. 5, R80 (2004)

Smoot, M. E., Ono, K., Ruscheinski, J., Wang, P. L. & Ideker, T. Cytoscape 2.8: new features for data integration and network visualization. Bioinformatics 27, 431–432 (2011)

Silverman, J. L. et al. GABAB receptor agonist R-baclofen reverses social deficits and reduces repetitive behavior in two mouse models of autism. Neuropsychopharmacology 40, 2228–2239 (2015)

Allensworth, M., Saha, A., Reiter, L. T. & Heck, D. H. Normal social seeking behavior, hypoactivity and reduced exploratory range in a mouse model of Angelman syndrome. BMC Genet. 12, 7 (2011)

Yang, M. & Crawley, J. N. Simple behavioral assessment of mouse olfaction. Curr. Protoc. Neurosci. Chapter 8, Unit 8.24 (2009)

Ferraro, T. N . et al. Mapping loci for pentylenetetrazol-induced seizure susceptibility in mice. J. Neurosci. 19, 6733–6739 (1999)

Lein, E. S. et al. Genome-wide atlas of gene expression in the adult mouse brain. Nature 445, 168–176 (2007)

The ENCODE Project Consortium. An integrated encyclopedia of DNA elements in the human genome. Nature 489, 57–74 (2012)
Acknowledgements
We thank O. DiStefano, G. Salimando and R. Broadhurst for colony work and the Harvard Medical School Neurobiology Imaging Facility (NINDS P30 Core Center Grant NS07203) and Boston Children's Hospital IDDRC (1U54HD090255, P30HD18655). Supported by funding to V.K. (1R25NS070682 and an American Academy of Neurology Research Training Fellowship) and to M.P.A. from the NIH (1R01NS08916, 1R21MH100868, 1R21HD079249), Nancy Lurie Marks Family Foundation, Landreth Foundation, Simons Foundation, and Autism Speaks/National Alliance for Autism Research. R.A. was supported by Klarman Family Foundation.
Ethics declarations
Competing interests
The authors declare no competing financial interests.
Additional information
Reviewer Information Nature thanks E. Kim and the other anonymous reviewer(s) for their contribution to the peer review of this work.
Publisher's note: Springer Nature remains neutral with regard to jurisdictional claims in published maps and institutional affiliations.
Extended data figures and tables
Supplementary information
About this article
Cite this article
Krishnan, V., Stoppel, D., Nong, Y. et al. Autism gene Ube3a and seizures impair sociability by repressing VTA Cbln1. Nature 543, 507–512 (2017). https://doi.org/10.1038/nature21678
Received:

Accepted:

Published:

Issue Date:

DOI: https://doi.org/10.1038/nature21678
Comments
By submitting a comment you agree to abide by our Terms and Community Guidelines. If you find something abusive or that does not comply with our terms or guidelines please flag it as inappropriate.