Abstract
The adult mammalian heart is incapable of regeneration following cardiomyocyte loss, which underpins the lasting and severe effects of cardiomyopathy. Recently, it has become clear that the mammalian heart is not a post-mitotic organ. For example, the neonatal heart is capable of regenerating lost myocardium1, and the adult heart is capable of modest self-renewal2,3. In both of these scenarios, cardiomyocyte renewal occurs via the proliferation of pre-existing cardiomyocytes, and is regulated by aerobic-respiration-mediated oxidative DNA damage4,5. Therefore, we reasoned that inhibiting aerobic respiration by inducing systemic hypoxaemia would alleviate oxidative DNA damage, thereby inducing cardiomyocyte proliferation in adult mammals. Here we report that, in mice, gradual exposure to severe systemic hypoxaemia, in which inspired oxygen is gradually decreased by 1% and maintained at 7% for 2 weeks, results in inhibition of oxidative metabolism, decreased reactive oxygen species production and oxidative DNA damage, and reactivation of cardiomyocyte mitosis. Notably, we find that exposure to hypoxaemia 1 week after induction of myocardial infarction induces a robust regenerative response with decreased myocardial fibrosis and improvement of left ventricular systolic function. Genetic fate-mapping analysis confirms that the newly formed myocardium is derived from pre-existing cardiomyocytes. These results demonstrate that the endogenous regenerative properties of the adult mammalian heart can be reactivated by exposure to gradual systemic hypoxaemia, and highlight the potential therapeutic role of hypoxia in regenerative medicine.
Your institute does not have access to this article
Relevant articles
Open Access articles citing this article.
Ylenia Della Rocca

,

Luigia Fonticoli

…

Guya Diletta Marconi

Journal of Physiology and Biochemistry Open Access 23 July 2022

Siman Shen

,

Keyu Liu

…

Liangqing Zhang

Cell Death Discovery Open Access 20 July 2022

Angeliqua Sayed

,

Szimonetta Turoczi

…

Mariana Valente

Scientific Reports Open Access 03 June 2022
Access options
Subscribe to Journal
Get full journal access for 1 year
$199.00
only $3.90 per issue
All prices are NET prices.
VAT will be added later in the checkout.
Tax calculation will be finalised during checkout.
Buy article
Get time limited or full article access on ReadCube.
$32.00
All prices are NET prices.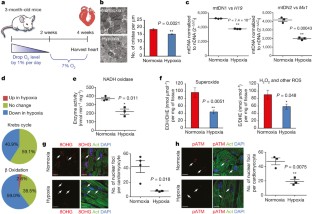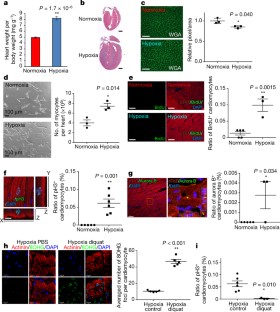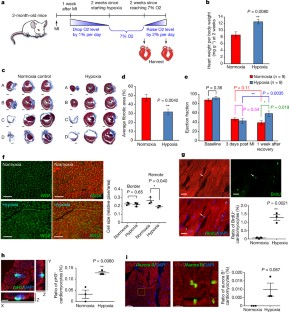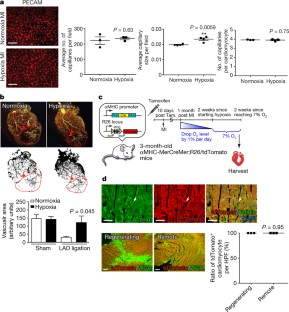 Accession codes
Primary accessions
Sequence Read Archive
References
Porrello, E. R. et al. Transient regenerative potential of the neonatal mouse heart. Science 331, 1078–1080 (2011)

Bergmann, O. et al. Dynamics of cell generation and turnover in the human heart. Cell 161, 1566–1575 (2015)

Senyo, S. E. et al. Mammalian heart renewal by pre-existing cardiomyocytes. Nature 493, 433–436 (2013)

Puente, B. N. et al. The oxygen-rich postnatal environment induces cardiomyocyte cell-cycle arrest through DNA damage response. Cell 157, 565–579 (2014)

Kimura, W. et al. Hypoxia fate mapping identifies cycling cardiomyocytes in the adult heart. Nature 523, 226–230 (2015)

Kikuchi, K. et al. Primary contribution to zebrafish heart regeneration by gata4+ cardiomyocytes. Nature 464, 601–605 (2010)

Poss, K. D., Wilson, L. G. & Keating, M. T. Heart regeneration in zebrafish. Science 298, 2188–2190 (2002)

Jopling, C. et al. Zebrafish heart regeneration occurs by cardiomyocyte dedifferentiation and proliferation. Nature 464, 606–609 (2010)

Adam-Vizi, V. & Chinopoulos, C. Bioenergetics and the formation of mitochondrial reactive oxygen species. Trends Pharmacol. Sci. 27, 639–645 (2006)

Roach, R. C. & Hackett, P. H. Frontiers of hypoxia research: acute mountain sickness. J. Exp. Biol. 204, 3161–3170 (2001)

Subramanian, R. K. et al. Normative data for arterial blood gas and electrolytes in anesthetized rats. Indian J. Pharmacol. 45, 103–104 (2013)

Wise, D. R. et al. Hypoxia promotes isocitrate dehydrogenase-dependent carboxylation of α-ketoglutarate to citrate to support cell growth and viability. Proc. Natl Acad. Sci. USA 108, 19611–19616 (2011)

Poleshko, A. G., Lobanok, E. S. & Volotovskii, I. D. Effect of hypoxia on porphyrin metabolism in bone marrow mesenchymal stem cells. Bull. Exp. Biol. Med. 157, 167–171 (2014)

Vicario, C., Juanes, M. C., Martín-Barrientos, J. & Medina, J. M. Effect of postnatal hypoxia on ammonia metabolism during the early neonatal period in the rat. Biol. Neonate 57, 119–125 (1990)

Löffler, M. The "anti-pyrimidine effect" of hypoxia and brequinar sodium (NSC 368390) is of consequence for tumor cell growth. Biochem. Pharmacol. 43, 2281–2287 (1992)

Skappak, C., Regush, S., Cheung, P. Y. & Adamko, D. J. Identifying hypoxia in a newborn piglet model using urinary NMR metabolomic profiling. PLoS One 8, e65035 (2013)

Mullen, A. R. et al. Oxidation of alpha-ketoglutarate is required for reductive carboxylation in cancer cells with mitochondrial defects. Cell Reports 7, 1679–1690 (2014)

Kasai, H. & Nishimura, S. Hydroxylation of the C-8 position of deoxyguanosine by reducing agents in the presence of oxygen. Nucleic Acids Symp. Ser. 12, 165–167 (1983)

Kobs, R. W., Muvarak, N. E., Eickhoff, J. C. & Chesler, N. C. Linked mechanical and biological aspects of remodeling in mouse pulmonary arteries with hypoxia-induced hypertension. Am. J. Physiol. Heart Circ. Physiol. 288, H1209–H1217 (2005)

Djordjevic, B. & Szybalski, W. Genetics of human cell lines. III. Incorporation of 5-bromo- and 5-iododeoxyuridine into the deoxyribonucleic acid of human cells and its effect on radiation sensitivity. J. Exp. Med. 112, 509–531 (1960)

Saffhill, R. & Ockey, C. H. Strand breaks arising from the repair of the 5-bromodeoxyuridine-substituted template and methyl methanesulphonate-induced lesions can explain the formation of sister chromatid exchanges. Chromosoma 92, 218–224 (1985)

Morris, S. M. The genetic toxicology of 5-bromodeoxyuridine in mammalian cells. Mutat. Res. 258, 161–188 (1991)

Malliaras, K. et al. Cardiomyocyte proliferation and progenitor cell recruitment underlie therapeutic regeneration after myocardial infarction in the adult mouse heart. EMBO Mol. Med. 5, 191–209 (2013)

Murray, T. V. et al. Redox regulation of cardiomyocyte cell cycling via an ERK1/2 and c-Myc-dependent activation of cyclin D2 transcription. J. Mol. Cell. Cardiol. 79, 54–68 (2015)

Le Belle, J. E. et al. Proliferative neural stem cells have high endogenous ROS levels that regulate self-renewal and neurogenesis in a PI3K/Akt-dependant manner. Cell Stem Cell 8, 59–71 (2011)

Takahashi, A. et al. Mitogenic signalling and the p16INK4a–Rb pathway cooperate to enforce irreversible cellular senescence. Nat. Cell Biol. 8, 1291–1297 (2006)

Perales-Clemente, E., Folmes, C. D. & Terzic, A. Metabolic regulation of redox status in stem cells. Antioxid. Redox Signal. 21, 1648–1659 (2014)

Mahmoud, A. I. et al. Meis1 regulates postnatal cardiomyocyte cell cycle arrest. Nature 497, 249–253 (2013)
Acknowledgements
We thank the McDermott Center Sequencing and Bioinformatics Cores for sequencing and analysis, J. Richardson and J. Shelton for assistance with histology, G. Jay for assistance with the hypoxia protocol, K. Nham for help with coronary imaging and A. Darehshouri for assistance with electron microscopy. This work is supported by the NIH (grant 1R01HL115275-01) (H.A.S.), and Center for Regenerative Science and Medicine. C.X.S. was partially supported by NIH grant UL1TR001105. A.M.S. is supported by the British Heart Foundation (CH/1999001/11735).
Ethics declarations
Competing interests
The authors declare no competing financial interests.
Additional information
Reviewer Information Nature thanks R. Lee and the other anonymous reviewer(s) for their contribution to the peer review of this work.
Extended data figures and tables
About this article
Cite this article
Nakada, Y., Canseco, D., Thet, S. et al. Hypoxia induces heart regeneration in adult mice. Nature 541, 222–227 (2017). https://doi.org/10.1038/nature20173
Received:

Accepted:

Published:

Issue Date:

DOI: https://doi.org/10.1038/nature20173
Comments
By submitting a comment you agree to abide by our Terms and Community Guidelines. If you find something abusive or that does not comply with our terms or guidelines please flag it as inappropriate.