Abstract
The Rho GTPase proteins Rac1, RhoA and Cdc42 have a central role in regulating the actin cytoskeleton in dendritic spines1, thereby exerting control over the structural and functional plasticity of spines2,3,4,5 and, ultimately, learning and memory6,7,8. Although previous work has shown that precise spatiotemporal coordination of these GTPases is crucial for some forms of cell morphogenesis9, the nature of such coordination during structural spine plasticity is unclear. Here we describe a three-molecule model of structural long-term potentiation (sLTP) of murine dendritic spines, implicating the localized, coincident activation of Rac1, RhoA and Cdc42 as a causal signal of sLTP. This model posits that complete tripartite signal overlap in spines confers sLTP, but that partial overlap primes spines for structural plasticity. By monitoring the spatiotemporal activation patterns of these GTPases during sLTP, we find that such spatiotemporal signal complementation simultaneously explains three integral features of plasticity: the facilitation of plasticity by brain-derived neurotrophic factor (BDNF), the postsynaptic source of which activates Cdc42 and Rac1, but not RhoA; heterosynaptic facilitation of sLTP, which is conveyed by diffusive Rac1 and RhoA activity; and input specificity, which is afforded by spine-restricted Cdc42 activity. Thus, we present a form of biochemical computation in dendrites involving the controlled complementation of three molecules that simultaneously ensures signal specificity and primes the system for plasticity.
Your institute does not have access to this article
Relevant articles
Open Access articles citing this article.
Masoumeh Kourosh-Arami

,

Nasrin Hosseini

&

Alireza Komaki

The Journal of Physiological Sciences Open Access 17 November 2021

Andonia Petkova-Tuffy

,

Nina Gödecke

…

Thomas Dresbach

BMC Biology Open Access 27 September 2021

Jan H. Kirchner

&

Julijana Gjorgjieva

Nature Communications Open Access 28 June 2021
Access options
Subscribe to Journal
Get full journal access for 1 year
$199.00
only $3.90 per issue
All prices are NET prices.
VAT will be added later in the checkout.
Tax calculation will be finalised during checkout.
Buy article
Get time limited or full article access on ReadCube.
$32.00
All prices are NET prices.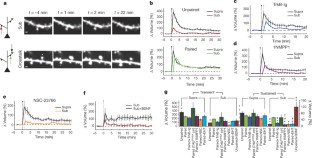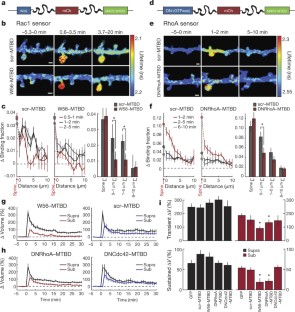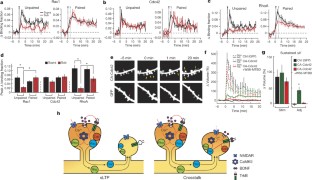 References
Tashiro, A., Minden, A. & Yuste, R. Regulation of dendritic spine morphology by the rho family of small GTPases: antagonistic roles of Rac and Rho. Cereb. Cortex 10, 927–938 (2000)

Dietz, D. M. et al. Rac1 is essential in cocaine-induced structural plasticity of nucleus accumbens neurons. Nat. Neurosci. 15, 891–896 (2012)

Murakoshi, H., Wang, H. & Yasuda, R. Local, persistent activation of Rho GTPases during plasticity of single dendritic spines. Nature 472, 100–104 (2011)

Okamoto, K., Nagai, T., Miyawaki, A. & Hayashi, Y. Rapid and persistent modulation of actin dynamics regulates postsynaptic reorganization underlying bidirectional plasticity. Nat. Neurosci. 7, 1104–1112 (2004)

Nakayama, A. Y., Harms, M. B. & Luo, L. Small GTPases Rac and Rho in the maintenance of dendritic spines and branches in hippocampal pyramidal neurons. J. Neurosci. 20, 5329–5338 (2000)

Haditsch, U. et al. A central role for the small GTPase Rac1 in hippocampal plasticity and spatial learning and memory. Mol. Cell. Neurosci. 41, 409–419 (2009)

Lai, K.-O. O. et al. TrkB phosphorylation by Cdk5 is required for activity-dependent structural plasticity and spatial memory. Nat. Neurosci. 15, 1506–1515 (2012)

Il Hwan, K., Hong, W., Scott, H. S. & Ryohei, Y. Loss of Cdc42 leads to defects in synaptic plasticity and remote memory recall. eLife 3, e02839 (2014)

Machacek, M. et al. Coordination of Rho GTPase activities during cell protrusion. Nature 461, 99–103 (2009)

McAllister, A. K. Biolistic transfection of neurons. Sci. STKE 2000, pl1 (2000)

Stoppini, L., Buchs, P. A. & Muller, D. A simple method for organotypic cultures of nervous tissue. J. Neurosci. Methods 37, 173–182 (1991)

Yasuda, R. et al. Supersensitive Ras activation in dendrites and spines revealed by two-photon fluorescence lifetime imaging. Nat. Neurosci. 9, 283–291 (2006)

Matsuzaki, M., Honkura, N., Ellis-Davies, G. C. & Kasai, H. Structural basis of long-term potentiation in single dendritic spines. Nature 429, 761–766 (2004)

Honkura, N., Matsuzaki, M., Noguchi, J., Ellis-Davies, G. C. & Kasai, H. The subspine organization of actin fibers regulates the structure and plasticity of dendritic spines. Neuron 57, 719–729 (2008)

Harward, S. C. et al. Autocrine BDNF–TrkB signalling within a single dendritic spine. Nature http://dx.doi.org/10.1038/nature19766 (2016)

Lu, W. et al. Subunit composition of synaptic AMPA receptors revealed by a single-cell genetic approach. Neuron 62, 254–268 (2009)

Luikart, B. W. et al. TrkB has a cell-autonomous role in the establishment of hippocampal Schaffer collateral synapses. J. Neurosci. 25, 3774–3786 (2005)

Miyamoto, Y., Yamauchi, J., Tanoue, A., Wu, C. & Mobley, W. C. TrkB binds and tyrosine-phosphorylates Tiam1, leading to activation of Rac1 and induction of changes in cellular morphology. Proc. Natl Acad. Sci. USA 103, 10444–10449 (2006)

Harvey, C. D. & Svoboda, K. Locally dynamic synaptic learning rules in pyramidal neuron dendrites. Nature 450, 1195–1200 (2007)

Harvey, C. D., Yasuda, R., Zhong, H. & Svoboda, K. The spread of Ras activity triggered by activation of a single dendritic spine. Science 321, 136–140 (2008)

Chen, X. et al. A chemical-genetic approach to studying neurotrophin signaling. Neuron 46, 13–21 (2005)

Huber, K. M., Sawtell, N. B. & Bear, M. F. Brain-derived neurotrophic factor alters the synaptic modification threshold in visual cortex. Neuropharmacology 37, 571–579 (1998)

Gao, Y., Xing, J., Streuli, M., Leto, T. L. & Zheng, Y. Trp(56) of rac1 specifies interaction with a subset of guanine nucleotide exchange factors. J. Biol. Chem. 276, 47530–47541 (2001)

Korobova, F. & Svitkina, T. Molecular architecture of synaptic actin cytoskeleton in hippocampal neurons reveals a mechanism of dendritic spine morphogenesis. Mol. Biol. Cell 21, 165–176 (2010)

Zhong, H. et al. Subcellular dynamics of type II PKA in neurons. Neuron 62, 363–374 (2009)

Seoh, M. L., Ng, C. H., Yong, J., Lim, L. & Leung, T. ArhGAP15, a novel human RacGAP protein with GTPase binding property. FEBS Lett. 539, 131–137 (2003)

Tanaka, J. et al. Protein synthesis and neurotrophin-dependent structural plasticity of single dendritic spines. Science 319, 1683–1687 (2008)

Korte, M. et al. Hippocampal long-term potentiation is impaired in mice lacking brain-derived neurotrophic factor. Proc. Natl Acad. Sci. USA 92, 8856–8860 (1995)

Bosch, M. et al. Structural and molecular remodeling of dendritic spine substructures during long-term potentiation. Neuron 82, 444–459 (2014)

Chrostek, A. et al. Rac1 is crucial for hair follicle integrity but is not essential for maintenance of the epidermis. Mol. Cell. Biol. 26, 6957–6970 (2006)

Yasuda, R. Imaging spatiotemporal dynamics of neuronal signaling using fluorescence resonance energy transfer and fluorescence lifetime imaging microscopy. Curr. Opin. Neurobiol. 16, 551–561 (2006)

Murakoshi, H., Lee, S.-J. & Yasuda, R. Highly sensitive and quantitative FRET-FLIM imaging in single dendritic spines using improved non-radiative YFP. Brain Cell Biol. 36, 31–42 (2008)

Pologruto, T. A., Sabatini, B. L. & Svoboda, K. ScanImage: flexible software for operating laser scanning microscopes. Biomed. Eng. Online 2, 13 (2003)

Shaner, N. C. et al. Improved monomeric red, orange and yellow fluorescent proteins derived from Discosoma sp. red fluorescent protein. Nat. Biotech. 22, 1567–1572 (2004)

Pédelacq, J. D., Cabantous, S., Tran, T. & Terwilliger, T. C. Engineering and characterization of a superfolder green fluorescent protein. Nat. Biotech. 24, 79–88 (2005)

He, X.P. et al.Conditional deletion of TrkB but not BDNF prevents epileptogenesis in the kindling model. Neuron 43, 31–42 (2004)
Acknowledgements
This work was supported by grants from NIMH (R01MH080047 (R.Y.), R01NS068410 (R.Y.)), NINDS (F31NS078847 (S.C.H.), R01NS05621 (J.O.M.), DP1NS096787 (R.Y.)), JSPS KAKENHI (H.M.), JST PRESTO (H.M.), the Wakeman Fellowship at Duke University (S.C.H.) and Max Planck Florida Institute (R.Y.). We thank A. E. West, S. Soderling, and F. Wang for guidance and valuable discussion, and Yasuda and McNamara laboratory members for discussion. We also thank R. Puranam for isolating MTBD. Finally, we thank D. Kloetzer for managing the laboratory.
Additional information
Reviewer Information
Nature thanks B. Bingol, H. Zhang and the other anonymous reviewer(s) for their contribution to the peer review of this work.
Extended data figures and tables
Supplementary information
This file contains Supplementary Notes, Supplementary Table 1 and additional references. (PDF 620 kb)
About this article
Cite this article
Hedrick, N., Harward, S., Hall, C. et al. Rho GTPase complementation underlies BDNF-dependent homo- and heterosynaptic plasticity. Nature 538, 104–108 (2016). https://doi.org/10.1038/nature19784
Received:

Accepted:

Published:

Issue Date:

DOI: https://doi.org/10.1038/nature19784
Comments
By submitting a comment you agree to abide by our Terms and Community Guidelines. If you find something abusive or that does not comply with our terms or guidelines please flag it as inappropriate.