Abstract
Thermally activated ion channels are known to detect the entire thermal range from extreme heat (TRPV2), painful heat (TRPV1, TRPM3 and ANO1), non-painful warmth (TRPV3 and TRPV4) and non-painful coolness (TRPM8) through to painful cold (TRPA1)1,2,3,4,5,6,7. Genetic deletion of each of these ion channels, however, has only modest effects on thermal behaviour in mice6,7,8,9,10,11,12, with the exception of TRPM8, the deletion of which has marked effects on the perception of moderate coolness in the range 10–25 °C13. The molecular mechanism responsible for detecting non-painful warmth, in particular, is unresolved. Here we used calcium imaging to identify a population of thermally sensitive somatosensory neurons which do not express any of the known thermally activated TRP channels. We then used a combination of calcium imaging, electrophysiology and RNA sequencing to show that the ion channel generating heat sensitivity in these neurons is TRPM2. Autonomic neurons, usually thought of as exclusively motor, also express TRPM2 and respond directly to heat. Mice in which TRPM2 had been genetically deleted showed a striking deficit in their sensation of non-noxious warm temperatures, consistent with the idea that TRPM2 initiates a 'warm' signal which drives cool-seeking behaviour.
Relevant articles
Open Access articles citing this article.
Tomoyo Ujisawa

,

Sachiko Sasajima

…

Makoto Tominaga

The Journal of Physiological Sciences Open Access 26 May 2022

Hassan Morad

,

Suaib Luqman

…

Peter A. McNaughton

Scientific Reports Open Access 29 April 2021

Junling Chen

,

Minglin Zhang

…

Xuemei Liu

Cellular Oncology Open Access 15 April 2021
Access options
Subscribe to Journal
Get full journal access for 1 year
$199.00
only $3.90 per issue
All prices are NET prices.
VAT will be added later in the checkout.
Tax calculation will be finalised during checkout.
Buy article
Get time limited or full article access on ReadCube.
$32.00
All prices are NET prices.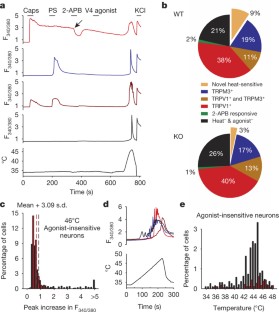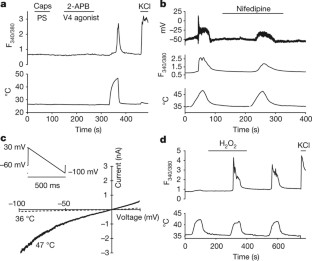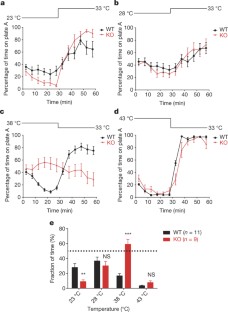 References
Cesare, P. & McNaughton, P. A novel heat-activated current in nociceptive neurons and its sensitization by bradykinin. Proc. Natl Acad. Sci. USA 93, 15435–15439 (1996)

Caterina, M. J. et al. The capsaicin receptor: a heat-activated ion channel in the pain pathway. Nature 389, 816–824 (1997)

Jordt, S. E., McKemy, D. D. & Julius, D. Lessons from peppers and peppermint: the molecular logic of thermosensation. Curr. Opin. Neurobiol. 13, 487–492 (2003)

Basbaum, A. I., Bautista, D. M., Scherrer, G. & Julius, D. Cellular and molecular mechanisms of pain. Cell 139, 267–284 (2009)

Vriens, J. et al. TRPM3 is a nociceptor channel involved in the detection of noxious heat. Neuron 70, 482–494 (2011)

Cho, H. et al. The calcium-activated chloride channel anoctamin 1 acts as a heat sensor in nociceptive neurons. Nature Neurosci. 15, 1015–1021 (2012)

Vriens, J., Nilius, B. & Voets, T. Peripheral thermosensation in mammals. Nature Rev. Neurosci. 15, 573–589 (2014)

Caterina, M. J. et al. Impaired nociception and pain sensation in mice lacking the capsaicin receptor. Science 288, 306–313 (2000)

Davis, J. B. et al. Vanilloid receptor-1 is essential for inflammatory thermal hyperalgesia. Nature 405, 183–187 (2000)

Moqrich, A. et al. Impaired thermosensation in mice lacking TRPV3, a heat and camphor sensor in the skin. Science 307, 1468–1472 (2005)

Huang, S. M., Li, X., Yu, Y., Wang, J. & Caterina, M. J. TRPV3 and TRPV4 ion channels are not major contributors to mouse heat sensation. Mol. Pain 7, 37 (2011)

Miyamoto, T., Petrus, M. J., Dubin, A. E. & Patapoutian, A. TRPV3 regulates nitric oxide synthase-independent nitric oxide synthesis in the skin. Nature Commun . 2, 369 (2011)

Bautista, D. M. et al. The menthol receptor TRPM8 is the principal detector of environmental cold. Nature 448, 204–208 (2007)

Nagy, I. & Rang, H. Noxious heat activates all capsaicin-sensitive and also a sub-population of capsaicin-insensitive dorsal root ganglion neurons. Neuroscience 88, 995–997 (1999)

Woodbury, C. J. et al. Nociceptors lacking TRPV1 and TRPV2 have normal heat responses. J. Neurosci. 24, 6410–6415 (2004)

Lawson, J. J., McIlwrath, S. L., Woodbury, C. J., Davis, B. M. & Koerber, H. R. TRPV1 unlike TRPV2 is restricted to a subset of mechanically insensitive cutaneous nociceptors responding to heat. J. Pain 9, 298–308 (2008)

Hu, H. Z. et al. 2-aminoethoxydiphenyl borate is a common activator of TRPV1, TRPV2, and TRPV3. J. Biol. Chem. 279, 35741–35748 (2004)

Birren, S. J. & Anderson, D. J. A v-myc-immortalized sympathoadrenal progenitor cell line in which neuronal differentiation is initiated by FGF but not NGF. Neuron 4, 189–201 (1990)

Wu, L.-J., Sweet, T.-B. & Clapham, D. E. International Union of Basic and Clinical Pharmacology. LXXVI. Current progress in the mammalian TRP ion channel family. Pharmacol. Rev. 62, 381–404 (2010)

Caterina, M. J., Rosen, T. A., Tominaga, M., Brake, A. J. & Julius, D. A capsaicin-receptor homologue with a high threshold for noxious heat. Nature 398, 436–441 (1999)

Vennekens, R. & Nilius, B. Insights into TRPM4 function, regulation and physiological role. Handb. Exp. Pharmacol. 179, 269–285 (2007)

Togashi, K. et al. TRPM2 activation by cyclic ADP-ribose at body temperature is involved in insulin secretion. EMBO J . 25, 1804–1815 (2006)

Naziroglu, M., Ozgul, C., Celik, O., Cig, B. & Sozbir, E. Aminoethoxydiphenyl borate and flufenamic acid inhibit Ca2+ influx through TRPM2 channels in rat dorsal root ganglion neurons activated by ADP-ribose and rotenone. J. Membr.Biol. 241, 69–75 (2011)

Usoskin, D. et al. Unbiased classification of sensory neuron types by large-scale single-cell RNA sequencing. Nature Neurosci . 18, 145–153 (2015)

Hara, Y. et al. LTRPC2 Ca2+-permeable channel activated by changes in redox status confers susceptibility to cell death. Mol. Cell 9, 163–173 (2002)

Togashi, K., Inada, H. & Tominaga, M. Inhibition of the transient receptor potential cation channel TRPM2 by 2-aminoethoxydiphenyl borate (2-APB). Br. J. Pharmacol. 153, 1324–1330 (2008)

Yamamoto, S. et al. TRPM2-mediated Ca2+ influx induces chemokine production in monocytes that aggravates inflammatory neutrophil infiltration. Nature Med . 14, 738–747 (2008)

Uchida, K. et al. Lack of TRPM2 impaired insulin secretion and glucose metabolisms in mice. Diabetes 60, 119–126 (2011)

Ariza-McNaughton, L. & Krumlauf, R. Non-radioactive in situ hybridization: simplified procedures for use in whole-mounts of mouse and chick embryos. Int. Rev. Neurobiol. 47, 239–250 (2002)

Schmid, D., Messlinger, K., Belmonte, C. & Fischer, M. J. Altered thermal sensitivity in neurons injured by infraorbital nerve lesion. Neurosci. Lett. 488, 168–172 (2011)

Jang, Y. et al. TRPM2 mediates the lysophosphatidic acid-induced neurite retraction in the developing brain. Pflugers Arch . 466, 1987–1998 (2014)
Acknowledgements
We thank A. Tolkovsky for help and advice, R.-L. Yu for assistance with experiments, Y. Mori for Trpm2−/− mice and for the cDNA for mouse TRPM2, S. Birren for MAH cells, J. Wood for loan of the thermal-preference test apparatus, S. Skerratt for PF-4674114, and E. Smith, J. Btesh, D. Andersson, and T. Buijs for their comments on the manuscript. Initial experiments were performed in the Department of Pharmacology, University of Cambridge. Supported by a grant from the BBSRC (UK) to P.A.McN. and a Raymond & Beverley Sackler studentship to C.-H.T.
Ethics declarations
Competing interests
The authors declare no competing financial interests.
Additional information
Reviewer Information Nature thanks M. Caterina, Y. Mori and the other anonymous reviewer(s) for their contribution to the peer review of this work.
Extended data figures and tables
Supplementary information
Calcium imaging of DRG neurons in an experiment similar to that shown in Fig. 1A. Video speeded up by factor of 20x. The F340/380 ratio is shown on a false-colour scale from blue (low) to red (high) then white (highest). Timing of application of TRP channel agonists (shown to left) is identical to that shown in Fig 1A. Neuron circled in early frames does not respond to any TRP agonist but is activated by a heat ramp to 46°C. Other novel heat-sensitive neurons are also visible. (MP4 24648 kb)
WT (bottom) and TRPM2-/- (top) adult male littermates in two-plate thermal preference apparatus. Video speeded up by factor of 81x. Plate temperatures, as shown, were reversed after 30 min. Two experiments are shown on same mice, 4h apart. WT mouse shows strong preference for 33°C over 38°C while thermal preference is absent or even slightly reversed in TRPM2-/- mouse. (MP4 6140 kb)
About this article
Cite this article
Tan, CH., McNaughton, P. The TRPM2 ion channel is required for sensitivity to warmth. Nature 536, 460–463 (2016). https://doi.org/10.1038/nature19074
Received:

Accepted:

Published:

Issue Date:

DOI: https://doi.org/10.1038/nature19074
Comments
By submitting a comment you agree to abide by our Terms and Community Guidelines. If you find something abusive or that does not comply with our terms or guidelines please flag it as inappropriate.