Abstract
Music is present in every culture, but the degree to which it is shaped by biology remains debated. One widely discussed phenomenon is that some combinations of notes are perceived by Westerners as pleasant, or consonant, whereas others are perceived as unpleasant, or dissonant1. The contrast between consonance and dissonance is central to Western music2,3, and its origins have fascinated scholars since the ancient Greeks4,5,6,7,8,9,10. Aesthetic responses to consonance are commonly assumed by scientists to have biological roots11,12,13,14, and thus to be universally present in humans15,16. Ethnomusicologists17 and composers8, in contrast, have argued that consonance is a creation of Western musical culture6. The issue has remained unresolved, partly because little is known about the extent of cross-cultural variation in consonance preferences18. Here we report experiments with the Tsimane'—a native Amazonian society with minimal exposure to Western culture—and comparison populations in Bolivia and the United States that varied in exposure to Western music. Participants rated the pleasantness of sounds. Despite exhibiting Western-like discrimination abilities and Western-like aesthetic responses to familiar sounds and acoustic roughness, the Tsimane' rated consonant and dissonant chords and vocal harmonies as equally pleasant. By contrast, Bolivian city- and town-dwellers exhibited significant preferences for consonance, albeit to a lesser degree than US residents. The results indicate that consonance preferences can be absent in cultures sufficiently isolated from Western music, and are thus unlikely to reflect innate biases or exposure to harmonic natural sounds. The observed variation in preferences is presumably determined by exposure to musical harmony, suggesting that culture has a dominant role in shaping aesthetic responses to music.
Your institute does not have access to this article
Relevant articles
Open Access articles citing this article.
Amanda Royka

,

Annie Chen

…

Julian Jara-Ettinger

Nature Communications Open Access 18 July 2022

Bernhard Wagner

,

Daniel L. Bowling

&

Marisa Hoeschele

Animal Cognition Open Access 22 June 2020

Malinda J. McPherson

,

Sophia E. Dolan

…

Josh H. McDermott

Nature Communications Open Access 03 June 2020
Access options
Subscribe to Journal
Get full journal access for 1 year
$199.00
only $3.90 per issue
All prices are NET prices.
VAT will be added later in the checkout.
Tax calculation will be finalised during checkout.
Buy article
Get time limited or full article access on ReadCube.
$32.00
All prices are NET prices.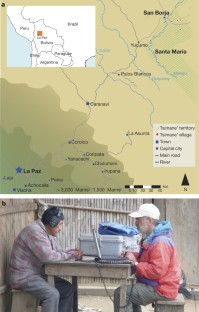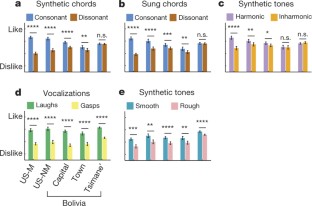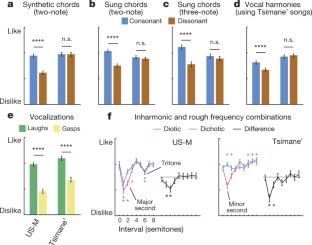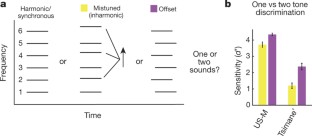 References
Parncutt, R. & Hair, G. Consonance and dissonance in theory and psychology: Disentangling dissonant dichotomies. J. Interdiscipl. Music Stud. 5, 119–166 (2011)

Huron, D. Interval-class content in equally tempered pitch-class sets: Common scales exhibit optimum tonal consonance. Music Percept. 11, 289–305 (1994)

Bigand, E., Parncutt, R. & Lerdahl, F. Perception of musical tension in short chord sequences: the influence of harmonic function, sensory dissonance, horizontal motion, and musical training. Percept. Psychophys. 58, 124–141 (1996)

Stumpf, C. Tonpsychologie (Verlag S. Hirzel, 1890)

von Helmholtz, H. Die Lehre von den Tonempfindungen als physiologische Grundlage fur die Theorie der Musik (F. Vieweg und Sohn, 1863)

Lundin, R. W. Toward a cultural theory of consonance. J. Psychol. 23, 45–49 (1947)

Plomp, R. & Levelt, W. J. M. Tonal consonance and critical bandwidth. J. Acoust. Soc. Am. 38, 548–560 (1965)

Cazden, N. The definition of consonance and dissonance. Int. Rev. Aesthet. Soc. 11, 123–168 (1980)

Sethares, W. A. Tuning, Timbre, Spectrum, Scale (Springer, 1999)

Tenney, J. A History of 'Consonance' and 'Dissonance' (Excelsior Music Publishing Company, 1988)

Fishman, Y. I. et al. Consonance and dissonance of musical chords: neural correlates in auditory cortex of monkeys and humans. J. Neurophysiol. 86, 2761–2788 (2001)

Tramo, M. J., Cariani, P. A., Delgutte, B. & Braida, L. D. Neurobiological foundations for the theory of harmony in western tonal music. Ann. NY Acad. Sci. 930, 92–116 (2001)

Bidelman, G. M. & Heinz, M. G. Auditory-nerve responses predict pitch attributes related to musical consonance-dissonance for normal and impaired hearing. J. Acoust. Soc. Am. 130, 1488–1502 (2011)

Bowling, D. L. & Purves, D. A biological rationale for musical consonance. Proc. Natl Acad. Sci. USA 112, 11155–11160 (2015)

Butler, J. W. & Daston, P. G. Musical consonance as musical preference: a cross-cultural study. J. Gen. Psychol. 79, 129–142 (1968)

Fritz, T. et al. Universal recognition of three basic emotions in music. Curr. Biol. 19, 573–576 (2009)

Brown, S. & Jordania, J. Universals in the world's musics. Psychol. Music 41, 229–248 (2013)

Maher, T. F. "Need for resolution" ratings for harmonic musical intervals: A comparison between Indians and Canadians. J. Cross Cult. Psychol. 7, 259–276 (1976)

Godoy, R. et al. Moving beyond a snapshot to understand changes in the well-being of native Amazonians. Curr. Anthropol. 50, 563–573 (2009)

Riester, J. Canción y Producción en la Vida de un Pueblo Indígena: los Chimane del Oriente Boliviano (Los Amigos del Libro, 1978)

McDermott, J. H., Lehr, A. J. & Oxenham, A. J. Individual differences reveal the basis of consonance. Curr. Biol. 20, 1035–1041 (2010)

Cousineau, M., McDermott, J. H. & Peretz, I. The basis of musical consonance as revealed by congenital amusia. Proc. Natl Acad. Sci. USA 109, 19858–19863 (2012)

Terhardt, E. On the perception of periodic sound fluctuations (roughness). Acustica 30, 201–213 (1974)

Kumar, S., Forster, H. M., Bailey, P. & Griffiths, T. D. Mapping unpleasantness of sounds to their auditory representation. J. Acoust. Soc. Am. 124, 3810–3817 (2008)

Arnal, L. H., Flinker, A., Kleinschmidt, A., Giraud, A. L. & Poeppel, D. Human screams occupy a privileged niche in the communication soundscape. Curr. Biol. 25, 2051–2056 (2015)

Moore, B. C., Glasberg, B. R. & Peters, R. W. Thresholds for hearing mistuned partials as separate tones in harmonic complexes. J. Acoust. Soc. Am. 80, 479–483 (1986)

Darwin, C. J. Perceiving vowels in the presence of another sound: constraints on formant perception. J. Acoust. Soc. Am. 76, 1636–1647 (1984)

Zentner, M. R. & Kagan, J. Perception of music by infants. Nature 383, 29 (1996)

Trainor, L. J., Tsang, C. D. & Cheung, V. H. W. Preference for sensory consonance in 2- and 4-month-old infants. Music Percept. 20, 187–194 (2002)

Plantinga, J. & Trehub, S. E. Revisiting the innate preference for consonance. J. Exp. Psychol. Hum. Percept. Perform. 40, 40–49 (2014)

Malmberg, C. F. The perception of consonance and dissonance. Psychol. Monogr. 25, 93–133 (1918)

Hutchinson, W. & Knopoff, L. The acoustical component of western consonance. Interface 7, 1–29 (1978)

Roberts, L. Consonance judgments of musical chords by musicians and untrained listeners. Acustica 62, 163–171 (1986)

Gurven, M., Kaplan, H. & Supa, A. Z. Mortality experience of Tsimane Amerindians of Bolivia: regional variation and temporal trends. Am. J. Hum. Biol. 19, 376–398 (2007)

Rutschmann, J. & Rubinstein, L. Binaural beats and binaural amplitude-modulated tones: successive comparison of loudness fluctuations. J. Acoust. Soc. Am. 38, 759–768 (1965)

Bernstein, J. G. & Oxenham, A. J. Pitch discrimination of diotic and dichotic tone complexes: harmonic resolvability or harmonic number? J. Acoust. Soc. Am. 113, 3323–3334 (2003)

Belin, P., Fillion-Bilodeau, S. & Gosselin, F. The Montreal Affective Voices: a validated set of nonverbal affect bursts for research on auditory affective processing. Behav. Res. Methods 40, 531–539 (2008)

Kawahara, H. & Morise, M. TANDEM-STRAIGHT: A temporally stable power spectral representation for periodic signals and applications to interference-free spectrum, F0, and aperiodicity estimation. Sadhana 36, 713–722 (2011)

Leonard, W. R. et al. The Tsimane' Amazonian Panel Study (TAPS): Nine years (2002-2010) of annual data available to the public. Econ. Hum. Biol. 19, 51–61 (2015)

Hissink, K. Felsbilder und salz der Chimanen-Indianer. Paideuma (Wiesb.) 6, 60–68 (1955)

Huanca, T. Tsimane' Oral Tradition, Landscape, and Identity in Tropical Forest (Wa-Gui, 2008)
Acknowledgements
The authors gratefully acknowledge the support of the National Science Foundation to R.A.G., a McDonnell Scholar Award to J.H.M., the TAPS Bolivia Study Team (particularly T. Huanca), C. García for assistance with Fig. 1a, E. Gibson for logistical help, N. Jacoby and M. Salinas for assistance recording and interviewing Tsimane' musicians, S. Popham and L. Chen for data collection, and D. Boebinger and K. Woods for comments on the manuscript.
Ethics declarations
Competing interests
The authors declare no competing financial interests.
Additional information
Reviewer Information Nature thanks S. Trehub and the anonymous reviewer(s) for their contribution to the peer review of this work.
Extended data figures and tables
Ten chords were presented: the unison, minor second, major second, major third, perfect fourth, tritone, perfect fifth, major seventh, major triad, and augmented triad. The composite ratings plotted in Fig. 2 were averages of those for the consonant (blue) and dissonant (brown) chords. Ratings are from 23 US musicians (US-M), 25 US non-musicians (US-NM), 24 Bolivian city-dwellers (capital), 26 Bolivian town-dwellers, and 64 Tsimane'. Asterisks denote statistical significance of a repeated-measures ANOVA across all chord ratings. Data are mean and s.e.m.
Rating variation for US listeners (n = 47) was largely determined by consonance and dissonance, whereas for Tsimane' listeners (n = 50) it was largely driven by interval size (in the two-note chord experiments in which they exhibited significant variation). 'S' denotes a single vocal phrase in the vocal harmonies experiment, whereas '0' denotes the unison condition (two concurrently presented exemplars of the same phrase at the same pitch). Data are mean and s.e.m.
a, Ratings of song excerpts used to create harmonies (averaged across intervals). Each participant heard each excerpt twice, in each of two different randomly assigned interval conditions. The ratings of the two excerpt occurrences were averaged for each participant (47 US musicians and 50 Tsimane'). Top panels plot these mean ratings averaged across all participants. Asterisks denote statistical significance of Friedman's non-parametric test of differences among repeated measures across song excerpts. Ratings of US listeners varied across song excerpts (χ2(25) = 40.92, P = 0.02), as did those of Tsimane' listeners (χ2(25) = 49.01, P = 0.003), but the preferences of the two participant groups were not significantly correlated (r = −0.19, P = 0.35). Bottom panels plot the mean ratings of each excerpt averaged across the first and last halves of the participants tested. The mean song excerpt ratings of the two half-groups were significantly correlated for Tsimane' but not for US participants, indicating that the preferences in US listeners were not reliable. b, Ratings of pitch intervals of the harmonies (averaged across song excerpts). Each participant heard each pitch interval four times, each time generated with a different song excerpt. The ratings of the four interval occurrences were averaged for each participant. Top panels (replicated from Extended Data Fig. 2) plot these mean ratings averaged across all participants. Asterisks denote statistical significance of a repeated-measures ANOVA across all chord ratings. Bottom panels plot the mean rating of each pitch interval averaged across the first and last halves of the participants tested. The mean interval ratings of the two groups were significantly correlated for US but not for Tsimane' participants. Data are mean and s.e.m.
a, Discrimination performance for the worst US-M participants (bottom third, n = 16) and best Tsimane' participants (top third, n = 16), selected based on performance in the onset asynchrony condition. This selection criterion produced a group of Tsimane' listeners who achieved an average d' of 2.0 on the mistuned condition—good performance in absolute terms, and only slightly worse than the poorly performing Western listeners. b, Pleasantness ratings for the subsets of participants from a for conventionally consonant and dissonant sung chords and vocal harmonies. This subset of Tsimane' listeners remained indifferent to dissonance, rating consonant and dissonant sung intervals, triads, and harmonies similarly (t(15) < 1.2, P > 0.28 in all cases). By contrast, the Western subset yielded significant consonant preferences (t(15) > 2.65, P < 0.05 in all cases). These results suggest that the absence of a consonance preference cannot be explained by a lack of sensitivity to the underlying stimulus distinction—the Tsimane' were able to distinguish harmonic from inharmonic tones despite not having a preference for one over the other. Data are mean and s.e.m.
Supplementary information
About this article
Cite this article
McDermott, J., Schultz, A., Undurraga, E. et al. Indifference to dissonance in native Amazonians reveals cultural variation in music perception. Nature 535, 547–550 (2016). https://doi.org/10.1038/nature18635
Received:

Accepted:

Published:

Issue Date:

DOI: https://doi.org/10.1038/nature18635
Comments
By submitting a comment you agree to abide by our Terms and Community Guidelines. If you find something abusive or that does not comply with our terms or guidelines please flag it as inappropriate.