Abstract
Defects in clearance of dying cells have been proposed to underlie the pathogenesis of systemic lupus erythematosus (SLE)1. Mice lacking molecules associated with dying cell clearance develop SLE-like disease2, and phagocytes from patients with SLE often display defective clearance and increased inflammatory cytokine production when exposed to dying cells in vitro. Previously, we3,4,5,6 and others7 described a form of noncanonical autophagy known as LC3-associated phagocytosis (LAP), in which phagosomes containing engulfed particles, including dying cells3,4,7, recruit elements of the autophagy pathway to facilitate maturation of phagosomes and digestion of their contents. Genome-wide association studies have identified polymorphisms in the Atg5 (ref. 8) and possibly Atg7 (ref. 9) genes, involved in both canonical autophagy and LAP3,4,5,6,7, as markers of a predisposition for SLE. Here we describe the consequences of defective LAP in vivo. Mice lacking any of several components of the LAP pathway show increased serum levels of inflammatory cytokines and autoantibodies, glomerular immune complex deposition, and evidence of kidney damage. When dying cells are injected into LAP-deficient mice, they are engulfed but not efficiently degraded and trigger acute elevation of pro-inflammatory cytokines but not anti-inflammatory interleukin (IL)-10. Repeated injection of dying cells into LAP-deficient, but not LAP-sufficient, mice accelerated the development of SLE-like disease, including increased serum levels of autoantibodies. By contrast, mice deficient in genes required for canonical autophagy but not LAP do not display defective dying cell clearance, inflammatory cytokine production, or SLE-like disease, and, like wild-type mice, produce IL-10 in response to dying cells. Therefore, defects in LAP, rather than canonical autophagy, can cause SLE-like phenomena, and may contribute to the pathogenesis of SLE.
Relevant articles
Open Access articles citing this article.
Dongsheng Zhai

,

Wenwen Wang

…

Li Wang

Cell & Bioscience Open Access 10 September 2022

Mengdie Cao

,

Xiangyuan Luo

…

Xingxing He

Signal Transduction and Targeted Therapy Open Access 08 November 2021

Ziqi Zhang

,

Pengfei Yue

…

Xiawei Wei

Journal of Hematology & Oncology Open Access 14 May 2021
Access options
Subscribe to Journal
Get full journal access for 1 year
$199.00
only $3.90 per issue
All prices are NET prices.
VAT will be added later in the checkout.
Tax calculation will be finalised during checkout.
Buy article
Get time limited or full article access on ReadCube.
$32.00
All prices are NET prices.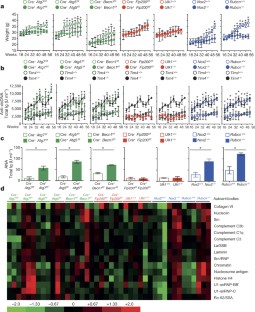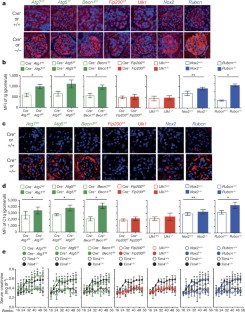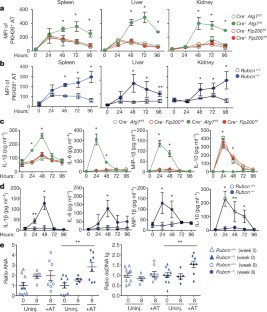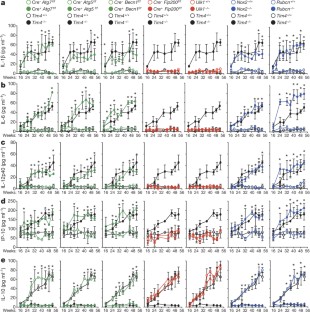 References
Ravichandran, K. S. Find-me and eat-me signals in apoptotic cell clearance: progress and conundrums. J. Exp. Med. 207, 1807–1817 (2010)

Rodriguez-Manzanet, R. et al. . T and B cell hyperactivity and autoimmunity associated with niche-specific defects in apoptotic body clearance in TIM-4-deficient mice. Proc. Natl Acad. Sci. USA 107, 8706–8711 (2010)

Kim, J. Y. et al. Noncanonical autophagy promotes the visual cycle. Cell 154, 365–376 (2013)

Martinez, J. et al. Microtubule-associated protein 1 light chain 3 α (LC3)-associated phagocytosis is required for the efficient clearance of dead cells. Proc. Natl Acad. Sci. USA 108, 17396–17401 (2011)

Martinez, J. et al. Molecular characterization of LC3-associated phagocytosis (LAP) reveals distinct roles for Rubicon, NOX2, and autophagy proteins. Nature Cell Biol. 17, 893–906 (2015)

Henault, J. et al. Noncanonical autophagy is required for type I interferon secretion in response to DNA-immune complexes. Immunity 37, 986–997 (2012)

Florey, O., Kim, S. E., Sandoval, C. P., Haynes, C. M. & Overholtzer, M. Autophagy machinery mediates macroendocytic processing and entotic cell death by targeting single membranes. Nature Cell Biol. 13, 1335–1343 (2011)

Zhou, X. J. et al. Genetic association of PRDM1–ATG5 intergenic region and autophagy with systemic lupus erythematosus in a Chinese population. Ann. Rheum. Dis. 70, 1330–1337 (2011)

Clarke, A. J. et al. Autophagy is activated in systemic lupus erythematosus and required for plasmablast development. Ann. Rheum. Dis. 74, 912–920 (2015)

Sanjuan, M. A. et al. Toll-like receptor signalling in macrophages links the autophagy pathway to phagocytosis. Nature 450, 1253–1257 (2007)

Gan, B. & Guan, J. L. FIP200, a key signaling node to coordinately regulate various cellular processes. Cell. Signal. 20, 787–794 (2008)

Mizushima, N. & Levine, B. Autophagy in mammalian development and differentiation. Nature Cell Biol. 12, 823–830 (2010)

Matsunaga, K. et al. Two Beclin 1-binding proteins, Atg14L and Rubicon, reciprocally regulate autophagy at different stages. Nature Cell Biol. 11, 385–396 (2009)

Clausen, B. E., Burkhardt, C., Reith, W., Renkawitz, R. & Forster, I. Conditional gene targeting in macrophages and granulocytes using LysMcre mice. Transgenic Res. 8, 265–277 (1999)

Theofilopoulos, A. N. & Dixon, F. J. Murine models of systemic lupus erythematosus. Adv. Immunol. 37, 269–390 (1985)

Rönnblom, L. & Eloranta, M. L. The interferon signature in autoimmune diseases. Curr. Opin. Rheumatol. 25, 248–253 (2013)

Morel, L., Rudofsky, U. H., Longmate, J. A., Schiffenbauer, J. & Wakeland, E. K. Polygenic control of susceptibility to murine systemic lupus erythematosus. Immunity 1, 219–229 (1994)

Campbell, A. M., Kashgarian, M. & Shlomchik, M. J. NADPH oxidase inhibits the pathogenesis of systemic lupus erythematosus. Sci. Transl. Med. 4, 157ra141 (2012)

Juncadella, I. J. et al. Apoptotic cell clearance by bronchial epithelial cells critically influences airway inflammation. Nature 493, 547–551 (2013)

Yin, Z. et al. IL-10 regulates murine lupus. J. Immunol. 169, 2148–2155 (2002)

Teichmann, L. L. et al. B cell-derived IL-10 does not regulate spontaneous systemic autoimmunity in MRL.Fas lpr mice. J. Immunol. 188, 678–685 (2012)

Ma, L. et al. Systemic autoimmune disease induced by dendritic cells that have captured necrotic but not apoptotic cells in susceptible mouse strains. Eur. J. Immunol. 35, 3364–3375 (2005)

Perry, D., Sang, A., Yin, Y., Zheng, Y. Y. & Morel, L. Murine models of systemic lupus erythematosus. J. Biomed. Biotechnol. 2011, 271694 (2011)

Houssiau, F. A. et al. Serum interleukin 10 titers in systemic lupus erythematosus reflect disease activity. Lupus 4, 393–395 (1995)

Blenman, K. R. et al. IL-10 regulation of lupus in the NZM2410 murine model. Lab. Invest. 86, 1136–1148 (2006)

Hampe, J. et al. A genome-wide association scan of nonsynonymous SNPs identifies a susceptibility variant for Crohn disease in ATG16L1 . Nature Genet. 39, 207–211 (2007)

López, P., Alonso-Pérez, E., Rodriguez-Carrio, J. & Suárez, A. Influence of Atg5 mutation in SLE depends on functional IL-10 genotype. PLoS ONE 8, e78756 (2013)

Shi, C. S. et al. Activation of autophagy by inflammatory signals limits IL-1beta production by targeting ubiquitinated inflammasomes for destruction. Nature Immunol. 13, 255–263 (2012)

De Ravin, S. S. et al. Chronic granulomatous disease as a risk factor for autoimmune disease. J. Allergy Clin. Immunol. 122, 1097–1103 (2008)
Acknowledgements
The authors thank T. Brewer, P. Fitzgerald, M. Henderson, J. Kolb and T. Oguin for technical assistance. We also thank K. Gerrish and R. Fannin for their work and analysis of the Nanostring data. This work was supported by the Intramural Research Program of the National Institutes of Health, NIEHS (1ZIAES10328601), as well as grants from the US National Institutes of Health (RO1 AI40646, U19 AI109725), the Lupus Research Institute, the German Research Foundation (EXC306), and ALSAC.
Ethics declarations
Competing interests
The authors declare no competing financial interests.
Extended data figures and tables
Supplementary information
About this article
Cite this article
Martinez, J., Cunha, L., Park, S. et al. RETRACTED ARTICLE: Noncanonical autophagy inhibits the autoinflammatory, lupus-like response to dying cells. Nature 533, 115–119 (2016). https://doi.org/10.1038/nature17950
Received:

Accepted:

Published:

Issue Date:

DOI: https://doi.org/10.1038/nature17950
Comments
By submitting a comment you agree to abide by our Terms and Community Guidelines. If you find something abusive or that does not comply with our terms or guidelines please flag it as inappropriate.