Abstract
Tumour growth and metabolic adaptation may restrict the availability of certain amino acids for protein synthesis. It has recently been shown that certain types of cancer cells depend on glycine, glutamine, leucine and serine metabolism to proliferate and survive1,2,3,4. In addition, successful therapies using L-asparaginase-induced asparagine deprivation have been developed for acute lymphoblastic leukaemia5. However, a tailored detection system for measuring restrictive amino acids in each tumour is currently not available. Here we harness ribosome profiling6 for sensing restrictive amino acids, and develop diricore, a procedure for differential ribosome measurements of codon reading. We first demonstrate the functionality and constraints of diricore using metabolic inhibitors and nutrient deprivation assays. Notably, treatment with L-asparaginase elicited both specific diricore signals at asparagine codons and high levels of asparagine synthetase (ASNS). We then applied diricore to kidney cancer and discover signals indicating restrictive proline. As for asparagine, this observation was linked to high levels of PYCR1, a key enzyme in proline production7, suggesting a compensatory mechanism allowing tumour expansion. Indeed, PYCR1 is induced by shortage of proline precursors, and its suppression attenuated kidney cancer cell proliferation when proline was limiting. High PYCR1 is frequently observed in invasive breast carcinoma. In an in vivo model system of this tumour, we also uncover signals indicating restrictive proline. We further show that CRISPR-mediated knockout of PYCR1 impedes tumorigenic growth in this system. Thus, diricore has the potential to reveal unknown amino acid deficiencies, vulnerabilities that can be used to target key metabolic pathways for cancer treatment.
Relevant articles
Open Access articles citing this article.
Joana Silva

,

Ferhat Alkan

…

William James Faller

Nature Communications Open Access 02 August 2022

Emily J. Kay

,

Karla Paterson

…

Sara Zanivan

Nature Metabolism Open Access 27 June 2022

Ming Sun

,

Yunfei Wang

…

Yiwen Chen

Genome Biology Open Access 23 August 2021
Access options
Subscribe to this journal
Receive 51 print issues and online access
$199.00 per year
only $3.90 per issue
Rent or buy this article
Get just this article for as long as you need it
$39.95
Prices may be subject to local taxes which are calculated during checkout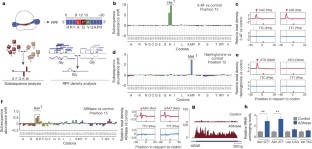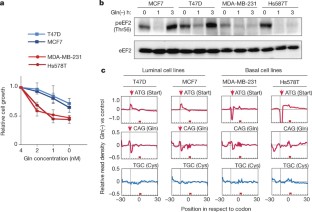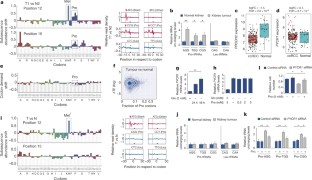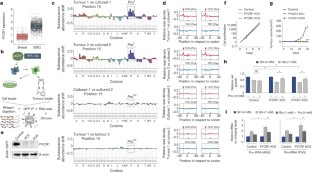 References
Jain, M. et al. Metabolite profiling identifies a key role for glycine in rapid cancer cell proliferation. Science 336, 1040–1044 (2012)

Maddocks, O. D. et al. Serine starvation induces stress and p53-dependent metabolic remodelling in cancer cells. Nature 493, 542–546 (2013)

Sheen, J. H., Zoncu, R., Kim, D. & Sabatini, D. M. Defective regulation of autophagy upon leucine deprivation reveals a targetable liability of human melanoma cells in vitro and in vivo. Cancer Cell 19, 613–628 (2011)

Son, J. et al. Glutamine supports pancreatic cancer growth through a KRAS-regulated metabolic pathway. Nature 496, 101–105 (2013)

Richards, N. G. & Kilberg, M. S. Asparagine synthetase chemotherapy. Annu. Rev. Biochem. 75, 629–654 (2006)

Ingolia, N. T., Ghaemmaghami, S., Newman, J. R. & Weissman, J. S. Genome-wide analysis in vivo of translation with nucleotide resolution using ribosome profiling. Science 324, 218–223 (2009)

De Ingeniis, J. et al. Functional specialization in proline biosynthesis of melanoma. PLoS One 7, e45190 (2012)

Rooijers, K., Loayza-Puch, F., Nijtmans, L. G. & Agami, R. Ribosome profiling reveals features of normal and disease-associated mitochondrial translation. Nat. Commun. 4, 2886 (2013)

Bazzini, A. A. et al. Identification of small ORFs in vertebrates using ribosome footprinting and evolutionary conservation. EMBO J. 33, 981–993 (2014)

Guydosh, N. R. & Green, R. Dom34 rescues ribosomes in 3′ untranslated regions. Cell 156, 950–962 (2014)

Fresno, M., Carrasco, L. & Vazquez, D. Initiation of the polypeptide chain by reticulocyte cell-free systems. Survey of different inhibitors of translation. Eur. J. Biochem. 68, 355–364 (1976)

Ingolia, N. T., Lareau, L. F. & Weissman, J. S. Ribosome profiling of mouse embryonic stem cells reveals the complexity and dynamics of mammalian proteomes. Cell 147, 789–802 (2011)

Zaborske, J. M. et al. Genome-wide analysis of tRNA charging and activation of the eIF2 kinase Gcn2p. J. Biol. Chem. 284, 25254–25267 (2009)

Singh, B. et al. Selection of metastatic breast cancer cells based on adaptability of their metabolic state. PLoS One 7, e36510 (2012)

Leprivier, G. et al. The eEF2 kinase confers resistance to nutrient deprivation by blocking translation elongation. Cell 153, 1064–1079 (2013)

Dalgliesh, G. L. et al. Systematic sequencing of renal carcinoma reveals inactivation of histone modifying genes. Nature 463, 360–363 (2010)

Heiman, M. et al. A translational profiling approach for the molecular characterization of CNS cell types. Cell 135, 738–748 (2008)

Artieri, C. G. & Fraser, H. B. Accounting for biases in riboprofiling data indicates a major role for proline in stalling translation. Genome Res. 24, 2011–2021 (2014)

Sabi, R. & Tuller, T. A comparative genomics study on the effect of individual amino acids on ribosome stalling. BMC Genomics 16 (Suppl. 10), S5 (2015)

Doerfel, L. K. et al. EF-P is essential for rapid synthesis of proteins containing consecutive proline residues. Science 339, 85–88 (2013)

Gutierrez, E. et al. eIF5A promotes translation of polyproline motifs. Mol. Cell 51, 35–45 (2013)

Loayza-Puch, F. et al. p53 induces transcriptional and translational programs to suppress cell proliferation and growth. Genome Biol. 14, R32 (2013)

Martin, M. Cutadapt removes adapter sequences from high-throughput sequencing reads. EMBnet.journal 17, 10–12 (2011)

Langmead, B. & Salzberg, S. L. Fast gapped-read alignment with Bowtie 2. Nature Methods 9, 357–359 (2012)

Chan, P. P. & Lowe, T. M. GtRNAdb: a database of transfer RNA genes detected in genomic sequence. Nucleic Acids Res. 37, D93–D97 (2009)

Kim, D. et al. TopHat2: accurate alignment of transcriptomes in the presence of insertions, deletions and gene fusions. Genome Biol. 14, R36 (2013)

Harrow, J. et al. GENCODE: the reference human genome annotation for The ENCODE Project. Genome Res. 22, 1760–1774 (2012)

Subramanian, A. et al. Gene set enrichment analysis: a knowledge-based approach for interpreting genome-wide expression profiles. Proc. Natl Acad. Sci. USA 102, 15545–15550 (2005)

Robinson, M. D., McCarthy, D. J. & Smyth, G. K. edgeR: a Bioconductor package for differential expression analysis of digital gene expression data. Bioinformatics 26, 139–140 (2010)

Katz, Y., Wang, E. T., Airoldi, E. M. & Burge, C. B. Analysis and design of RNA sequencing experiments for identifying isoform regulation. Nature Methods 7, 1009–1015 (2010)
Acknowledgements
We thank R. Kerkhoven, R. Kluin and M. Nieuwland from the NKI-AVL Genomics Core Facility for assistance with deep-sequencing experiments, P. Snaebjornsson for valuable help with the pathology studies, and K. Verhoef for advice. We acknowledge the assistance of the NKI-AVL core facilities of Radionuclides Centre, Flow Cytometry, Molecular Pathology, and Biobanking (CFMPB). We thank R. Elkon for technical assistance, and all the members of the Agami group for valuable discussions. This work was supported by funds from the Human Frontier Science Program (LT000640/2013) to A.P.U, and the European Research Council (ERC-PoC EEG-CEC / EU665317), the Netherlands Organization for Scientific Research (NWO-VICI 918.11.601 ), and the Dutch Cancer Society (KWF NKI-2013-5814 ) to R.A.
Ethics declarations
Competing interests
The authors declare no competing financial interests.
Extended data figures and tables
Supplementary information
This file contains the uncropped images of immunoblots for Figure 2b (a+b) and Figure 4e (c+d). (PDF 1599 kb)
About this article
Cite this article
Loayza-Puch, F., Rooijers, K., Buil, L. et al. Tumour-specific proline vulnerability uncovered by differential ribosome codon reading. Nature 530, 490–494 (2016). https://doi.org/10.1038/nature16982
Received:

Accepted:

Published:

Issue Date:

DOI: https://doi.org/10.1038/nature16982
Comments
By submitting a comment you agree to abide by our Terms and Community Guidelines. If you find something abusive or that does not comply with our terms or guidelines please flag it as inappropriate.