Abstract
Metazoan development depends on the accurate execution of differentiation programs that allow pluripotent stem cells to adopt specific fates1. Differentiation requires changes to chromatin architecture and transcriptional networks, yet whether other regulatory events support cell-fate determination is less well understood. Here we identify the ubiquitin ligase CUL3 in complex with its vertebrate-specific substrate adaptor KBTBD8 (CUL3KBTBD8) as an essential regulator of human and Xenopus tropicalis neural crest specification. CUL3KBTBD8 monoubiquitylates NOLC1 and its paralogue TCOF1, the mutation of which underlies the neurocristopathy Treacher Collins syndrome2,3. Ubiquitylation drives formation of a TCOF1–NOLC1 platform that connects RNA polymerase I with ribosome modification enzymes and remodels the translational program of differentiating cells in favour of neural crest specification. We conclude that ubiquitin-dependent regulation of translation is an important feature of cell-fate determination.
Access options
Subscribe to Journal
Get full journal access for 1 year
$199.00
only $3.83 per issue
All prices are NET prices.
VAT will be added later in the checkout.
Rent or Buy article
Get time limited or full article access on ReadCube.
from$8.99
All prices are NET prices.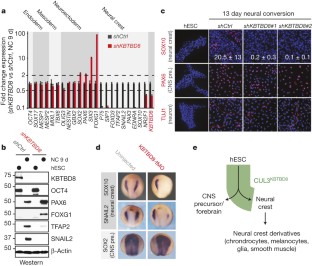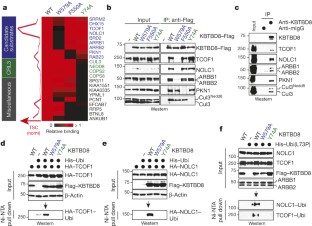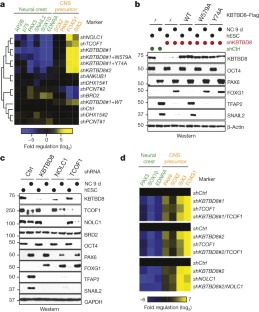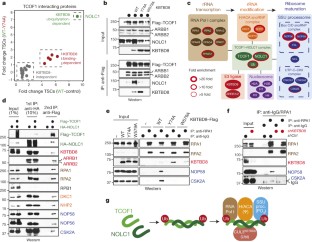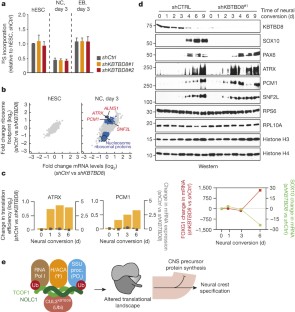 References
1

Gurdon, J. B. The egg and the nucleus: a battle for supremacy. Development 140, 2449–2456 (2013)

2

The Treacher Collins Syndrome Collaborative Group. Positional cloning of a gene involved in the pathogenesis of Treacher Collins syndrome. Nature Genet. 12, 130–136 (1996)

3

Dixon, J. et al. Tcof1/Treacle is required for neural crest cell formation and proliferation deficiencies that cause craniofacial abnormalities. Proc. Natl Acad. Sci. USA 103, 13403–13408 (2006)

4

Petroski, M. D. & Deshaies, R. J. Function and regulation of cullin-RING ubiquitin ligases. Nature Rev. Mol. Cell Biol. 6, 9–20 (2005)

5

Silverman, J. S., Skaar, J. R. & Pagano, M. SCF ubiquitin ligases in the maintenance of genome stability. Trends Biochem. Sci. 37, 66–73 (2012)

6

Wang, Y. et al. Deletion of the Cul1 gene in mice causes arrest in early embryogenesis and accumulation of cyclin E. Curr. Biol. 9, 1191–1194 (1999)

7

Arai, T. et al. Targeted disruption of p185/Cul7 gene results in abnormal vascular morphogenesis. Proc. Natl Acad. Sci. USA 100, 9855–9860 (2003)

8

Singer, J. D., Gurian-West, M., Clurman, B. & Roberts, J. M. Cullin-3 targets cyclin E for ubiquitination and controls S phase in mammalian cells. Genes Dev. 13, 2375–2387 (1999)

9

Jiang, B. et al. Lack of Cul4b, an E3 ubiquitin ligase component, leads to embryonic lethality and abnormal placental development. PLoS ONE 7, e37070 (2012)

10

Voigt, J. & Papalopulu, N. A dominant-negative form of the E3 ubiquitin ligase Cullin-1 disrupts the correct allocation of cell fate in the neural crest lineage. Development 133, 559–568 (2006)

11

Jin, L. et al. Ubiquitin-dependent regulation of COPII coat size and function. Nature 482, 495–500 (2012)

12

Lander, R., Nordin, K. & LaBonne, C. The F-box protein Ppa is a common regulator of core EMT factors Twist, Snail, Slug, and Sip1. J. Cell Biol. 194, 17–25 (2011)

13

Skaar, J. R., Pagan, J. K. & Pagano, M. Mechanisms and function of substrate recruitment by F-box proteins. Nature Rev. Mol. Cell Biol. 14, 369–381 (2013)

14

Barbieri, C. E. et al. Exome sequencing identifies recurrent SPOP, FOXA1 and MED12 mutations in prostate cancer. Nature Genet. 44, 685–689 (2012)

15

Louis-Dit-Picard, H. et al. KLHL3 mutations cause familial hyperkalemic hypertension by impairing ion transport in the distal nephron. Nature Genet. 44, 456–460 (2012)

16

Welcker, M. & Clurman, B. E. FBW7 ubiquitin ligase: a tumour suppressor at the crossroads of cell division, growth and differentiation. Nature Rev. Cancer 8, 83–93 (2008)

17

Yanai, I., Peshkin, L., Jorgensen, P. & Kirschner, M. W. Mapping gene expression in two Xenopus species: evolutionary constraints and developmental flexibility. Dev. Cell 20, 483–496 (2011)

18

Chambers, S. M. et al. Highly efficient neural conversion of human ES and iPS cells by dual inhibition of SMAD signaling. Nature Biotechnol. 27, 275–280 (2009)

19

Dauwerse, J. G. et al. Mutations in genes encoding subunits of RNA polymerases I and III cause Treacher Collins syndrome. Nature Genet. 43, 20–22 (2011)

20

Jones, N. C. et al. Prevention of the neurocristopathy Treacher Collins syndrome through inhibition of p53 function. Nature Med. 14, 125–133 (2008)

21

Price, J. C., Guan, S., Burlingame, A., Prusiner, S. B. & Ghaemmaghami, S. Analysis of proteome dynamics in the mouse brain. Proc. Natl Acad. Sci. USA 107, 14508–14513 (2010)

22

Cambridge, S. B. et al. Systems-wide proteomic analysis in mammalian cells reveals conserved, functional protein turnover. J. Proteome Res. 10, 5275–5284 (2011)

23

Tuck, A. C. & Tollervey, D. A transcriptome-wide atlas of RNP composition reveals diverse classes of mRNAs and lncRNAs. Cell 154, 996–1009 (2013)

24

Jack, K. et al. rRNA pseudouridylation defects affect ribosomal ligand binding and translational fidelity from yeast to human cells. Mol. Cell 44, 660–666 (2011)

25

Yoon, A. et al. Impaired control of IRES-mediated translation in X-linked dyskeratosis congenita. Science 312, 902–906 (2006)

26

Kondrashov, N. et al. Ribosome-mediated specificity in Hox mRNA translation and vertebrate tissue patterning. Cell 145, 383–397 (2011)

27

Xue, S. & Barna, M. Specialized ribosomes: a new frontier in gene regulation and organismal biology. Nature Rev. Mol. Cell Biol. 13, 355–369 (2012)

28

McCann, K. L. & Baserga, S. J. Genetics. Mysterious ribosomopathies. Science 341, 849–850 (2013)

29

Freed, E. F., Prieto, J. L., McCann, K. L., McStay, B. & Baserga, S. J. NOL11, implicated in the pathogenesis of North American Indian childhood cirrhosis, is required for pre-rRNA transcription and processing. PLoS Genet. 8, e1002892 (2012)

30

Sondalle, S. B. & Baserga, S. J. Human diseases of the SSU processome. Biochim. Biophys. Acta 1842, 758–764 (2014)

31

Rape, M., Reddy, S. K. & Kirschner, M. W. The processivity of multiubiquitination by the APC determines the order of substrate degradation. Cell 124, 89–103 (2006)

32

Jin, L., Williamson, A., Banerjee, S., Philipp, I. & Rape, M. Mechanism of ubiquitin-chain formation by the human anaphase-promoting complex. Cell 133, 653–665 (2008)

33

Khokha, M. K. et al. Techniques and probes for the study of Xenopus tropicalis development. Develop. Dyn. 225, 499–510 (2002)

34

Sowa, M. E., Bennett, E. J., Gygi, S. P. & Harper, J. W. Defining the human deubiquitinating enzyme interaction landscape. Cell 138, 389–403 (2009)

35

Ingolia, N. T., Brar, G. A., Rouskin, S., McGeachy, A. M. & Weissman, J. S. The ribosome profiling strategy for monitoring translation in vivo by deep sequencing of ribosome-protected mRNA fragments. Nature Protocols 7, 1534–1550 (2012)

36

Anders, S. & Huber, W. Differential expression analysis for sequence count data. Genome Biol. 11, R106 (2010)
Acknowledgements
We thank R. Harland, J. Schaletzky, R. Zoncu, J. Corn, A. Manford and E. Oh for advice and critical reading of the manuscript, and all members of the Rape and Ingolia laboratories for helpful discussions. A.W. was funded in part by a postdoctoral fellowship the California Institute of Regenerative Medicine; S.I. is supported by a Human Frontier Science Fellowship; C.A.M. was supported by an NSF graduate student fellowship; and S.M.-R. was supported by a UC Mexus-Conacyt fellowship and NIH GM42341. This work used the Vincent J. Coates Genomics Sequencing Laboratory and Proteomics/Mass Spectrometry Laboratory at UC Berkeley (NIH grants S10RR029668, S10RR027303 and S10RR025622). This work was funded by a Basic Biology Award from the California Institute of Regenerative Medicine to M.R. (RB-02222). M.R. is an investigator of the Howard Hughes Medical Institute.
Ethics declarations
Competing interests
M.R. is a co-founder and consultant to Nurix, a biotech company in the ubiquitin space.
Extended data figures and tables
Supplementary information
This file contains Extended Data Figure 11. (PDF 927 kb)
This table contains the GO enrichment analysis of genes significantly down-regulated more than 2.5 fold in EB6 upon KBTBD8 depletion. (XLSX 218 kb)
This table contains the qRT-PCR primer sequences. (XLSX 45 kb)
About this article
Cite this article
Werner, A., Iwasaki, S., McGourty, C. et al. Cell-fate determination by ubiquitin-dependent regulation of translation. Nature 525, 523–527 (2015). https://doi.org/10.1038/nature14978
Received:

Accepted:

Published:

Issue Date:
Comments
By submitting a comment you agree to abide by our Terms and Community Guidelines. If you find something abusive or that does not comply with our terms or guidelines please flag it as inappropriate.