Abstract
Cell size fundamentally affects all biosynthetic processes by determining the scale of organelles and influencing surface transport1,2. Although extensive studies have identified many mutations affecting cell size, the molecular mechanisms underlying size control have remained elusive3. In the budding yeast Saccharomyces cerevisiae, size control occurs in G1 phase before Start, the point of irreversible commitment to cell division4,5. It was previously thought that activity of the G1 cyclin Cln3 increased with cell size to trigger Start by initiating the inhibition of the transcriptional inhibitor Whi5 (refs 6, 7, 8). Here we show that although Cln3 concentration does modulate the rate at which cells pass Start, its synthesis increases in proportion to cell size so that its total concentration is nearly constant during pre-Start G1. Rather than increasing Cln3 activity, we identify decreasing Whi5 activity—due to the dilution of Whi5 by cell growth—as a molecular mechanism through which cell size controls proliferation. Whi5 is synthesized in S/G2/M phases of the cell cycle in a largely size-independent manner. This results in smaller daughter cells being born with higher Whi5 concentrations that extend their pre-Start G1 phase. Thus, at its most fundamental level, size control in budding yeast results from the differential scaling of Cln3 and Whi5 synthesis rates with cell size. More generally, our work shows that differential size-dependency of protein synthesis can provide an elegant mechanism to coordinate cellular functions with growth.
Relevant articles
Open Access articles citing this article.
Diederik S. Laman Trip

,

Théo Maire

&

Hyun Youk

Nature Communications Open Access 06 December 2022

Teeraphan Laomettachit

,

Pavel Kraikivski

&

John J. Tyson

Scientific Reports Open Access 24 November 2022

BMC Research Notes Open Access 15 July 2022
Access options
Subscribe to Journal
Get full journal access for 1 year
$199.00
only $3.90 per issue
All prices are NET prices.
VAT will be added later in the checkout.
Tax calculation will be finalised during checkout.
Buy article
Get time limited or full article access on ReadCube.
$32.00
All prices are NET prices.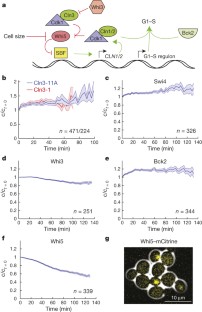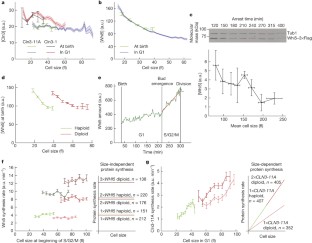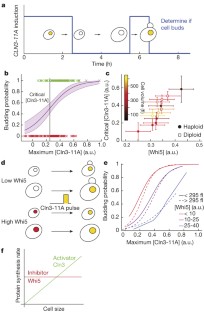 References
Goehring, N. W. & Hyman, A. A. Organelle growth control through limiting pools of cytoplasmic components. Curr. Biol. 22, R330–R339 (2012)

Chan, Y.-H. M. & Marshall, W. F. Scaling properties of cell and organelle size. Organogenesis 6, 88–96 (2010)

Turner, J. J., Ewald, J. C. & Skotheim, J. M. Cell size control in yeast. Curr. Biol. 22, R350–R359 (2012)

Doncic, A., Falleur-Fettig, M. & Skotheim, J. M. Distinct interactions select and maintain a specific cell fate. Mol. Cell 43, 528–539 (2011)

Di Talia, S., Skotheim, J. M., Bean, J. M., Siggia, E. D. & Cross, F. R. The effects of molecular noise and size control on variability in the budding yeast cell cycle. Nature 448, 947–951 (2007)

Wang, H., Carey, L. B., Cai, Y., Wijnen, H. & Futcher, B. Recruitment of Cln3 cyclin to promoters controls cell cycle entry via histone deacetylase and other targets. PLoS Biol. 7, e1000189 (2009)

Vergés, E., Colomina, N., Garí, E., Gallego, C. & Aldea, M. Cyclin Cln3 is retained at the ER and released by the J chaperone Ydj1 in late G1 to trigger cell cycle entry. Mol. Cell 26, 649–662 (2007)

Tyers, M., Tokiwa, G. & Futcher, B. Comparison of the Saccharomyces cerevisiae G1 cyclins: Cln3 may be an upstream activator of Cln1, Cln2 and other cyclins. EMBO J. 12, 1955–1968 (1993)

Lloyd, A. C. The regulation of cell size. Cell 154, 1194–1205 (2013)

Ginzberg, M. B., Kafri, R. & Kirschner, M. On being the right (cell) size. Science 348, 1245075 (2015)

Di Talia, S. et al. Daughter-specific transcription factors regulate cell size control in budding yeast. PLoS Biol. 7, e1000221 (2009)

Johnston, G. C., Pringle, J. R. & Hartwell, L. H. Coordination of growth with cell division in the yeast Saccharomyces cerevisiae. Exp. Cell Res. 105, 79–98 (1977)

de Bruin, R. A. M., McDonald, W. H., Kalashnikova, T. I., Yates, J. & Wittenberg, C. Cln3 activates G1-specific transcription via phosphorylation of the SBF bound repressor Whi5. Cell 117, 887–898 (2004)

Costanzo, M. et al. CDK activity antagonizes Whi5, an inhibitor of G1/S transcription in yeast. Cell 117, 899–913 (2004)

Landry, B. D., Doyle, J. P., Toczyski, D. P. & Benanti, J. A. F-box protein specificity for G1 cyclins is dictated by subcellular localization. PLoS Genet. 8, e1002851 (2012)

Jorgensen, P. et al. The size of the nucleus increases as yeast cells grow. Mol. Biol. Cell 18, 3523–3532 (2014)

Yahya, G., Parisi, E., Flores, A., Gallego, C. & Aldea, M. A Whi7-anchored loop controls the G1 Cdk-cyclin complex at Start. Mol. Cell 53, 115–126 (2014)

Bhaduri, S. & Pryciak, P. M. Cyclin-specific docking motifs promote phosphorylation of yeast signaling proteins by G1/S Cdk complexes. Curr. Biol. 21, 1615–1623 (2011)

Liu, X. et al. Reliable cell cycle commitment in budding yeast is ensured by signal integration. eLife 4, e03977 (2015)

Tyers, M., Tokiwa, G., Nash, R. & Futcher, B. The Cln3-Cdc28 kinase complex of S. cerevisiae is regulated by proteolysis and phosphorylation. EMBO J. 11, 1773–1784 (1992)

Fantes, P. A., Grant, W. D., Pritchard, R. H., Sudbery, P. E. & Wheals, A. E. The regulation of cell size and the control of mitosis. J. Theor. Biol. 50, 213–244 (1975)

Wu, C.-Y., Rolfe, P. A., Gifford, D. K. & Fink, G. R. Control of Transcription by Cell Size. PLoS Biol. 8, e1000523 (2010)

Pramila, T., Wu, W., Miles, S., Noble, W. S. & Breeden, L. L. The Forkhead transcription factor Hcm1 regulates chromosome segregation genes and fills the S-phase gap in the transcriptional circuitry of the cell cycle. Genes Dev. 20, 2266–2278 (2006)

Marguerat, S. & Bähler, J. Coordinating genome expression with cell size. Trends Genet. 28, 560–565 (2012)

Epstein, C. B. & Cross, F. R. Genes that can bypass the CLN requirement for Saccharomyces cerevisiae cell cycle START. Mol. Cell. Biol. 14, 2041–2047 (1994)

Schneider, B. L. et al. Growth rate and cell size modulate the synthesis of, and requirement for, G1-phase cyclins at Start. Mol. Cell. Biol. 24, 10802–10813 (2004)

Thorburn, R. R. et al. Aneuploid yeast strains exhibit defects in cell growth and passage through START. Mol. Biol. Cell 24, 1274–1289 (2013)

Shi, L. & Tu, B. P. Acetyl-CoA induces transcription of the key G1 cyclin CLN3 to promote entry into the cell division cycle in Saccharomyces cerevisiae. Proc. Natl Acad. Sci. USA 110, 7318–7323 (2013)

Polymenis, M. & Schmidt, E. V. Coupling of cell division to cell growth by translational control of the G1 cyclin CLN3 in yeast. Genes Dev. 11, 2522–2531 (1997)

Menoyo, S. et al. Phosphate-activated cyclin-dependent kinase stabilizes G1 cyclin to trigger cell cycle entry. Mol. Cell. Biol. 33, 1273–1284 (2013)

Doncic, A., Eser, U., Atay, O. & Skotheim, J. M. An algorithm to automate yeast segmentation and tracking. PLoS One 8, e57970 (2013)

Bastajian, N., Friesen, H. & Andrews, B. J. Bck2 acts through the MADS box protein Mcm1 to activate cell-cycle-regulated genes in budding yeast. PLoS Genet. 9, e1003507 (2013)

Ferrezuelo, F., Aldea, M. & Futcher, B. Bck2 is a phase-independent activator of cell cycle-regulated genes in yeast. Cell Cycle 8, 239–252 (2009)

Ottoz, D. S. M., Rudolf, F. & Stelling, J. Inducible, tightly regulated and growth condition-independent transcription factor in Saccharomyces cerevisiae. Nucleic Acids Res. 42, e130 (2015)

Miller, M. E., Cross, F. R., Groeger, A. L. & Jameson, K. L. Identification of novel and conserved functional and structural elements of the G1 cyclin Cln3 important for interactions with the CDK Cdc28 in Saccharomyces cerevisiae. Yeast 22, 1021–1036 (2005)

Miller, M. E. & Cross, F. R. Mechanisms controlling subcellular localization of the G(1) cyclins Cln2p and Cln3p in budding yeast. Mol. Cell. Biol. 21, 6292–6311 (2001)

Nash, R., Tokiwa, G., Anand, S., Erickson, K. & Futcher, A. B. The WHI1+ gene of Saccharomyces cerevisiae tethers cell division to cell size and is a cyclin homolog. EMBO J. 7, 4335–4346 (1988)
Acknowledgements
We thank O. Atay and J. Feldman for reagents, R. de Bruin, A. Gladfelter, M. Cyert, and M. Loog for comments on the manuscript, the Burroughs Wellcome Fund (CASI), the National Science Foundation (CAREER), National Institutes of Health training grant GM007276 (to J.J.T.), and Human Frontier Science Program (postdoctoral fellowships to K.M.S. and M.K.) for funding.
Ethics declarations
Competing interests
The authors declare no competing financial interests.
Extended data figures and tables
Supplementary information
About this article
Cite this article
Schmoller, K., Turner, J., Kõivomägi, M. et al. Dilution of the cell cycle inhibitor Whi5 controls budding-yeast cell size. Nature 526, 268–272 (2015). https://doi.org/10.1038/nature14908
Received:

Accepted:

Published:

Issue Date:

DOI: https://doi.org/10.1038/nature14908
Comments
By submitting a comment you agree to abide by our Terms and Community Guidelines. If you find something abusive or that does not comply with our terms or guidelines please flag it as inappropriate.