Abstract
Transitional fossils informing the origin of turtles are among the most sought-after discoveries in palaeontology1,2,3,4,5. Despite strong genomic evidence indicating that turtles evolved from within the diapsid radiation (which includes all other living reptiles6,7), evidence of the inferred transformation between an ancestral turtle with an open, diapsid skull to the closed, anapsid condition of modern turtles remains elusive. Here we use high-resolution computed tomography and a novel character/taxon matrix to study the skull of Eunotosaurus africanus, a 260-million-year-old fossil reptile from the Karoo Basin of South Africa, whose distinctive postcranial skeleton shares many unique features with the shelled body plan of turtles2,3,4. Scepticism regarding the status of Eunotosaurus as the earliest stem turtle arises from the possibility that these shell-related features are the products of evolutionary convergence. Our phylogenetic analyses indicate strong cranial support for Eunotosaurus as a critical transitional form in turtle evolution, thus fortifying a 40-million-year extension to the turtle stem and moving the ecological context of its origin back onto land8,9. Furthermore, we find unexpected evidence that Eunotosaurus is a diapsid reptile in the process of becoming secondarily anapsid. This is important because categorizing the skull based on the number of openings in the complex of dermal bone covering the adductor chamber has long held sway in amniote systematics10, and still represents a common organizational scheme for teaching the evolutionary history of the group. These discoveries allow us to articulate a detailed and testable hypothesis of fenestral closure along the turtle stem. Our results suggest that Eunotosaurus represents a crucially important link in a chain that will eventually lead to consilience in reptile systematics, paving the way for synthetic studies of amniote evolution and development.
This is a preview of subscription content
Access options
Subscribe to Journal
Get full journal access for 1 year
$199.00
only $3.90 per issue
All prices are NET prices.
VAT will be added later in the checkout.
Tax calculation will be finalised during checkout.
Buy article
Get time limited or full article access on ReadCube.
$32.00
All prices are NET prices.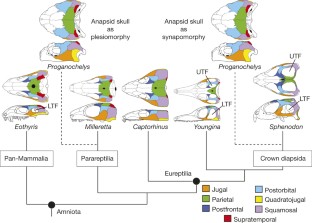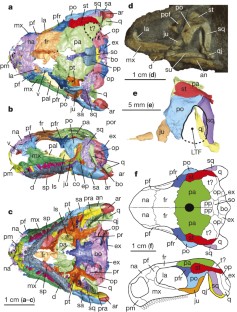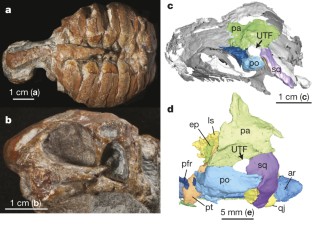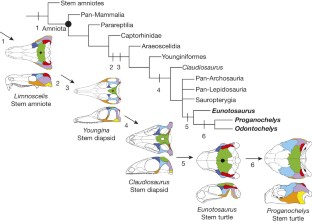 References
Li, C., Wu, X.-C., Rieppel, O., Wang, L.-T. & Zhao, L.-J. An ancestral turtle from the Late Triassic of southwestern China. Nature 456, 497–501 (2008)

Lyson, T. R., Bever, G. S., Bhullar, B.-A. S., Joyce, W. G. & Gauthier, J. A. Transitional fossils and the origin of turtles. Biol. Lett. 6, 830–833 (2010)

Lyson, T. R., Bever, G. S., Scheyer, T. M., Hsiang, A. Y. & Gauthier, J. A. Evolutionary origin of the turtle shell. Curr. Biol. 23, 1113–1119 (2013)

Lyson, T. R. et al. Origin of the unique ventilatory apparatus of turtles. Nat. Commun. 5, 5211 (2014)

Schoch, R. R. & Sues, H. -D. A Middle Triassic stem-turtle and the evolution of the turtle body plan. Nature 523, 584–587 (2015)

Wang, Z. et al. The draft genomes of soft-shell turtle and green sea turtle yield insights into the development and evolution of the turtle-specific body plan. Nature Genet. 45, 701–706 (2013)

Field, D. J. et al. Toward consilience in reptile phylogeny: miRNAs support an archosaur, not lepidosaur, affinity for turtles. Evol. Dev. 16, 189–196 (2014)

Joyce, W. G. & Gauthier, J. A. Palaeoecology of Triassic stem turtles sheds new light on turtle origins. Proc. R. Soc. Lond. B 271, 1–5 (2004)

Scheyer, T. M. & Sander, P. M. Shell bone histology indicates terrestrial palaeoecology of basal turtles. Proc. R. Soc. Lond. B 274, 1885–1893 (2007)

Gauthier, J., Kluge, A. G. & Rowe, T. Amniote phylogeny and the importance of fossils. Cladistics 4, 105–209 (1988)

Cundall, D. & Irish, F. in Biology of the Reptilia Vol. 20 (eds Gans, C., Gaunt, A. S., Adler, K. ) 349–692 (Society for the Study of Amphibians and Reptiles, 2008)

Bhullar, B.-A. S. et al. Birds have paedomorphic dinosaur skulls. Nature 487, 223–226 (2013)

Gaffney, E. S. The comparative osteology of the Triassic turtle Proganochelys . Bull. Am. Mus. Nat. Hist. 194, 1–263 (1990)

Werneberg, I. Temporal bone arrangements in turtles: an overview. J. Exp. Zool. B 318, 235–249 (2012)

Müller, J. in Recent Advances in the Origin and Early Radiation of Vertebrates (eds Arratia, G., Wilson, M. V. H., Wilson, R., Cloutier, R. ) 379–408 (Verlag Dr. Friedrich Pfeil, 2004)

Lee, M. S. Y. Turtle origins: insights from phylogenetic retrofitting and molecular scaffolds. J. Evol. Biol. 26, 2729–2738 (2013)

Day, M., Rubidge, B., Almond, J. & Sifelani, J. Biostratigraphic correlation in the Karoo: the case of the Middle Permian parareptile Eunotosaurus: research letter. S. Afr. J. Sci. 109, 1–4 (2013)

Cox, C. B. The problematic Permian reptile Eunotosaurus . Bull. Br. Mus. Nat. Hist. 18, 165–196 (1969)

Keyser, A. W. & Gow, C. E. First complete skull of the Permian reptile Eunotosaurus africanus Seeley. S. Afr. J. Sci. 77, 417–420 (1981)

Gow, C. E. A reassessment of Eunotosaurus africanus Seeley (Amniota: Parareptilia). Palaeont. Afr. 34, 33–42 (1997)

Bhullar, B.-A. S. & Bever, G. S. An archosaur-like laterosphenoid in early turtles (Reptilia: Pantestudines). Breviora 518, 1–11 (2009)

Reisz, R. R., Modesto, S. P. & Scott, D. M. A new Early Permian reptile and its significance in early diapsid evolution. Proc. R. Soc. Lond. B 278, 3731–3737 (2011)

Bickelmann, C., Müller, J. & Reisz, R. R. The enigmatic diapsid Acerosodontosaurus piveteaui (Reptilia: Neodiapsida) from the Upper Permian of Madagascar and the paraphyly of "younginiform" reptiles. Can. J. Earth Sci. 46, 651–661 (2009)

Müller, J. Early loss and multiple return of the lower temporal arcade in diapsid reptiles. Naturwissenschaften 90, 473–476 (2003)

Tsuji, L. A. & Müller, J. Assembling the history of the Parareptilia: phylogeny, diversification, and a new definition of the clade. Fossil Rec. 12, 71–81 (2009)

Piñeiro, G., Ferigolo, J., Ramos, A. & Laurin, M. Cranial morphology of the Early Permian mesosaurid Mesosaurus tenuidens and the evolution of the lower temporal fenestration reassessed. C. R. Palevol 11, 379–391 (2012)

Bever, G. S., Gauthier, J. A. & Wagner, G. P. Finding the frame shift: digit loss, developmental variability, and the origin of the avian hand. Evol. Dev. 13, 269–279 (2011)

Reisz, R. R. A Diapsid Reptile from the Pennsylvanian of Kansas (Univ. of Kansas, 1981)

Rieppel, O. Clarazia and Hescheleria: a re-investigation of two problematical reptiles from the Middle Triassic of Monte San Giorgio (Switzerland). Palaeontogr. Abt. A 195, 101–129 (1987)

Lyson, T. R. et al. Homology of the enigmatic nuchal bone reveals novel reorganization of the shoulder girdle in the evolution of the turtle shell. Evol. Dev. 15, 1–9 (2013)

Romer, A. S. Osteology of the Reptiles (Univ. Chicago Press, 1956)

Maisano, J. A. Terminal fusions of skeletal elements as indicators of maturity in squamate reptiles. J. Vertebr. Paleontol. 22, 268–275 (2002)

Goloboff, P. A., Farris, J. & Nixon, K. TNT: a free program for phylogenetic analysis. Cladistics 24, 774–786 (2008)

Ronquist, F. & Huelsenbeck, J. P. MRBAYES 3: Bayesian phylogenetic inference under mixed models. Bioinformatics 19, 1572–1574 (2003)

Miller, M. A., Pfeiffer, W. & Schwartz, T. in Proceedings of the Gateway Computing Environments Workshop 1–8 (IEEE, 2010)

Lewis, P. O. A likelihood approach to estimating phylogeny from discrete morphological character data. Syst. Biol. 50, 913–925 (2001)

Drummond, A. J., Suchard, M. A., Xie, D. & Rambaut, A. Bayesian phylogenetics with BEAUti and the BEAST 1.7. Mol. Biol. Evol. 29, 1969–1973 (2012)
Acknowledgements
We thank J. Botha-Brink, E. Butler, S. Kaal, E. De Kock, J. Neveling and R. Smith for access to Eunotosaurus specimens. M. Fox and Z. Erasmus prepared fossil material. M. Colbert, J. Maisano, M. Hill and J. Thostenson are acknowledged for their help with the digital data. We thank A. Balanoff, D. Dykes, J. Gauthier, R. Hill, B. Rubidge, R. Smith and K. de Queiroz for helpful discussions. G.S.B. extends special thanks to the Academic Technologies Group at NYIT for their support in the digital visualization of anatomical data.
Ethics declarations
Competing interests
The authors declare no competing financial interests.
Extended data figures and tables
Supplementary information
This file contains a Supplementary Discussion, Supplementary References and Supplementary Tables 1-4. (PDF 1311 kb)
This file contains the data matrix used in phylogenetic analyses. (TXT 14 kb)
About this article
Cite this article
Bever, G., Lyson, T., Field, D. et al. Evolutionary origin of the turtle skull. Nature 525, 239–242 (2015). https://doi.org/10.1038/nature14900
Received:

Accepted:

Published:

Issue Date:

DOI: https://doi.org/10.1038/nature14900
Comments
By submitting a comment you agree to abide by our Terms and Community Guidelines. If you find something abusive or that does not comply with our terms or guidelines please flag it as inappropriate.