Abstract
Acceleration and collision of particles has been a key strategy for exploring the texture of matter. Strong light waves can control and recollide electronic wavepackets, generating high-harmonic radiation that encodes the structure and dynamics of atoms and molecules and lays the foundations of attosecond science1,2,3. The recent discovery of high-harmonic generation in bulk solids4,5,6 combines the idea of ultrafast acceleration with complex condensed matter systems, and provides hope for compact solid-state attosecond sources6,7,8 and electronics at optical frequencies3,5,9,10. Yet the underlying quantum motion has not so far been observable in real time. Here we study high-harmonic generation in a bulk solid directly in the time domain, and reveal a new kind of strong-field excitation in the crystal. Unlike established atomic sources1,2,3,9,11, our solid emits high-harmonic radiation as a sequence of subcycle bursts that coincide temporally with the field crests of one polarity of the driving terahertz waveform. We show that these features are characteristic of a non-perturbative quantum interference process that involves electrons from multiple valence bands. These results identify key mechanisms for future solid-state attosecond sources and next-generation light-wave electronics. The new quantum interference process justifies the hope for all-optical band-structure reconstruction and lays the foundation for possible quantum logic operations at optical clock rates.
This is a preview of subscription content
Access options
Subscribe to Journal
Get full journal access for 1 year
$199.00
only $3.90 per issue
All prices are NET prices.
VAT will be added later in the checkout.
Tax calculation will be finalised during checkout.
Rent or Buy article
Get time limited or full article access on ReadCube.
from$8.99
All prices are NET prices.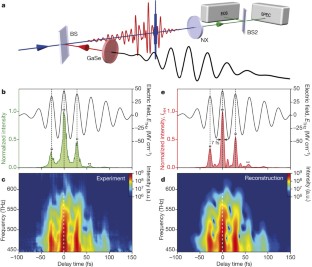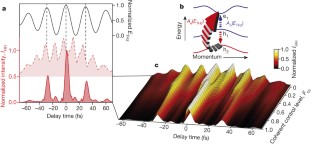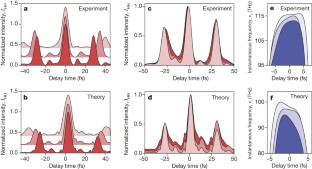 References
1

Paul, P. M. et al. Observation of a train of attosecond pulses from high harmonic generation. Science 292, 1689–1692 (2001)

2

Dudovich, N. et al. Measuring and controlling the birth of attosecond XUV pulses. Nature Phys. 2, 781–786 (2006)

3

Krausz, F. & Stockman, M. I. Attosecond metrology: from electron capture to future signal processing. Nature Photon. 8, 205–213 (2014)

4

Ghimire, S. et al. Observation of high-order harmonic generation in a bulk crystal. Nature Phys. 7, 138–141 (2011)

5

Schubert, O. et al. Sub-cycle control of terahertz high-harmonic generation by dynamical Bloch oscillations. Nature Photon. 8, 119–123 (2014)

6

Ghimire, S. et al. Strong-field and attosecond physics in solids. J. Phys. B 47, 204030 (2014)

7

Higuchi, T., Stockman, M. I. & Hommelhoff, P. Strong-field perspective on high-harmonic radiation from bulk solids. Phys. Rev. Lett. 113, 213901 (2014)

8

Mücke, O. D. Isolated high-order harmonics pulse from two-color-driven Bloch oscillations in bulk semiconductors. Phys. Rev. B 84, 081202 (2011)

9

Goulielmakis, E. et al. Attosecond control and measurement: lightwave electronics. Science 317, 769–775 (2007)

10

Zaks, B., Liu, R. B. & Sherwin, M. S. Experimental observation of electron–hole recollisions. Nature 483, 580–583 (2012)

11

Shafir, D. et al. Resolving the time when an electron exits a tunnelling barrier. Nature 485, 343–346 (2012)

12

Drescher, M. et al. Time-resolved atomic inner-shell spectroscopy. Nature 419, 803–807 (2002)

13

Calegari, F. et al. Ultrafast electron dynamics in phenylalanine initiated by attosecond pulses. Science 346, 336–339 (2014)

14

Neppl, S. et al. Direct observation of electron propagation and dielectric screening on the atomic length scale. Nature 517, 342–346 (2015)

15

Smirnova, O. et al. High harmonic interferometry of multi-electron dynamics in molecules. Nature 460, 972–977 (2009)

16

Salières, P. et al. Feynman's path-integral approach for intense-laser-atom interactions. Science 292, 902–905 (2001)

17

Corkum, P. B. Plasma perspective on strong-field multiphoton ionization. Phys. Rev. Lett. 71, 1994–1997 (1993)

18

Shafir, D., Mairesse, Y., Villeneuve, D. M., Corkum, P. B. & Dudovich, N. Atomic wavefunctions probed through strong-field light-matter interaction. Nature Phys. 5, 412–416 (2009)

19

Kanai, T., Minemoto, S. & Sakai, H. Quantum interference during high-order harmonic generation from aligned molecules. Nature 435, 470–474 (2005)

20

Golde, D., Meier, T. & Koch, S. W. High harmonics generated in semiconductor nanostructures by the coupled dynamics of optical inter- and intraband excitations. Phys. Rev. B 77, 075330 (2008)

21

Földi, P., Benedict, M. G. & Yakovlev, V. S. The effect of dynamical Bloch oscillations on optical-field-induced current in a wide-gap dielectric. New J. Phys. 15, 063019 (2013)

22

Vampa, G. et al. Theoretical analysis of high-harmonic generation in solids. Phys. Rev. Lett. 113, 073901 (2014)

23

Hawkins, P. G., Ivanov, M. Y. & Yakovlev, V. S. Effect of multiple conduction bands on high-harmonic emission from dielectrics. Phys. Rev. A 91, 013405 (2015)

24

Chin, A. H., Calderón, O. G. & Kono, J. Extreme midinfrared nonlinear optics in semiconductors. Phys. Rev. Lett. 86, 3292–3295 (2001)

25

Ghimire, S. et al. Generation and propagation of high-order harmonics in crystals. Phys. Rev. A 85, 043836 (2012)

26

Sekikawa, T., Katsura, T., Miura, S. & Watanabe, S. Measurement of the intensity-dependent atomic dipole phase of a high harmonic by frequency resolved optical gating. Phys. Rev. Lett. 88, 193902 (2002)

27

Kemper, A. F., Moritz, B., Freericks, J. K. & Devereaux, T. P. Theoretical description of high-order harmonic generation in solids. New J. Phys. 15, 023003 (2013)

28

Zener, C. A. Theory of the electrical breakdown of solid dielectrics. Proc. R. Soc. Lond. A 145, 523–529 (1934)

29

Zhao, H., Loren, E. J., van Driel, H. M. & Smirl, A. L. Coherence control of Hall charge and spin currents. Phys. Rev. Lett. 96, 246601 (2006)

30

Ladd, T. D. et al. Quantum computers. Nature 464, 45–53 (2010)

31

Sell, A., Leitenstorfer, A. & Huber, R. Phase-locked generation and field-resolved detection of widely tunable terahertz pulses with amplitudes exceeding 100 MV/cm. Opt. Lett. 33, 2767–2769 (2008)

32

Eimerl, D., Davis, L., Velsko, S., Graham, E. K. & Zalkin, A. Optical, mechanical, and thermal properties of barium borate. J. Appl. Phys. 62, 1968–1983 (1987)

33

Ruffin, A. B., Rudd, J. V., Whitaker, J. F., Feng, S. & Winful, H. G. Direct observation of the Gouy phase shift with single-cycle terahertz pulses. Phys. Rev. Lett. 83, 3410–3413 (1999)

34

Gallot, G. & Grischkowsky, D. Electro-optic detection of terahertz radiation. J. Opt. Soc. Am. B 16, 1204–1212 (1999)

35

Linden, S., Giessen, H. & Kuhl, J. XFROG — A new method for amplitude and phase characterization of weak ultrashort pulses. Phys. Status Solidi B 206, 119–124 (1998)

36

Kane, D. J. Real-time measurement of ultrashort laser pulses using principal component generalized projections. IEEE J. Sel. Top. Quantum Electron. 4, 278–284 (1998)

37

Wyatt, A. Frequency-resolved optical gating. http://www.mathworks.com/matlabcentral/fileexchange/16235-frequency-resolved-optical-gating-frog- (MATLAB central file exchange, 7 July 2008)

38

Kane, D. J. Recent progress toward real-time measurement of ultrashort laser pulses. IEEE J. Quantum Electron. 35, 421–431 (1999)

39

Golde, D., Kira, M., Meier, T. & Koch, S. W. Microscopic theory of the extremely nonlinear terahertz response of semiconductors. Phys. Status Solidi B 248, 863–866 (2011)

40

Schlüter, M. et al. Optical properties of GaSe and GaSxSe1 - x mixed crystals. Phys. Rev. B 13, 3534–3547 (1976)

41

Segura, A., Bouvier, J., Andrés, M. V., Manjón, F. J. & Muñoz, V. Strong optical nonlinearities in gallium and indium selenides related to inter-valence-band transitions induced by light pulses. Phys. Rev. B 56, 4075–4084 (1997)

42

Moiseyev, N. Selection rules for harmonic generation in solids. Phys. Rev. A 91, 053811 (2015)

43

Kira, M. & Koch, S. W. Semiconductor Quantum Optics (Cambridge Univ. Press, 2011)

44

Golde, D., Meier, T. & Koch, S. W. Microscopic analysis of extreme nonlinear optics in semiconductor nanostructures. J. Opt. Soc. Am. B 23, 2559–2565 (2006)

45

Schultze, M. et al. Attosecond band-gap dynamics in silicon. Science 346, 1348–1352 (2014)

46

Vu, Q. T. et al. Light-induced gaps in semiconductor band-to-band transitions. Phys. Rev. Lett. 92, 217403 (2004)

47

Schuh, K., Hader, J., Moloney, J. V. & Koch, S. W. Influence of many-body interactions during the ionization of gases by short intense optical pulses. Phys. Rev. E 89, 033103 (2014)

48

Kira, M., Jahnke, F., Hoyer, W. & Koch, S. W. Quantum theory of spontaneous emission and coherent effects in semiconductor microstructures. Prog. Quantum Electron. 23, 189–279 (1999)

49

Liu, Y.-W. in Fourier Transform Applications (ed. Salih, S. ) 291–300 (InTech, 2012)
Acknowledgements
The work in Regensburg was supported by the European Research Council through grant no. 305003 (QUANTUMsubCYCLE) as well as by the Deutsche Forschungsgemeinschaft (through grant number HU 1598/2-1) and the work in Marburg by the Deutsche Forschungsgemeinschaft (through SFB 1083 and grant number KI 917/2-2).
Ethics declarations
Competing interests
The authors declare no competing financial interests.
Extended data figures and tables
About this article
Cite this article
Hohenleutner, M., Langer, F., Schubert, O. et al. Real-time observation of interfering crystal electrons in high-harmonic generation. Nature 523, 572–575 (2015). https://doi.org/10.1038/nature14652
Received:

Accepted:

Published:

Issue Date:
Comments
By submitting a comment you agree to abide by our Terms and Community Guidelines. If you find something abusive or that does not comply with our terms or guidelines please flag it as inappropriate.