Abstract
Plants and plant pathogens are subject to continuous co-evolutionary pressure for dominance, and the outcomes of these interactions can substantially impact agriculture and food security1,2,3. In virus–plant interactions, one of the major mechanisms for plant antiviral immunity relies on RNA silencing, which is often suppressed by co-evolving virus suppressors, thus enhancing viral pathogenicity in susceptible hosts1. In addition, plants use the nucleotide-binding and leucine-rich repeat (NB-LRR) domain-containing resistance proteins, which recognize viral effectors to activate effector-triggered immunity in a defence mechanism similar to that employed in non-viral infections2,3. Unlike most eukaryotic organisms, plants are not known to activate mechanisms of host global translation suppression to fight viruses1,2. Here we demonstrate in Arabidopsis that the constitutive activation of NIK1, a leucine-rich repeat receptor-like kinase (LRR-RLK) identified as a virulence target of the begomovirus nuclear shuttle protein (NSP)4,5,6, leads to global translation suppression and translocation of the downstream component RPL10 to the nucleus, where it interacts with a newly identified MYB-like protein, L10-INTERACTING MYB DOMAIN-CONTAINING PROTEIN (LIMYB), to downregulate translational machinery genes fully. LIMYB overexpression represses ribosomal protein genes at the transcriptional level, resulting in protein synthesis inhibition, decreased viral messenger RNA association with polysome fractions and enhanced tolerance to begomovirus. By contrast, the loss of LIMYB function releases the repression of translation-related genes and increases susceptibility to virus infection. Therefore, LIMYB links immune receptor LRR-RLK activation to global translation suppression as an antiviral immunity strategy in plants.
Relevant articles
Open Access articles citing this article.
Zongyu Gao

,

Dingliang Zhang

…

Yongliang Zhang

Nature Communications Open Access 07 February 2022

Paola Leonetti

,

Johannes Stuttmann

&

Vitantonio Pantaleo

Virology Journal Open Access 26 September 2021
Access options
Subscribe to this journal
Receive 51 print issues and online access
We are sorry, but there is no personal subscription option available for your country.
Rent or buy this article
Get just this article for as long as you need it
$39.95
Prices may be subject to local taxes which are calculated during checkout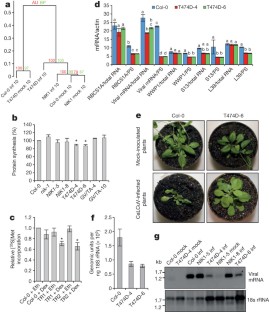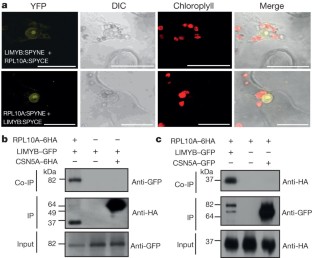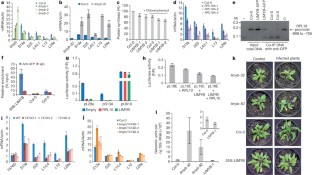 References
Pumplin, N. & Voinnet, O. RNA silencing suppression by plant pathogens: defence, counter-defence and counter-counter-defence. Nature Rev. Microbiol. 11, 745–760 (2013)

Mandadi, K. K. & Scholthof, K. B. Plant immune responses against viruses: how does a virus cause disease? Plant Cell 25, 1489–1505 (2013)

Jones, J. D. & Dangl, J. L. The plant immune system. Nature 444, 323–329 (2006)

Hanley-Bowdoin, L., Bejarano, E. R., Robertson, D. & Mansoor, S. Geminiviruses: masters at redirecting and reprogramming plant processes. Nature Rev. Microbiol. 11, 777–788 (2013)

Santos, A. A., Lopes, K. V. G., Apfta, J. A. C. & Fontes, E. P. B. NSP-interacting kinase, NIK: a transducer of plant defence signalling. J. Exp. Bot. 61, 3839–3845 (2010)

Mariano, A. C. et al. Identification of a novel receptor- like protein kinase that interacts with a geminivirus nuclear shuttle protein. Virology 318, 24–31 (2004)

Sakamoto, T. et al. The tomato RLK superfamily: phylogeny and functional predictions about the role of the LRRII-RLK subfamily in antiviral defense. BMC Plant Biol. 12, 229 (2012)

Shiu, S. H. & Bleecker, A. B. Receptor-like kinases from Arabidopsis form a monophyletic gene family related to animal receptor kinases. Proc. Natl Acad. Sci. USA 98, 10763–10768 (2001)

Chinchilla, D., Shan, L., He, P., de Vries, S. & Kemmerling, B. One for all: the receptor-associated kinase BAK1. Trends Plant Sci. 14, 535–541 (2009)

Fontes, E. P. B., Santos, A. A., Luz, D. F., Waclawovsky, A. J. & Chory, J. The geminivirus NSP acts as virulence factor to suppress an innate transmembrane receptor kinase-mediated defense signaling. Genes Dev. 18, 2545–2556 (2004)

Santos, A. A., Carvalho, C. M., Florentino, L. H., Ramos, J. J. O. & Fontes, E. P. B. Conserved threonine residues within the A-loop of the receptor NIK differentially regulate the kinase function required for antiviral signaling. PLoS ONE 4, e5781 (2009)

Carvalho, C. M. et al. Regulated nuclear trafficking of rpL10A mediated by NIK1 represents a defense strategy of plant cells against virus. PLoS Pathog. 4, e1000247 (2008)

Rocha, C. S., Santos, A. A., Machado, J. P. B. & Fontes, E. P. B. The ribosomal protein L10/QM-like protein is a component of the NIK-mediated antiviral signaling. Virology 380, 165–169 (2008)

Oh, H. S., Kwon, H., Sun, S. K. & Yang, C.-H. QM, a putative tumor suppressor, regulates proto-oncogene c-Yes. J. Biol. Chem. 277, 36489–36498 (2002)

Imafuku, I. et al. Presenilin 1 suppresses the function of c-Jun homodimers via interaction with QM/Jif-1. J. Cell Biol. 147, 121–134 (1999)

Monteclaro, F. S. & Vogt, P. K. A Jun-binding protein related to a putative tumor suppressor. Proc. Natl Acad. Sci. USA 90, 6726–6730 (1993)

Vinatzer, B. A. et al. The type III effector repertoire of Pseudomona syringae pv. syringae B728a and its role in survival and disease on host and non-host plants. Mol. Microbiol. 62, 26–44 (2006)

Delú-Filho, N. et al. A sucrose binding protein homologue from soybean affects sucrose uptake in transgenic tobacco suspension-cultured cells. Plant Physiol. Biochem. 38, 353–361 (2000)

Robinson, M. D., McCarthy, D. J. & Smyth, G. K. EdgeR: a Bioconductor package for differential expression analysis of digital gene expression data. Bioinformatics 26, 139–140 (2010)

Robinson, M. D. & Oshlack, A. A scaling normalization method for differential expression analysis of RNA-seq data. Genome Biol. 11, R25 (2010)

Langmead, B. et al. Ultrafast and memory-efficient alignment of short DNA sequences to the human genome. Genome Biol. 10, R25 (2009)

Ward, J. H., Jr Hierarchical grouping to optimize an objective function. J. Am. Stat. Assoc. 58, 236–244 (1963)

Kim, T. H., Kim, B. H., Yahalom, A., Chamovitz, D. A. & von Arnim, A. G. Translational regulation via 5′ mRNA leader sequences revealed by mutational analysis of the Arabidopsis translation initiation factor subunit eIF3h. Plant Cell 16, 3341–3356 (2004)

Kawaguchi, R., William, A. J., Bray, E. A. & Bailey-Serres, J. Water deficit-induced translational control in Nicotiana tabacum. Plant Cell Environ. 26, 221–229 (2003)

Kawaguchi, R., Girke, T., Bray, E. A. & Bailey-Serres, J. Differential mRNA translation contributes to gene regulation under non-stress and dehydration stress conditions in Arabidopsis thaliana. Plant J. 38, 823–839 (2004)

Santos, A. A., Florentino, L. H., Pires, A. B. L. & Fontes, E. P. B. Geminivirus: biolistic inoculation and molecular diagnosis. Methods Mol. Biol. 451, 563–579 (2008)

Florentino, L. H. et al. A PERK-like receptor kinase interacts with the geminivirus nuclear shuttle protein and potentiates viral infection. J. Virol. 80, 6648–6656 (2006)

Carvalho, C. M. et al. A novel nucleocytoplasmic traffic GTPase identified as a functional target of the bipartite geminivirus nuclear shuttle protein. Plant J. 55, 869–880 (2008)

Pinheiro, G. L. et al. Complete inventory of soybean NAC transcription factors: sequence conservation and expression analysis uncover their distinct roles in stress response. Gene 444, 10–23 (2009)

Costa, M. D. L. et al. A new branch of endoplasmic reticulum-stress signaling and the osmotic signal converge on plant specific asparagine-rich proteins to promote cell death. J. Biol. Chem. 283, 20209–20219 (2008)

DiCiccio, T. J. & Efron, B. Bootstrap confidence intervals. Stat. Sci. 11, 189–228 (1996)

Katoh, K. & Standley, D. M. MAFFT multiple sequence alignment software version 7: improvements in performance and usability. Mol. Biol. Evol. 30, 772–780 (2013)

Price, M. N., Dehal, P. S. & Arkin, A. P. FastTree 2—approximately maximum-likelihood trees for large alignments. PLoS ONE 5, e9490 (2010)
Acknowledgements
This research was financially supported by the following grants from Brazilian government agencies: Conselho Nacional de Desenvolvimento Científico e Tecnológico (CNPq) grants 573600/2008-2 and 470287/2011-0 (to E.P.B.F.) and FAPEMIG grant CBB-APQ-00070-09 (to E.P.B.F.); and by the US National Institutes of Health grant 5R01-GM94428 (to J.C.). O.J.B.B. was supported by a Coordenação de Aperfeiçoamento de Pessoal de Nível Superior (CAPES) graduate fellowship; C.Z., K.V.G.L., J.P.B.M., I.P.C., B.C.G. and P.A.B.R. were supported by CNPq graduate fellowships; K.J.T.N., W.A.P. and M.D. were supported by postdoctoral fellowships from CNPq. A.A.S. was supported by postdoctoral fellowships from CAPES; and M.A.C.S. was the recipient of an undergraduate scholarship from CNPq. J.C. is an Investigator of the Howard Hughes Medical Institute.
Ethics declarations
Competing interests
The authors declare no competing financial interests.
Extended data figures and tables
Supplementary information
About this article
Cite this article
Zorzatto, C., Machado, J., Lopes, K. et al. NIK1-mediated translation suppression functions as a plant antiviral immunity mechanism. Nature 520, 679–682 (2015). https://doi.org/10.1038/nature14171
Received:

Accepted:

Published:

Issue Date:

DOI: https://doi.org/10.1038/nature14171
Comments
By submitting a comment you agree to abide by our Terms and Community Guidelines. If you find something abusive or that does not comply with our terms or guidelines please flag it as inappropriate.