Abstract
Haematopoietic stem cells (HSCs) are responsible for the lifelong production of blood cells. The accumulation of DNA damage in HSCs is a hallmark of ageing and is probably a major contributing factor in age-related tissue degeneration and malignant transformation1. A number of accelerated ageing syndromes are associated with defective DNA repair and genomic instability, including the most common inherited bone marrow failure syndrome, Fanconi anaemia2,3. However, the physiological source of DNA damage in HSCs from both normal and diseased individuals remains unclear. Here we show in mice that DNA damage is a direct consequence of inducing HSCs to exit their homeostatic quiescent state in response to conditions that model physiological stress, such as infection or chronic blood loss. Repeated activation of HSCs out of their dormant state provoked the attrition of normal HSCs and, in the case of mice with a non-functional Fanconi anaemia DNA repair pathway, led to a complete collapse of the haematopoietic system, which phenocopied the highly penetrant bone marrow failure seen in Fanconi anaemia patients. Our findings establish a novel link between physiological stress and DNA damage in normal HSCs and provide a mechanistic explanation for the universal accumulation of DNA damage in HSCs during ageing and the accelerated failure of the haematopoietic system in Fanconi anaemia patients.
Access options
Subscribe to Journal
Get full journal access for 1 year
$199.00
only $3.90 per issue
All prices are NET prices.
VAT will be added later in the checkout.
Tax calculation will be finalised during checkout.
Rent or Buy article
Get time limited or full article access on ReadCube.
from$8.99
All prices are NET prices.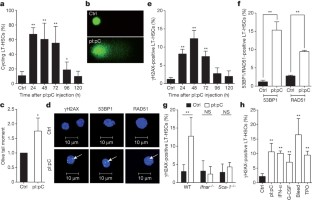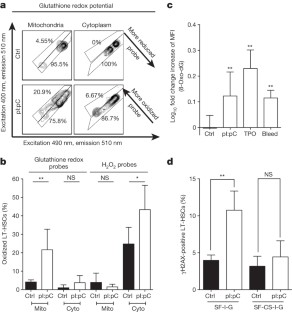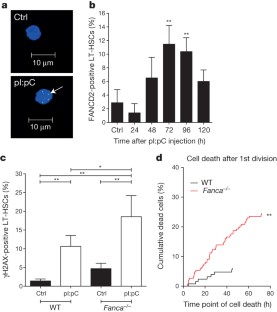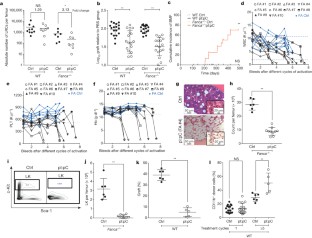 References
1

Rossi, D. J., Jamieson, C. H. & Weissman, I. L. Stems cells and the pathways to aging and cancer. Cell 132, 681–696 (2008)

2

Garaycoechea, J. I. & Patel, K. J. Why does the bone marrow fail in Fanconi anemia? Blood 123, 26–34 (2014)

3

Garinis, G. A., van der Horst, G. T., Vijg, J. & Hoeijmakers, J. H. DNA damage and ageing: new-age ideas for an age-old problem. Nature Cell Biol. 10, 1241–1247 (2008)

4

Essers, M. A. et al. IFNα activates dormant haematopoietic stem cells in vivo. Nature 458, 904–908 (2009)

5

Flach, J. et al. Replication stress is a potent driver of functional decline in ageing haematopoietic stem cells. Nature 512, 198–202 (2014)

6

Cheshier, S. H., Prohaska, S. S. & Weissman, I. L. The effect of bleeding on hematopoietic stem cell cycling and self-renewal. Stem Cells Dev. 16, 707–718 (2007)

7

Wright, D. E. et al. Cyclophosphamide/granulocyte colony-stimulating factor causes selective mobilization of bone marrow hematopoietic stem cells into the blood after M phase of the cell cycle. Blood 97, 2278–2285 (2001)

8

Yoshihara, H. et al. Thrombopoietin/MPL signaling regulates hematopoietic stem cell quiescence and interaction with the osteoblastic niche. Cell Stem Cell 1, 685–697 (2007)

9

Simsek, T. et al. The distinct metabolic profile of hematopoietic stem cells reflects their location in a hypoxic niche. Cell Stem Cell 7, 380–390 (2010)

10

Takubo, K. et al. Regulation of glycolysis by Pdk functions as a metabolic checkpoint for cell cycle quiescence in hematopoietic stem cells. Cell Stem Cell 12, 49–61 (2013)

11

Gutscher, M. et al. Real-time imaging of the intracellular glutathione redox potential. Nature Methods 5, 553–559 (2008)

12

Gutscher, M. et al. Proximity-based protein thiol oxidation by H2O2-scavenging peroxidases. J. Biol. Chem. 284, 31532–31540 (2009)

13

Geiselhart, A., Lier, A., Walter, D. & Milsom, M. D. Disrupted signaling through the Fanconi anemia pathway leads to dysfunctional hematopoietic stem cell biology: underlying mechanisms and potential therapeutic strategies. Anemia 2012, 265790 (2012)

14

Haneline, L. S. et al. Multiple inhibitory cytokines induce deregulated progenitor growth and apoptosis in hematopoietic cells from Fac−/− mice. Blood 91, 4092–4098 (1998)

15

Whitney, M. A. et al. Germ cell defects and hematopoietic hypersensitivity to gamma-interferon in mice with a targeted disruption of the Fanconi anemia C gene. Blood 88, 49–58 (1996)

16

Thalheimer, F. B. et al. Cytokine-regulated GADD45G induces differentiation and lineage selection in hematopoietic stem cells. Stem Cell Reports 3, 34–43 (2014)

17

Rieger, M. A., Hoppe, P. S., Smejkal, B. M., Eitelhuber, A. C. & Schroeder, T. Hematopoietic cytokines can instruct lineage choice. Science 325, 217–218 (2009)

18

Beerman, I., Seita, J., Inlay, M. A., Weissman, I. L. & Rossi, D. J. Quiescent hematopoietic stem cells accumulate DNA damage during aging that is repaired upon entry into cell cycle. Cell Stem Cell 15, 37–50 (2014)

19

Kutler, D. I. et al. A 20-year perspective on the International Fanconi Anemia Registry (IFAR). Blood 101, 1249–1256 (2003)

20

Young, N. S. Pathophysiologic mechanisms in acquired aplastic anemia. Hematology Am. Soc. Hematol. Educ. Program 2006, 72–77 (2006)

21

Bockamp, E. et al. Tetracycline-controlled transgenic targeting from the SCL locus directs conditional expression to erythrocytes, megakaryocytes, granulocytes, and c-kit-expressing lineage-negative hematopoietic cells. Blood 108, 1533–1541 (2006)

22

Müller, U. et al. Functional role of type I and type II interferons in antiviral defense. Science 264, 1918–1921 (1994)

23

Stanford, W. L. et al. Altered proliferative response by T lymphocytes of Ly-6A (Sca-1) null mice. J. Exp. Med. 186, 705–717 (1997)

24

Tumbar, T. et al. Defining the epithelial stem cell niche in skin. Science 303, 359–363 (2004)

25

Wong, J. C. et al. Targeted disruption of exons 1 to 6 of the Fanconi anemia group A gene leads to growth retardation, strain-specific microphthalmia, meiotic defects and primordial germ cell hypoplasia. Hum. Mol. Genet. 12, 2063–2076 (2003)

26

Wilson, A. et al. Hematopoietic stem cells reversibly switch from dormancy to self-renewal during homeostasis and repair. Cell 135, 1118–1129 (2008)

27

Milsom, M. D. et al. Ectopic HOXB4 overcomes the inhibitory effect of tumor necrosis factor-α on Fanconi anemia hematopoietic stem and progenitor cells. Blood 113, 5111–5120 (2009)

28

Meyer, A. J. & Dick, T. P. Fluorescent protein-based redox probes. Antioxid. Redox Signal. 13, 621–650 (2010)

29

Morgan, B., Sobotta, M. C. & Dick, T. P. Measuring EGSH and H2O2 with roGFP2-based redox probes. Free Radic. Biol. Med. 51, 1943–1951 (2011)

30

Schmezer, P. et al. Rapid screening assay for mutagen sensitivity and DNA repair capacity in human peripheral blood lymphocytes. Mutagenesis 16, 25–30 (2001)

31

Greve, B. et al. Evaluation of different biomarkers to predict individual radiosensitivity in an inter-laboratory comparison—lessons for future studies. PLoS ONE 7, e47185 (2012)

32

Schunck, C., Johannes, T., Varga, D., Lorch, T. & Plesch, A. New developments in automated cytogenetic imaging: unattended scoring of dicentric chromosomes, micronuclei, single cell gel electrophoresis, and fluorescence signals. Cytogenet. Genome Res. 104, 383–389 (2004)
Acknowledgements
We thank R. Gliniorz, S. Blaszkiewicz, V. Vogel and B. Schoell for technical assistance, B. Walter for help with figures and S. Fröhling, M. Sprick and T. Oskarsson for critical proofreading of this manuscript. We also acknowledge support from the Animal Laboratory Services Deutsches Krebsforschungszentrum (DKFZ) core facility and S. Schmitt, A. Atzberger, J. Hartwig and K. Hexel from the Imaging and Cytometry DKFZ core facility. We are grateful to K. J. Patel for anti-mouse FANCD2 antibody and T. Southgate for the SF-CS-I-G retroviral vector. D.W., A.L., M.A.G.E., A.T. and M.D.M. were supported by the BioRN Leading-Edge Cluster "Cell-Based and Molecular Medicine" funded by the German Federal Ministry of Education and Research, and the Dietmar Hopp Foundation. M.A.R. was supported by the LOEWE Center for Cell and Gene Therapy Frankfurt, Hessisches Ministerium für Wissenschaft und Kunst (III L 4- 518/17.004 (2014)). A.T. and M.A.G.E. were also supported by the SFB873 funded by the Deutsche Forschungsgemeinschaft. A.G. and P.K. are funded by a fellowship from the Helmholtz International Graduate School and S.W.L. received support from the Leukemia Foundation of Australia, Cure Cancer Australia Foundation and the National Health and Medical Research Foundation of Australia.
Ethics declarations
Competing interests
The authors declare no competing financial interests.
Extended data figures and tables
Supplementary information
Individual tracked cells are numbered 1-7, with 1 being the parent LT-HSC, 2 and 3 being the second generation progeny and 4-7 being the third generation progeny. Time in culture is indicated in days, hours, minutes and seconds. (MP4 8578 kb)
Individual tracked cells are numbered 1-3, with 1 being the parent LT-HSC and 2 and 3 being the second generation progeny. Time in culture is indicated in days, hours, minutes and seconds. (MP4 8522 kb)
About this article
Cite this article
Walter, D., Lier, A., Geiselhart, A. et al. Exit from dormancy provokes DNA-damage-induced attrition in haematopoietic stem cells. Nature 520, 549–552 (2015). https://doi.org/10.1038/nature14131
Received:

Accepted:

Published:

Issue Date:
Comments
By submitting a comment you agree to abide by our Terms and Community Guidelines. If you find something abusive or that does not comply with our terms or guidelines please flag it as inappropriate.