Abstract
Angiosperms developed floral nectaries that reward pollinating insects1. Although nectar function and composition have been characterized, the mechanism of nectar secretion has remained unclear2. Here we identify SWEET9 as a nectary-specific sugar transporter in three eudicot species: Arabidopsis thaliana, Brassica rapa (extrastaminal nectaries) and Nicotiana attenuata (gynoecial nectaries). We show that SWEET9 is essential for nectar production and can function as an efflux transporter. We also show that sucrose phosphate synthase genes, encoding key enzymes for sucrose biosynthesis, are highly expressed in nectaries and that their expression is also essential for nectar secretion. Together these data are consistent with a model in which sucrose is synthesized in the nectary parenchyma and subsequently secreted into the extracellular space via SWEET9, where sucrose is hydrolysed by an apoplasmic invertase to produce a mixture of sucrose, glucose and fructose. The recruitment of SWEET9 for sucrose export may have been a key innovation, and could have coincided with the evolution of core eudicots and contributed to the evolution of nectar secretion to reward pollinators.
Relevant articles
Open Access articles citing this article.
Xiuting Hua

,

Qiaochu Shen

…

Jisen Zhang

BMC Plant Biology Open Access 22 July 2022

Yongxia Zhang

,

Guo-Qiang Zhang

…

Zhong-Jian Liu

Horticulture Research Open Access 01 September 2021

Xinsheng Zhang

,

Chaoyang Feng

…

Jing Jiang

Horticulture Research Open Access 01 August 2021
Access options
Subscribe to Journal
Get full journal access for 1 year
$199.00
only $3.90 per issue
All prices are NET prices.
VAT will be added later in the checkout.
Tax calculation will be finalised during checkout.
Buy article
Get time limited or full article access on ReadCube.
$32.00
All prices are NET prices.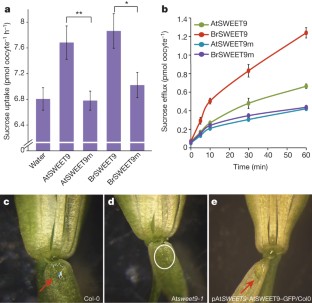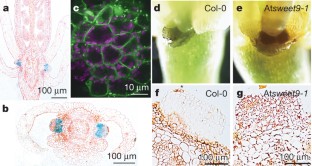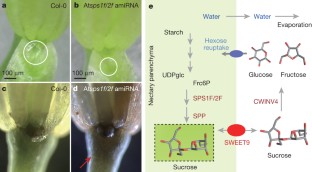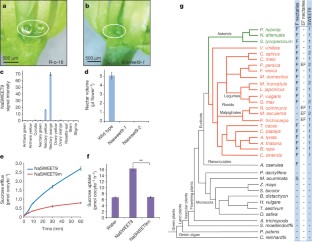 References
Sargent, R. D. Floral symmetry affects speciation rates in angiosperms. Proc. R. Soc. Lond. B 271, 603–608 (2004)

Nicolson, S. W., Nepi, M. & Pacini, E. Nectaries and Nectar (Springer, 2007)

Kay, K. M. et al. Floral Characters and Species Diversification (Oxford Univ. Press, 2006)

Friedman, W. E. The meaning of Darwin's 'abominable mystery'. Am. J. Bot. 96, 5–21 (2009)

De la Barrera, E. & Nobel, P. S. Nectar: properties, floral aspects, and speculations on origin. Trends Plant Sci. 9, 65–69 (2004)

Kessler, D., Gase, K. & Baldwin, I. T. Field experiments with transformed plants reveal the sense of floral scents. Science 321, 1200–1202 (2008)

Kessler, D. et al. Unpredictability of nectar nicotine promotes outcrossing by hummingbirds in Nicotiana attenuata. Plant J. 71, 529–538 (2012)

Sime, K. R. & Baldwin, I. T. Opportunistic out-crossing in Nicotiana attenuata (Solanaceae), a predominantly self-fertilizing native tobacco. BMC Ecol. 3, 6 (2003)

Davis, A. R., Pylatuik, J. D., Paradis, J. C. & Low, N. H. Nectar-carbohydrate production and composition vary in relation to nectary anatomy and location within individual flowers of several species of Brassicaceae. Planta 205, 305–318 (1998)

Isokawa, S. et al. Novel self-compatible lines of Brassica rapa L. isolated from the Japanese bulk-populations. Genes Genet. Syst. 85, 87–96 (2010)

Huang, M. et al. The major volatile organic compound emitted from Arabidopsis thaliana flowers, the sesquiterpene (E)-β-caryophyllene, is a defense against a bacterial pathogen. New Phytol. 193, 997–1008 (2012)

Kram, B. W. & Carter, C. J. Arabidopsis thaliana as a model for functional nectary analysis. Sex. Plant Reprod. 22, 235–246 (2009)

Hoffmann, M. H. et al. Flower visitors in a natural population of Arabidopsis thaliana. Plant Biol. 5, 491–494 (2003)

Chen, L. Q. et al. Sugar transporters for intercellular exchange and nutrition of pathogens. Nature 468, 527–532 (2010)

Chen, L. Q. et al. Sucrose efflux mediated by SWEET proteins as a key step for phloem transport. Science 335, 207–211 (2012)

Ge, Y. X. et al. NEC1, a novel gene, highly expressed in nectary tissue of Petunia hybrida. Plant J. 24, 725–734 (2000)

Kram, B. W., Xu, W. W. & Carter, C. J. Uncovering the Arabidopsis thaliana nectary transcriptome: investigation of differential gene expression in floral nectariferous tissues. BMC Plant Biol. 9, 92 (2009)

Ren, G. et al. Transient starch metabolism in ornamental tobacco floral nectaries regulates nectar composition and release. Plant Sci. 173, 277–290 (2007)

Langenberger, M. W. & Davis, A. R. Temporal changes in floral nectar production, reabsorption, and composition associated with dichogamy in annual caraway (Carum carvi; Apiaceae). Am. J. Bot. 89, 1588–1598 (2002)

Fahn, A. Structure and function of secretory cells. Adv. Bot. Res. 31, 37–75 (2000)

Gomord, V. et al. The C-terminal HDEL sequence is sufficient for retention of secretory proteins in the endoplasmic reticulum (ER) but promotes vacuolar targeting of proteins that escape the ER. Plant J. 11, 313–325 (1997)

Ruhlmann, J. M., Kram, B. W. & Carter, C. J. CELL WALL INVERTASE 4 is required for nectar production in Arabidopsis. J. Exp. Bot. 61, 395–404 (2010)

Johnson, S. D., Hobbhahn, N. & Bytebier, B. Ancestral deceit and labile evolution of nectar production in the African orchid genus Disa. Biol. Lett. 9, 20130500 (2013)

Bell, C. D., Soltis, D. E. & Soltis, P. S. The age and diversification of the angiosperms re-revisited. Am. J. Bot. 97, 1296–1303 (2010)

Fior, S. et al. Spatiotemporal reconstruction of the Aquilegia rapid radiation through next-generation sequencing of rapidly evolving cpDNA regions. New Phytol. 198, 579–592 (2013)

Lee, J. Y. et al. Recruitment of CRABS CLAW to promote nectary development within the eudicot clade. Development 132, 5021–5032 (2005)

Rizzardo, R. A., Milfont, M. O., Silva, E. M. & Freitas, B. M. Apis mellifera pollination improves agronomic productivity of anemophilous castor bean (Ricinus communis). An. Acad. Bras. Cienc. 84, 1137–1145 (2012)

Escalante-Pérez, M. et al. Poplar extrafloral nectaries: two types, two strategies of indirect defenses against herbivores. Plant Physiol. 159, 1176–1191 (2012)

Heil, M., Rattke, J. & Boland, W. Postsecretory hydrolysis of nectar sucrose and specialization in ant/plant mutualism. Science 308, 560–563 (2005)

Hou, B. H. et al. Optical sensors for monitoring dynamic changes of intracellular metabolite levels in mammalian cells. Nature Protocols 6, 1818–1833 (2011)

Kasaras, A. & Kunze, R. Expression, localisation and phylogeny of a novel family of plant-specific membrane proteins. Plant Biol (Stuttg) 12 (suppl. 1). 140–152 (2010)

Nakamura, S. et al. Gateway binary vectors with the bialaphos resistance gene, bar, as a selection marker for plant transformation. Biosci. Biotechnol. Biochem. 74, 1315–1319 (2010)

Gase, K., Weinhold, A., Bozorov, T., Schuck, S. & Baldwin, I. T. Efficient screening of transgenic plant lines for ecological research. Mol. Ecol. Resour. 11, 890–902 (2011)

Chernova, M. N. et al. Electrogenic sulfate/chloride exchange in Xenopus oocytes mediated by murine AE1 E699Q. J. Gen. Physiol. 109, 345–360 (1997)

Davis, A. M., Hall, A., Millar, A. J., Darrah, C. & Davis, S. J. Protocol: Streamlined sub-protocols for floral-dip transformation and selection of transformants in Arabidopsis thaliana. Plant Methods 5, 3 (2009)

Hampton, M. et al. Identification of differential gene expression in Brassica rapa nectaries through expressed sequence tag analysis. PLoS ONE 5, e8782 (2010)

Krügel, T., Lim, M., Gase, K., Halitschke, R. & Baldwin, I. T. Agrobacterium-mediated transformation of Nicotiana attenuata, a model ecological expression system. Chemoecology 12, 177–183 (2002)

Bender, R. L. et al. PIN6 is required for nectary auxin response and short stamen development. Plant J. 74, 893–904 (2013)

Stephenson, P. et al. A rich TILLING resource for studying gene function in Brassica rapa. BMC Plant Biol. 10, 62 (2010)

Ossowski, S., Schwab, R. & Weigel, D. Gene silencing in plants using artificial microRNAs and other small RNAs. Plant J. 53, 674–690 (2008)

Bender, R. et al. Functional genomics of nectar production in the Brassicaceae. Flora 207, 491–496 (2012)

Bauby, H., Divol, F., Truernit, E., Grandjean, O. & Palauqui, J. C. Protophloem differentiation in early Arabidopsis thaliana development. Plant Cell Physiol. 48, 97–109 (2007)

Gallagher, S. R. GUS protocols: using the GUS gene as a reporter of gene expression. (Academic Press, 1992)

Bleckmann, A., Weidtkamp-Peters, S., Seidel, C. A. & Simon, R. Stem cell signaling in Arabidopsis requires CRN to localize CLV2 to the plasma membrane. Plant Physiol. 152, 166–176 (2010)

Jones, D. T., Taylor, W. R. & Thornton, J. M. The rapid generation of mutation data matrices from protein sequences. Computer applications in the biosciences. CABIOS 8, 275–282 (1992)

Smyth, D. R., Bowman, J. L. & Meyerowitz, E. M. Early flower development in Arabidopsis. Plant Cell 2, 755–767 (1990)

Benedito, V. A. et al. A gene expression atlas of the model legume Medicago truncatula. Plant J. 55, 504–513 (2008)
Acknowledgements
We are grateful to D. Ehrhardt, H. Cartwright, J. Lindeboom, K. Barton and T. Liu for help with confocal and scanning electron microscopy. We thank D. Ehrhardt for providing specific endomembrane markers and M. Jia for conducting nectar sugar assays. We thank J. Danielson for help with phylogenetic analyses. This work was made possible by support from the Division of Chemical Sciences, Geosciences and Biosciences, Office of Basic Energy Sciences at the US Department of Energy under grant number DE-FG02-04ER15542 to W.B.F. I.W.L. was supported by the fellowship of Department of Biology, Stanford University and Carnegie. X.-Q.Q. was supported by the Carnegie Institution and Scholarship Program of the Chinese Scholarship Council (2009635108). C.J.C.'s work was supported by a grant from the US National Science Foundation (#0820730). I.T.B. was supported by European Research Council advanced grant ClockworkGreen (293926) and the Max Planck Gesellschaft, and thanks C. Diezel for technical assistance.
Ethics declarations
Competing interests
The authors declare no competing financial interests.
Extended data figures and tables
Supplementary information
About this article
Cite this article
Lin, I., Sosso, D., Chen, LQ. et al. Nectar secretion requires sucrose phosphate synthases and the sugar transporter SWEET9. Nature 508, 546–549 (2014). https://doi.org/10.1038/nature13082
Received:

Accepted:

Published:

Issue Date:

DOI: https://doi.org/10.1038/nature13082
Comments
By submitting a comment you agree to abide by our Terms and Community Guidelines. If you find something abusive or that does not comply with our terms or guidelines please flag it as inappropriate.