Abstract
There are no clinically relevant treatments available that improve function in the growing population of very preterm infants (less than 32 weeks' gestation) with neonatal brain injury. Diffuse white matter injury (DWMI) is a common finding in these children and results in chronic neurodevelopmental impairments1,2. As shown recently, failure in oligodendrocyte progenitor cell maturation contributes to DWMI3. We demonstrated previously that the epidermal growth factor receptor (EGFR) has an important role in oligodendrocyte development4. Here we examine whether enhanced EGFR signalling stimulates the endogenous response of EGFR-expressing progenitor cells during a critical period after brain injury, and promotes cellular and behavioural recovery in the developing brain. Using an established mouse model of very preterm brain injury, we demonstrate that selective overexpression of human EGFR in oligodendrocyte lineage cells or the administration of intranasal heparin-binding EGF immediately after injury decreases oligodendroglia death, enhances generation of new oligodendrocytes from progenitor cells and promotes functional recovery. Furthermore, these interventions diminish ultrastructural abnormalities and alleviate behavioural deficits on white-matter-specific paradigms. Inhibition of EGFR signalling with a molecularly targeted agent used for cancer therapy demonstrates that EGFR activation is an important contributor to oligodendrocyte regeneration and functional recovery after DWMI. Thus, our study provides direct evidence that targeting EGFR in oligodendrocyte progenitor cells at a specific time after injury is clinically feasible and potentially applicable to the treatment of premature children with white matter injury.
Your institute does not have access to this article
Relevant articles
Open Access articles citing this article.
Xinyu Liu

,

Conghui Li

…

Junlin Yang

Molecular Medicine Open Access 04 May 2022

Cellular and Molecular Neurobiology Open Access 05 November 2020

Thomas A. Forbes

,

Evan Z. Goldstein

…

Vittorio Gallo

Nature Communications Open Access 19 February 2020
Access options
Subscribe to Journal
Get full journal access for 1 year
$199.00
only $3.90 per issue
All prices are NET prices.
VAT will be added later in the checkout.
Tax calculation will be finalised during checkout.
Buy article
Get time limited or full article access on ReadCube.
$32.00
All prices are NET prices.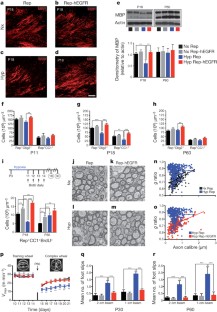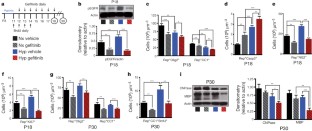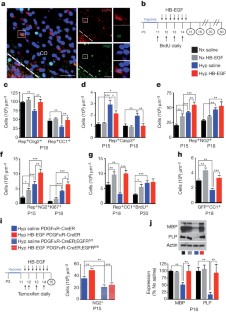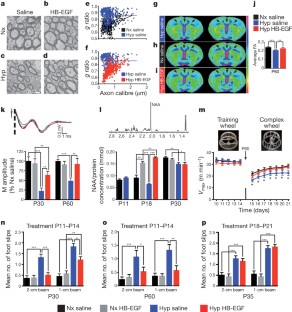 References
Ment, L. R., Hirtz, D. & Huppi, P. S. Imaging biomarkers of outcome in the developing preterm brain. Lancet Neurol. 8, 1042–1055 (2009)

Woodward, L. J., Anderson, P. J., Austin, N. C., Howard, K. & Inder, T. E. Neonatal MRI to predict neurodevelopmental outcomes in preterm infants. N. Engl. J. Med. 355, 685–694 (2006)

Buser, J. R. et al. Arrested preoligodendrocyte maturation contributes to myelination failure in premature infants. Ann. Neurol. 71, 93–109 (2012)

Aguirre, A., Dupree, J. L., Mangin, J. M. & Gallo, V. A functional role for EGFR signaling in myelination and remyelination. Nature Neurosci. 10, 990–1002 (2007)

Anjari, M. et al. The association of lung disease with cerebral white matter abnormalities in preterm infants. Pediatrics 124, 268–276 (2009)

Skranes, J. et al. Clinical findings and white matter abnormalities seen on diffusion tensor imaging in adolescents with very low birth weight. Brain 130, 654–666 (2007)

Scafidi, J., Fagel, D. M., Ment, L. R. & Vaccarino, F. M. Modeling premature brain injury and recovery. Int. J. Dev. Neurosci. 27, 863–871 (2009)

Silbereis, J. C., Huang, E. J., Back, S. A. & Rowitch, D. H. Towards improved animal models of neonatal white matter injury associated with cerebral palsy. Dis. Model. Mech. 3, 678–688 (2010)

Back, S. A. et al. Late oligodendrocyte progenitors coincide with the developmental window of vulnerability for human perinatal white matter injury. J. Neurosci. 21, 1302–1312 (2001)

Ivkovic, S., Canoll, P. & Goldman, J. E. Constitutive EGFR signaling in oligodendrocyte progenitors leads to diffuse hyperplasia in postnatal white matter. J. Neurosci. 28, 914–922 (2008)

Aguirre, A., Rubio, M. E. & Gallo, V. Notch and EGFR pathway interaction regulates neural stem cell number and self-renewal. Nature 467, 323–327 (2010)

Yuan, X. et al. Expression of the green fluorescent protein in the oligodendrocyte lineage: a transgenic mouse for developmental and physiological studies. J. Neurosci. Res. 70, 529–545 (2002)

Aguirre, A., Rizvi, T. A., Ratner, N. & Gallo, V. Overexpression of the epidermal growth factor receptor confers migratory properties to nonmigratory postnatal neural progenitors. J. Neurosci. 25, 11092–11106 (2005)

Hibbits, N., Pannu, R., John Wu, T. & Armstrong, R. C. Cuprizone demyelination of the corpus callosum in mice correlates with altered social interaction and impaired bilateral sensorimotor coordination. ASN Neuro 1, e00013 (2009)

Liebetanz, D. & Merkler, D. Effects of commissural de- and remyelination on motor skill behaviour in the cuprizone mouse model of multiple sclerosis. Exp. Neurol. 202, 217–224 (2006)

Schalomon, P. M. & Wahlsten, D. Wheel running behavior is impaired by both surgical section and genetic absence of the mouse corpus callosum. Brain Res. Bull. 57, 27–33 (2002)

Brooks, S. P. & Dunnett, S. B. Tests to assess motor phenotype in mice: a user's guide. Nature Rev. Neurosci. 10, 519–529 (2009)

Carter, R. J., Morton, J. & Dunnett, S. B. in Current Protocols in Neuroscience (John Wiley & Sons, 2001)

Heimberger, A. B. et al. Brain tumors in mice are susceptible to blockade of epidermal growth factor receptor (EGFR) with the oral, specific, EGFR-tyrosine kinase inhibitor ZD1839 (Iressa). Clin. Cancer Res. 8, 3496–3502 (2002)

Jin, K. et al. Cerebral neurogenesis is induced by intranasal administration of growth factors. Ann. Neurol. 53, 405–409 (2003)

Illum, L. Transport of drugs from the nasal cavity to the central nervous system. Eur. J. Pharm. Sci. 11, 1–18 (2000)

Dhuria, S. V., Hanson, L. R. & Frey, W. H. Intranasal delivery to the central nervous system: mechanisms and experimental considerations. J. Pharm. Sci. 99, 1654–1673 (2010)

Cantarella, C., Cayre, M., Magalon, K. & Pascale, D. Intranasal HB-EGF administration favors adult SVZ cell mobilization to demyelinated lesions in mouse corpus callosum. Dev. Neurobiol. 68, 223–236 (2008)

Sugiarto, S. et al. Asymmetry-defective oligodendrocyte progenitors are glioma precursors. Cancer Cell 20, 328–340 (2011)

Kang, S. H., Fukaya, M., Yang, J. K., Rothstein, J. D. & Bergles, D. E. NG2+ CNS glial progenitors remain committed to the oligodendrocyte lineage in postnatal life and following neurodegeneration. Neuron 68, 668–681 (2010)

Zhang, Y. et al. Notch1 signaling plays a role in regulating precursor differentiation during CNS remyelination. Proc. Natl Acad. Sci. USA 106, 19162–19167 (2009)

Raymond, M., Li, P., Mangin, J.-M., Huntsman, M. & Gallo, V. Chronic perinatal hypoxia reduces glutamate–aspartate transporter function in astrocytes through the Janus kinase/signal transducer and activator of transcription pathway. J. Neurosci. 31, 17864–17871 (2011)

Bi, B. et al. Cortical glial fibrillary acidic protein-positive cells generate neurons after perinatal hypoxic injury. J. Neurosci. 31, 9205–9221 (2011)

Lee, T.-C. & Threadgill, D. W. Generation and validation of mice carrying a conditional allele of the epidermal growth factor receptor. Genesis 47, 85–92 (2009)

Ment L. R. et al. Change in cognitive function over time in very low-birth-weight infants. J. Am. Med. Assoc. 289, 705–711 (2003)

Ment, L. R. et al. Longitudinal brain volume changes in preterm and term control subjects during late childhood and adolescence. Pediatrics 123, 503–511 (2009)

Jablonska, B. et al. Oligodendrocyte regeneration after neonatal hypoxia requires FoxO1-mediated p27Kip1 expression. J. Neurosci. 32, 14775–14793 (2012)

Mizutani, K. et al. Differential Notch signalling distinguishes neural stem cells from intermediate progenitors. Nature 449, 351–355 (2007)

Born, J. et al. Sniffing neuropeptides: a transnasal approach to the human brain. Nature Neurosci. 5, 514–516 (2002)

Thorne, R. G., Pronk, G. J., Padmanabhan, V. & Frey Ii, W. H. Delivery of insulin-like growth factor-I to the rat brain and spinal cord along olfactory and trigeminal pathways following intranasal administration. Neuroscience 127, 481–496 (2004)

Ross, T. M. et al. Intranasal administration of interferon beta bypasses the blood–brain barrier to target the central nervous system and cervical lymph nodes: a non-invasive treatment strategy for multiple sclerosis. J. Neuroimmunol. 151, 66–77 (2004)

Fletcher, L. et al. Intranasal delivery of erythropoietin plus insulin-like growth factor-I for acute neuroprotection in stroke. J. Neurosurg. 111, 164–170 (2009)

Ishibashi, N. et al. White matter protection in congenital heart surgery. Circulation 125, 859–871 (2012)

Ritter, J. et al. Neonatal hyperoxia exposure disrupts axon–oligodendrocyte integrity in the subcortical white matter. J. Neurosci. 33, 8990–9002 (2013)

Whalen, M. J. et al. Acute plasmalemma permeability and protracted clearance of injured cells after controlled cortical impact in mice. J. Cereb. Blood Flow Metab. 28, 490–505 (2008)

Aguirre, A. & Gallo, V. Postnatal neurogenesis and gliogenesis in the olfactory bulb from NG2-expressing progenitors of the subventricular zone. J. Neurosci. 24, 10530–10541 (2004)

Furusho, M., Dupree, J. L., Nave, K.-A. & Bansal, R. Fibroblast growth factor receptor signaling in oligodendrocytes regulates myelin sheath thickness. J. Neurosci. 32, 6631–6641 (2012)

Zhou, Y.-X., Pannu, R., Le, T. Q. & Armstrong, R. C. Fibroblast growth factor 1 (FGFR1) modulation regulates repair capacity of oligodendrocyte progenitor cells following chronic demyelination. Neurobiol. Dis. 45, 196–205 (2012)

Liu, J. et al. Impaired adult myelination in the prefrontal cortex of socially isolated mice. Nature Neurosci. 15, 1621–1623 (2012)

Duque, A. et al. Neuroanatomical changes in a mouse model of early life neglect. Brain Struct. Funct. 217, 459–472 (2012)

Chahboune, H. et al. Hypoxic injury during neonatal development in murine brain: correlation between in vivo DTI findings and behavioral assessment. Cereb. Cortex 19, 2891–2901 (2009)

Crawford, D. K., Mangiardi, M. & Tiwari-Woodruff, S. K. Assaying the functional effects of demyelination and remyelination: revisiting field potential recordings. J. Neurosci. Methods 182, 25–33 (2009)

Scafidi, S. et al. Metabolism of acetyl-l-carnitine for energy and neurotransmitter synthesis in the immature rat brain. J. Neurochem. 114, 820–831 (2010)
Acknowledgements
We thank J. Dupree for advice on electron microscopy analysis. We thank L.-J. Chew, J. Corbin and J. Liu for comments on the manuscript. We thank M. McKenna for discussion on metabolic studies. We thank D. Bergles for providing the PDGFαR-CreER mice and D. W. Threadgill for the EGFRfl/fl mice. We thank R. Packer for his support. This work was supported by National Institutes of Health grants: K08NS073793 (J.S.); NSADA K12NS052159 (J.S.); K08NS069815 (S.S.); P01 NS062686 (V.G., T.L.H.); R01NS045702 (V.G.); R01NS056427 (V.G.); P30HD040677 (V.G.); R01MH067528 (F.H.); P30 NS05219 (F.H.); R01MH067528 (F.H.); and the Pioneer Award DP1 OD006850 (T.L.H.). The Childhood Brain Tumor Foundation (J.S.) and the National Brain Tumor Society (J.S.) also provided support.
Ethics declarations
Competing interests
The authors declare no competing financial interests.
Extended data figures and tables
About this article
Cite this article
Scafidi, J., Hammond, T., Scafidi, S. et al. Intranasal epidermal growth factor treatment rescues neonatal brain injury. Nature 506, 230–234 (2014). https://doi.org/10.1038/nature12880
Received:

Accepted:

Published:

Issue Date:

DOI: https://doi.org/10.1038/nature12880
Comments
By submitting a comment you agree to abide by our Terms and Community Guidelines. If you find something abusive or that does not comply with our terms or guidelines please flag it as inappropriate.