Abstract
Integrins have a critical role in thrombosis and haemostasis1. Antagonists of the platelet integrin αIIbβ3 are potent anti-thrombotic drugs, but also have the life-threatening adverse effect of causing bleeding2,3. It is therefore desirable to develop new antagonists that do not cause bleeding. Integrins transmit signals bidirectionally4,5. Inside-out signalling activates integrins through a talin-dependent mechanism6,7. Integrin ligation mediates thrombus formation and outside-in signalling8,9, which requires Gα13 and greatly expands thrombi. Here we show that Gα13 and talin bind to mutually exclusive but distinct sites within the integrin β3 cytoplasmic domain in opposing waves. The first talin-binding wave mediates inside-out signalling and also ligand-induced integrin activation, but is not required for outside-in signalling. Integrin ligation induces transient talin dissociation and Gα13 binding to an EXE motif (in which X denotes any residue), which selectively mediates outside-in signalling and platelet spreading. The second talin-binding wave is associated with clot retraction. An EXE-motif-based inhibitor of Gα13–integrin interaction selectively abolishes outside-in signalling without affecting integrin ligation, and suppresses occlusive arterial thrombosis without affecting bleeding time. Thus, we have discovered a new mechanism for the directional switch of integrin signalling and, on the basis of this mechanism, designed a potent new anti-thrombotic drug that does not cause bleeding.
Relevant articles
Open Access articles citing this article.
Peter Simons

,

Derek A. Rinaldi

…

Tione Buranda

Scientific Reports Open Access 14 October 2021

Ni Cheng

,

Yaping Zhang

…

Xiaoping Du

Nature Communications Open Access 27 May 2021

Longsheng Wang

,

Gang Liu

…

Cunji Gao

Journal of Translational Medicine Open Access 10 May 2021
Access options
Subscribe to Journal
Get full journal access for 1 year
$199.00
only $3.90 per issue
All prices are NET prices.
VAT will be added later in the checkout.
Tax calculation will be finalised during checkout.
Buy article
Get time limited or full article access on ReadCube.
$32.00
All prices are NET prices.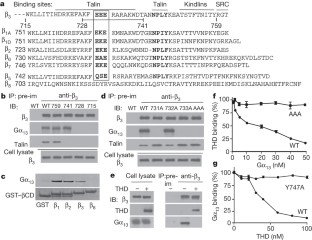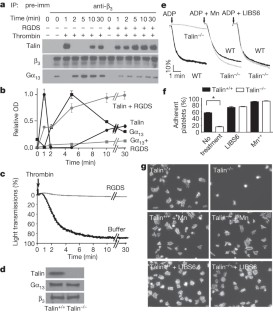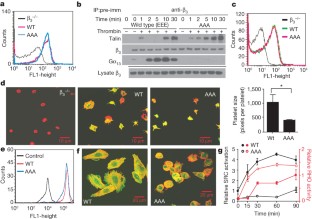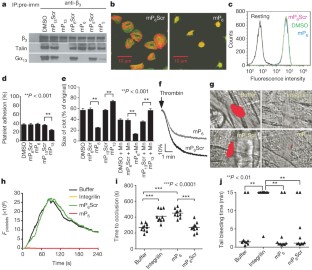 References
Shattil, S. J. & Newman, P. J. Integrins: dynamic scaffolds for adhesion and signaling in platelets. Blood 104, 1606–1615 (2004)

Coller, B. S. Anti-GPIIb/IIIa drugs: current strategies and future directions. Thromb. Haemost. 86, 427–443 (2001)

Serebruany, V. L., Malinin, A. I., Eisert, R. M. & Sane, D. C. Risk of bleeding complications with antiplatelet agents: meta-analysis of 338,191 patients enrolled in 50 randomized controlled trials. Am. J. Hematol. 75, 40–47 (2004)

Hynes, R. O. Integrins: bidirectional, allosteric signaling machines. Cell 110, 673–687 (2002)

Moissoglu, K. & Schwartz, M. A. Integrin signalling in directed cell migration. Biol. Cell 98, 547–555 (2006)

Tadokoro, S. et al. Talin binding to integrin beta tails: a final common step in integrin activation. Science 302, 103–106 (2003)

Ye, F., Kim, C. & Ginsberg, M. H. Molecular mechanism of inside-out integrin regulation. J. Thromb. Haemost. 9 (Suppl. 1). 20–25 (2011)

Gong, H. et al. G protein subunit Gα13 binds to integrin αIIbβ3 and mediates integrin "outside-in" signaling. Science 327, 340–343 (2010)

Shen, B., Delaney, M. K. & Du, X. Inside-out, outside-in, and inside-outside-in: G protein signaling in integrin-mediated cell adhesion, spreading, and retraction. Curr. Opin. Cell Biol. 24, 600–606 (2012)

Moser, M., Nieswandt, B., Ussar, S., Pozgajova, M. & Fassler, R. Kindlin-3 is essential for integrin activation and platelet aggregation. Nature Med. 14, 325–330 (2008)

Ma, Y. Q., Qin, J., Wu, C. & Plow, E. F. Kindlin-2 (Mig-2): a co-activator of β3 integrins. J. Cell Biol. 181, 439–446 (2008)

Obergfell, A. et al. Coordinate interactions of Csk, Src, and Syk kinases with αIIbβ3 initiate integrin signaling to the cytoskeleton. J. Cell Biol. 157, 265–275 (2002)

Flevaris, P. et al. A molecular switch that controls cell spreading and retraction. J. Cell Biol. 179, 553–565 (2007)

Patil, S. et al. Identification of a talin-binding site in the integrin β3 subunit distinct from the NPLY regulatory motif of post-ligand binding functions. The talin N-terminal head domain interacts with the membrane-proximal region of the β3 cytoplasmic tail. J. Biol. Chem. 274, 28575–28583 (1999)

Wegener, K. L. et al. Structural basis of integrin activation by talin. Cell 128, 171–182 (2007)

Haling, J. R., Monkley, S. J., Critchley, D. R. & Petrich, B. G. Talin-dependent integrin activation is required for fibrin clot retraction by platelets. Blood 117, 1719–1722 (2011)

Petrich, B. G. et al. Talin is required for integrin-mediated platelet function in hemostasis and thrombosis. J. Exp. Med. 204, 3103–3111 (2007)

Coller, B. S. Interaction of normal, thrombasthenic, and Bernard-Soulier platelets with immobilized fibrinogen: defective platelet-fibrinogen interaction in thrombasthenia. Blood 55, 169–178 (1980)

Ugarova, T. P. et al. Conformational changes in fibrinogen elicited by its interaction with platelet membrane glycoprotein GPIIb-IIIa. J. Biol. Chem. 268, 21080–21087 (1993)

Du, X. et al. Ligands "activate" integrin αIIbβ3 (platelet GPIIb-IIIa). Cell 65, 409–416 (1991)

Arias-Salgado, E. G., Lizano, S., Shattil, S. J. & Ginsberg, M. H. Specification of the direction of adhesive signaling by the integrin β cytoplasmic domain. J. Biol. Chem. 280, 29699–29707 (2005)

Goksoy, E. et al. Structural basis for the autoinhibition of talin in regulating integrin activation. Mol. Cell 31, 124–133 (2008)

Xi, X., Bodnar, R. J., Li, Z. Y., Lam, S. C. T. & Du, X. P. Critical roles for the COOH-terminal NITY and RGT sequences of the integrin β3 cytoplasmic domain in inside-out and outside-in signaling. J. Cell Biol. 162, 329–339 (2003)

Krishnadas, A., Rubinstein, I. & Onyuksel, H. Sterically stabilized phospholipid mixed micelles: in vitro evaluation as a novel carrier for water-insoluble drugs. Pharm. Res. 20, 297–302 (2003)

O'Brien, K. A., Gartner, T. K., Hay, N. & Du, X. ADP-stimulated activation of Akt during integrin outside-in signaling promotes platelet spreading by inhibiting glycogen synthase kinase-3β. Arterioscler. Thromb. Vasc. Biol. 32, 2232–2240 (2012)

Delaney, M. K., Liu, J., Zheng, Y., Berndt, M. C. & Du, X. The role of Rac1 in glycoprotein Ib-IX-mediated signal transduction and integrin activation. Arterioscler. Thromb. Vasc. Biol. 32, 2761–2768 (2012)

Cho, J. et al. Protein disulfide isomerase capture during thrombus formation in vivo depends on the presence of β3 integrins. Blood 120, 647–655 (2012)

O'Brien, K. A., Stojanovic-Terpo, A., Hay, N. & Du, X. An important role for Akt3 in platelet activation and thrombosis. Blood 118, 4215–4223 (2011)

Marjanovic, J. A., Li, Z., Stojanovic, A. & Du, X. Stimulatory roles of nitric-oxide synthase 3 and guanylyl cyclase in platelet activation. J. Biol. Chem. 280, 37430–37438 (2005)

Nimura, N., Kinoshita, T., Yoshida, T., Uetake, A. & Nakai, C. 1-Pyrenyldiazomethane as a fluorescent labeling reagent for liquid chromatographic determination of carboxylic acids. Anal. Chem. 60, 2067–2070 (1988)
Acknowledgements
We thank T. Kozasa, B. Kreutz and C. Chow for providing purified recombinant Gα13 protein; and B. Petrich and D. Critchley for providing talin−/− mice. We acknowledge that H. Gong performed experiments for this project. This work is supported by grants from National Heart, Lung, and Blood Institute (HL080264, HL062350 (X.D.) and HL109439 (J.C.)).
Ethics declarations
Competing interests
X.D. holds pending patents on the EXE-motif-containing peptide inhibitors.
Extended data figures and tables
Supplementary information
About this article
Cite this article
Shen, B., Zhao, X., O'Brien, K. et al. A directional switch of integrin signalling and a new anti-thrombotic strategy. Nature 503, 131–135 (2013). https://doi.org/10.1038/nature12613
Received:

Accepted:

Published:

Issue Date:

DOI: https://doi.org/10.1038/nature12613
Comments
By submitting a comment you agree to abide by our Terms and Community Guidelines. If you find something abusive or that does not comply with our terms or guidelines please flag it as inappropriate.