Abstract
The recognition of autophagy related 16-like 1 (ATG16L1) as a genetic risk factor has exposed the critical role of autophagy in Crohn's disease1. Homozygosity for the highly prevalent ATG16L1 risk allele, or murine hypomorphic (HM) activity, causes Paneth cell dysfunction2,3. As Atg16l1HM mice do not develop spontaneous intestinal inflammation, the mechanism(s) by which ATG16L1 contributes to disease remains obscure. Deletion of the unfolded protein response (UPR) transcription factor X-box binding protein-1 (Xbp1) in intestinal epithelial cells, the human orthologue of which harbours rare inflammatory bowel disease risk variants, results in endoplasmic reticulum (ER) stress, Paneth cell impairment and spontaneous enteritis4. Unresolved ER stress is a common feature of inflammatory bowel disease epithelium4,5, and several genetic risk factors of Crohn's disease affect Paneth cells2,4,6,7,8,9. Here we show that impairment in either UPR (Xbp1ΔIEC) or autophagy function (Atg16l1ΔIEC or Atg7ΔIEC) in intestinal epithelial cells results in each other's compensatory engagement, and severe spontaneous Crohn's-disease-like transmural ileitis if both mechanisms are compromised. Xbp1ΔIEC mice show autophagosome formation in hypomorphic Paneth cells, which is linked to ER stress via protein kinase RNA-like endoplasmic reticulum kinase (PERK), elongation initiation factor 2α (eIF2α) and activating transcription factor 4 (ATF4). Ileitis is dependent on commensal microbiota and derives from increased intestinal epithelial cell death, inositol requiring enzyme 1α (IRE1α)-regulated NF-κB activation and tumour-necrosis factor signalling, which are synergistically increased when autophagy is deficient. ATG16L1 restrains IRE1α activity, and augmentation of autophagy in intestinal epithelial cells ameliorates ER stress-induced intestinal inflammation and eases NF-κB overactivation and intestinal epithelial cell death. ER stress, autophagy induction and spontaneous ileitis emerge from Paneth-cell-specific deletion of Xbp1. Genetically and environmentally controlled UPR function within Paneth cells may therefore set the threshold for the development of intestinal inflammation upon hypomorphic ATG16L1 function and implicate ileal Crohn's disease as a specific disorder of Paneth cells.
Relevant articles
Open Access articles citing this article.
Fevronia Kiparissi

,

Antonia Dastamani

…

Kelsey D. J. Jones

Human Genetics Open Access 11 February 2023

Hyunjin Jeong

,

Eun-Hye Hong

…

Hyun-Jeong Ko

Experimental & Molecular Medicine Open Access 09 February 2023

Huipeng Jiao

,

Laurens Wachsmuth

…

Manolis Pasparakis

Nature Open Access 20 July 2022
Access options
Subscribe to this journal
Receive 51 print issues and online access
$199.00 per year
only $3.90 per issue
Rent or buy this article
Get just this article for as long as you need it
$39.95
Prices may be subject to local taxes which are calculated during checkout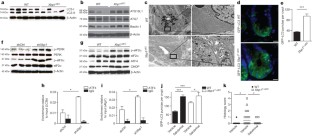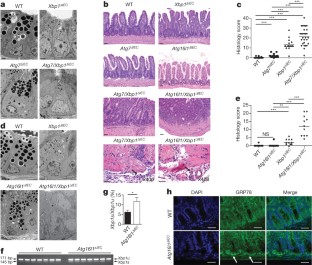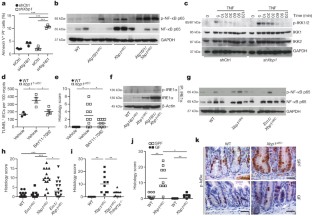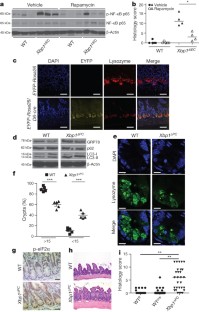 References
Jostins, L. et al. Host–microbe interactions have shaped the genetic architecture of inflammatory bowel disease. Nature 491, 119–124 (2012)

Cadwell, K. et al. A key role for autophagy and the autophagy gene Atg16l1 in mouse and human intestinal Paneth cells. Nature 456, 259–263 (2008)

Cadwell, K. et al. Virus-plus-susceptibility gene interaction determines Crohn's disease gene Atg16L1 phenotypes in intestine. Cell 141, 1135–1145 (2010)

Kaser, A. et al. XBP1 links ER stress to intestinal inflammation and confers genetic risk for human inflammatory bowel disease. Cell 134, 743–756 (2008)

Tréton, X. et al. Altered endoplasmic reticulum stress affects translation in inactive colon tissue from patients with ulcerative colitis. Gastroenterology 141, 1024–1035 (2011)

Kobayashi, K. S. et al. Nod2-dependent regulation of innate and adaptive immunity in the intestinal tract. Science 307, 731–734 (2005)

Zhao, F. et al. Disruption of Paneth and goblet cell homeostasis and increased endoplasmic reticulum stress in Agr2–/– mice. Dev. Biol. 338, 270–279 (2010)

Wehkamp, J. et al. Reduced Paneth cell α-defensins in ileal Crohn's disease. Proc. Natl Acad. Sci. USA 102, 18129–18134 (2005)

Maloy, K. J. & Powrie, F. Intestinal homeostasis and its breakdown in inflammatory bowel disease. Nature 474, 298–306 (2011)

Levine, B., Mizushima, N. & Virgin, H. W. Autophagy in immunity and inflammation. Nature 469, 323–335 (2011)

Sarkar, S., Ravikumar, B. & Rubinsztein, D. C. Autophagic clearance of aggregate-prone proteins associated with neurodegeneration. Methods Enzymol. 453, 83–110 (2009)

Mizushima, N., Yamamoto, A., Matsui, M., Yoshimori, T. & Ohsumi, Y. In vivo analysis of autophagy in response to nutrient starvation using transgenic mice expressing a fluorescent autophagosome marker. Mol. Biol. Cell 15, 1101–1111 (2004)

Rouschop, K. M. et al. The unfolded protein response protects human tumor cells during hypoxia through regulation of the autophagy genes MAP1LC3B and ATG5. J. Clin. Invest. 120, 127–141 (2010)

Komatsu, M. et al. Impairment of starvation-induced and constitutive autophagy in Atg7-deficient mice. J. Cell Biol. 169, 425–434 (2005)

Boyce, M. et al. A selective inhibitor of eIF2α dephosphorylation protects cells from ER stress. Science 307, 935–939 (2005)

Novoa, I. et al. Stress-induced gene expression requires programmed recovery from translational repression. EMBO J. 22, 1180–1187 (2003)

Hampe, J. et al. A genome-wide association scan of nonsynonymous SNPs identifies a susceptibility variant for Crohn disease in ATG16L1. Nature Genet. 39, 207–211 (2007)

Cleynen, I. et al. Genetic factors conferring an increased susceptibility to develop Crohn's disease also influence disease phenotype: results from the IBDchip European Project. Gut http://dx.doi.org/10.1136/gutjnl-2011-300777 (2012)

Fujita, N. et al. The Atg16L complex specifies the site of LC3 lipidation for membrane biogenesis in autophagy. Mol. Biol. Cell 19, 2092–2100 (2008)

Mizushima, N. et al. Mouse Apg16L, a novel WD-repeat protein, targets to the autophagic isolation membrane with the Apg12-Apg5 conjugate. J. Cell Sci. 116, 1679–1688 (2003)

Fujita, N. et al. Differential involvement of Atg16L1 in Crohn disease and canonical autophagy: analysis of the organization of the Atg16L1 complex in fibroblasts. J. Biol. Chem. 284, 32602–32609 (2009)

Yang, L., Li, P., Fu, S., Calay, E. S. & Hotamisligil, G. S. Defective hepatic autophagy in obesity promotes ER stress and causes insulin resistance. Cell Metab. 11, 467–478 (2010)

Bertolotti, A. et al. Increased sensitivity to dextran sodium sulfate colitis in IRE1β-deficient mice. J. Clin. Invest. 107, 585–593 (2001)

Cao, S. S. et al. The unfolded protein response and chemical chaperones reduce protein misfolding and colitis in mice. Gastroenterology 144, 989–1000 (2013)

Kaser, A., Zeissig, S. & Blumberg, R. S. Inflammatory bowel disease. Annu. Rev. Immunol. 28, 573–621 (2010)

Rogler, G. et al. Nuclear factor κB is activated in macrophages and epithelial cells of inflamed intestinal mucosa. Gastroenterology 115, 357–369 (1998)

Kaneko, M., Niinuma, Y. & Nomura, Y. Activation signal of nuclear factor-κB in response to endoplasmic reticulum stress is transduced via IRE1 and tumor necrosis factor receptor-associated factor 2. Biol. Pharm. Bull. 26, 931–935 (2003)

Vaishnava, S., Behrendt, C. L., Ismail, A. S., Eckmann, L. & Hooper, L. V. Paneth cells directly sense gut commensals and maintain homeostasis at the intestinal host-microbial interface. Proc. Natl Acad. Sci. USA 105, 20858–20863 (2008)

Kuballa, P., Huett, A., Rioux, J. D., Daly, M. J. & Xavier, R. J. Impaired autophagy of an intracellular pathogen induced by a Crohn's disease associated ATG16L1 variant. PLoS ONE 3, e3391 (2008)

Deuring, J. J. et al. Genomic ATG16L1 risk allele-restricted Paneth cell ER stress in quiescent Crohn's disease. Gut http://dx.doi.org/10.1136/gutjnl-2012-303527 (2013)

Madison, B. B. et al. Cis elements of the villin gene control expression in restricted domains of the vertical (crypt) and horizontal (duodenum, cecum) axes of the intestine. J. Biol. Chem. 277, 33275–33283 (2002)

Shimshek, D. R. et al. Codon-improved Cre recombinase (iCre) expression in the mouse. Genesis 32, 19–26 (2002)

Garabedian, E. M., Roberts, L. J., McNevin, M. S. & Gordon, J. I. Examining the role of Paneth cells in the small intestine by lineage ablation in transgenic mice. J. Biol. Chem. 272, 23729–23740 (1997)

Bry, L. et al. Paneth cell differentiation in the developing intestine of normal and transgenic mice. Proc. Natl Acad. Sci. USA 91, 10335–10339 (1994)

Srinivas, S. et al. Cre reporter strains produced by targeted insertion of EYFP and ECFP into the ROSA26 locus. BMC Dev. Biol. 1, 4 (2001)

Iwawaki, T., Akai, R., Yamanaka, S. & Kohno, K. Function of IRE1 alpha in the placenta is essential for placental development and embryonic viability. Proc. Natl Acad. Sci. USA 106, 16657–16662 (2009)

Baert, L. et al. Detection of murine norovirus 1 by using plaque assay, transfection assay, and real-time reverse transcription-PCR before and after heat exposure. Appl. Environ. Microbiol. 74, 543–546 (2008)

Pierce, J. W. et al. Novel inhibitors of cytokine-induced IκBα phosphorylation and endothelial cell adhesion molecule expression show anti-inflammatory effects in vivo. J. Biol. Chem. 272, 21096–21103 (1997)

Satoh, Y., Yamano, M., Matsuda, M. & Ono, K. Ultrastructure of Paneth cells in the intestine of various mammals. J. Electron Microsc. Tech. 16, 69–80 (1990)

Vidal, K., Grosjean, I., Revillard, J. P., Gespach, C. & Kaiserlian, D. Immortalization of mouse intestinal epithelial cells by the SV40-large T gene. Phenotypic and immune characterization of the MODE-K cell line. J. Immunol. Methods 166, 63–73 (1993)

Hempel, S. L., Buettner, G. R., O'Malley, Y. Q., Wessels, D. A. & Flaherty, D. M. Dihydrofluorescein diacetate is superior for detecting intracellular oxidants: comparison with 2',7'-dichlorodihydrofluorescein diacetate, 5(and 6)-carboxy-2',7'-dichlorodihydrofluorescein diacetate, and dihydrorhodamine 123. Free Radic. Biol. Med. 27, 146–159 (1999)

Sato, T. et al. Single Lgr5 stem cells build crypt-villus structures in vitro without a mesenchymal niche. Nature 459, 262–265 (2009)

Wei, Y., Sinha, S. & Levine, B. Dual role of JNK1-mediated phosphorylation of Bcl-2 in autophagy and apoptosis regulation. Autophagy 4, 949–951 (2008)

Carchman, E. H., Rao, J., Loughran, P. A., Rosengart, M. R. & Zuckerbraun, B. S. Heme oxygenase-1-mediated autophagy protects against hepatocyte cell death and hepatic injury from infection/sepsis in mice. Hepatology 53, 2053–2062 (2011)

Hu, P., Han, Z., Couvillon, A. D., Kaufman, R. J. & Exton, J. H. Autocrine tumor necrosis factor alpha links endoplasmic reticulum stress to the membrane death receptor pathway through IRE1α-mediated NF-κB activation and down-regulation of TRAF2 expression. Mol. Cell. Biol. 26, 3071–3084 (2006)

Urano, F. et al. Coupling of stress in the ER to activation of JNK protein kinases by transmembrane protein kinase IRE1. Science 287, 664–666 (2000)

Barrett, J. C. et al. Genome-wide association defines more than 30 distinct susceptibility loci for Crohn's disease. Nature Genet. 40, 955–962 (2008)

Tashiro, E. et al. Trierixin, a novel Inhibitor of ER stress-induced XBP1 activation from Streptomyces sp. 1. Taxonomy, fermentation, isolation and biological activities. J. Antibiot. 60, 547–553 (2007)

Rioux, J. D. et al. Genome-wide association study identifies new susceptibility loci for Crohn disease and implicates autophagy in disease pathogenesis. Nature Genet. 39, 596–604 (2007)

Parkes, M. et al. Sequence variants in the autophagy gene IRGM and multiple other replicating loci contribute to Crohn's disease susceptibility. Nature Genet. 39, 830–832 (2007)
Acknowledgements
We thank L. Glimcher, A. Goldberg, J. Yuan, M. Parkes, A. Franke, H. Tilg, M. Pasparakis, K. Vlantis, A.-H. Lee and C. L. Bevins for discussion of the project, are grateful to J. Gordon, L. Hooper and K. Rajewsky for providing critical reagents, and thank O. Will for initial handling of the Atg16l1 colony and help with DSS colitis. A. Kaser began work for this study at the Department of Internal Medicine II, Innsbruck Medical University, A-6020 Innsbruck, Austria. This work was supported by NIH grants DK044319, DK051362, DK053056, DK088199, the Harvard Digestive Diseases Center (HDDC) (DK0034854) (R.S.B.); the European Research Council under the European Community's Seventh Framework Programme (FP7/2007-2013)/ERC Grant agreement no. 260961 (A.K.); the National Institute for Health Research Cambridge Biomedical Research Centre (A.K.); the Austrian Science Fund and Ministry of Science P21530-B18 and START Y446-B18 (A.K.); the Addenbrooke's Charitable Trust (A.K. and L.N.); BMBF NGFN Animal Model grant (P.R.), the DFG Cluster of Excellence Inflammation at Interfaces (S.S. and P.R.); EU SysmedIBD grant (P.R), the Hans-Dietrich Bruhn Memorial Foundation (R.B.); DFG grants RO2994/5-1 (P.R.) and SFB 877 project B9 (P.R. and S.S.); fellowships from Inflammatory Bowel Disease Working Group (M.F.T.), Crohn's and Colitis Foundation of America (M.B.F.), European Crohn's and Colitis Organization (T.E.A.), Crohn's in Childhood Research Association (A.K. and L.N.), National Research Foundation of Korea funded by the Korean government KRF-2008-357-E00022 no. 2011-0009018 (H. -J.K.).
Ethics declarations
Competing interests
The authors declare no competing financial interests.
Extended data figures and tables
Supplementary information
This file contains Supplementary Table 1. (PDF 132 kb)
Three-dimensional linear least square regression analysis for the correlation of enteritis histology score with cell death and age of animals by genotype. Each dot represents a single animal (grey, Wt; yellow, Atg16l1ΔIEC; blue, Xbp1ΔIEC; red, Atg16l1/Xbp1ΔIEC mice) and the plane represents the linear regression for the histological score as a function of age and TUNEL labeling for Atg16l1/Xbp1ΔIEC mice. Note that the severity of inflammation significantly correlates with numbers of TUNEL+ IECs and age in Atg16l1/Xbp1ΔIEC mice (R2=0.602, p=0.016) but not any other genotype (n=6/12/12/12). Regression analysis was performed using the R package lessR (http://cran.r-project.org/web/packages/lessR/index.html), last accessed May 2013. (MP4 2380 kb)
About this article
Cite this article
Adolph, T., Tomczak, M., Niederreiter, L. et al. Paneth cells as a site of origin for intestinal inflammation. Nature 503, 272–276 (2013). https://doi.org/10.1038/nature12599
Received:

Accepted:

Published:

Issue Date:

DOI: https://doi.org/10.1038/nature12599
Comments
By submitting a comment you agree to abide by our Terms and Community Guidelines. If you find something abusive or that does not comply with our terms or guidelines please flag it as inappropriate.