Abstract
Ubiquitin-mediated targeting of intracellular bacteria to the autophagy pathway is a key innate defence mechanism against invading microbes, including the important human pathogen Mycobacterium tuberculosis. However, the ubiquitin ligases responsible for catalysing ubiquitin chains that surround intracellular bacteria are poorly understood. The parkin protein is a ubiquitin ligase with a well-established role in mitophagy, and mutations in the parkin gene (PARK2) lead to increased susceptibility to Parkinson's disease. Surprisingly, genetic polymorphisms in the PARK2 regulatory region are also associated with increased susceptibility to intracellular bacterial pathogens in humans, including Mycobacterium leprae and Salmonella enterica serovar Typhi, but the function of parkin in immunity has remained unexplored. Here we show that parkin has a role in ubiquitin-mediated autophagy of M. tuberculosis. Both parkin-deficient mice and flies are sensitive to various intracellular bacterial infections, indicating parkin has a conserved role in metazoan innate defence. Moreover, our work reveals an unexpected functional link between mitophagy and infectious disease.
This is a preview of subscription content
Access options
Subscribe to Journal
Get full journal access for 1 year
$199.00
only $3.90 per issue
All prices are NET prices.
VAT will be added later in the checkout.
Tax calculation will be finalised during checkout.
Rent or Buy article
Get time limited or full article access on ReadCube.
from$8.99
All prices are NET prices.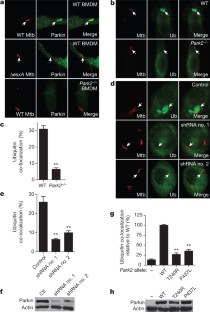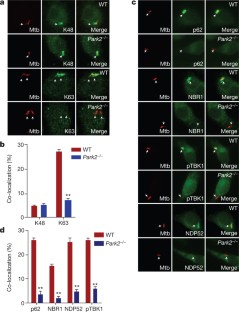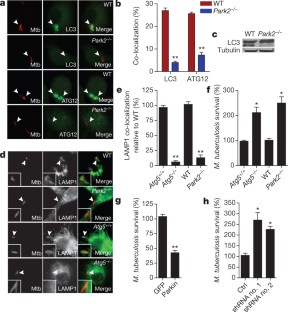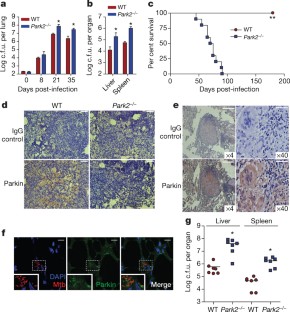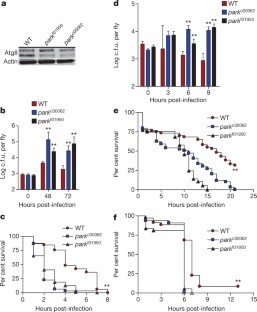 References
1

Zhao, Z. et al. Autophagosome-independent essential function for the autophagy protein Atg5 in cellular immunity to intracellular pathogens. Cell Host Microbe 4, 458–469 (2008)

2

Deretic, V. & Levine, B. Autophagy, immunity, and microbial adaptations. Cell Host Microbe 5, 527–549 (2009)

3

Watson, R. O., Manzanillo, P. S. & Cox, J. S. Extracellular M. tuberculosis DNA targets bacteria for autophagy by activating the host DNA-sensing pathway. Cell 150, 803–815 (2012)

4

Wild, P. et al. Phosphorylation of the autophagy receptor optineurin restricts Salmonella growth. Science 333, 228–233 (2011)

5

Youle, R. J. & Narendra, D. P. Mechanisms of mitophagy. Nature Rev. Mol. Cell Biol. 12, 9–14 (2011)

6

Komatsu, M. et al. Homeostatic levels of p62 control cytoplasmic inclusion body formation in autophagy-deficient mice. Cell 131, 1149–1163 (2007)

7

Geisler, S. et al. PINK1/Parkin-mediated mitophagy is dependent on VDAC1 and p62/SQSTM1. Nature Cell Biol. 12, 119–131 (2010)

8

Pankiv, S. et al. p62/SQSTM1 binds directly to Atg8/LC3 to facilitate degradation of ubiquitinated protein aggregates by autophagy. J. Biol. Chem. 282, 24131–24145 (2007)

9

Chopra, R. et al. Mapping of PARK2 and PACRG overlapping regulatory region reveals LD structure and functional variants in association with leprosy in unrelated Indian population groups. PLoS Genet. 9, e1003578 (2013)

10

Mira, M. T. et al. Susceptibility to leprosy is associated with PARK2 and PACRG. Nature 427, 636–640 (2004)

11

Ali, S. et al. PARK2/PACRG polymorphisms and susceptibility to typhoid and paratyphoid fever. Clin. Exp. Immunol. 144, 425–431 (2006)

12

Romagnoli, A. et al. ESX-1 dependent impairment of autophagic flux by Mycobacterium tuberculosis in human dendritic cells. Autophagy 8, 1357–1370 (2012)

13

Huett, A. et al. The LRR and RING domain protein LRSAM1 is an E3 ligase crucial for ubiquitin-dependent autophagy of intracellular Salmonella Typhimurium. Cell Host Microbe 12, 778–790 (2012)

14

Ponpuak, M. et al. Delivery of cytosolic components by autophagic adaptor protein p62 endows autophagosomes with unique antimicrobial properties. Immunity 32, 329–341 (2010)

15

Martin, I., Dawson, V. L. & Dawson, T. M. Recent advances in the genetics of Parkinson's disease. Annu. Rev. Genomics Hum. Genet. 12, 301–325 (2011)

16

Chen, D. et al. Parkin mono-ubiquitinates Bcl-2 and regulates autophagy. J. Biol. Chem. 285, 38214–38223 (2010)

17

Lim, K.-L. et al. Parkin mediates nonclassical, proteasomal-independent ubiquitination of synphilin-1: implications for Lewy body formation. J. Neurosci. 25, 2002–2009 (2005)

18

Newton, K. et al. Ubiquitin chain editing revealed by polyubiquitin linkage-specific antibodies. Cell 134, 668–678 (2008)

19

Kitada, T. et al. Mutations in the parkin gene cause autosomal recessive juvenile parkinsonism. Nature 392, 605–608 (1998)

20

Houben, D. et al. ESX-1-mediated translocation to the cytosol controls virulence of mycobacteria. Cell. Microbiol. 14, 1287–1298 (2012)

21

Alonso, S., Pethe, K., Russell, D. G. & Purdy, G. E. Lysosomal killing of Mycobacterium mediated by ubiquitin-derived peptides is enhanced by autophagy. Proc. Natl Acad. Sci. USA 104, 6031–6036 (2007)

22

Collins, C. A. et al. Atg5-independent sequestration of ubiquitinated mycobacteria. PLoS Pathog. 5, e1000430 (2009)

23

Marín, I. & Ferrús, A. Comparative genomics of the RBR family, including the Parkinson's disease-related gene parkin and the genes of the ariadne subfamily. Mol. Biol. Evol. 19, 2039–2050 (2002)

24

Moy, R. H. & Cherry, S. Antimicrobial autophagy: a conserved innate immune response in Drosophila. J. Innate Immun. 5, 444–455 (2013)

25

Narendra, D., Kane, L. A., Hauser, D. N., Fearnley, I. M. & Youle, R. J. p62/SQSTM1 is required for parkin-induced mitochondrial clustering but not mitophagy; VDAC1 is dispensable for both. Autophagy 6, 1090–1106 (2010)

26

Yano, T. et al. Autophagic control of listeria through intracellular innate immune recognition in Drosophila. Nature Immunol. 9, 908–916 (2008)

27

Voronin, D., Cook, D. A. N., Steven, A. & Taylor, M. J. Autophagy regulates Wolbachia populations across diverse symbiotic associations. Proc. Natl Acad. Sci. USA 109, E1638–E1646 (2012)

28

Zhou, R., Yazdi, A. S., Menu, P. & Tschopp, J. A role for mitochondria in NLRP3 inflammasome activation. Nature 469, 221–225 (2011)

29

Nakahira, K. et al. Autophagy proteins regulate innate immune responses by inhibiting the release of mitochondrial DNA mediated by the NALP3 inflammasome. Nature Immunol. 12, 222–230 (2011)

30

Stavru, F., Bouillaud, F., Sartori, A., Ricquier, D. & Cossart, P. Listeria monocytogenes transiently alters mitochondrial dynamics during infection. Proc. Natl Acad. Sci. USA 108, 3612–3617 (2011)

31

Johnson, B. N., Berger, A. K., Cortese, G. P. & LaVoie, M. J. The ubiquitin E3 ligase parkin regulates the proapoptotic function of Bax. Proc. Natl Acad. Sci. USA 109, 6283–6288 (2012)

32

Kim, K.-Y. et al. Parkin is a lipid-responsive regulator of fat uptake in mice and mutant human cells. J. Clin. Invest. 121, 3701–3712 (2011)

33

de Léséleuc, L. et al. PARK2 mediates interleukin 6 and monocyte chemoattractant protein 1 production by human macrophages. PLoS Negl. Trop. Dis. 7, e2015 (2013)

34

Anderson, C. A. et al. Meta-analysis identifies 29 additional ulcerative colitis risk loci, increasing the number of confirmed associations to 47. Nature Genet. 43, 246–252 (2011)

35

Jostins, L. et al. Host–microbe interactions have shaped the genetic architecture of inflammatory bowel disease. Nature 491, 119–124 (2012)

36

Goldberg, M. S. et al. Parkin-deficient mice exhibit nigrostriatal deficits but not loss of dopaminergic neurons. J. Biol. Chem. 278, 43628–43635 (2003)

37

Ohol, Y. M. et al. Mycobacterium tuberculosis MycP1 protease plays a dual role in regulation of ESX-1 secretion and virulence. Cell Host Microbe 7, 210–220 (2010)

38

Thibault, S. T. et al. A complementary transposon tool kit for Drosophila melanogaster using P and piggyBac. Nature Genet. 36, 283–287 (2004)

39

Ayres, J. S. & Schneider, D. S. A signaling protease required for melanization in Drosophila affects resistance and tolerance of infections. PLoS Biol. 6, e305 (2008)
Acknowledgements
We thank N. Mizushima, S. Cherry, and K. Huynh for mice and reagents. We are grateful to S. Johnson for use of his microscope, members of the Schneider laboratory for assistance with fly work and D. Portnoy, R. Vance and S. Virgin for helpful discussions. This work was supported by National Institutes of Health grants R01 AI081727, P01 AI063302 and R01 AI099439, and NINDS P30NS069496 to K.N.
Ethics declarations
Competing interests
The authors declare no competing financial interests.
Extended data figures and tables
About this article
Cite this article
Manzanillo, P., Ayres, J., Watson, R. et al. The ubiquitin ligase parkin mediates resistance to intracellular pathogens. Nature 501, 512–516 (2013). https://doi.org/10.1038/nature12566
Received:

Accepted:

Published:

Issue Date:
Comments
By submitting a comment you agree to abide by our Terms and Community Guidelines. If you find something abusive or that does not comply with our terms or guidelines please flag it as inappropriate.