Abstract
CLP1 was the first mammalian RNA kinase to be identified. However, determining its in vivo function has been elusive. Here we generated kinase-dead Clp1 (Clp1K/K ) mice that show a progressive loss of spinal motor neurons associated with axonal degeneration in the peripheral nerves and denervation of neuromuscular junctions, resulting in impaired motor function, muscle weakness, paralysis and fatal respiratory failure. Transgenic rescue experiments show that CLP1 functions in motor neurons. Mechanistically, loss of CLP1 activity results in accumulation of a novel set of small RNA fragments, derived from aberrant processing of tyrosine pre-transfer RNA. These tRNA fragments sensitize cells to oxidative-stress-induced p53 (also known as TRP53) activation and p53-dependent cell death. Genetic inactivation of p53 rescues Clp1K/K mice from the motor neuron loss, muscle denervation and respiratory failure. Our experiments uncover a mechanistic link between tRNA processing, formation of a new RNA species and progressive loss of lower motor neurons regulated by p53.
Relevant articles
Open Access articles citing this article.
Yoon A. Kim

,

Tohid Siddiqui

…

Ismael Santa-Maria

Acta Neuropathologica Open Access 10 November 2022

Qiuyan Weng

,

Yao Wang

…

Junming Guo

Journal of Molecular Medicine Open Access 24 March 2022

Samoil Sekulovski

,

Pascal Devant

…

Simon Trowitzsch

Nature Communications Open Access 28 September 2021
Access options
Subscribe to Journal
Get full journal access for 1 year
$199.00
only $3.90 per issue
All prices are NET prices.
VAT will be added later in the checkout.
Tax calculation will be finalised during checkout.
Buy article
Get time limited or full article access on ReadCube.
$32.00
All prices are NET prices.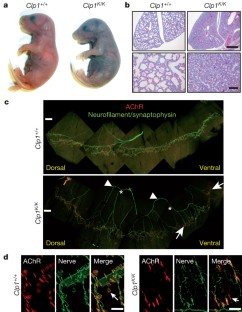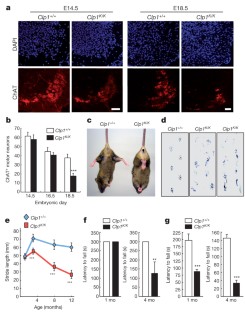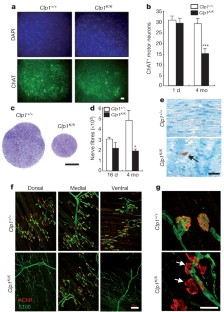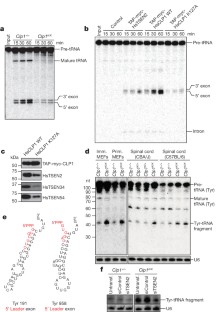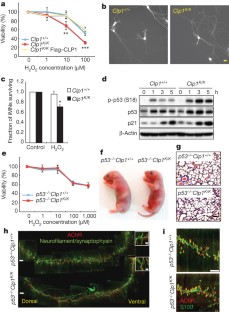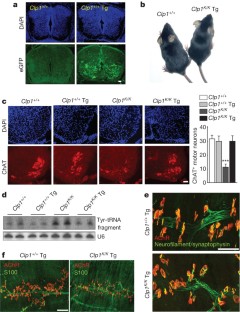 References
Weitzer, S. & Martinez, J. The human RNA kinase hClp1 is active on 3′ transfer RNA exons and short interfering RNAs. Nature 447, 222–226 (2007)

Ramirez, A., Shuman, S. & Schwer, B. Human RNA 5′-kinase (hClp1) can function as a tRNA splicing enzyme in vivo . RNA 14, 1737–1745 (2008)

Jain, R. & Shuman, S. Characterization of a thermostable archaeal polynucleotide kinase homologous to human Clp1. RNA 15, 923–931 (2009)

de Vries, H. et al. Human pre-mRNA cleavage factor IIm contains homologs of yeast proteins and bridges two other cleavage factors. EMBO J. 19, 5895–5904 (2000)

Minvielle-Sebastia, L., Preker, P. J., Wiederkehr, T., Strahm, Y. & Keller, W. The major yeast poly(A)-binding protein is associated with cleavage factor IA and functions in premessenger RNA 3′-end formation. Proc. Natl Acad. Sci. USA 94, 7897–7902 (1997)

Holbein, S. et al. The P-loop domain of yeast Clp1 mediates interactions between CF IA and CPF factors in pre-mRNA 3′ end formation. PLoS ONE 6, e29139 (2011)

Haddad, R. et al. An essential role for Clp1 in assembly of polyadenylation complex CF IA and Pol II transcription termination. Nucleic Acids Res. 40, 1226–1239 (2012)

Ghazy, M. A. et al. The interaction of Pcf11 and Clp1 is needed for mRNA 3′-end formation and is modulated by amino acids in the ATP-binding site. Nucleic Acids Res. 40, 1214–1225 (2012)

Paushkin, S. V., Patel, M., Furia, B. S., Peltz, S. W. & Trotta, C. R. Identification of a human endonuclease complex reveals a link between tRNA splicing and pre-mRNA 3′ end formation. Cell 117, 311–321 (2004)

Trotta, C. R. et al. The yeast tRNA splicing endonuclease: a tetrameric enzyme with two active site subunits homologous to the archaeal tRNA endonucleases. Cell 89, 849–858 (1997)

Zillmann, M., Gorovsky, M. A. & Phizicky, E. M. Conserved mechanism of tRNA splicing in eukaryotes. Mol. Cell. Biol. 11, 5410–5416 (1991)

Zhao, C. et al. Charcot-Marie-Tooth disease type 2A caused by mutation in a microtubule motor KIF1Bβ. Cell 105, 587–597 (2001)

Sánchez-Carbente, M. R., Castro-Obregon, S., Covarrubias, L. & Narvaez, V. Motoneuronal death during spinal cord development is mediated by oxidative stress. Cell Death Differ. 12, 279–291 (2005)

Medana, I. M. & Esiri, M. M. Axonal damage: a key predictor of outcome in human CNS diseases. Brain 126, 515–530 (2003)

Atkin, J. D. et al. Properties of slow- and fast-twitch muscle fibres in a mouse model of amyotrophic lateral sclerosis. Neuromuscul. Disord. 15, 377–388 (2005)

Yamasaki, S., Ivanov, P., Hu, G. F. & Anderson, P. Angiogenin cleaves tRNA and promotes stress-induced translational repression. J. Cell Biol. 185, 35–42 (2009)

Ivanov, P., Emara, M. M., Villen, J., Gygi, S. P. & Anderson, P. Angiogenin-induced tRNA fragments inhibit translation initiation. Mol. Cell 43, 613–623 (2011)

Son, E. Y. et al. Conversion of mouse and human fibroblasts into functional spinal motor neurons. Cell Stem Cell 9, 205–218 (2011)

Lambert, P. F., Kashanchi, F., Radonovich, M. F., Shiekhattar, R. & Brady, J. N. Phosphorylation of p53 serine 15 increases interaction with CBP. J. Biol. Chem. 273, 33048–33053 (1998)

Dumaz, N. & Meek, D. W. Serine 15 phosphorylation stimulates p53 transactivation but does not directly influence interaction with HDM2. EMBO J. 18, 7002–7010 (1999)

Chao, C. et al. Cell type- and promoter-specific roles of Ser18 phosphorylation in regulating p53 responses. J. Biol. Chem. 278, 41028–41033 (2003)

Arber, S. et al. Requirement for the homeobox gene Hb9 in the consolidation of motor neuron identity. Neuron 23, 659–674 (1999)

Hanada, R. et al. Neuromedin U has a novel anorexigenic effect independent of the leptin signaling pathway. Nature Med. 10, 1067–1073 (2004)

Tuck, A. C. & Tollervey, D. RNA in pieces. Trends Genet. 27, 422–432 (2011)

Hurto, R. L. Unexpected functions of tRNA and tRNA processing enzymes. Adv. Exp. Med. Biol. 722, 137–155 (2011)

Lee, Y. S., Shibata, Y., Malhotra, A. & Dutta, A. A novel class of small RNAs: tRNA-derived RNA fragments (tRFs). Genes Dev. 23, 2639–2649 (2009)

Herbst, R., Iskratsch, T., Unger, E. & Bittner, R. E. Aberrant development of neuromuscular junctions in glycosylation-defective Largemyd mice. Neuromuscul. Disord. 19, 366–378 (2009)
Acknowledgements
We thank A. Meixner, M. Foong, T. Nakashima, H. C. Theussl, J. R. Wojciechowski, A. Bichl, the mouse pathology unit of the Universitätsklinikum Hamburg-Eppendorf, and G. P. Resch for discussions and technical support. We also thank T. Buerckstuemmer for providing the pRV-NTAP vector. J.M.P. is supported by grants from the Institute of Molecular Biotechnology of the Austrian Academy of Sciences (IMBA), the Austrian Ministry of Sciences, the Austrian Academy of Sciences, AustroMouse network of Genome Research in Austria (GEN-AU), Apoptosis systems biology applied to cancer and AIDS (ApoSys) and a European Research Council Advanced Grant from the European Union. J.M., S.W. and B.M. are supported by IMBA and GEN-AU (AustroMouse). T.H. is supported by the Japan Society for the Promotion of Science and the Astellas Foundation. J.K.I. was supported by National Institutes of Health (NIH) grant K99NS077435-01A1. M.G. is supported by grants from the German Research Foundation (DFG) (FG885 and GRK 1459), the Landesexzellenzinitiative Hamburg (Neurodapt). R.H. was supported by the Austrian Science Fund (P19223, P21667). C.J.W. is supported by the NIH (NS038253).
Ethics declarations
Competing interests
The authors declare no competing financial interests.
Supplementary information
About this article
Cite this article
Hanada, T., Weitzer, S., Mair, B. et al. CLP1 links tRNA metabolism to progressive motor-neuron loss. Nature 495, 474–480 (2013). https://doi.org/10.1038/nature11923
Received:

Accepted:

Published:

Issue Date:

DOI: https://doi.org/10.1038/nature11923
Comments
By submitting a comment you agree to abide by our Terms and Community Guidelines. If you find something abusive or that does not comply with our terms or guidelines please flag it as inappropriate.