Abstract
A fundamental feature of embryonic patterning is the ability to scale and maintain stable proportions despite changes in overall size, for instance during growth1,2,3,4,5,6. A notable example occurs during vertebrate segment formation: after experimental reduction of embryo size, segments form proportionally smaller, and consequently, a normal number of segments is formed1,7,8. Despite decades of experimental1,7 and theoretical work9,10,11, the underlying mechanism remains unknown. More recently, ultradian oscillations in gene activity have been linked to the temporal control of segmentation12; however, their implication in scaling remains elusive. Here we show that scaling of gene oscillation dynamics underlies segment scaling. To this end, we develop a new experimental model, an ex vivo primary cell culture assay that recapitulates mouse mesoderm patterning and segment scaling, in a quasi-monolayer of presomitic mesoderm cells (hereafter termed monolayer PSM or mPSM). Combined with real-time imaging of gene activity, this enabled us to quantify the gradual shift in the oscillation phase and thus determine the resulting phase gradient across the mPSM. Crucially, we show that this phase gradient scales by maintaining a fixed amplitude across mPSM of different lengths. We identify the slope of this phase gradient as a single predictive parameter for segment size, which functions in a size- and temperature-independent manner, revealing a hitherto unrecognized mechanism for scaling. Notably, in contrast to molecular gradients, a phase gradient describes the distribution of a dynamical cellular state. Thus, our phase-gradient scaling findings reveal a new level of dynamic information-processing, and provide evidence for the concept of phase-gradient encoding during embryonic patterning and scaling.
Relevant articles
Open Access articles citing this article.
Marina Sanaki-Matsumiya

,

Mitsuhiro Matsuda

…

Miki Ebisuya

Nature Communications Open Access 28 April 2022

Miguel Hernández-del-Valle

,

Andrea Valencia-Expósito

…

David G. Míguez

BMC Biology Open Access 22 April 2022

Renske M. A. Vroomans

,

Paulien Hogeweg

&

Kirsten H. W. J. ten Tusscher

EvoDevo Open Access 10 December 2018
Access options
Subscribe to Journal
Get full journal access for 1 year
$199.00
only $3.90 per issue
All prices are NET prices.
VAT will be added later in the checkout.
Tax calculation will be finalised during checkout.
Buy article
Get time limited or full article access on ReadCube.
$32.00
All prices are NET prices.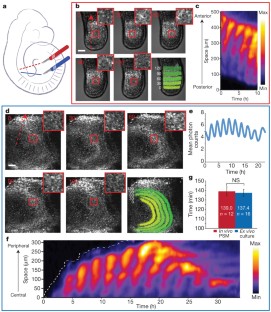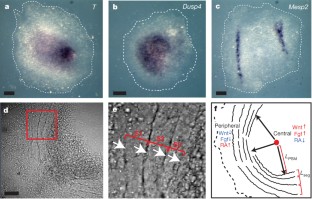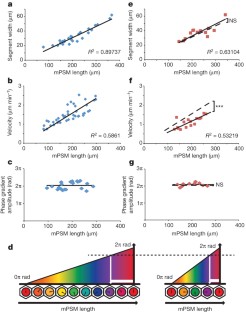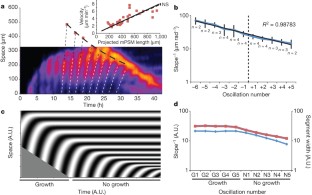 References
Cooke, J. Control of somite number during morphogenesis of a vertebrate, Xenopus laevis . Nature 254, 196–199 (1975)

Gregor, T., Bialek, W., de Ruyter van Steveninck, R. R., Tank, D. W. & Wieschaus, E. F. Diffusion and scaling during early embryonic pattern formation. Proc. Natl Acad. Sci. USA 102, 18403–18407 (2005)

Hamaratoglu, F., de Lachapelle, A. M., Pyrowolakis, G., Bergmann, S. & Affolter, M. Dpp signaling activity requires Pentagone to scale with tissue size in the growing Drosophila wing imaginal disc. PLoS Biol. 9, e1001182 (2011)

Ben-Zvi, D., Shilo, B. Z., Fainsod, A. & Barkai, N. Scaling of the BMP activation gradient in Xenopus embryos. Nature 453, 1205–1211 (2008)

Restrepo, S. & Basler, K. Morphogen gradients: expand and repress . Curr. Biol. 21, R815–R817 (2011)

Wartlick, O. et al. Dynamics of Dpp signaling and proliferation control. Science 331, 1154–1159 (2011)

Tam, P. P. The control of somitogenesis in mouse embryos. J. Embryol. Exp. Morphol. 65 (suppl.). 103–128 (1981)

Brown, D. et al. Loss of Aif function causes cell death in the mouse embryo, but the temporal progression of patterning is normal. Proc. Natl Acad. Sci. USA 103, 9918–9923 (2006)

Wolpert, L. Positional information and the spatial pattern of cellular differentiation. J. Theor. Biol. 25, 1–47 (1969)

Cooke, J. & Zeeman, E. C. A clock and wavefront model for control of the number of repeated structures during animal morphogenesis. J. Theor. Biol. 58, 455–476 (1976)

Meinhardt, H. in Somites in Developing Embryos (eds Bellairs, R., Ede, D. A. & Lash, J. W.) 179–191 (Plenum, 1986)

Dequéant, M.-L. & Pourquié, O. Segmental patterning of the vertebrate embryonic axis. Nature Rev. Genet. 9, 370–382 (2008)

Palmeirim, I., Henrique, D., Ish-Horowicz, D. & Pourquié, O. Avian hairy gene expression identifies a molecular clock linked to vertebrate segmentation and somitogenesis. Cell 91, 639–648 (1997)

Sarrazin, A. F., Peel, A. D. & Averof, M. A segmentation clock with two-segment periodicity in insects. Science 336, 338–341 (2012)

Aulehla, A. et al. Wnt3a plays a major role in the segmentation clock controlling somitogenesis. Dev. Cell 4, 395–406 (2003)

Niwa, Y. et al. The initiation and propagation of Hes7 oscillation are cooperatively regulated by Fgf and Notch signaling in the somite segmentation clock. Dev. Cell 13, 298–304 (2007)

Masamizu, Y. et al. Real-time imaging of the somite segmentation clock: revelation of unstable oscillators in the individual presomitic mesoderm cells. Proc. Natl Acad. Sci. USA 103, 1313–1318 (2006)

Aulehla, A. et al. A β-catenin gradient links the clock and wavefront systems in mouse embryo segmentation. Nature Cell Biol. 10, 186–193 (2008)

Morimoto, M., Takahashi, Y., Endo, M. & Saga, Y. The Mesp2 transcription factor establishes segmental borders by suppressing Notch activity. Nature 435, 354–359 (2005)

Meinhardt, H. Models of Biological Pattern Formation (Academic, 1982)

Ross, J., Müller, S. C. & Vidal, C. Chemical waves. Science 240, 460–465 (1988)

Schröter, C. et al. Dynamics of zebrafish somitogenesis. Dev. Dyn. 237, 545–553 (2008)

Goodwin, B. C. & Cohen, M. H. A phase-shift model for the spatial and temporal organization of developing systems. J. Theor. Biol. 25, 49–107 (1969)

McHale, P., Rappel, W. J. & Levine, H. Embryonic pattern scaling achieved by oppositely directed morphogen gradients. Phys. Biol. 3, 107–120 (2006)

Keynes, R. J. & Stern, C. D. Mechanisms of vertebrate segmentation. Development 103, 413–429 (1988)

Kopell, N. & Howard, L. N. Horizontal bands in the Belousov reaction. Science 180, 1171–1173 (1973)

Horikawa, K., Ishimatsu, K., Yoshimoto, E., Kondo, S. & Takeda, H. Noise-resistant and synchronized oscillation of the segmentation clock. Nature 441, 719–723 (2006)

Riedel-Kruse, I. H., Muller, C. & Oates, A. C. Synchrony dynamics during initiation, failure, and rescue of the segmentation clock. Science 317, 1911–1915 (2007)

Morelli, L. G. et al. Delayed coupling theory of vertebrate segmentation. HFSP J. 3, 55–66 (2009)

Roellig, D., Morelli, L. G., Ares, S., Julicher, F. & Oates, A. C. SnapShot: the segmentation clock. Cell 145, 800–800 (2011)

Morimoto, M., Kiso, M., Sasaki, N. & Saga, Y. Cooperative Mesp activity is required for normal somitogenesis along the anterior–posterior axis. Dev. Biol. 300, 687–698 (2006)

Schindelin, J. et al. Fiji: an open-source platform for biological-image analysis. Nature Methods 9, 676–682 (2012)

Pikovsky, A., Rosenblum, M. & Kurths, J. Synchronization: a Universal Concept in Nonlinear Sciences (Cambridge Univ., 2001)

Glynn, E. F., Chen, J. & Mushegian, A. R. Detecting periodic patterns in unevenly spaced gene expression time series using Lomb–Scargle periodograms. Bioinformatics 22, 310–316 (2006)
Acknowledgements
We thank members of the Aulehla laboratory for discussion and comments on the manuscript. We thank M. Snaebjornsson for providing Supplementary Video 1. We thank F. Peri, D. Gilmour, T. Hiiragi and F. Spitz for comments on the manuscript and P. Riedinger for artwork. This work was supported by EMBL Imaging and Laboratory animal resource core facilities. The Mesp2-GFP line was provided by Y. Saga. P.F. was supported by Natural Science and Engineering Research Council of Canada (NSERC), Discovery Grant program RGPIN 401950-11, Regroupement Québécois pour les matériaux de pointe (RQMP) and McGill University.
Ethics declarations
Competing interests
The authors declare no competing financial interests.
Supplementary information
About this article
Cite this article
Lauschke, V., Tsiairis, C., François, P. et al. Scaling of embryonic patterning based on phase-gradient encoding. Nature 493, 101–105 (2013). https://doi.org/10.1038/nature11804
Received:

Accepted:

Published:

Issue Date:

DOI: https://doi.org/10.1038/nature11804
Comments
By submitting a comment you agree to abide by our Terms and Community Guidelines. If you find something abusive or that does not comply with our terms or guidelines please flag it as inappropriate.