Abstract
The polar layered deposits of Mars contain the planet's largest known reservoir of water ice1,2 and the prospect of revealing a detailed Martian palaeoclimate record3,4, but the mechanisms responsible for the formation of the dominant features of the north polar layered deposits (NPLD) are unclear, despite decades of debate. Stratigraphic analyses of the exposed portions of Chasma Boreale—a large canyon 500 km long, up to 100 km wide, and nearly 2 km deep—have led most researchers to favour an erosional process for its formation following initial NPLD accumulation. Candidate mechanisms include the catastrophic outburst of water5, protracted basal melting6, erosional undercutting7, aeolian downcutting7,8,9 and a combination of these processes10. Here we use new data from the Mars Reconnaissance Orbiter to show that Chasma Boreale is instead a long-lived, complex feature resulting primarily from non-uniform accumulation of the NPLD. The initial valley that later became Chasma Boreale was matched by a second, equally large valley that was completely filled in by subsequent deposition, leaving no evidence on the surface to indicate its former presence. We further demonstrate that topography existing before the NPLD began accumulating influenced successive episodes of deposition and erosion, resulting in most of the present-day topography. Long-term and large-scale patterns of mass balance achieved through sedimentary processes, rather than catastrophic events, ice flow or highly focused erosion, have produced the largest geomorphic anomaly in the north polar ice of Mars.
Relevant articles
Open Access articles citing this article.
Keigo Hongo

,

Hiroaki Toh

&

Atsushi Kumamoto

Earth, Planets and Space Open Access 22 September 2020
Access options
Subscribe to Journal
Get full journal access for 1 year
$199.00
only $3.90 per issue
All prices are NET prices.
VAT will be added later in the checkout.
Tax calculation will be finalised during checkout.
Buy article
Get time limited or full article access on ReadCube.
$32.00
All prices are NET prices.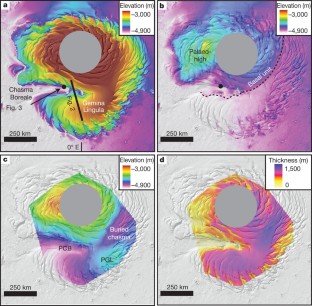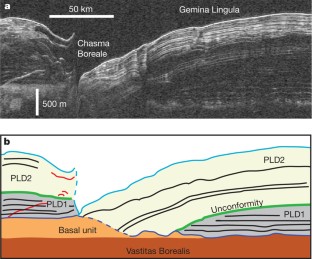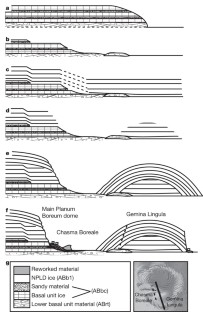 References
Plaut, J. J. et al. Subsurface radar sounding of the south polar layered deposits of Mars. Science 316, 92–95 (2007)

Phillips, R. J. et al. Mars north polar deposits: stratigraphy, age, and geodynamical response. Science 320, 1182–1185 (2008)

Byrne, S. The polar deposits of Mars. Annu. Rev. Earth Planet. Sci. 37, 8.1–8.26 (2009)

Clifford, S. M. et al. The state and future of Mars polar science and exploration. Icarus 144, 210–242 (2000)

Clifford, S. M. Chasma Boreale (85°N, 0°W): remnant of a Martian jokulhlaup? Bull. Am. Astron Soc. 12, 678–679 (1980)

Greve, R. Scenarios for the formation of Chasma Boreale, Mars. Icarus 196, 359–367 (2008)

Edgett, K. S., Williams, R. M. E., Malin, M. C., Cantor, B. A. & Thomas, P. C. Mars landscape evolution: influence of stratigraphy on geomorphology in the north polar region. Geomorphology 52, 289–297 (2003)

Warner, N. H. & Farmer, J. D. Importance of aeolian processes in the origin of the north polar chasmata, Mars. Icarus 196, 368–384 (2008)

Howard, A. D. The role of eolian processes in forming surface features of the Martian polar layered deposits. Icarus 144, 267–288 (2000)

Fishbaugh, K. E. & Head, J. W. III. Chasma Boreale, Mars: topographic characterization from Mars Orbiter Laser Altimeter data and implications for mechanisms of formation. J. Geophys. Res. 107 (E3), 10.1029/2000JE001351 (2002)

Putzig, N. E. et al. Subsurface structure of Planum Boreum from Mars Reconnaissance Orbiter shallow radar soundings. Icarus 204, 443–457 (2009)

Byrne, S. & Murray, B. C. North polar stratigraphy and the paleo-erg of Mars. J. Geophys. Res. 107 (E6), 10.1029/2001JE001615 (2002)

Tanaka, K. L. et al. North polar region of Mars: advances in stratigraphy, structure, and erosional modification. Icarus 196, 318–358 (2008)

Herkenhoff, K. E., Byrne, S., Russell, P. S., Fishbaugh, K. E. & McEwen, A. S. Meter-scale morphology of the north polar region of Mars. Science 317, 1711–1715 (2007)

Fishbaugh, K. E. & Head, J. W. Origin and characteristics of the Mars north polar basal unit and implications for polar geologic history. Icarus 174, 444–474 (2005)

Tanaka, K. L. Geology and insolation-driven climatic history of Amazonian north polar materials on Mars. Nature 437, 991–994 (2005)

Kolb, E. J. & Tanaka, K. L. Geologic history of the polar regions of Mars based on Mars Global Surveyor data. II. Amazonian period. Icarus 154, 22–39 (2001)

Seu, R. et al. SHARAD sounding radar on the Mars Reconnaissance Orbiter. J. Geophys. Res. 112, E05S05 (2007)

Tanaka, K. L. et al. Geologic Map of the Polar Regions of Mars USGS Misc. Map Series, Map I-1802-C (USGS, 1987)

Clifford, S. M. Polar basal melting on Mars. J. Geophys. Res. 92, 9135–9152 (1987)

McEwen, A. S. et al. Mars Reconnaissance Orbiter's High Resolution Imaging Science Experiment (HiRISE). J. Geophys. Res. 112 (E5), 10.1029/2005JE002605 (2007)

Kolb, E. J. & Tanaka, K. L. Accumulation and erosion of south polar layered deposits in the Promethei Lingula region, Planum Australe, Mars. Mars J. 2, 1–9 (2006)

Smith, I. B. & Holt, J. W. Onset and migration of spiral troughs on Mars revealed by orbital radar. Nature 10.1038/nature09049 (this issue)

Nunes, D. C. & Phillips, R. J. Radar subsurface mapping of the polar layered deposits on Mars. J. Geophys. Res. 111, E06S21 (2006)

Milkovich, S. M. et al. Stratigraphy of Promethei Lingula, south polar layered deposits, Mars, in radar and imaging data sets. J. Geophys. Res. Planets 114, E03002 (2009)

Grima, C. et al. North polar deposits of Mars: extreme purity of the water ice. Geophys. Res. Lett. 36 L03203 10.1029/2008GL036326 (2009)

Smith, D. E. et al. Mars Orbiter Laser Altimeter: experiment summary after the first year of global mapping of Mars. J. Geophys. Res. 106, 23689–23722 (2001)
Acknowledgements
We thank P. Choudhary for assistance with radar data analysis. Work at the University of Texas was supported by the Institute for Geophysics of the Jackson School of Geosciences, a NASA grant (NAG5-12693) to J.W.H. and a Mars Reconnaissance Orbiter (MRO) Participating Scientist grant to J.W.H. MRO is operated for NASA by Caltech's Jet Propulsion Laboratory. SHARAD was provided to MRO by the Italian Space Agency through a contract with Thales Alenia Space Italia, and is operated by the INFOCOM Department, University of Rome. We thank the SHARAD Operations Center in Rome for their critical support. We honour the memory of our co-author and colleague A.S. This is UTIG contribution number 2186.
Ethics declarations
Competing interests
The authors declare no competing financial interests.
Supplementary information
This file contains Supplementary Notes A-E comprising: Initial NPLD deposition; PLD1/PLD2 contact mapping; Data coverage for grids; PLD1 thickness; Lower GL/CB radar stratigraphy and Supplementary Figures S1-S5 with legends. (PDF 1353 kb)
About this article
Cite this article
Holt, J., Fishbaugh, K., Byrne, S. et al. The construction of Chasma Boreale on Mars. Nature 465, 446–449 (2010). https://doi.org/10.1038/nature09050
Received:

Accepted:

Issue Date:

DOI: https://doi.org/10.1038/nature09050
This article is cited by
Keigo Hongo
Hiroaki Toh
Atsushi Kumamoto

Earth, Planets and Space (2020)

Nathaniel E. Putzig
Gareth A. Morgan
Matthew P. Golombek

Space Science Reviews (2017)
Comments
By submitting a comment you agree to abide by our Terms and Community Guidelines. If you find something abusive or that does not comply with our terms or guidelines please flag it as inappropriate.