Abstract
Type I interferon (IFN) production is a critical component of the innate defence against viral infections1. Viral products induce strong type I IFN responses through the activation of Toll-like receptors (TLRs) and intracellular cytoplasmic receptors such as protein kinase R (PKR)2,3,4,5,6,7,8,9,10,11,12. Here we demonstrate that cells lacking TRAF3, a member of the TNF receptor-associated factor family, are defective in type I IFN responses activated by several different TLRs. Furthermore, we show that TRAF3 associates with the TLR adaptors TRIF and IRAK1, as well as downstream IRF3/7 kinases TBK1 and IKK-ε, suggesting that TRAF3 serves as a critical link between TLR adaptors and downstream regulatory kinases important for IRF activation. In addition to TLR stimulation, we also show that TRAF3-deficient fibroblasts are defective in their type I IFN response to direct infection with vesicular stomatitis virus, indicating that TRAF3 is also an important component of TLR-independent viral recognition pathways. Our data demonstrate that TRAF3 is a major regulator of type I IFN production and the innate antiviral response.
Your institute does not have access to this article
Relevant articles
Open Access articles citing this article.
María Martín-Vicente

,

Salvador Resino

&

Isidoro Martínez

Journal of Biomedical Science Open Access 13 February 2022

Yue Wu

,

Nick P. Goplen

&

Jie Sun

Cell & Bioscience Open Access 22 June 2021

Yadi Zhou

,

Jielin Xu

…

Feixiong Cheng

Alzheimer's Research & Therapy Open Access 09 June 2021
Access options
Subscribe to Journal
Get full journal access for 1 year
$199.00
only $3.90 per issue
All prices are NET prices.
VAT will be added later in the checkout.
Tax calculation will be finalised during checkout.
Buy article
Get time limited or full article access on ReadCube.
$32.00
All prices are NET prices.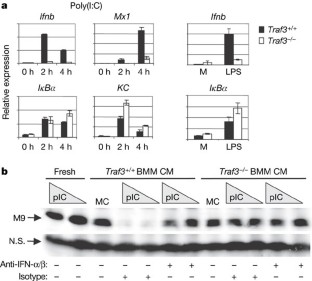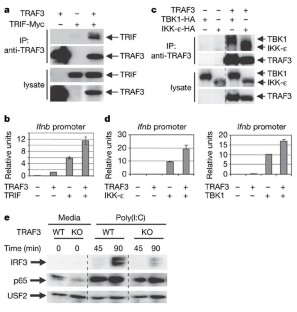 References
Isaacs, A. & Lindenmann, J. Virus interference. I. The interferon. By A. Isaacs and J. Lindenmann, 1957. J. Interferon Res. 7, 429–438 (1987)

Balachandran, S. et al. Essential role for the dsRNA-dependent protein kinase PKR in innate immunity to viral infection. Immunity 13, 129–141 (2000)

Alexopoulou, L., Holt, A. C., Medzhitov, R. & Flavell, R. A. Recognition of double-stranded RNA and activation of NF-κB by Toll-like receptor 3. Nature 413, 732–738 (2001)

Diebold, S. S., Kaisho, T., Hemmi, H., Akira, S. & Reis e Sousa, C. Innate antiviral responses by means of TLR7-mediated recognition of single-stranded RNA. Science 303, 1529–1531 (2004)

Heil, F. et al. Species-specific recognition of single-stranded RNA via toll-like receptor 7 and 8. Science 303, 1526–1529 (2004)

Hemmi, H., Kaisho, T., Takeda, K. & Akira, S. The roles of Toll-like receptor 9, MyD88, and DNA-dependent protein kinase catalytic subunit in the effects of two distinct CpG DNAs on dendritic cell subsets. J. Immunol. 170, 3059–3064 (2003)

Hemmi, H. et al. Small anti-viral compounds activate immune cells via the TLR7 MyD88-dependent signaling pathway. Nature Immunol. 3, 196–200 (2002)

Hochrein, H. et al. Herpes simplex virus type-1 induces IFN-α production via Toll-like receptor 9-dependent and -independent pathways. Proc. Natl Acad. Sci. USA 101, 11416–11421 (2004)

Krug, A. et al. Herpes simplex virus type 1 activates murine natural interferon-producing cells through toll-like receptor 9. Blood 103, 1433–1437 (2004)

Lund, J. M. et al. Recognition of single-stranded RNA viruses by Toll-like receptor 7. Proc. Natl Acad. Sci. USA 101, 5598–5603 (2004)

Doyle, S. et al. IRF3 mediates a TLR3/TLR4-specific antiviral gene program. Immunity 17, 251–263 (2002)

Tabeta, K. et al. Toll-like receptors 9 and 3 as essential components of innate immune defense against mouse cytomegalovirus infection. Proc. Natl Acad. Sci. USA 101, 3516–3521 (2004)

Dempsey, P. W., Doyle, S. E., He, J. Q. & Cheng, G. The signaling adaptors and pathways activated by TNF superfamily. Cytokine Growth Factor Rev. 14, 193–209 (2003)

Cao, Z., Xiong, J., Takeuchi, M., Kurama, T. & Goeddel, D. V. TRAF6 is a signal transducer for interleukin-1. Nature 383, 443–446 (1996)

Xu, Y., Cheng, G. & Baltimore, D. Targeted disruption of TRAF3 leads to postnatal lethality and defective T-dependent immune responses. Immunity 5, 407–415 (1996)

Fitzgerald, K. A. et al. IKKε and TBK1 are essential components of the IRF3 signaling pathway. Nature Immunol. 4, 491–496 (2003)

Cheng, G. & Baltimore, D. TANK, a co-inducer with TRAF2 of TNF- and CD 40L-mediated NF-κB activation. Genes Dev. 10, 963–973 (1996)

Sharma, S. et al. Triggering the interferon antiviral response through an IKK-related pathway. Science 300, 1148–1151 (2003)

Pomerantz, J. L. & Baltimore, D. NF-κB activation by a signaling complex containing TRAF2, TANK and TBK1, a novel IKK-related kinase. EMBO J. 18, 6694–6704 (1999)

Sasai, M. et al. Cutting edge: NF-κB-activating kinase-associated protein 1 participates in TLR3/Toll-IL-1 homology domain-containing adapter molecule-1-mediated IFN regulatory factor 3 activation. J. Immunol. 174, 27–30 (2005)

Honda, K. et al. IRF-7 is the master regulator of type-I interferon-dependent immune responses. Nature 434, 772–777 (2005)

Kawai, T. et al. Interferon-α induction through Toll-like receptors involves a direct interaction of IRF7 with MyD88 and TRAF6. Nature Immunol. 5, 1061–1068 (2004)

Hoebe, K. et al. Identification of Lps2 as a key transducer of MyD88-independent TIR signalling. Nature 424, 743–748 (2003)

Yamamoto, M. et al. Role of adaptor TRIF in the MyD88-independent toll-like receptor signaling pathway. Science 301, 640–643 (2003)

Siegal, F. P. et al. The nature of the principal type 1 interferon-producing cells in human blood. Science 284, 1835–1837 (1999)

Uematsu, S. et al. Interleukin-1 receptor-associated kinase-1 plays an essential role for Toll-like receptor (TLR)7- and TLR9-mediated interferon-α induction. J. Exp. Med. 201, 915–923 (2005)

Yoneyama, M. et al. The RNA helicase RIG-I has an essential function in double-stranded RNA-induced innate antiviral responses. Nature Immunol. 5, 730–737 (2004)

Chu, W. M. et al. JNK2 and IKKβ are required for activating the innate response to viral infection. Immunity 11, 721–731 (1999)

Gil, J. et al. TRAF family proteins link PKR with NF-κB activation. Mol. Cell. Biol. 24, 4502–4512 (2004)

Perry, A. K., Chow, E. K., Goodnough, J. B., Yeh, W. C. & Cheng, G. Differential requirement for TANK-binding kinase-1 in type I interferon responses to toll-like receptor activation and viral infection. J. Exp. Med. 199, 1651–1658 (2004)
Acknowledgements
G.O., S.K.S. and A.S. are supported by a UCLA Medical Scientist Training Program training grant. B.G. is supported by the Tumour Immunology Fellowship. B.Z. is supported by the Warsaw Fellowship. A.P. is supported by a H.H.M.I. pre-doctoral fellowship. G.C. is a Lymphoma and Leukemia Society Scholar, and part of this work was also supported by National Institutes of Health research grants.
Supplementary information
This file contains Supplementary Figures 1–7. (PDF 239 kb)
This file contains the Supplementary Methods and Supplementary Figure Legends. (DOC 39 kb)
About this article
Cite this article
Oganesyan, G., Saha, S., Guo, B. et al. Critical role of TRAF3 in the Toll-like receptor-dependent and -independent antiviral response. Nature 439, 208–211 (2006). https://doi.org/10.1038/nature04374
Received:

Accepted:

Published:

Issue Date:

DOI: https://doi.org/10.1038/nature04374
Comments
By submitting a comment you agree to abide by our Terms and Community Guidelines. If you find something abusive or that does not comply with our terms or guidelines please flag it as inappropriate.