Abstract
One of the most important areas in ecology is to elucidate the factors that drive succession in ecosystems and thus influence the diversity of species in natural vegetation. Significant mechanisms in this process are known to be resource limitation1,2,3 and the effects of aboveground vertebrate herbivores4,5. More recently, symbiotic and pathogenic soil microbes have been shown to exert a profound effect on the composition of vegetation6,7,8,9 and changes therein10,11. However, the influence of invertebrate soil fauna on succession has so far received little attention12,13. Here we report that invertebrate soil fauna might enhance both secondary succession and local plant species diversity. Soil fauna from a series of secondary grassland succession stages selectively suppress early successional dominant14 plant species, thereby enhancing the relative abundance of subordinate14 species and also that of species from later succession stages. Soil fauna from the mid-succession stage had the strongest effect. Our results clearly show that soil fauna strongly affects the composition of natural vegetation and we suggest that this knowledge might improve the restoration and conservation of plant species diversity.
Your institute does not have access to this article
Relevant articles
Open Access articles citing this article.
Gerard Martínez-De León

,

Lauriane Dani

…

Jean-Yves Humbert

BMC Ecology and Evolution Open Access 15 February 2022

Qi Zhang

,

Zhenyan Zhang

…

Haifeng Qian

Microbiome Open Access 30 September 2021

Rutger A. Wilschut

&

Mark van Kleunen

Plant and Soil Open Access 10 February 2021
Access options
Subscribe to Journal
Get full journal access for 1 year
$199.00
only $3.90 per issue
All prices are NET prices.
VAT will be added later in the checkout.
Tax calculation will be finalised during checkout.
Buy article
Get time limited or full article access on ReadCube.
$32.00
All prices are NET prices.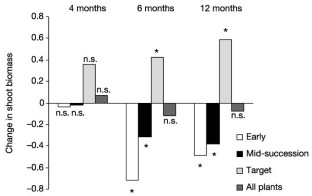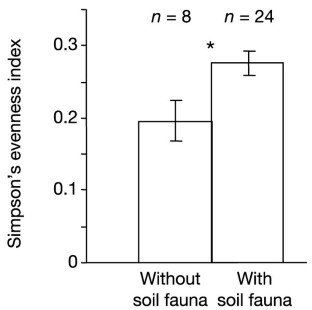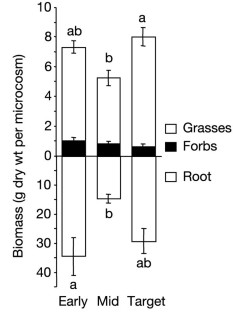 References
Al-Mufti, M. M., Sydes, C. L., Furness, S. B., Grime, J. P. & Band, S. R. A quantitative analysis of shoot phenology and dominance in herbaceous vegetation. J. Ecol. 65, 759–791 (1977)

Tilman, D. Resource Competition and Community Structure (Princeton Univ. Press, Princeton, New Jersey, 1982)

Marrs, R. H. Soil fertility and nature conservation in Europe: Theoretical considerations and practical management solutions. Adv. Ecol. Res. 24, 241–300 (1993)

Crawley, M. J. Plant Ecology (Blackwell Science, Oxford, 1997)

Olff, H. & Ritchie, M. E. Effects of herbivores on grassland plant diversity. Trends Ecol. Evol. 13, 261–265 (1998)

van der Heijden, M. G. A. et al. Mycorrhizal fungal diversity determines plant biodiversity, ecosystem variability and productivity. Nature 396, 69–72 (1998)

Bever, J. D. Feedback between plants and their soil communities in an old field community. Ecology 75, 1965–1977 (1994)

Packer, A. & Clay, K. Soil pathogens and spatial patterns of seedling mortality in a temperate tree. Nature 404, 278–281 (2000)

Klironomos, J. N. Feedback with soil biota contributes to plant rarity and invasiveness in communities. Nature 417, 67–70 (2002)

Johnson, N. C., Zak, D. R., Tilman, D. & Pfleger, F. L. Dynamics of vesicular–arbuscular mycorrhizae during old field succession. Oecologia 86, 349–358 (1991)

van der Putten, W. H., Van Dijk, C. & Peters, B. A. M. Plant-specific soil-borne diseases contribute to succession in foredune vegetation. Nature 362, 53–56 (1993)

Brown, V. K. & Gange, A. C. Differential effects of above- and below-ground insect herbivory during early plant succession. Oikos 54, 67–76 (1989)

Brown, V. K. & Gange, A. C. Secondary plant succession: how is it modified by insect herbivory? Vegetatio 101, 3–13 (1992)

Grime, J. P. Benefits of plant diversity to ecosystems: immediate, filter and founder effects. J. Ecol. 86, 902–910 (1998)

Clements, F. E. Plant Succession: An Analysis of the Development of Vegetation (Carnegie Institution of Washington, Washington, DC, 1916)

Blomqvist, M. M., Olff, H., Blaauw, M. B., Bongers, T. & van der Putten, W. H. Interactions between above- and belowground biota: Importance for small-scale vegetation mosaics in a grassland ecosystem. Oikos 90, 582–598 (2000)

Wardle, D. A. & Barker, G. M. Competition and herbivory in establishing grassland communities: implications for plant biomass, species diversity and soil microbial activity. Oikos 80, 470–480 (1997)

Bradford, M. A. et al. Impacts of soil faunal community composition on model grassland ecosystems. Science 298, 615–618 (2002)

Olff, H., Hoorens, B., de Goede, R. G. M., van der Putten, W. H. & Gleichman, J. M. Small-scale shifting mosaics of two dominant grassland species: the possible role of soil-borne pathogens. Oecologia 125, 45–54 (2000)

Carson, W. P. & Root, R. B. Herbivory and plant species coexistence: Community regulation by an outbreaking phytophagous insect. Ecol. Monogr. 70, 73–99 (2000)

Hartnett, D. C. & Wilson, G. W. T. Mycorrhizae influence plant community structure and diversity in tallgrass prairie. Ecology 80, 1187–1195 (1999)

Bever, J. D., Westover, K. M. & Antonovics, J. Incorporating the soil community into plant population dynamics: the utility of the feedback approach. J. Ecol. 85, 561–573 (1997)

Simpson, E. H. Measurement of diversity. Nature 163, 688 (1949)

Oostenbrink, M. in Nematology (eds Sasser, J. N. & Jenkins, W. R.) 85–102 (Univ. of North Carolina Press, Chapel Hill, North Carolina, 1960)

Yeates, G. W., Bongers, T., de Goede, R. G. M., Freckman, D. W. & Georgieva, S. S. Feeding habits in soil nematode families and genera—an outline for soil ecologists. J. Nematol. 25, 315–331 (1993)

van Straalen, N. M. & Rijninks, P. C. The efficiency of Tullgren apparatus with respect to interpreting seasonal changes in age structure of soil arthropod populations. Pedobiologia 24, 197–209 (1982)

Petersen, H. & Luxton, M. A comparative analysis of soil fauna and their role in decomposition processes. Oikos 39, 287–388 (1982)
Acknowledgements
We thank J. A. Harvey for a critical reading of a previous version of the manuscript. This work was funded by the Dutch NWO-ALW Stimulation Programme Biodiversity.
Ethics declarations
Competing interests
The authors declare that they have no competing financial interests.
About this article
Cite this article
De Deyn, G., Raaijmakers, C., Zoomer, H. et al. Soil invertebrate fauna enhances grassland succession and diversity. Nature 422, 711–713 (2003). https://doi.org/10.1038/nature01548
Received:

Accepted:

Issue Date:

DOI: https://doi.org/10.1038/nature01548
Comments
By submitting a comment you agree to abide by our Terms and Community Guidelines. If you find something abusive or that does not comply with our terms or guidelines please flag it as inappropriate.