Abstract
The Crab pulsar was discovered1 by the occasional exceptionally bright radio pulses it emits, subsequently dubbed 'giant' pulses. Only two other pulsars are known to emit giant pulses2,3. There is no satisfactory explanation for the occurrence of giant pulses, nor is there a complete theory of the pulsar emission mechanism in general. Competing models for the radio emission mechanism can be distinguished by the temporal structure of their coherent emission. Here we report the discovery of isolated, highly polarized, two-nanosecond subpulses within the giant radio pulses from the Crab pulsar. The plasma structures responsible for these emissions must be smaller than one metre in size, making them by far the smallest objects ever detected and resolved outside the Solar System, and the brightest transient radio sources in the sky. Only one of the current models—the collapse of plasma-turbulent wave packets in the pulsar magnetosphere—can account for the nanopulses we observe.
Access options
Subscribe to Journal
Get full journal access for 1 year
$199.00
only $3.90 per issue
All prices are NET prices.
VAT will be added later in the checkout.
Tax calculation will be finalised during checkout.
Rent or Buy article
Get time limited or full article access on ReadCube.
from$8.99
All prices are NET prices.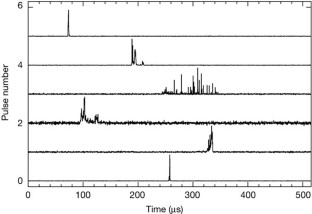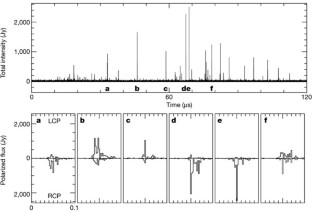 References
1

Staelin, D. H. & Reifenstein, E. C. III Pulsating radio sources near the Crab nebula. Science 162, 1481–1483 (1968)

2

Cognard, I., Shrauner, J. A., Taylor, J. H. & Thorsett, S. E. Giant radio pulses from a millisecond pulsar. Astrophys J. 457, L81–L84 (1996)

3

Romani, R. W. & Johnston, S. Giant pulses from the millisecond pulsar B1821–24. Astrophys J. 557, L93–L96 (2001)

4

Hankins, T. H. Microsecond intensity variations in the radio emissions from CP 0950. Astrophys J. 169, 487–491 (1971)

5

Hankins, T. H. & Rickett, B. J. Pulsar signal processing. Meth. Comp. Phys. 14, 55–129 (Academic, New York, 1975).

6

Sallmen, S., Backer, D. C., Hankins, T. H., Moffett, D. & Lundgren, S. Simultaneous dual-frequency observations of giant pulses from the Crab pulsar. Astrophys. J. 517, 460–471 (1999)

7

Lundgren, S. C. et al. Giant pulses from the Crab pulsar: A joint radio and gamma-ray study. Astrophys. J. 453, 433–446 (1995)

8

Rickett, B. J. Amplitude-modulated noise: An empirical model for the radio radiation received from pulsars. Astrophys. J. 197, 185–191 (1975)

9

Cordes, J. M. Pulsar radiation as polarized shot noise. Astrophys. J. 210, 780–791 (1976)

10

Goldreich, P. & Julian, W. H. Pulsar electrodynamics. Astrophys. J. 157, 869–880 (1969)

11

Rickett, B. J. & Cordes, J. M. in Pulsars, IAU Symp. 95 (eds Sieber, W. & Wielebinski, R.) 107–109 (Reidel, Boston, 1981)

12

Popov, M. V. et al. Microstructure of pulsar radio pulses measured with a time resolution of 62.5 ns at 1650 MHz. Astron. Rep. 46, 206–213 (2002)

13

Arendt, P. N. Jr & Eilek, J. A. Pair creation in the pulsar magnetosphere. Astrophys. J. 581 (in the press)

14

Buschauer, R. & Benford, G. General theory of coherent curvature radiation. Mon. Not. R. Astron. Soc. 177, 109–136 (1976)

15

Asseo, E., Pelletier, G. & Sol, H. A non-linear radio pulsar emission mechanism. Mon. Not. R. Astron. Soc. 247, 529–548 (1990)

16

Weatherall, J. C. Modulational instability, mode conversion, and radio emission in the magnetized pair plasma of pulsars. Astrophys. J. 483, 402–413 (1997)

17

Lyutikov, M., Blandford, R. D. & Machabeli, G. On the nature of pulsar radio emission. Mon. Not. R. Astron. Soc. 305, 338–352 (1999)

18

Weatherall, J. C. A relativistic-plasma Compton maser. Astrophys. J. 559, 196–200 (2001)

19

Jenet, F. A., Anderson, S. B. & Prince, T. A. The first detection of coherent emission from radio pulsars. Astrophys. J. 558, 302–308 (2001)

20

Cairns, I. H., Johnston, S. & Das, P. Intrinsic variability of the Vela pulsar: Lognormal statistics and theoretical implications. Astrophys. J. 563, L65–L68 (2001)

21

Delaney, T. & Weatherall, J. C. Model for deterministic chaos in pulsar radio signals and search for attractors in the Crab and Vela pulsars. Astrophys. J. 519, 291–302 (1999)

22

Benford, G. Model for the microstructure emission of pulsars. Mon. Not. R. Astron. Soc. 179, 311–315 (1977)

23

Elitzur, M. Astronomical Masers 68–71 (Kluwer, Boston, 1992)

24

Moran, J. M. Statistical properties of the radiation fields from H2O masers. Bull. Am. Astron. Soc. 13, 508 (1981)

25

Zakharov, V. E. Collapse of Langmuir waves. Sov. Phys. JETP 35, 908–914 (1972)

26

Goldman, M. V. Strong turbulence of plasma waves. Rev. Mod. Phys. 56, 709–735 (1984)

27

Weatherall, J. C. Pulsar radio emission by conversion of plasma wave turbulence: Nanosecond time structure. Astrophys. J. 506, 341–346 (1998)

28

Strohmayer, T. E., Swank, J. H. & Zhang, W. in The Active X-ray Sky: Results from BeppoSAX and RXTE (eds Scarsi, L., Bradt, H., Giommi, P. & Fiore, F.) Nucl. Phys. B (Proc. Suppl.) 69, 129 (1997).

29

Mészáros, P. Gamma-ray bursts: Accumulating afterglow implications, progenitor clues, and prospects. Science 291, 79–84 (2001)
Acknowledgements
T.H.H. thanks NRAO and NAIC for partial sabbatical leave support at the Green Bank and Arecibo Observatories. J.S.K. thanks NRAO for pre-doctoral support. We thank B. Driggers of TMS and LeCroy for the loan of a LeCroy LT584L oscilloscope, J. Ford at NRAO Green Bank for square-law detectors, NRAO Socorro for computer support and technical assistance, and the NSF for a research grant. The Arecibo Observatory is operated by Cornell University under a cooperative agreement with the National Science Foundation.
Ethics declarations
Competing interests
The authors declare that they have no competing financial interests.
About this article
Cite this article
Hankins, T., Kern, J., Weatherall, J. et al. Nanosecond radio bursts from strong plasma turbulence in the Crab pulsar. Nature 422, 141–143 (2003). https://doi.org/10.1038/nature01477
Received:

Accepted:

Issue Date:
Comments
By submitting a comment you agree to abide by our Terms and Community Guidelines. If you find something abusive or that does not comply with our terms or guidelines please flag it as inappropriate.