Abstract
Forkhead-homology-associated (FHA) domains function as protein–protein modules that recognize phosphorylated serine/threonine motifs1,2,3,4,5. Interactions between FHA domains and phosphorylated proteins are thought to have essential roles in the transduction of DNA damage signals; however, it is unclear how FHA-domain-containing proteins participate in mammalian DNA damage responses. Here we report that a FHA-domain-containing protein—mediator of DNA damage checkpoint protein 1 (MDC1; previously known as KIAA0170)—is involved in DNA damage responses. MDC1 localizes to sites of DNA breaks and associates with CHK2 after DNA damage. This association is mediated by the MDC1 FHA domain and the phosphorylated Thr 68 of CHK2. Furthermore, MDC1 is phosphorylated in an ATM/CHK2-dependent manner after DNA damage, suggesting that MDC1 may function in the ATM–CHK2 pathway. Consistent with this hypothesis, suppression of MDC1 expression results in defective S-phase checkpoint and reduced apoptosis in response to DNA damage, which can be restored by the expression of wild-type MDC1 but not MDC1 with a deleted FHA domain. Suppression of MDC1 expression results in decreased p53 stabilization in response to DNA damage. These results suggest that MDC1 is recruited through its FHA domain to the activated CHK2, and has a critical role in CHK2-mediated DNA damage responses.
Relevant articles
Open Access articles citing this article.
Bo Qin

,

Jia Yu

…

Zhenkun Lou

Genome Instability & Disease Open Access 10 August 2022

Ya-Chu Chang

,

Yu-Xiang Peng

…

Tzu-Kang Sang

Nature Communications Open Access 12 July 2021

Jieqiong Lou

,

David G. Priest

…

Elizabeth Hinde

Nature Communications Open Access 13 November 2020
Access options
Subscribe to Journal
Get full journal access for 1 year
$199.00
only $3.90 per issue
All prices are NET prices.
VAT will be added later in the checkout.
Tax calculation will be finalised during checkout.
Buy article
Get time limited or full article access on ReadCube.
$32.00
All prices are NET prices.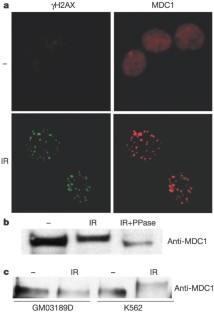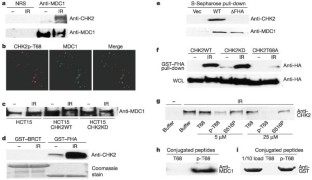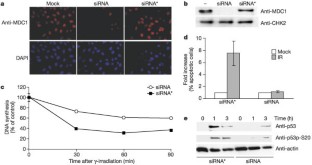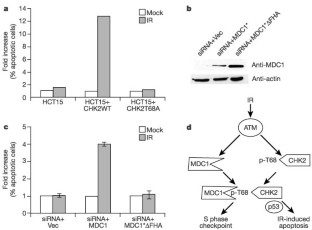 References
Hofmann, K. & Bucher, P. The FHA domain: a putative nuclear signaling domain found in protein kinases and transcription factors. Trends Biochem. Sci. 20, 347–349 (1995)

Durocher, D., Henckel, J., Fersht, A. R. & Jackson, S. P. The FHA domain is a modular phosphopeptide recognition motif. Mol. Cell 4, 387–394 (1999)

Wang, P. et al. Structure and specificity of the interaction between the FHA2 domain of Rad53 and phosphotyrosyl peptides. J. Mol. Biol. 302, 927–940 (1999)

Durocher, D. et al. The molecular basis of FHA domain: phosphopeptide binding specificity and implications for phospho-dependent signaling mechanisms. Mol. Cell 6, 1169–1182 (2000)

Li, J., Smith, G. P. & Walker, J. C. Kinase interaction domain of kinase-associated protein phsophatase, a phosphoprotein-binding domain. Proc. Natl Acad. Sci. USA 96, 7821–7826 (1999)

Zhou, B. B. & Elledge, S. J. The DNA damage response: putting checkpoints in perspective. Nature 408, 433–439 (2001)

Rouse, J. & Jackson, S. P. Interfaces between the detection, signaling, and repair of DNA damage. Science 297, 547–551 (2002)

Callebaut, I. & Mormon, J. P. From BRCA1 to RAP1: A wildspread BRCT module closely associated with DNA repair. FEBS Lett. 400, 25–30 (1997)

Sun, Z., Hsiao, J., Fay, D. S. & Stern, D. F. Rad53 FHA domain associated with phosphorylated Rad9 in the DNA damage checkpoint. Science 281, 272–274 (1998)

Vialard, J. E., Gilbert, C. S., Green, C. M. & Lowndes, N. F. The budding yeast checkpoint protein rad9 is subject to Mec1/Tel1-dependent hyperphosphorylation and interacts with Rad53 after DNA damage. EMBO J. 17, 5679–5688 (1998)

Emiili, A. MEC1-dependent phosphorylation of Rad9p in response to DNA damage. Mol. Cell 2, 183–189 (1998)

Ahn, J. Y., Li, X., Davis, H. L. & Canman, C. E. Phosphorylation of threonine 68 promotes oligomerization and autophosphorylation of the CHK2 protein kinase via the forkhead-associated domain. J. Biol. Chem. 277, 19389–19395 (2002)

Xu, X., Tsvetkov, L. M. & Stern, D. F. Chk2 activation and phosphorylation-dependent oligomerization. Mol. Cell Biol. 22, 4419–4432 (2002)

Scully, R. et al. Dynamic changes of BRCA1 subnuclear localization and phosphorylation state are initiated by DNA damage. Cell 90, 425–435 (1997)

Ward, I. M., Wu, X. & Chen, J. Threonine 68 of Chk2 is phosphorylated at the site of DNA strand breaks. J. Biol. Chem. 276, 47755–47758 (2001)

Rogakou, E. P., Boon, C., Redon, C. & Bonner, W. M. Megabase chromatin domains involved in DNA double-strand breaks in vivo. J. Cell Biol. 146, 905–916 (1999)

Paull, T. T. et al. A critical role for histone H2AX in recruitment of repair factors to nuclear foci after DNA damage. Curr. Biol. 10, 886–895 (2000)

Matsuoka, S., Huang, M. & Elledge, S. J. Linkage of ATM to cell cycle regulation by the Chk2 protein kinase. Science 282, 1893–1897 (1998)

Melchionna, R., Chen, X. B., Blasina, A. & McGowan, C. H. Threonine 68 is required for radiation-induced phosphorylation and activation of Cds1. Nature Cell Biol. 2, 762–765 (2000)

Matsuoka, S. et al. Ataxia telangiectasia-mutated phosphorylates Chk2 in vivo and in vitro. Proc. Natl Acad. Sci. USA 97, 10389–10394 (2000)

Ahn, J.-H., Schwarz, J. K., Piwnica-Worms, H. & Canman, C. E. Threonine 68 phosphorylation by ataxia telangiectasia-mutated is required for efficient activation of Chk2 in response to ionizing radiation. Cancer Res. 60, 5934–5936 (2000)

Chaturvedi, P. et al. Mammalian Chk2 is a downstream effector of the ATM-dependent DNA damage checkpoint pathway. Oncogene 18, 4047–4054 (1999)

Elbashir, S. M. et al. Duplexes of 21-nucleotide RNAs mediate RNA interference in cultured mammalian cells. Nature 411, 494–498 (2001)

Painter, R. B. & Young, B. R. Radiosensitivity in ataxia-telangiectasia: A new explanation. Proc. Natl Acad. Sci. USA 77, 7315–7317 (1980)

Falck, J., Mailand, N., Syljuasen, R. G., Bartek, J. & Lukas, J. The ATM-Chk2-Cdc25A checkpoint pathway guards against radioresistant DNA synthesis. Nature 410, 842–847 (2001)

Hirao, A. et al. DNA damage-induced activation of p53 by the checkpoint kinase Chk2. Science 287, 1824–1827 (2000)

Hirao, A. et al. Chk2 is a tumour suppressor that regulates apoptosis in both an ataxia telangiectasia mutated (ATM)-dependent and an ATM-independent manner. Mol. Cell. Biol. 22, 6521–6532 (2002)

Jack, M. T. et al. Chk2 is dispensable for p53-mediated G1 arrest but is required for a latent p53-meidated apoptotic response. Proc. Natl Acad. Sci. USA 99, 9825–9829 (2002)

Chehab, N. H., Malikzay, A., Apple, M. & Halazonetis, T. D. Chk2/hCds1 functions as a DNA damage checkpoint in G1 by stabilizing p53. Genes Dev. 14, 278–288 (2000)

Shieh, S. Y., Ahn, J., Tamai, K., Taya, Y. & Pricves, C. The human homologs of checkpoint kinases Chk1 and Cds1 (Chk2) phosphorylate p53 at multiple DNA damage-inducible sites. Genes Dev. 14, 289–300 (2000)
Acknowledgements
We thank L. Wang for technical support. We also thank Mayo Protein Core facility for synthesis of peptides. We are grateful to L. Karnitz and S. Kaufmann and members of the Chen and Karnitz laboratories for discussions and ongoing technical support. This work is supported in part by grants from the National Institute of Health, the Prospect Creek Foundation and the Breast Cancer Research Foundation. J.C. is a recipient of a DOD breast cancer career development award.
Ethics declarations
Competing interests
The authors declare that they have no competing financial interests.
About this article
Cite this article
Lou, Z., Minter-Dykhouse, K., Wu, X. et al. MDC1 is coupled to activated CHK2 in mammalian DNA damage response pathways. Nature 421, 957–961 (2003). https://doi.org/10.1038/nature01447
Received:

Accepted:

Issue Date:

DOI: https://doi.org/10.1038/nature01447
Comments
By submitting a comment you agree to abide by our Terms and Community Guidelines. If you find something abusive or that does not comply with our terms or guidelines please flag it as inappropriate.