Short-term travel and meeting attendance could become harder for researchers from eight countries, including Iran.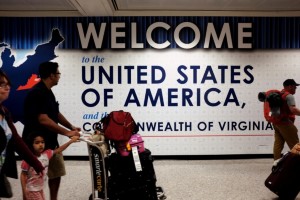 The latest version of US President Donald Trump's travel ban could make it harder for researchers from several countries to enter the United States to attend scientific meetings, perform research or visit relatives.
On 24 September, Trump announced permanent travel restrictions on citizens of Chad, Iran, Libya, North Korea, Somalia, Syria, Venezuela and Yemen. That list includes five Muslim-majority countries that were targeted in the White House's first and second travel bans, which Trump signed in January and March. Those policies, which were designed as temporary measures, have been limited by a series of federal court rulings.
Although the latest ban largely exempts students from any travel restrictions, its provisions appear poised to limit visits to the United States by working scientists. The rules vary by country; Iranians, for instance, can enter the United States only on student visas or temporary 'J' work visas, which are common among foreign postdocs in the United States. Citizens of Chad, Libya and Yemen can no longer enter the United States on business or tourist visas, and Syrians and North Koreans are barred in all circumstances.
The impact is likely to be greatest for Iran, which produces more scientists and engineers than the other countries included in the policy, says Russell Harrison, a senior legislative representative for IEEE-USA in Washington DC, which advocates for US members of the Institute of Electrical and Electronics Engineers. The White House policy will tighten security for Iranian students and researchers who already hold J visas, subjecting them to "enhanced screening and vetting requirements" if they travel outside the United States and attempt to re-enter the country.
Although there is no indication that the US will stop issuing student and J visas, no new long-term work visas will be available for Iranian citizens for the foreseeable future, Harrison says. "It will be difficult for researchers to get work in the United States for more than a relatively short period of time."
Iranian scientists planning brief visits to the United States are already feeling the effects of the latest ban. Arvin Haghighatfard, a graduate student at Islamic Azad University in Tehran, had hoped to present his research on the genetic basis of internet addiction at the American Society of Human Genetics conference next month in Orlando, Florida. "The president's new travel ban really disappointed me and all of my colleagues," says Haghighatfard, who says that the United States refused to consider his visa application in light of the latest restrictions.
The same is true for Hossein Azizi, a geologist from the University of Kurdistan, in Sanandaj, Iran. He recently received an invitation to visit the United States and collaborate with geologist Robert Stern of the University of Texas at Dallas. "It was one of my best days in my life," Azizi says. But uncertainty over whether he can secure a US visa has jeopardized those plans. "We know there are many problems between political men," says Azizi. But geologists' work on the formation of the Earth "belongs to humanity and science", rather than to geopolitics, he adds.
Legal challenges expected
The White House says that the latest ban will remain in place until the eight listed countries improve their processes for screening travellers. But the policy is widely expected to be challenged in court in the coming days — and it is already affecting legal challenges to the previous US travel bans.
On 25 September, the US Supreme Court cancelled its scheduled hearings for a lawsuit over the first two bans, which were partly overturned on the grounds that the original policy appeared to target Muslims. The court asked both sides to clarify whether the latest ban negated the stipulations of the earlier bans.
Some immigration experts worry that the unpredictability of Trump's administration will be more of a deterrent to foreign students and researchers than the standard US visa bureaucracy has been up to this point. Immigrant scientists report longer delays in visa processing since Trump took office, and confusion about the constantly changing travel bans, says Brendan Delaney, an immigration attorney at Hill, Frank & Delaney in Bethesda, Maryland.
"The uncertainty for people is probably the biggest issue," he says. "I think people from many countries, not just Muslim-majority countries, exhibit a higher degree of concern because they don't know where this is going. There's just no way to know what's actually going on in the background."
Delaney expects that someone will sue the Trump administration over the latest travel ban within the next few days, and that the case will eventually reach the Supreme Court. The court's ruling, he says, "will hopefully bring a finality to where we stand on this issue".
About this article
Cite this article
Reardon, S. How the latest US travel ban could affect science. Nature 550, 17 (2017). https://doi.org/10.1038/nature.2017.22686
Published:

Issue Date:

DOI: https://doi.org/10.1038/nature.2017.22686
This article is cited by
Zaida Chinchilla-Rodríguez
Yi Bu
Cassidy R. Sugimoto

Scientometrics (2018)