Teenage mother who lived 12,000 years ago was malnourished but still roamed widely.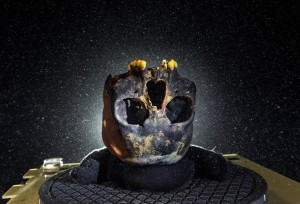 For more than 12,000 years, the adolescent girl's bones lay deep in a Mexican cave. Now analysis of her skeleton is revealing details of her harsh existence in the early Americas — which probably included pregnancy and childbirth before death at a young age.
The bones show that the girl, whom researchers nicknamed Naia, is likely to have travelled long distances on foot, but didn't carry much on her journeys. The skeleton also reveals that Naia experienced severe and repeated nutritional stress that scarred her bones and teeth, according to results presented on 30 March at a meeting of the Society for American Archaeology in Vancouver, Canada.
"She's telling us a story," says James Chatters, an archaeologist with Applied Paleoscience in Bothell, Washington, and principal investigator of the research on Naia, a project of Mexico's National Institute of Anthropology and History in Mexico City. "It was a very hard life."
Naia has already helped to illuminate the origins of the first Americans. In 2014, Chatters and his colleagues reported that her DNA confirms the idea that a single group of Asian emigrants gave rise to both the earliest American settlers and modern Native Americans1.
For that work, divers examined Naia in the water-filled cavern in the Yucatán Peninsula where she was discovered in 2007. But intruders subsequently tampered with her remains. To prevent further meddling, the bones were gently carried out of the cave in 2014 and 2016 — which also gave scientists easier access to the specimens.
Roughly half of Naia's bones were recovered, including an intact skull, both arms and one leg, making her among the most complete of the handful of New World skeletons that are more than 12,000 years old. Her bones reveal a teenager aged 15–17 at her death, which was probably the result of a fall into the deep pit where she was found. She was "rail-skinny", Chatters said, with one upper arm bone only as thick as his little finger.
Naia's slight build might have been linked to nutritional stress. Her shin bone and knee are striped with lines etched by halting growth, perhaps as a result of too little food, or health problems — such as parasite infections — that prevented her from absorbing nutrients. Irregularities in her teeth reinforce the suggestion that her nutrition was "rather limited quite often", Chatters says.
A small portion of Naia's pelvis broke off when she plummeted into the pit, and was lost. But her remaining pelvic bones are pitted in a way often seen in young, slight woman who have given birth. That's a strong indicator she had gone through labour, and the healing of the bone means that she gave birth well before her death, says Chatters, who is collaborating with scientists at the Autonomous University of of Yucatán in Mérida, Mexico.
Naia's upper-arm muscles were not heavily developed, judging by the smoothness of the bones where those muscles were once attached. She didn't routinely grind seeds, work animal skins or carry heavy loads — common tasks during her time. But Naia's shin- and thighbone show that her legs were heavily muscled, meaning that she probably roamed widely over the landscape.
The team's analysis was competent and thorough, says Gary Haynes, an archaeologist at the University of Nevada, Reno. He thinks Naia's thinness might be due to "environmental changes of the time [that] were making life harder and harder by removing resources, or making them less dependable".
"We get the sense that the lives of the first Americans were wonderful and easy," Chatters says. "Well, it isn't necessarily the case."
References
Chatters, J. C. et al. Science 344, 750-754 (2014).
Related links
Related links
Related links in Nature Research
Related external links
About this article
Cite this article
Watson, T. Ancient bones reveal girl's tough life in early Americas. Nature 544, 15–16 (2017). https://doi.org/10.1038/nature.2017.21753
Published:

Issue Date:

DOI: https://doi.org/10.1038/nature.2017.21753