Emphasis on innovation overshadowed by funding freeze for key research councils.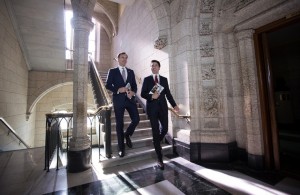 The budget that Canadian Prime Minister Justin Trudeau's government released on 22 March lives up to his promises to emphasize innovation, and to encourage links between industry and academia. But it also presents scientists with a depressing, and unexpected, freeze on the main funding streams for basic research.
"This budget is really focused on innovation and skills," science minister Kirsty Duncan told Nature. "Last year we had over $2 billion for science, and this year over a billion for innovation. This is a government that respects research and science."
The plan promises to establish "Innovation Canada", a new central platform to co-ordinate and simplify support for Canadian entrepreneurs. And there will be Can$950 million (US$710 million) available over five years to support "superclusters": areas dense with companies and academics, similar to California's Silicon Valley, that are designed to push forwards innovative industries such as clean tech.
But critics note that much of this money isn't new; the Can$950 million, for example, is re-allocated from pots set aside in last year's budget. And there is little in this year's announcement for basic research. In particular, no mention is made of annual budgets for Canada's three major research councils, which deal with the natural, health and social sciences. This means that they will have no budget increase at all this year.
"The tri-councils get something every year for cost of inflation. I can't remember when they got nothing," says James Woodgett, a biomedical researcher and director of research of the Lunenfeld-Tanenbaum Research Institute in Toronto. "It sends the wrong message, especially with what's going on in the US."
Trudeau's government is probably sticking to the status quo while it waits for the results of the Fundamental Science Review, an independent assessment of the country's systems for supporting science, says Paul Davidson, president of the Ottawa-based advocacy group Universities Canada. That analysis will be released in the coming months, the budget notes. "In the interim, the granting councils can continue to do their work at current levels," Davidson says.
The budget does set aside Can$2 million to fund the post of chief government science adviser. The decision to create that post, which will provide independent scientific advice to ministers, was one of the Liberal party's main campaign promises — and a big hit in the science community. So far, the government has moved slowly to fill the position. A search that began in December will produce the first adviser later this spring — about a year and a half after the Liberals took power — Duncan says. Two million dollars is "about right" for the office, says Kathleen Walsh, executive director of the non-profit science-advocacy group Evidence for Democracy in Ottawa.
A few other budget points also bring good news. There is Can$80 million to replace the ageing Sidney Centre for Plant Health, which was rescued from closure under the Conservatives in 2012. Another Can$125 million will fund a Pan-Canadian Artificial Intelligence Strategy, to bolster the country's lead in computing fields such as deep learning. The budget also includes money for training programmes, including Can$50 million to teach children computer coding and Can$221 million to help university graduates find jobs.
Trumping the United States
A new set of 25 'Canada 150' research chairs have been established to mark the country's 150th birthday. Although this comes from an established pool of money, the positions will help to attract leading researchers to Canada from abroad, says Davidson. "Those chairs are an important tool when you're looking at what's happening post-Brexit and post-Trump," he says, referring to unease over immigration policies and funding in the United Kingdom and the United States. "The number of hits on our job site has doubled since November."
And whereas US President Donald Trump has proposed cutting US government support for climate-change research, Trudeau's budget introduces several climate programmes. They include Can$73.5 million for a new Canadian Centre for Climate Services to improve access to climate science, and Can$83.8 million over five years to integrate traditional knowledge of climate change — including that of the First Nations — and enhance the resilience of northern communities.
The lack of major increases in funding comes in the face of challenging finances. The Liberals campaigned on a promise to keep deficits below Can$10 billion a year, but their first budget pushed it to more than Can$25 billion. This year's budget stretches the deficit to Can$28 billion.
"If I'm being generous, I'd say we weren't expecting a lot [for science], but we didn't get anything," says Woodgett. "I'm pretty disappointed."
Related links
Related links
Related links in Nature Research
Related external links
About this article
Cite this article
Jones, N. Canada budget falls flat with scientists. Nature 543, 598–599 (2017). https://doi.org/10.1038/nature.2017.21699
Published:

Issue Date:

DOI: https://doi.org/10.1038/nature.2017.21699