Abstract
Gastric B-cell lymphoma of mucosa-associated lymphoid tissue (MALT) develops in the context of chronic inflammation caused by Helicobacter pylori infection. Most pathophysiological features of the early stages of MALT lymphomagenesis can be reproduced by experimental infection of BALB/c mice with Helicobacter species. We have previously shown that MALT lymphomas are infiltrated by T-helper cell type 2-polarized T cells and that human and murine tumor B cells carry polyreactive surface immunoglobulins. Using the murine model of the disease, in this study we show that explanted tumor B cells proliferate upon stimulation with the same panel of self and foreign antigens that are recognized by their surface antibodies. Tumor cell proliferation is strongly enhanced by the presence of intratumoral CD4+ T cells in a CD40/CD40L-independent manner. A large proportion of tumor-infiltrating CD4+ T cells are CD25+FoxP3+ regulatory T cells (Tregs) with highly suppressive activity, which are recruited by the tumor cells through secretion of the Treg-attracting chemokines CCL17 and CCL22. The depletion of CD25+ cells was as efficient as CD4+ T cell depletion in blocking tumor growth in vitro and in vivo. In conclusion, our data suggest that B-cell receptor-derived signals cooperate with T-helper cell signals in driving the progression of MALT lymphoma, providing an explanation for the unique antigen dependence of this B-cell malignancy.
Relevant articles
Open Access articles citing this article.
Fangtian Wu

,

Natsuko Watanabe

…

Ming-Qing Du

Leukemia Open Access 21 May 2021

Alice Blosse

,

Sara Peru

…

Philippe Lehours

Scientific Reports Open Access 09 September 2020

Katherine Wickenden

,

Nadia Nawaz

…

Matthew J. Ahearne

Diagnostic Pathology Open Access 15 September 2018
Access options
Subscribe to Journal
Get full journal access for 1 year
$119.00
only $9.92 per issue
All prices are NET prices.
VAT will be added later in the checkout.
Tax calculation will be finalised during checkout.
Buy article
Get time limited or full article access on ReadCube.
$32.00
All prices are NET prices.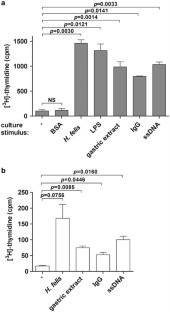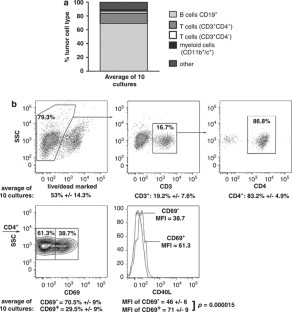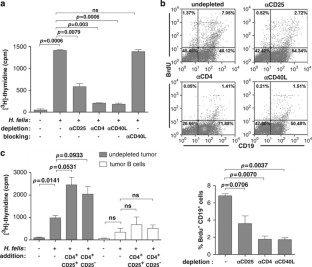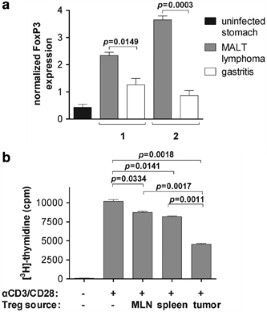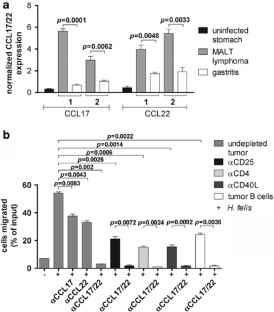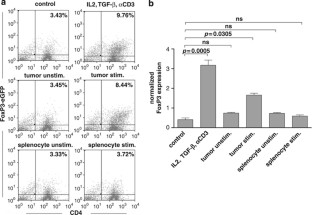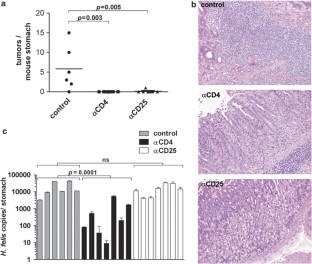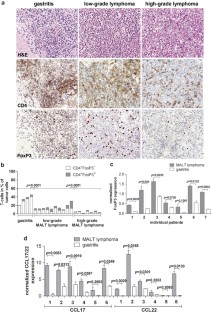 References
Eidt S, Stolte M, Fischer R . Helicobacter pylori gastritis and primary gastric non-Hodgkin's lymphomas. J Clin Pathol 1994; 47: 436–439.

Wotherspoon AC, Ortiz-Hidalgo C, Falzon MR, Isaacson PG . Helicobacter pylori-associated gastritis and primary B-cell gastric lymphoma. Lancet 1991; 338: 1175–1176.

Bayerdorffer E, Neubauer A, Rudolph B, Thiede C, Lehn N, Eidt S et al. Regression of primary gastric lymphoma of mucosa-associated lymphoid tissue type after cure of Helicobacter pylori infection. MALT Lymphoma Study Group. Lancet 1995; 345: 1591–1594.

Wotherspoon AC, Doglioni C, Diss TC, Pan L, Moschini A, de Boni M et al. Regression of primary low-grade B-cell gastric lymphoma of mucosa-associated lymphoid tissue type after eradication of Helicobacter pylori. Lancet 1993; 342: 575–577.

Nakamura S, Ye H, Bacon CM, Liu H, Goatly A, Matsumoto T et al. Gastric MALT lymphoma with t(14;18)(q32;q21) involving IGH and BCL2 genes that responded to Helicobacter pylori eradication. J Clin Pathol 2007; 60: 1171–1173.

Enno A, O'Rourke JL, Howlett CR, Jack A, Dixon MF, Lee A . MALToma-like lesions in the murine gastric mucosa after long-term infection with Helicobacter felis. A mouse model of Helicobacter pylori-induced gastric lymphoma. Am J Pathol 1995; 147: 217–222.

Mueller A, O'Rourke J, Chu P, Chu A, Dixon MF, Bouley DM et al. The role of antigenic drive and tumor-infiltrating accessory cells in the pathogenesis of helicobacter-induced mucosa-associated lymphoid tissue lymphoma. Am J Pathol 2005; 167: 797–812.

Mueller A, O'Rourke J, Grimm J, Guillemin K, Dixon MF, Lee A et al. Distinct gene expression profiles characterize the histopathological stages of disease in Helicobacter-induced mucosa-associated lymphoid tissue lymphoma. Proc Natl Acad Sci USA 2003a; 100: 1292–1297.

Isaacson PG, Du MQ . MALT lymphoma: from morphology to molecules. Nat Rev Cancer 2004; 4: 644–653.

Knorr C, Amrehn C, Seeberger H, Rosenwald A, Stilgenbauer S, Ott G et al. Expression of costimulatory molecules in low-grade mucosa-associated lymphoid tissue-type lymphomas in vivo. Am J Pathol 1999; 155: 2019–2027.

Bende RJ, Aarts WM, Riedl RG, de Jong D, Pals ST, van Noesel CJ . Among B cell non-Hodgkin's lymphomas, MALT lymphomas express a unique antibody repertoire with frequent rheumatoid factor reactivity. J Exp Med 2005; 201: 1229–1241.

Bertoni F, Zucca E . State-of-the-art therapeutics: marginal-zone lymphoma. J Clin Oncol 2005; 23: 6415–6420.

Qin Y, Greiner A, Trunk MJ, Schmausser B, Ott MM, Muller-Hermelink HK . Somatic hypermutation in low-grade mucosa-associated lymphoid tissue-type B-cell lymphoma. Blood 1995; 86: 3528–3534.

Craig VJ, Arnold I, Gerke C, Huynh MQ, Wundisch T, Neubauer A et al. Gastric MALT lymphoma B cells express polyreactive, somatically mutated immunoglobulins. Blood 2010; 115: 581–591.

Du M, Diss TC, Xu C, Peng H, Isaacson PG, Pan L . Ongoing mutation in MALT lymphoma immunoglobulin gene suggests that antigen stimulation plays a role in the clonal expansion. Leukemia 1996; 10: 1190–1197.

Sayi A, Kohler E, Hitzler I, Arnold I, Schwendener R, Rehrauer H et al. The CD4+ T cell-mediated IFN-gamma response to Helicobacter infection is essential for clearance and determines gastric cancer risk. J Immunol 2009; 182: 7085–7101.

Huynh MQ, Wacker HH, Wundisch T, Sohlbach K, Daniel Kim T, Krause M et al. Expression profiling reveals specific gene expression signatures in gastric MALT lymphomas. Leuk Lymphoma 2008; 49: 974–983.

Curiel TJ, Coukos G, Zou L, Alvarez X, Cheng P, Mottram P et al. Specific recruitment of regulatory T cells in ovarian carcinoma fosters immune privilege and predicts reduced survival. Nat Med 2004; 10: 942–949.

Liyanage UK, Moore TT, Joo HG, Tanaka Y, Herrmann V, Doherty G et al. Prevalence of regulatory T cells is increased in peripheral blood and tumor microenvironment of patients with pancreas or breast adenocarcinoma. J Immunol 2002; 169: 2756–2761.

Woo EY, Yeh H, Chu CS, Schlienger K, Carroll RG, Riley JL et al. Cutting edge: regulatory T cells from lung cancer patients directly inhibit autologous T cell proliferation. J Immunol 2002; 168: 4272–4276.

Mizukami Y, Kono K, Kawaguchi Y, Akaike H, Kamimura K, Sugai H et al. CCL17 and CCL22 chemokines within tumor microenvironment are related to accumulation of Foxp3+ regulatory T cells in gastric cancer. Int J Cancer 2008; 122: 2286–2293.

Greiner A, Knorr C, Qin Y, Schultz A, Marx A, Kroczek RA et al. CD40 ligand and autoantigen are involved in the pathogenesis of low-grade B-cell lymphomas of mucosa-associated lymphoid tissue. Dev Immunol 1998; 6: 187–195.

Greiner A, Qin Y, Knorr C, Haedicke W, Kaup A, Muller-Hermelink HK . Autoantigen receptors in extranodal non-Hodgkin B-cell lymphomas. Verh Dtsch Ges Pathol 1996; 80: 160–168.

Hussell T, Isaacson PG, Crabtree JE, Dogan A, Spencer J . Immunoglobulin specificity of low grade B cell gastrointestinal lymphoma of mucosa-associated lymphoid tissue (MALT) type. Am J Pathol 1993; 142: 285–292.

Hussell T, Isaacson PG, Spencer J . A role for antigen in the evolution of gastrointestinal MALT-type B cell lymphoma. Adv Exp Med Biol 1995; 371A: 145–147.

Lenze D, Berg E, Volkmer-Engert R, Weiser AA, Greiner A, Knorr-Wittmann C et al. Influence of antigen on the development of MALT lymphoma. Blood 2006; 107: 1141–1148.

Nardini E, Aiello A, Giardini R, Colnaghi MI, Menard S, Balsari A . Detection of aberrant isotype switch recombination in low-grade and high-grade gastric MALT lymphomas. Blood 2000; 95: 1032–1038.

Greiner A, Knorr C, Qin Y, Sebald W, Schimpl A, Banchereau J et al. Low-grade B cell lymphomas of mucosa-associated lymphoid tissue (MALT-type) require CD40-mediated signaling and Th2-type cytokines for in vitro growth and differentiation. Am J Pathol 1997; 150: 1583–1593.

Hussell T, Isaacson PG, Crabtree JE, Spencer J . Helicobacter pylori-specific tumour-infiltrating T cells provide contact dependent help for the growth of malignant B cells in low-grade gastric lymphoma of mucosa-associated lymphoid tissue. J Pathol 1996; 178: 122–127.

D'Elios MM, Amedei A, Manghetti M, Costa F, Baldari CT, Quazi AS et al. Impaired T-cell regulation of B-cell growth in Helicobacter pylori-related gastric low-grade MALT lymphoma. Gastroenterology 1999; 117: 1105–1112.

Ai WZ, Hou JZ, Zeiser R, Czerwinski D, Negrin RS, Levy R . Follicular lymphoma B cells induce the conversion of conventional CD4+ T cells to T-regulatory cells. Int J Cancer 2009; 124: 239–244.

Takegawa S, Jin Z, Nakayama T, Oyama T, Hieshima K, Nagakubo D et al. Expression of CCL17 and CCL22 by latent membrane protein 1-positive tumor cells in age-related Epstein-Barr virus-associated B-cell lymphoproliferative disorder. Cancer Sci 2008; 99: 296–302.

Chen YW, Hu XT, Liang AC, Au WY, So CC, Wong ML et al. High BCL6 expression predicts better prognosis, independent of BCL6 translocation status, translocation partner, or BCL6-deregulating mutations, in gastric lymphoma. Blood 2006; 108: 2373–2383.

Starostik P, Patzner J, Greiner A, Schwarz S, Kalla J, Ott G et al. Gastric marginal zone B-cell lymphomas of MALT type develop along 2 distinct pathogenetic pathways. Blood 2002; 99: 3–9.
Acknowledgements
We thank Michael Vieth, Christoph Renner, David Nadal, Maries van den Broek and Joe Jiricny for helpful discussions. The eGFP-DTR-transgenic mouse strain was kindly provided by Tim Sparwasser. This study was funded by grants from Schweizer Nationalfonds (3100A0-113452), UBS Foundation (BA29 S8Q7-DZZ 969/A) and Oncosuisse (OCS-02099-08-2007) to AM. Additional funding was supplied by the University Research Priority Program in Systems Biology/Functional Genomics (to AM). SBC was supported by the Swiss Group for Clinical Cancer Research (SAKK).
Ethics declarations
Competing interests
The authors declare no conflict of interest.
Supplementary information
About this article
Cite this article
Craig, V., Cogliatti, S., Arnold, I. et al. B-cell receptor signaling and CD40 ligand-independent T cell help cooperate in Helicobacter-induced MALT lymphomagenesis. Leukemia 24, 1186–1196 (2010). https://doi.org/10.1038/leu.2010.76
Received:

Revised:

Accepted:

Published:

Issue Date:

DOI: https://doi.org/10.1038/leu.2010.76
Keywords
MALT lymphoma

Helicobacter pylori

BCR signaling

polyreactivity

antigen dependence

regulatory T cells