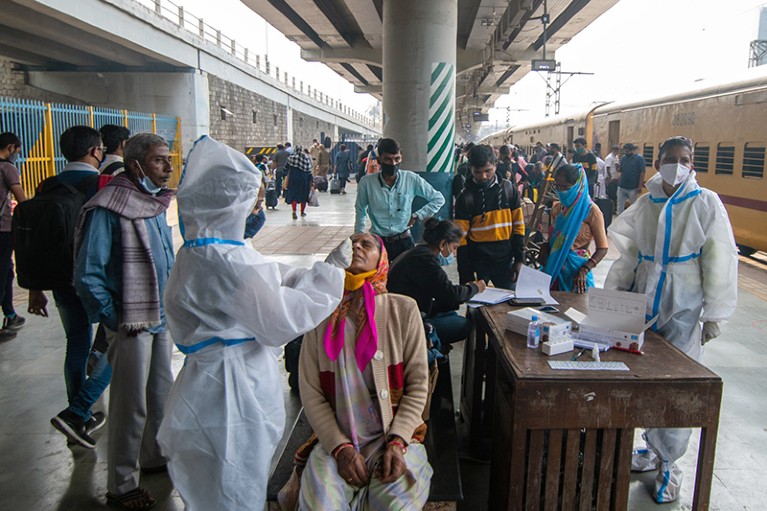 As India battles one of the world's largest COVID-19 outbreaks, virology research and biosafety are some of the winners in this year's national budget. The government has pledged to fund four new national virology institutes, nine new high-containment laboratories for studies on highly infectious pathogens and a national institution for 'one health' to coordinate research and surveillance on animal and human infections.
The pledges, unveiled in the Indian Parliament on 1 February, were part of an overall boost in funding for the Department of Health Research, which will receive 26.7 billion Indian rupees (US$365 million) this year, a rise of 5.6 billion (27%) over last year's budget.
Scientists have welcomed the initiatives, particularly the virology institutes, which will boost their ability to study pathogens across the country. India currently has only one institute that specializes in virology training and research, the National Institute of Virology (NIV) in Pune. "Currently, there is too much dependence on one institute, which can cause delays," says Anant Bhan, a global-health researcher at Yenepoya University, Mangalore.
During the early days of the COVID-19 pandemic, the NIV was the only lab authorized to confirm positive cases of the new coronavirus, SARS-CoV-2. That meant samples from initial infected cases, including the first three suspected infections — in three students in the southern state of Kerala, who had returned from Wuhan, China — had to be transported across the country to Pune. The new centres "could lead to quicker response time in terms of sample transport, identification and response to an outbreak", says Bhan.
A leading virologist, Shahid Jameel at Ashoka University near Delhi, also applauded the government's decision to fund a 'one health institution' that will coordinate research on human and animal health to tackle infectious disease. There has been a rise in animal-borne virus outbreaks in India in recent years, many of which have been linked to human encroachment into natural environments and deforestation. This year, several Indian states have experienced avian influenza outbreaks, and mosquito-borne dengue, chikungunya and malaria outbreaks occur yearly.
But Jameel says that because several government ministries oversee research and policies on animal husbandry, infectious diseases and public health, and deforestation and climate change, the success of a one health approach will depend on how well these ministries coordinate their efforts and resources. "It is not clear yet if the new initiative will achieve the pool of well-trained personnel, or whether India ends up creating yet another structure," he says.
Other initiatives
In her budget speech, finance minister Nirmala Sitharaman also announced 500 billion Indian rupees for the National Research Foundation over the next five years. The autonomous foundation will fund research in universities and in social science in addition to the university funding doled out by the Department of Science and Technology and the Department of Biotechnology.
"The idea of a less bureaucratic, autonomous body is, in principle, a welcome idea," says Chittenipattu Rajendran, a geologist at the National Institute for Advanced Studies in Bangalore. "The current funding system for science is extremely inadequate because of its slowness in releasing and distributing the funds," he says. But the foundation will need to ensure it funds excellent research, or else "it will end up as another run-of-the mill agency", he cautioned.
Sitharaman also announced 40 billion Indian rupees for a deep-ocean mission for research, exploration and biodiversity conservation projects.