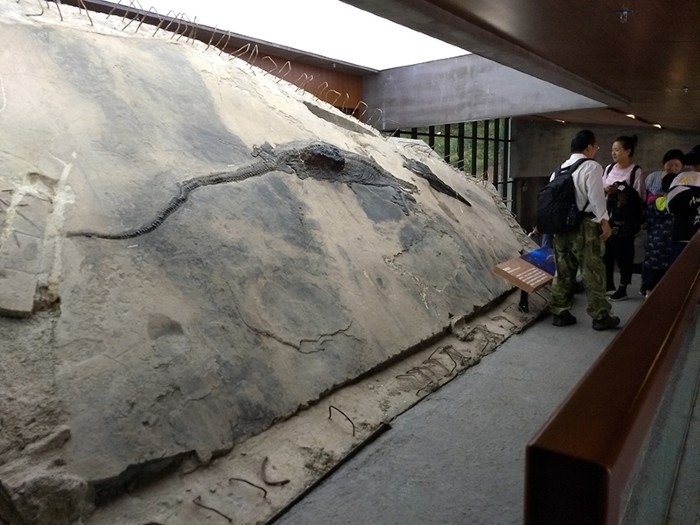 Palaeontology
An extinct reptile's last meal shows it was a grip-and-tear killer
Palaeontologists examining the five-metre-long fossil of an ancient sea creature called an ichthyosaur were stunned to find the headless remains of a four-metre-long reptile in its stomach. The find lends weight to the theory that ichthyosaurs were top predators.
Ichthyosaurs were seagoing reptiles that lived alongside the dinosaurs. Da-Yong Jiang at Peking University in Beijing, Ryosuke Motani at the University of California, Davis, and their colleagues examined a mass of bones found in the stomach of an ichthyosaur belonging to the genus Guizhouichthyosaurus.
The remains were those of a surprisingly large example of a type of marine reptile called a thalattosaur. The thalattosaur's vertebrae were still lined up like beads on a necklace, and it still had its 'hands' and 'feet', which would usually have been the first to fall away when a carcass rotted. This led the team to think that the animal was not scavenged. The thalattosaur's intact tail was found in nearby sediments.
The scene suggests that the ichthyosaur ripped off the thalattaosaur's head and tail using a 'grip and tear' strategy, not unlike that used by modern killer whales (Orcinus orca).