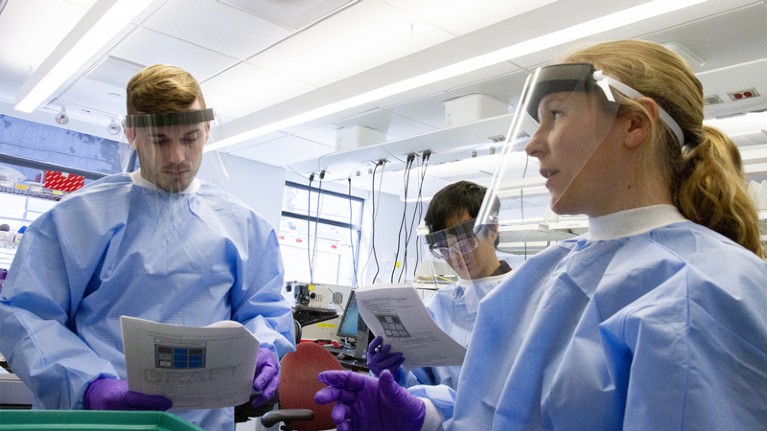 Working around the clock, scientists at the Broad Institute of MIT and Harvard in Cambridge, Massachusetts can run about 2,000 COVID-19 tests per day. In places where testing is still scarce — which is to say much of the world — similar efforts can provide vital relief to public-health systems stretched to their limits. As they shutter their labs indefinitely, tens of thousands of scientists are volunteering to help the pandemic relief efforts in any way they can.
Universities are organizing, researchers are banding together, and efforts to get volunteers and equipment where they are needed most are in progress around the globe. "All of the people who are now suddenly not working have skills that can be applied," says Michael Monaghan, a molecular ecologist at the Leibniz Institute of Freshwater Ecology and Inland Fisheries in Berlin.
The Association of American Universities, for example, a consortium of 65 leading US research universities based in Washington, DC, has urged its community members on Twitter to donate spare personal protective equipment to hospitals and medical facilities. Many have heeded the call.
Volunteers get organized
Twitter also has served as a platform for organizing volunteers. Nadia Khan, a neuroscientist at the Icahn School of Medicine at Mount Sinai in New York City, offered her expertise to hospitals and testing facilities in the region. By chance, she linked up with Alexandria Trujillo, a former pharmacologist who now works in science policy. Together, the two started collecting information from other qualified scientists in the area who were looking for a way to help.
"When we made the spreadsheet, I thought we would get maybe 10 people," Trujillo says. Instead, they had over 100 responses in just two days. She and Khan are now working to connect the volunteers with institutes that need them; Khan started her first volunteer shift running diagnostics at Mount Sinai on 24 March.
As Karin Kosulin, a virologist at the Children's Cancer Research Institute in Vienna, Austria, halted her ongoing experiments, she was already making preparations to aid in the COVID-19 effort — coordinating a team to conduct testing at her hospital. Her department is primarily concerned with ensuring that the immunocompromised patients in their hospital are not exposed to the virus. Doing so will require regular repeated testing of the staff who work with these patients, Kosulin says. But as their capabilities ramp up, they will probably take on other diagnostic samples as well. "Everywhere around the world, tests are needed," she says
And efforts aren't limited to those with biomedical backgrounds. On 18 March, Alfonso Pérez-Escudero, a biophysicist at the French National Centre for Scientific Research in Toulouse, Sara Arganda, a biologist working on social insects at King Juan Carlos University in Madrid, Spain and Daniel Calovi of the Max Planck Institute of Animal Behaviour in Konstanz, Germany launched the Crowdfight COVID-19 initiative. Its aim is to centralize the efforts to match volunteers with researchers in need of help. Within a week, they amassed an army of more than 32,000 scientists and received hundreds of requests for help from around the world, says Pérez-Escudero.
The requests have been varied in nature. But all of them come from scientists on the front lines of COVID-19 research, Pérez-Escudero says. So far, the group has obtained computing time for an epidemiology group, assembled a team to do a literature review for a clinical study and helped a hospital to secure updated clinical guidelines for treating patients.
More testing
In other places, the directives to help with the COVID-19 response are coming from the top. The UK government is requisitioning PCR machines from universities in order to build up a massive, centralized screening facility in Milton Keynes in Buckinghamshire. Matthias Trost, a biochemist at Newcastle University, UK, is spearheading efforts to ramp up local testing facilities there. He estimates that there are still 40 remaining PCR machines at his university that didn't fit the government's specifications but could still be used to test for coronavirus.
With more than 650 volunteers at his disposal, he is hopeful of getting a full screening facility up and running at the university within the next few weeks.
The need for volunteers is even more dire in low- and middle-income countries, says David López González, a biochemist at the National University of Colombia in Bogotá. He worries about the limited diagnostic and clinical capacities that could hamper the pandemic response in his country. "The outcome of the situation strongly depends on the public policies adopted and most of all, willingness and effort from the scientific community."
López González's lab is part of a nation-wide response to increase COVID-19 testing capabilities in Colombia. Although he is disappointed to shut down his own experiments, López González says, he is proud to be doing his part to contribute to fighting the pandemic. "All my academic life I have been preparing and studying for a moment like this."