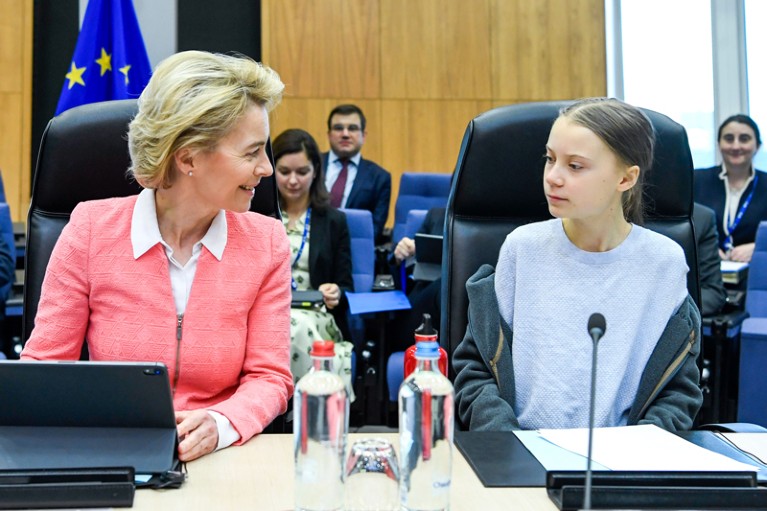 The European Commission has proposed a law that would give it far-reaching power to dictate the course of political action on climate change in the European Union.
The draft climate law, unveiled in Brussels on 4 March, would make a legally binding commitment for the EU to reduce its greenhouse-gas emissions to net zero by 2050 — which means any emissions would have to be offset by greenhouse-gas uptake, for example by trees or carbon capture and storage technologies.
Member states tentatively agreed in December to make the EU carbon-neutral by the middle of this century, and they are expected to formally approve the 2050 goal at a meeting in June.
However, the law proposed today would give the commission power to set binding short-term climate targets that don't need unanimous approval from all 27 member states. Policy analysts say that some countries could strongly oppose these measures, so the current draft is unlikely to be approved without substantial amendments.
"This law would shift the balance of power between the commission, member states and parliament," says Oliver Geden, a policy researcher at the German Institute for International and Security Affairs in Berlin. "Countries such as Poland, which tend to veto ambitious climate policies, will find the loss of power unacceptable."
Green Deal
The new legislation has been designed to underpin the European Green Deal, a set of policies announced by commission president Ursula von der Leyen shortly after she took office in December last year. Von der Leyen has pledged to unlock €1 trillion (US$1.1 trillion) over the next decade for climate action, and to set a more ambitious short-term goal of cutting emissions by 50–55%, relative to 1990 levels, by 2030.
The draft released today does not mention specific EU emissions-reduction milestones between now and 2050. Instead, the EU intends to announce its next short-term climate goal in September, ahead of high-profile United Nations climate talks in November in Glasgow, UK. The law proposes that the commission would then adjust the bloc's climate goals every five years, on the basis of new scientific findings, emerging technologies and the state of the economy. Member states would need a hard-to-obtain qualified majority — more than half of member states, representing at least 65% of the total EU population — to block these short-term goals from becoming legally binding policy targets.
Climate campaigners — including Swedish teenager Greta Thunberg — say the law doesn't go far enough. "We don't just need goals for 2030 or 2050. We, above all, need them for 2020 and every following month and year to come," a group of 34 young activists wrote in an open letter to EU leaders.
But the commission's proposal will put pressure on member states to act, says Brigitte Knopf, secretary-general of the Mercator Research Institute on Global Commons and Climate Change in Berlin. "They will have to move," she says. "So there's hope that something is really going to happen in Europe."