Promoting solid science doesn't always make a researcher popular. The John Maddox Prize for Standing Up for Science, awarded on 12 November in London, celebrates scientists who have risked unpopularity and worse in their pursuit of data-based truth.
Bambang Hero Saharjo, a specialist in fire forensics at Bogor Agricultural University in Indonesia, has spoken out from the witness box more than 500 times about fires potentially caused by agricultural companies. Pharmacist Olivier Bernard of Montreal, Canada, who received the John Maddox early career stage prize, challenges health-care myths through his website, popular-science books and the television documentary series Les Aventures du Pharmachien.
The Maddox Prize is a joint project of Nature and Sense about Science, a non-profit organization in London that advocates open, honest application of science to public discourse and policymaking. Each winner receives £3,000 (US$3,850).
Fire-fighter
Indonesia's peatlands host plantations that produce palm oil and paper, and in some cases workers allegedly slash and burn land to make way for new fields and profits. Carbon-rich peat can burn for weeks, creating choking smoke, damaging the environment and releasing greenhouse gases. In 2015, the flames raged for months, causing air pollution as far away as southern Thailand. This resulted in death or illness for thousands of people, and damaged the forests where orangutans, elephants and rhinoceroses live.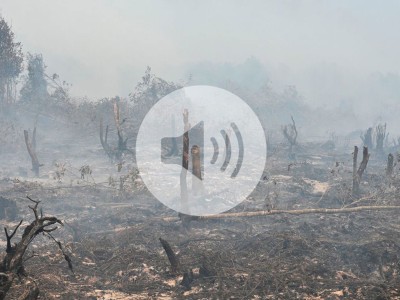 Working Scientist podcast: My courtroom battles to halt illegal peatland fires in Indonesia
The government fines fire-starters, but must first prove its case. Bambang, who is director of the Regional Fire Management Resource Center–South East Asia, collects soil samples and other materials from burnt sites. He builds a case about how fires started and who might profit from them, and testifies for the government in court.
As a result, Bambang and his family have faced threats and harassment. In 2018, an oil-palm company sued him for 510 billion rupiah (US$36 million) over testimony that incriminated the company in a forest fire. The suit was later thrown out.
"I will keep fighting for the people's constitutional right to a healthy environment," Bambang told environmental-news website Mongabay earlier this year. "We can't afford to be afraid in the face of lawsuit threats."
The Maddox Prize judges praised Bambang's commitment to speaking out, and his ability to provide testimony that non-scientists can understand. "This is a powerful story of what one individual, armed with the scientific method, can do," said judge Natasha Loder, health-care correspondent at The Economist newspaper in London.
Truth injection
Bernard creates colourful, fun comics to provide science-driven information and debunk health myths on his website, The Pharmafist. For example, the entry 'How to make a clinical trial say whatever you want' describes pitfalls in interpretation of results, and the Game of Thrones-themed 'Influenza is coming' explains how seasonal vaccines are developed. Bernard has written four popular-science books, and his television programme, now entering its fourth series, received three nominations for its third series in the 2019 Academy of Canadian Cinema & Television Gemini Awards (Les Prix Gémeaux).
The Maddox Prize judges particularly praised Bernard's efforts to challenge the idea that vitamin C injections can be used to treat cancer. In May 2018, a petition with more than 50,000 signatures was submitted to the Quebec government, requesting that it allow prescribed vitamin C infusions in the province. A second petition, submitted in March 2019 with nearly 120,000 signatures, requested that the government's drug-insurance plan support the cost of the treatment.
Such injections, as Bernard explained on his website, do not cure cancer. The evidence for their efficacy against certain side effects of chemotherapy is inconclusive, and the vitamin might even interfere with the action of these drugs. As Bernard wrote on The Pharmafist, "Applying the scientific approach to our health choices is one of the most helpful things we can do as a society, especially for those in a vulnerable position."
In response to his call for reason, Bernard endured threats and harassment. Proponents of the petition complained to the broadcaster of his television programme and his professional association, the Quebec Order of Pharmacists. They also publicized the address of the pharmacy where he works, and made threats against him and his family.
When Bernard shared his experiences publicly in March, the scientific community rallied behind him. The National Assembly of Quebec declined to consider the petitions, and created a task force to protect scientists who speak out about sensitive subjects. Several professional associations created a committee with the same goal.