Abstract
The occurrence of varicella zoster virus (VZV) reactivation is increased after allogeneic transplantation, whereas limited data are available for herpes zoster (HZ) after autologous SCT (ASCT). We determined the incidence and the prognostic significance of HZ and its correlation with VZV serology in 191 consecutive myeloma patients undergoing high-dose melphalan chemotherapy with ASCT. We found that VZV reactivation occurred in 57 (30%) patients, in 8.5% during induction and in 21.5% after ASCT peaking at 8 months after ASCT. Disease burden due to HZ was assessed as high or rather high in 70% of the patients. By immune fluorescence and Serion Elisa VZV IgG assessment, 90.8% of all patients had specific anti-VZV antibodies at ASCT. Lower specific antibody titers at transplantation were observed in patients with HZ after ASCT than in those without reactivation (P=0.009). Finally, OS was better in myeloma patients with HZ after ASCT compared with patients without HZ (P=0.007). Our data indicate that VZV reactivation after ASCT is a frequent event carrying a significant disease burden and it is associated with improved survival. Low levels of specific VZV antibodies at ASCT suggest increased vulnerability for VZV reactivation.
Access options
Subscribe to this journal
Receive 12 print issues and online access
$259.00 per year
only $21.58 per issue
Rent or buy this article
Prices vary by article type
from$1.95
to$39.95
Prices may be subject to local taxes which are calculated during checkout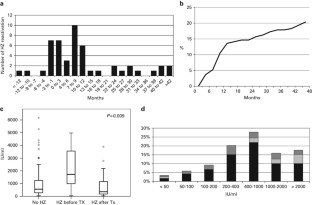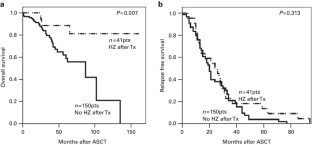 Similar content being viewed by others
References
Straus SE, Reinhold W, Smith HA, Ruyechan WT, Henderson DK, Blaese RM et al. Endonuclease analysis of viral DNA from varicella and subsequent zoster infections in the same patient. N Engl J Med 1984; 311: 1362–1364.

Arvin AM . Varicella-zoster virus: pathogenesis, immunity, and clinical management in hematopoietic cell transplant recipients. Biol Blood Marrow Transplant 2000; 6: 219–230.

Offidani M, Corvatta L, Olivieri A, Mele A, Brunori M, Montanari M et al. A predictive model of varicella-zoster virus infection after autologous peripheral blood progenitory cell transplantation. Clin Infect Dis 2001; 32: 1414–1422.

Atkinson K, Meyers J, Storb R, Prentice RL, Thomas ED . Varicella-zoster virus infection after marrow transplantation for aplastic anemia or leukemia. Transplantation 1980; 29: 47–50.

Locksley RM, Flournoy N, Sullivan KM, Meyers JD . Infection with varicella-zoster virus after marrow transplantation. J Infect Dis 1985; 152: 1172–1181.

Schuchter LM, Wingard JR, Piantadosi S, Burns WH, Santos GW, Saral R . Herpes Zoster infection after autologous bone marrow transplantation. Blood 1989; 74: 1424–1427.

Han CS, Miller W, Haake R, Weisdorf D . Varicella zoster infection after bone marrow transplantation: incidence, risk factors and complications. Bone Marrow Transplant 1994; 13: 277–283.

Bilgrami S, Chakraborty NG, Rodriguez-Pinero F, Khan AM, Feingold JM, Bona RD et al. Varicella zoster virus infection associated with high-dose chemotherapy and autologous stem-cell rescue. Bone Marrow Transplant 1999; 23: 469–474.

Koc Y, Miller KB, Schenkein DP, Griffith J, Akhtar M, DesJardin J et al. Varicella zoster virus infections following allogeneic bone marrow transplantation: frequency, risk factors, and clinical outcome. Biol Blood Marrow Transplant 2000; 6: 44–49.

Tomonari A, Iseki T, Takahashi S, Ooi J, Takasugi K, Shimohakamada Y et al. Varicella zoster virus infection in adult patients after unrelated cord blood transplantation: a single institute experience in Japan. Br J Haematol 2003; 122: 802–805.

Berman JN, Wang M, Berry W, Neuberg DS, Guinan EC . Herpes zoster infection in the post-hematopoietic stem cell transplant pediatric population may be preceded by transaminitis: an institutional experience. Bone Marrow Transplant 2006; 37: 73–80.

Chen SY, Suaya JA, Li Q, Galindo CM, Misurski D, Burstin S et al. Incidence of herpes zoster in patients with altered immune function. Infection 2014; 42: 325–334.

Hata A, Asanuma H, Rinki M, Sharp M, Wong RM, Blume K et al. Use of inactivated varicella vaccine in recipients of hematopoietic-cell transplants. N Engl J Med 2002; 47: 26–34.

Barton TD, Collis T, Stadtmauer E, Schuster M . Infectious complications the year after autologous bone marrow transplant or peripheral stem cell transplant for treatment of breast cancer. Clin Infect Dis 2001; 32: 391–395.

Frère P, Pereira M, Fillet G, Beguin Y . Infections after CD34-selected or unmanipulated autologous hematopoietic stem cell transplantation. Eur J Haematol 2006; 76: 102–108.

Machatschek J, Duda J, Matthay K, Cowan M, Horn B . Immune reconstitution, infectious complications and post-transplant supportive care measures after autologous blood and marrow transplantation in children. Bone Marrow Transplantation 2003; 32: 687–693.

Boeck M, Kim HW, Flowers ME, Meyers JD, Bowden RA . Long-term acyclovir for prevention of varicella zoster virus disease after allogenic hematopoietic cell transplantation: a randomized double-blind placebo-controlled study. Blood 2006; 107: 1800–1805.

Cavo M, Rajkumar SV, Palumbo A, Moreau P, Orlowski R, Bladé J et al. International Myeloma Working Group consensus approach to the treatment of multiple myeloma patients who are candidates for autologous stem cell transplantation. Blood 2011; 117: 6063–6073.

Erard V, Gutherie KA, Varley F, Heugel J, Wald A, Flowers ME et al. One-year acyclovir prophylaxis for preventing varicella-zoster virus disease after hematopoietic cell transplantation: no evidence of rebound varicella-zoster virus disease after drug discontinuation. Blood 2007; 110: 3071–3077.

Trifilio S, Verma A, Mehta J . Antimicrobial prophylaxis in hematopoietic stem cell transplant recipients: heterogeneity of current clinical practice. Bone Marrow Transplant 2004; 33: 735–739.

Greipp PR, San Miguel J, Durie BG, Crowley JJ, Barlogie B, Bladé J et al. International staging system for multiple myeloma. J Clin Oncol 2005; 23: 3412–3420.

Steer CB, Szer J, Sasadeusz J, Matthews JP, Beresford JA, Grigg A . Varicella-zoster infection after allogeneic bone marrow transplantation: incidence, risk factors and prevention with low-dose acyclovir and ganciclovir. Bone Marrow Transplant 2000; 25: 657–664.

Thomson KJ, Hart DP, Banerjee L, Ward KN, Peggs KS, Mackinnon S . The effect of low-dose acyclovir on reactivation of varicella zoster virus after allogeneic haemopoietic stem cell transplantation. Bone Marrow Transplant 2005; 35: 1065–1069.

Asano-Mori Y, Kanda Y, Oshima K, Kako S, Shinohara A, Nakasone H et al. Long-term ultra-low-dose acyclovir against varicella-zoster virus reactivation after allogeneic hematopoietic stem cell transplantation. Am J Hematol 2008; 83: 472–476.

Kim DH, Messner H, Minden M, Gupta V, Kuruvilla J, Wright J et al. Factors influencing varicella zoster virus infection after allogeneic peripheral blood stem cell transplantation: low-dose acyclovir prophylaxis and pre-transplant diagnosis of lymphoproliferative disorders. Transpl Infect Dis 2008; 10: 90–98.

Langan SM, Smeeth L, Margolis DJ, Thomas SL . Herpes zoster vaccine effectiveness against incident herpes zoster and post-herpetic neuralgia in older US population: a cohort study. PLoS Med 2013; 10: e1001420.

Zhang J, Xie F, Delzell E, Chen L, Winthrop KL, Lewis JD et al. Association between vaccination for herpes zoster and risk of herpes zoster infection among older patients with selected immune-mediated diseases. JAMA 2012; 308: 43–49.

Oxman M, Levin M, Johnson G, Schmader KE, Straus SE, Gelb LD et al. A vaccine to prevent herpes zoster and postherpetic neuralgia in older adults. N Engl J Med 2005; 352: 2271–2284.

Schmader KE, Levin MJ, Gnann JW, McNeil SA, Vesikari T, Betts RF et al. Efficacy, safety, and tolerability of herpes zoster vaccine in persons aged 50–59 years. Clin Infect Dis 2012; 54: 922–928.

Tseng HF, Tartof S, Harpaz R, Luo Y, Sy LS, Hetcher RC et al. Vacination against zoster remains effective in older adults who later undergo chemotherapy. Clin Infect Dis 2014; 59: 913–919.

Mullane KM, Winston DJ, Wertheim MS, Betts RF, Poretz DM, Camacho LH et al. Safety and immunogenicity of heat – treated zoster vaccine (ZVHT) in Immunocompromised Adults. J Infect Dis 2013; 208: 1375–1385.
Acknowledgements
We thank Marion Bleckmann, Barbara Muster and Irene Briner for generous help with data collection. This work was supported by a grant from the Swiss National Science Foundation (#310030-143584 to TP) and from the Swiss Cancer League (KLS-2520-02-2010 to TP).
Author Contributions
CK performed research, analyzed data and wrote the paper, SZ analyzed data and contributed vital material; FS performed research; DB contributed vital material; TZ contributed vital material; TP designed research, analyzed data and wrote the paper.
Ethics declarations
Competing interests
The authors declare no conflict of interest.
Supplementary information
About this article
Cite this article
Kamber, C., Zimmerli, S., Suter-Riniker, F. et al. Varicella zoster virus reactivation after autologous SCT is a frequent event and associated with favorable outcome in myeloma patients. Bone Marrow Transplant 50, 573–578 (2015). https://doi.org/10.1038/bmt.2014.290
Received:

Revised:

Accepted:

Published:

Issue Date:

DOI: https://doi.org/10.1038/bmt.2014.290
This article is cited by
Bone Marrow Transplantation (2015)